Review: Even H3 wireless headphones with EarPrint technology
Can I hear clearly now?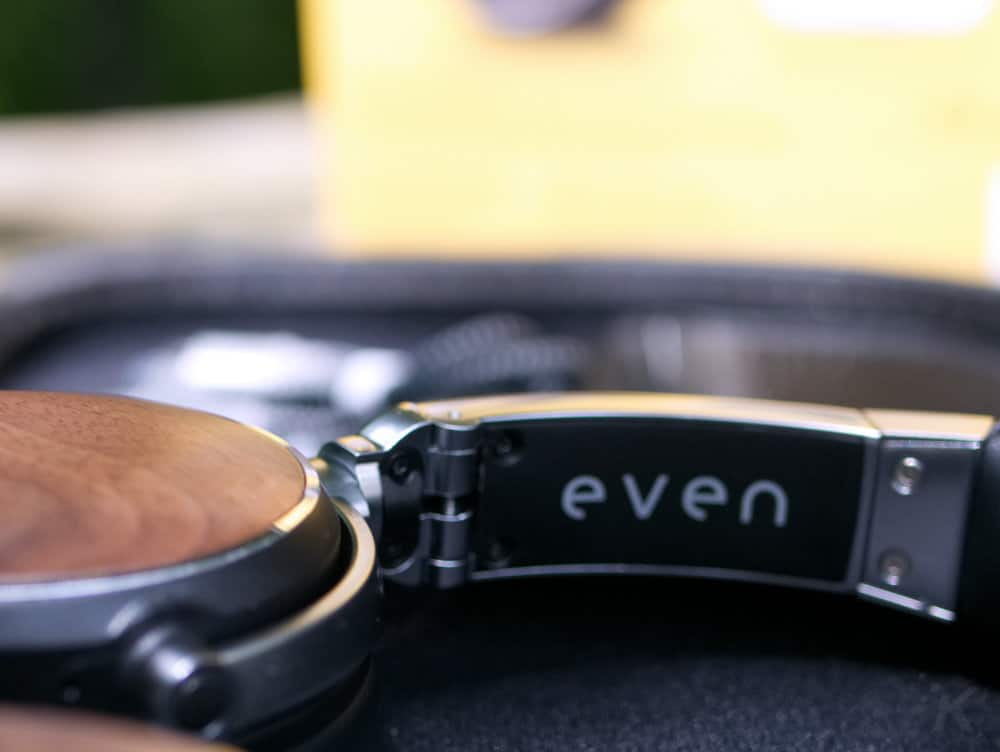 The Good
Unique EarPrint technology does make your music sound better
Stylish
The Bad
Some issues connecting to the app
Some comfort issues
We all know that everyone's eyes are different, that's why there's such a thriving optometry market. Everyone's ears are also different, although not much has been done about it – until now. Enter Even with its range of headphones and other audio equipment all infused with their unique EarPrint technology. This feature helps you tailor the sound output of your headset to your ears.
So does it actually work? We've been using the H3 Wireless Headphones for a few weeks now, so I'll dive into the testing shortly.
I caught up with Danny Aronson, Even's CEO, and we spoke about a variety of things, from his classically trained music background to the utility of the EarPrint technology for gamers. With his 20 years of being a commercial sound designer, you could say he knows ears. All of Even's headphones are created by a group of sound designers, acoustic engineers, mastering technicians and audiologists, so it's people on both sides of the audio reproduction industry.
Big headphone industry brands trick consumers with splashy marketing campaigns, but cheap products. Rather than invest in creating a superb listening experience, they spend money creating hype to acquire customers. Contrary to what many consumers believe, large headphone and earbud brands are all the same, and a legacy brand name does not mean a better listening experience.

Meet Therabody's All-New TheraFace Mask

TheraFace Mask is a breakthrough FDA-cleared LED skincare mask with added tension-relieving vibration therapy. Clinically proven results include firmer, smoother, healthier-looking skin with a visible reduction in fine lines, wrinkles, and uneven tone in as little as 8 weeks

It means a terrible sound experience that can have a detrimental effect in the long term. This inspired us to launch our "Don't Get Beat by Beats" campaign to expose the industry's biggest headphone brands and their lack of innovation. At EVEN, we think it's time our ears get the attention and love they deserve.
The adaptive sound in the EarPrint technology is from a central ethos at Even – that personalized sound is the unparalleled, highest standard of listening experience. The team at Even are the first to the market with adaptive sound, challenging precepts of the audio industry by focusing on the unique way that people hear, in each of their ears. This is truly ground-breaking and changes the paradigms that have been around since the beginning of personal audio equipment.
Design
Before we get to the sound, let's feast our eyes on the H3's. They come in black and wood versions, and the wood set that we've been testing are beautiful. Lots of shiny metal, sensuous wood and big, stuffed memory foam pads. The buttons on the right earcup for controlling the H3's seem slightly out of place, with their plastic and a slight rattle on the "Even" button which is also the power/pairing button. There's a microUSB port on the left earcup for charging or using with a PC, and the right ear cup has a 3.5mm aux port.
The large amounts of metal used in the band should mean the H3's have some legs for durability. The memory foam is comfortable, I'd like to see velour options also as the fake leather gets a bit warm after a while. That said, I spoke to Danny Aronson, Even's CEO, and because the EarPrint technology tests your ears, not the tuning, changing the cup material won't affect the use. That's a big point, with many other rival brands saying that the sound would change.
They really are lookers though, especially with those wood inserts on the earcups. They also come with a nice hardshell carrying case, which has a zipped pocket inside to hold the USB cable and 3.5mm AUX cable. The headset only fits in here while unfolded, you can also fold it up if you want to stow it in a pocket.
App
The "Yes, connected!" that you hear through the headset when turning the H3's on and they find the app on your phone is pretty cool. Does that mean that the app is constantly searching, wearing down your battery life? I couldn't answer you other than to say I've not noticed anything out of the ordinary on my battery life.
I did have some issues with the headset and connectivity, with it disconnecting while looking through my playlists for what I wanted to listen to. A headset in this range shouldn't have any connectivity issues. It might have been the app interfering with my Bluetooth, as connecting without having the app open didn't have the issue.
Now we get to the signature EarPrint technology. Setting this up is simple, either double-tap the Even button that's on the right earcup, or use the accompanying app. Either way, "Sarah" will guide you through the process, which takes about 90 seconds. Sounds on 8 frequency bands at increasing volume will play on each ear, and you press the button once you can hear the sound. Simple, right? While we'll get to sound quality in a minute, the ease of setup was impressive to me.
Comfort
Bear in mind that comfort is subjective and that I have a fairly large head and ears. That said, I had to extend the headband all the way to fit the H3's onto my ears fully. The size shouldn't pose an issue for most people, it might cause issues if you wear a hat all the time. The earcups are somewhere between over-ears and on-ears, which is comfortable enough with the memory foam but my personal preference would be for them to be slightly bigger so they're fully over-ears. There's also sound leakage so they're perhaps not suited for office use.
Sound with the H3 headset
The most important part of any headset is how they sound. That's perhaps doubly-so for headsets like the H3's that have a unique selling point. So, does the EarPrint technology work? Yes, yes it does and in a very pleasing manner. Bass notes are warm and full with far more body than the un-enhanced setting. Mids are clear and so are highs, without any fatiguing brightness.
The 'normal' mode on these cans is pretty uninspiring, perhaps by design to showcase the EarPrint magic. You'll want to run them in EarPrint mode for sure, not only will you get the full benefit of the headset, you'll also hear their quality.
Listening to Lovely Head by Goldfrapp, the haunting whistling was beautifully enhanced with the EarPrint on, with Allison Goldfrapp's sultry vocals nicely separate from the bassy backing track. Square Feet by Noisia had insane dub performance with the EarPrint turned on, when it was pretty quiet without it on. Certainly the bassiest headset I've tested recently and would spank Beats back to their corner. Every record crackle in Teardrop from Massive Attack was present and center, with none of the instruments sounding muddy or blending into each other.
Performance
Battery life is stated at 20 hours, and my basic testing seems to back that up. No lethargic 6-hour battery life here, and should get you through a couple of days of use between recharges. Bluetooth performance is as it should be, with the proviso that sometimes the EarPrint app interferes with your phones pairings if it's open. Since you only need the app to create and manage EarPrints (and indeed you can create one EarPrint just with the headset) this shouldn't be much of an issue.
Conclusions
On their own, the H3's from Even is a fairly standard, if well-designed, Bluetooth headset. Adding the EarPrint technology into the mix, just like a virtuoso in the studio, they become something near-magical. The ability to not only transform their own audio characteristics and that of what you're listening to needs to be experienced to understand it. Don't take my word for it, you can test the EarPrint tech for yourself on the top-right of the Even website with any headset. The fact that the headset can save one profile so you don't need to mess with the app is just icing on the already sweet cake.
A sample unit was provided for the purpose of this review. You can pick up a pair for $149.99 from Even's website.
More more reviews, check out:
The Good
Unique EarPrint technology does make your music sound better
Stylish
The Bad
Some issues connecting to the app
Some comfort issues
Follow us on Flipboard, Google News, or Apple News