Review: KnewKey Rymek – a retro-styled mechanical keyboard
It's a typewriter, with LED lighting and Bluetooth – what's not to like?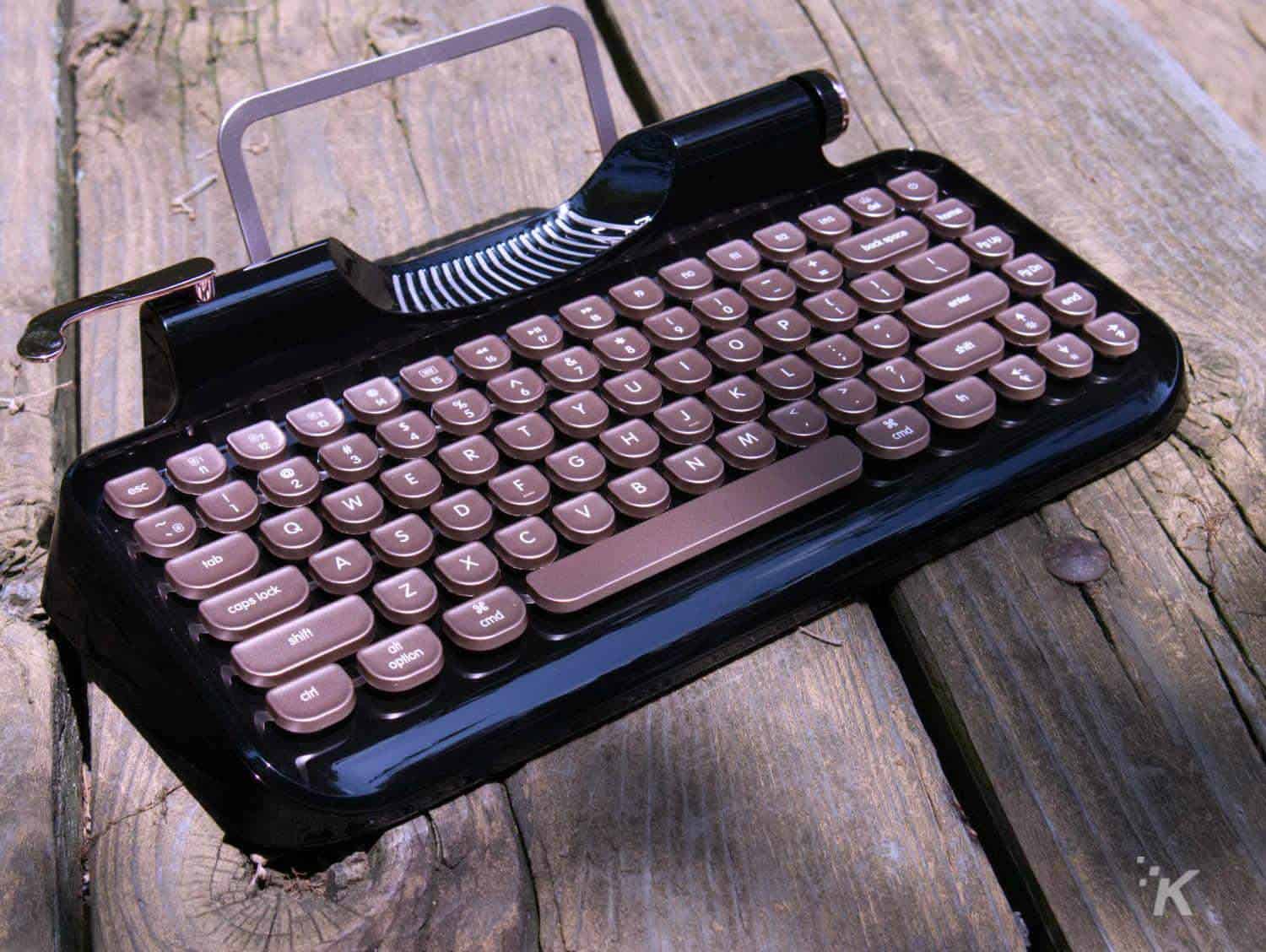 The Good
Appealing retro styling
Proper mechanical keyswitches
Dual mode with bluetooth
The Bad
Will be pricey after the Indiegogo finishes
It's not often that I get to test a keyboard that deviates much from the usual styling, so when KnewKey asked if I wanted to test out their Rymek retro-style mechanical keyboard I jumped at the chance. They're a young company who have created a Bluetooth/wired hybrid keyboard that heavily draws inspiration from the typewriter.
It's currently on Indiegogo for funding, at $99 for early adopters with blue Gateron switches or $119 for Cherry MX ones. They're already at 942% of their funding total, so it seems there's a lot of keyboard fans out there that like the retro look.
It's got saddle-shape keycaps for that classy typewriter look and feel, and clicky mechanical switches from either Cherry MX or Gateron to add an approximation of the sound. The carriage return has been repurposed as a mode-switch between wired and Bluetooth modes, and the paper feed knob now serves as a volume control. The Rymek comes in two color options, black with rose gold (as in my review unit), and a white/orange/silver version which both look great. It's not often that you see a product in promotional images and it matches up to expectations when you receive it, but the Rymek manages to.
Keeping the typewriter design cues, there's a fake typebar section above the floating keys that is LED-lit. This is a nice nod to the typewriter while still keeping the keyboard modern enough. There's a stent that, instead of holding paper, can hold your tablet/phone so it's at the optimal angle to use with the Rymek in Bluetooth mode. There are also two micro-USB ports, one on each side of the back panel for wired connection to your device and to charge the onboard battery.
[envira-gallery id="66075″]
Both colorways have very shiny plastic on the chassis, so if you're a neat freak you might want to invest in some small cleaning swabs. The first stretch goal has been met, so all production Rymeks will have a keyboard brush in the box. The floating keycaps design has had a resurgence recently mainly due to Corsair and their gaming range. It amuses me slightly that what's old becomes new again, with the typewriter being the originator of that key style.
The 'saddle-shaped' keycaps strike a good balance between the typewriter aesthetic and usability, adding more surface area than purely round keys for easier typing. I'm acclimatizing to them fairly quickly, although the extra distance between keys is taking some getting used to for some letters. The keycaps are single-shot PC-ABS plastic, which makes them stronger than normal ABS keycaps. They're also a lot thicker than usual caps, due to the shape of them. The legends are laser-etched, and I find the slight scratchiness of the legends helpful for my typing so I know I'm over the right caps.
The white LEDs on the black colorway are a classy touch. One key on my unit wasn't lighting up, but I must stress that this was a pre-production unit and QC will likely be better on the production runs.
Quite like the lighting effects. pic.twitter.com/DLaYtPEpGq

— Joe Rice-Jones (@iWalkingCorpse) June 30, 2018
Typewriters didn't have a lot of the keys on modern keyboards, so some compromises had to be made with the layout to retain the aesthetic. The Rymek uses a 75% layout, but it does miss a few useful keys, most noticeably Print Screen. This isn't too much of an issue as most operating systems have key combinations to take screenshots with, or you could use something like Cloudapp or ShareX to add the functionality.
The Rymek I was sent has Apple legends on the home row for Command keys, instead of Windows or Android etc. While that button still works as the Windows button, it would be nice to have a loose keycap in the final production model so the user can match their keyboard to their OS.
It's fairly heavy, as befitting the aesthetic but it's not too heavy that you couldn't carry it around with you. The built-in battery is 2000mAh, and KnewKey says it can last 50 hours on one charge. I haven't tested that claim fully yet, but it's still going after a couple of days of typing with the backlight on, so it's plausible. Battery stats depend so much on the user, and I'd imagine that 50hrs quoted are without the backlight on.
The Bluetooth function connected to my iPad Air 2 almost instantly, and there wasn't any noticeable lag while typing. The Rymek can store 3 device pairings at a time so it's easy to use it to control multiple PCs at a time, for example. The keyboard has N-key rollover, which should be standard on any keyboard nowadays.
Conclusions on the Rymek keyboard
The KnewKey Rymek sells itself heavily as a reinvented retro classic, and I'd tend to agree with them. There's a good balance between the old aesthetics and modern usability here, wrapped up in a classy design. The only minor quibble I have is that the missing layout keys such as PrintScreen aren't available as part of the function layer for those users who rely on it.
The Rymek is a solidly built piece of hardware that pulls on those nostalgic heartstrings with a quirky style of its own. I've thoroughly enjoyed using it, and I think it's going to become a permanent peripheral to my iPad as that's where I think it has most utility to me.
The version with Gateron Blues is up on Indiegogo at a 50% discount for a total of $99. If the styling appeals to you, it's a fair price for what you get.
A sample unit was provided for the purpose of this review.
The Good
Appealing retro styling
Proper mechanical keyswitches
Dual mode with bluetooth
The Bad
Will be pricey after the Indiegogo finishes
Follow us on Flipboard, Google News, or Apple News