Review: KORAL – a beautiful reminder that humans are the worst
An important premise accompanied by an average game.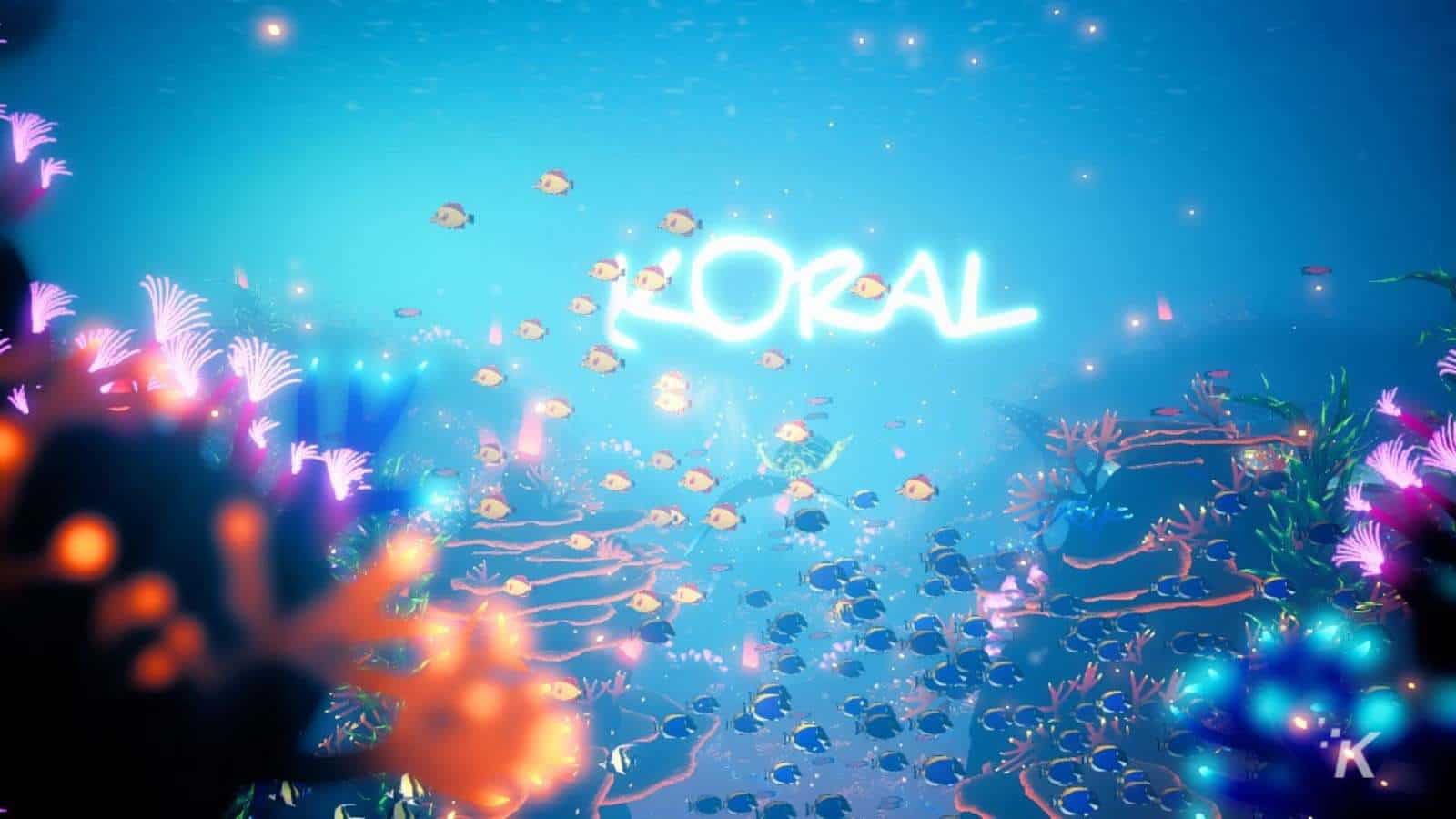 Let me walk you through my experience with KORAL, a beautiful, activist game about coral reefs by Carlos Coronado. Actually, let me give you a little background first.
Carlos is a scuba diver. He's also a teacher. It was on a boat in Catalonia that he decided to make KORAL (and he actually did the work on that boat, too). Every game contains part of the people who make it and that should put the rest of what I'm about to say in perspective.
The game opens with a beautiful, vibrant view of the ocean. You play as a white, floaty jellyfish-like thing, exploring in 2D to solve basic puzzles and navigate the waters. It's stunningly gorgeous, evocative with rich colors and a soothing soundtrack.
Within minutes of exploring this aquascape, you see boats. And, then…
You hear explosions
The first collectible reveals that the game is littered with facts about the ocean and the coral reefs. This one is about how fucked up dynamite fishing is.
The lush views get blackened and dead.
You just have to…swim through this. For a while.
I'll be honest, I had to put the game away and come back to it at this point. This is real. This is something we actually do. If you look up "coral reef dynamite fishing", you'll see that this devastation is very, very real.
It's not all doom and gloom, but the portrait is still pretty grim
As you play and solve some basic puzzles, you start to restore life and color to the world.
Collectibles like this one tell you that maybe it's possible to undo some of the damage, albeit over a very, very long time. There's also hope that it might be even faster than that with some relatively recent discoveries.
The game makes its way deeper into the ocean and into some cave systems and then somehow…loses this bleak tone entirely?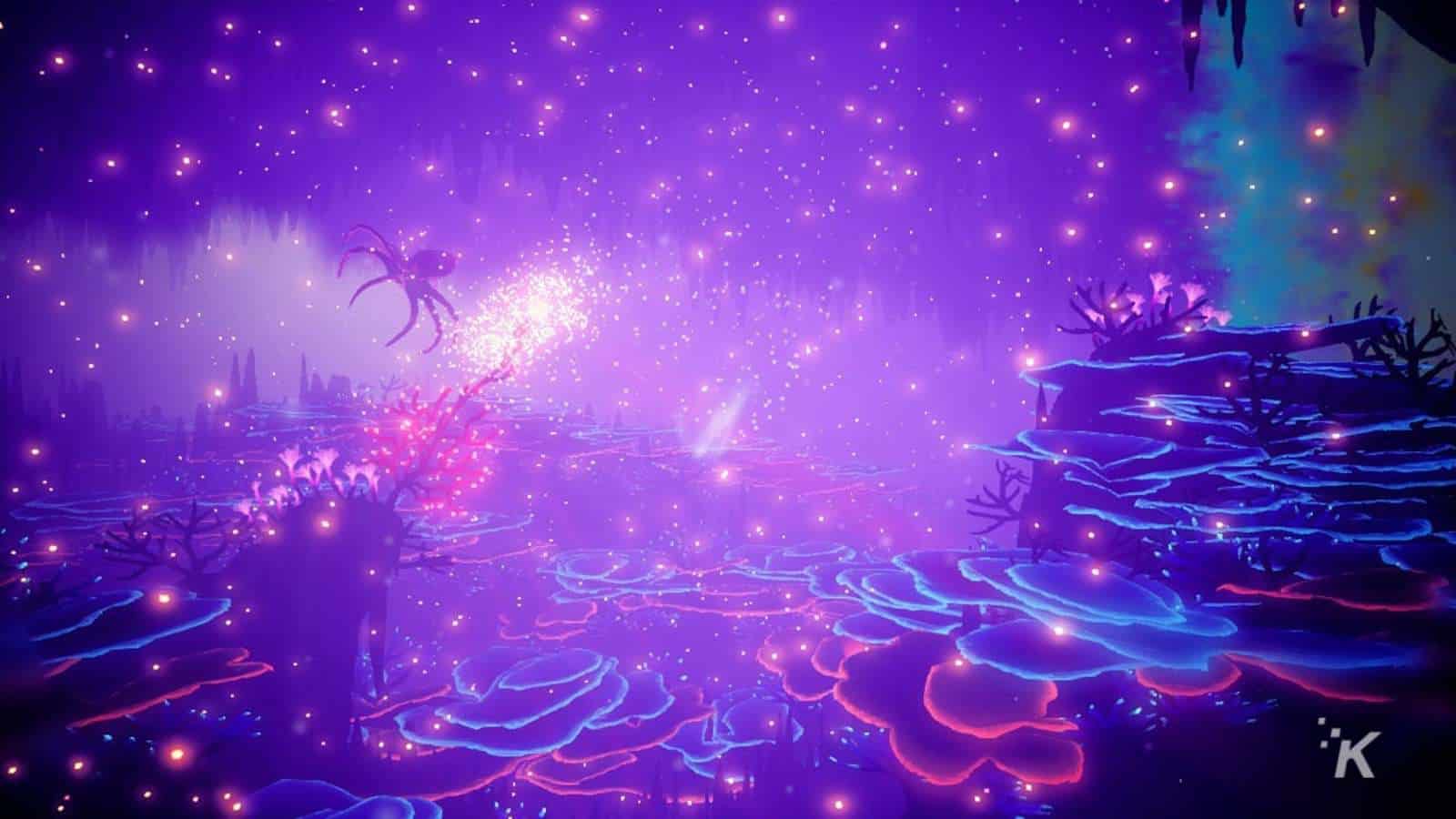 I got to this area and then solving this puzzle illuminated everything in sight.
I stopped and just marveled at how stunning this game looks. Sure, it's all high saturation and bloom and shiny particle effects, but it isn't the technical wizardry that makes it stand out: It's the sense of wonder that this game is evoking real life. The actual ocean is also this beautiful. 
It was also around this time that I started losing interest in KORAL, unfortunately
See, once you get past the message and purpose and into the actual gameplay, it just isn't that good. The floaty movement makes sense for being underwater, but it just feels sluggish and lethargic after a while. The puzzles seem clever at first but devolve into tedium and irritation. The camera ranges from acceptable to straight up awful. Even the game's facts go from important and meaningful to random trivia.
The above is an actual screenshot of an actual puzzle I was trying to solve. My player character is somewhere behind this black mass, which takes up almost the entire foreground. There's no alternate angle. I just straight up can't see. I wish this was an isolated incident, but it honestly happens a lot.
At the end of the day, though, I feel like it's okay to be imperfect. A game doesn't have to be perfect, or even mechanically good, to be worth playing. KORAL does a lot right and I've played very few games with this sense of existential purpose. It also doesn't hurt that the game is extremely accessible, something the designer wants you to know from the get-go.
I would recommend KORAL to anyone who wants an easy, mellow experience where they're going to oscillate between incredulous horror at the environmental atrocities of humans and the wonderful majesty of the ocean.
I also think it's important to have a direction to pursue when you're horrified so you can take action to do things right. I am personally donating all of the money I make from this review to CORAL (Coral Reef Alliance), a global charity dedicated to the preservation and restoration of the world's coral reefs. CORAL has a 92 out of 100 at Charity Navigator, based on financial efficiency and transparency/accountability, giving them the maximum 4 out of 4 stars.
You can buy the game if you want to support the developer and you can donate to CORAL if you want to support the game's message. I hope you'll do both.
Jake reviewed KORAL with a code from the developer. KORAL is available now on Nintendo Switch, where it was reviewed, and Windows via Steam.
Curious what our scores mean? Find out more in our comprehensive guide to Understanding KnowTechie's Game Review Scoring.
Editors' Recommendations:
The Good
Powerful, important purpose
Gorgeous audio and visuals
The Bad
Mechanically boring
Loses gameplay appeal quickly
Follow us on Flipboard, Google News, or Apple News