Review: Roku 55" UHD 4K Smart TV by TCL is the best bang for your buck
If you are in the market for a new smart TV and want next generation technology at yesterdays price, then look no further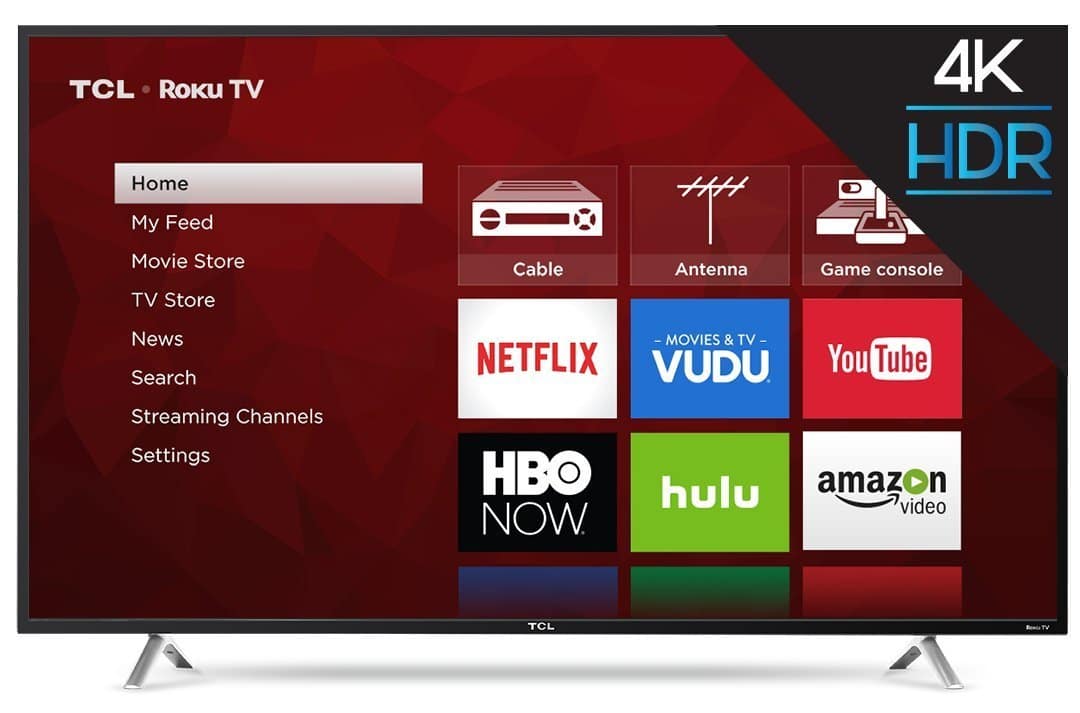 We are witnessing a revolution in the way we watch television. With the high cost of cable TV subscriptions, more people are cutting the cord and switching over to online services like Netflix and Amazon Video. But in order to make the switch, you'll still need high-speed internet and a media-streaming box of some sort. I'm sure you've heard of some like the Apple TV, Fire TV, and the ever so popular Roku TV.
With the release of smart TV's, you can avoid having to purchase one of these media boxes as they have the apps already integrated. The problem is most smart TV's use their own operating systems that are limited and rarely provide updates. So, in other words, they aren't as smart as they would lead you to believe.
So when I heard Roku had collaborated with TCL on an all in one TV, I was really excited and here's why. Roku is one of the leading manufacturers of streaming media boxes today. They offer an award winning user- friendly operating system that provides access to over 450K+ movies and TV shows, as well as live TV. In the words of our president, that's huge! And when you integrate this in a gigantic 55 inch 120Hz 4K ultra high definition HDR LED TV for under $450, it's an unbelievable deal.
Now, you may be asking yourself, what's the catch? How is this TV so cheap? Wel, that was the same thing I asked myself before pulling the trigger. So I did a little research into TCL as I've never heard of them before and found some interesting things. For starters, TCL is based in China and are the 3rd largest television manufacture in the world. And unlike some of the more expensive TV companies, they make every single part in house, which in turn cuts cost tremendously. So there you have it folks, mystery solved.
To be completely honest I still can't believe how I was able to score this TV for under $450. Especially when you see the brilliant picture quality this TV produces. Not only do you get 4K resolution in ultra high definition, you also get HDR or high dynamic range imagining. Many experts are betting all in on HDR as the single greatest innovation in picture quality since 4K TVs were released. With HDR technology you'll get the most vivid picture quality available today even on content that's not 4K. So if you want to future proof your entertainment system, you better believe it has to have HDR.
Next, the Roku TV comes with a IEEE 802.11AC WIFI antenna built in to easily connect to your high-speed Internet router without lag, but if you're like me and prefer a direct wired Ethernet connection there's one too. In addition, the Roku TV has 3 HDMI inputs allowing you to connect multiple gaming systems or even a blue ray player. You can also connect a home theater system either through HDMI or a digital output.
I've used my Xbox One and with the 120Hz, gaming looking great and the image is very responsive. I like to play my video games and movies loud, but when it's late I have to turn the volume down so I don't wake up my roommates, but with the free downloadable Roku app for your iPhone or Android phone, you can connect your headphones to your phone and listen to whatever you are watching! How neat is that? You can even use the app to control the TV if you can't find the easy to use Roku style TV controller it comes with.
I was a bit skeptical when I grabbed this TV but with the reassurance that Roku put their name on it, it made me feel more at ease and the fact that TCL is a huge company that helped as well. If you are in the market for a new TV and want next generation technology at yesterdays price, then look no further. I am truly impressed by this TV and I know you will be too. It truly is a cord cutter's dream set. And with all the extra cash you'll save, you can even invest in a sound bar for the ultimate entertainment experience.
This Roku TV model can be purchased through Amazon for $449.99 with free shipping!
The Good
Easy to use with ROKU OS
Brilliant picture quality
Excellent price for a 4K UHD HDR LED TV
Access to over 450K+ movies & tv shows
The Bad
Generic housing isn't an eye popper
Follow us on Flipboard, Google News, or Apple News