Review: Sea of Thieves
This pirate's life is not for me.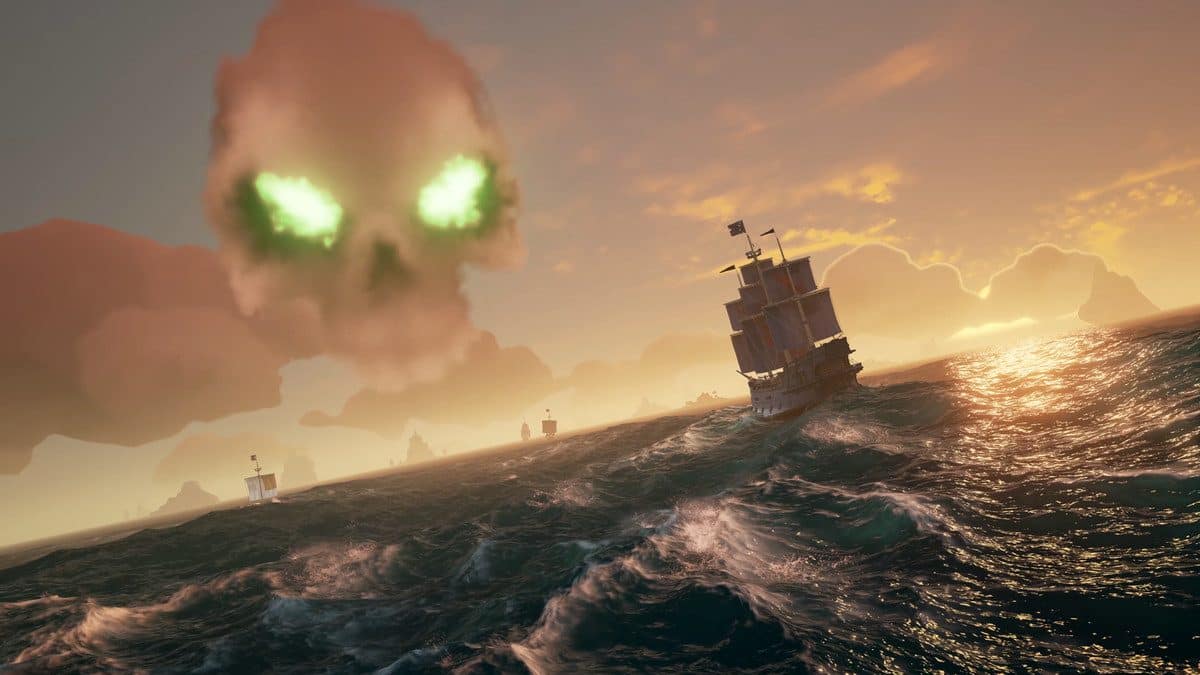 The Good
Cartoon-ish graphics are quite enjoyable
Playing with friends creates great narrative-driven fun
The Bad
Weak gameplay, very rinse and repeat
No progression system besides cosmetic upgrades
$60 is way too high of a price point
Behind Xbox Live paywall
I was excited to jump into Rare's Sea of Thieves. The demo reel shown at Microsoft's 2017 E3 conference excited me. It truly looked like it would be the perfect game to play with friends while experiencing the pirate life I never got to live. I saw numerous Twitch streamers playing the game, and it seemed like the reception was a good one. That was until I got my hands on the actual game.
Sea of Thieves is a multiplayer-based online game that drops players straight into a life filled with hunting treasure, skeleton monsters, and ships scattered throughout the sea. With the game being multiplayer-based, like Destiny, there are always things to do in the world – but, not really, in the case of this game. With this in mind, players on Xbox One are required to have an Xbox Live subscription, and PC players are required to have an internet connection. Once players log into the servers, you are joined by your friends or random strangers where anything is possible.
In a game that is always live and active, you would expect a lot to happen, right? I was left, more often than not, bored on the high seas. Sea of Thieves is not meant to be a solo game. There is a lot of traveling in Sea of Thieves, and without friends or people to talk to, it is boring as hell. As a pirate, it is your responsibility to take care of the ship's sails, navigation, and leaks. When you are playing by yourself, all of these tasks can be overwhelming. With friends, all of these tasks turn into a peaceful, relaxing sail across the high seas.
Regardless of Sea of Thieves' multiplayer reliability, the game is pretty basic. Searching around the world for treasure can seem daunting, but over time it turns repetitive. The first jolt of joy you have when you find the treasure and return it to your home base soon dwindles down to a grind. There are three main quests: search for treasure, fight skeletons, and deliver a payload. Instead of the exciting life of a pirate, you are living the boring life of rinse and repeat.
There isn't much of a progression system in Sea of Thieves, except for earning gold. Completing missions rewards players with gold, which can be used to buy items. These items can either be swords, pistols, outfits, ship sails and more, but all of these are cosmetic and do not affect gameplay at all. Cosmetic items can be influential to players in games like Destiny, mentioned before, but there isn't really anything pulling players back. Players are already moving onto games like Far Cry 5 or stuck on Fortnite, like me. I am waiting for a game to suck me away from Fortnite, and nothing has been up to the task.
Microsoft is trying to push Sea of Thieves onto players, trying to pull back the market from Sony and Nintendo. The Xbox/PC platform has been missing the mark on games, especially first party from Microsoft, and they tried with Sea of Thieves. Microsoft is trying to market the game by offering it within their Xbox Game Pass service. With Xbox Game Pass, players can pay $10 a month to instantly access hundreds of titles digitally, with Sea of Thieves being one of them. I certainly wouldn't pay $60 for Sea of Thieves, but $10 is easier to digest. If there was ever a time or circumstance where I would recommend Sea of Thieves, it would be because of Microsoft's Xbox Game Pass service.
I enjoyed Sea of Thieves for the first couple of hours, then the experience wore off. There isn't enough content to pull me back or away from other games. There are too many games within my backlog, and too many coming out. As an avid gamer I have to pick and choose which games I want to invest my time in, and unfortunately for Microsoft and Rare, Sea of Thieves was tossed aside.
A review code was supplied for the purpose of this article.
The Good
Cartoon-ish graphics are quite enjoyable
Playing with friends creates great narrative-driven fun
The Bad
Weak gameplay, very rinse and repeat
No progression system besides cosmetic upgrades
$60 is way too high of a price point
Behind Xbox Live paywall
Follow us on Flipboard, Google News, or Apple News