Twitch is now offering free games to Amazon Prime subscribers
Level up your game library for free.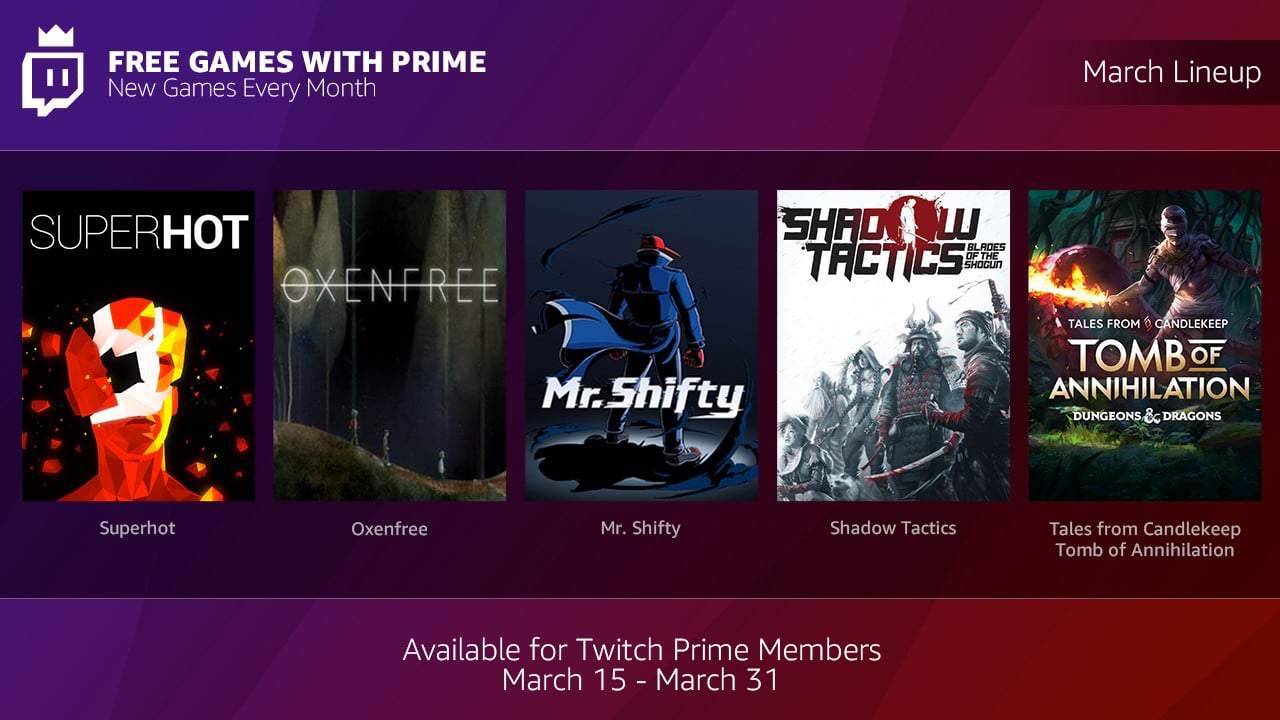 If you are an Amazon Prime member, then you can link your account to your Twitch account to receive free Twitch Prime benefits. Thanks to Twitch's new Free Games With Prime program, there is no better time to link your accounts.
Twitch's new Free Games With Prime program will offer users a bunch of free games each month, and it kicks off today, Thursday, March 15.
Prime members will be able to pick up five fun games including Tales from Candlekeep, Oxenfree, Mr. Shifty, Shadow Tactics, and Superhot. Next month, Prime members will be able to pick up SteamWorld Dig 2, Kingsway, Tokyo 42, Dubwars, and Tales from the Borderlands. If you are a parent and you have Amazon Prime, you should consider linking your account to the games. Even if they may not be in your child's interest at the time, but hey, they are free. A plethora of games is never an issue, right gamers?
On top of these five great games, Twitch's announcement says all titles from the Indie Amplifier program will be released through the new Free Games With Prime program within the next following months. Each game is voted by Twitch users, and the winning titles are will be offered to Twitch Prime users for free this week. Talk about a grand slam for Prime members this week.
Longtime Twitch users and Twitch Prime members know about the benefits of linking your two accounts, but just in case here is a rundown. Connecting your Twitch and Amazon Prime accounts give you access to benefits like free in-game loot and items, Twitch Prime exclusive content, an ad-free viewing experience, and a free subscription to any channel on Twitch. No strings, no gimmicks, and you get all of this for free!
All of these titles will be free and available to users to play as soon as they download them. Twitch has been putting in work behind the scenes, and it's showing. With the booming popularity that Fortnite has created, Twitch has been willingly riding the wave.
Follow us on Flipboard, Google News, or Apple News