Review: The Element from JDS Labs – quality sound, for a price
If it was a cartoon, it'd be Captain Planet cause all the right elements are there.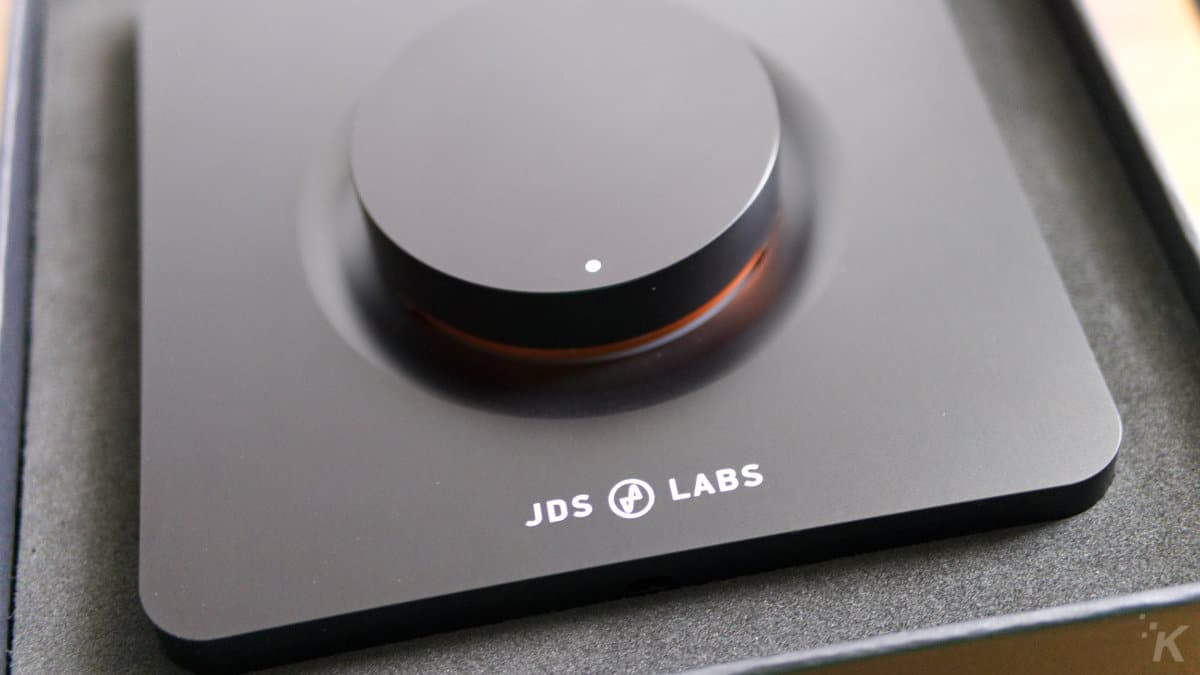 The Good
That knob hits all the right notes
Makes you headphones feel like a speaker stack
Simple to use
The Bad
Will skid on your desk if you don't hold it down while plugging in things
Okay, so you've got your gaming PC sorted, pushing tons of pixels in high FPS glory. When you were speccing out that beast, did you think about audio? Onboard is umm, okay for a start, but to really take advantage of that nice set of headphones you'll need to look elsewhere.
You could get an internal soundcard, but then you're limited to the devices that you can use it on. What you really want to get the best audio possible is a quality external DAC/AMP. That'll make your music sing, your gunshots ring out like a heavenly host, and pull those emotional strings when the soundtracks get all rousing.
JDS Labs pride themselves on making headphone amps that are transparent to the recordings, lifting the original content without coloring it. They're also fully designed and built in the USA, from their workshop in Illinois. They sent over their flagship Element, which houses a beefy headphone amp and an "ultra clean USB DAC," housed in a machined block of aluminum. It's really something, right from the unboxing so let's dive right in.
Knob twiddling excellence
Okay, let's talk about that knob. It's fantastic, right? In a sea of peripherals with either digital controls or shitty little dials, that knob is a giant. It reminds me of a record platter, and it kinda feels like one when you turn it, with a wonderful resistance to movement that lets you adjust the volume without accidentally destroying your eardrums (or your headphones). That's also really the only controls on the Element, keeping it super simple, and super satisfying to use. Oh, and there's a glowing ring under the knob when turned on, just letting you subtly know that it's waiting for your ears.
Okay, I kinda lied. There are two other controls on the Element, but they're hidden on the back. There's a two-level amplification switch, based on if you're driving IEMs, at 1.0x, or beefier cans with higher impedance, like planars or higher end over-ears. There's also a power button, which has a trick with it. See those RCA outputs? If you've got it connected to speakers, when the power button is on, sound only goes to the headphones plugged in at the front. When you turn it off, sound gets rerouted to those RCA outputs, and to your speakers. That's a pretty neat trick, and something that soundcard or DAC makers sometimes struggle with.
You can either use the USB in for your source, or the RCA inputs. Those RCA inputs bypass the inbuilt DAC though, so make sure your source player is up to the challenge. The Element really will show up any issues with your hardware, as it's transparent up to the highest power levels.
And you probably don't want to bypass that DAC. It's great, reproducing everything from gunshots in Call of Duty to orchestral scores to engine noises in Dirt Rally and everything in between. I've seen people say that the separate stack of the Element line is better, having not tested that personally, I couldn't comment. I can, however, say that the Element Amp+DAC is fantastic, and if you've only experienced gaming or media through your PCs onboard sound, you don't know what you've been missing.
Honestly, I was sad when I returned the loan unit to JDS Labs, and I can't think of another device that made me feel that way. It'll be on my to-get list for next tax season I think.
So why should I buy it?
At $349, it's a hefty chunk of change. That said, it's a hefty chunk of machined aluminum, precision designed and crafted. If you want better sound from your music or games, without the fripperies of fake 3D audio or overblown bass, the Element is well worth checking out.
That recommendation goes doubly for anyone with a good set of headphones, after all – you wouldn't buy a Ferrari and power it with a lawnmower engine, so stop driving your headphones with onboard audio.
A sample unit was provided for the purpose of this review.
Editors' Recommendations:
The Good
That knob hits all the right notes
Makes you headphones feel like a speaker stack
Simple to use
The Bad
Will skid on your desk if you don't hold it down while plugging in things
Follow us on Flipboard, Google News, or Apple News