Review: The Raidmax Sigma ATX case
Featuring sharp angles, quality construction, and unique solutions to space issues the Sigma is a solid offering.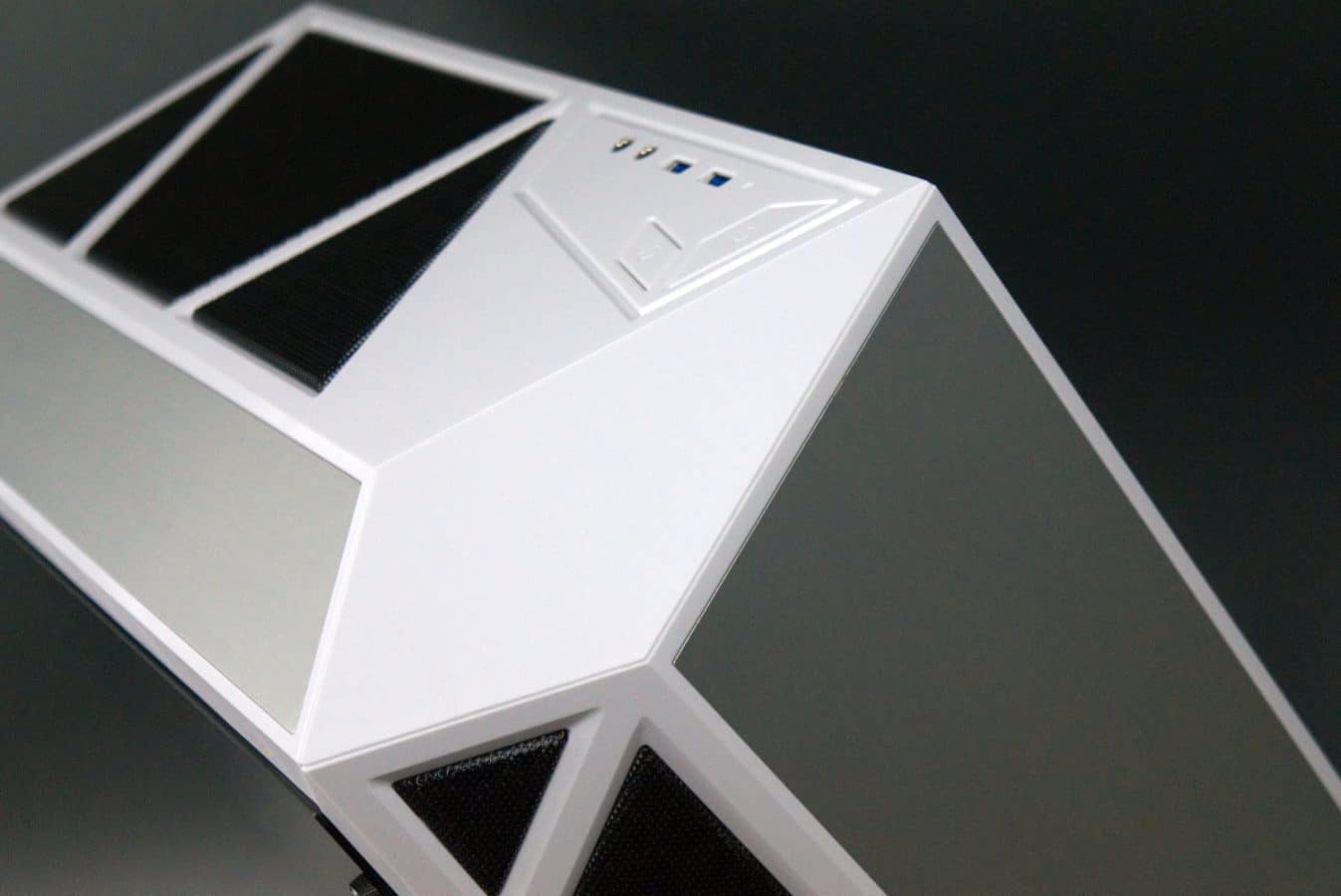 Today we're going to be taking a look at the Raidmax Sigma, starting with a rundown of features and then wrapping up with a build in the case. This will be a 2-part review, and I've got something a little special planned for the 2nd installment so I promise to not leave you waiting too long for that.
Now, Raidmax might not be on the tip of anyone's tongue currently, but they're taking great strides to update their design work and the Sigma certainly is a great example of this aesthetically. It's very much 'of the moment', with tempered glass, brushed aluminum, a modular design with a well thought out PSU cover, and a design that sets itself apart from the current crop of updates to existing designs.
From the moment I slid it out of the packaging I was wowed, and to be honest, I had a lot of fun photographing it. With how Raidmax has designed the angled features, there really isn't a bad viewpoint to look at the case from and it often looks like it's going to jump out of the picture. I'm going to talk a bit about the specifications before adding the glamour shots gallery.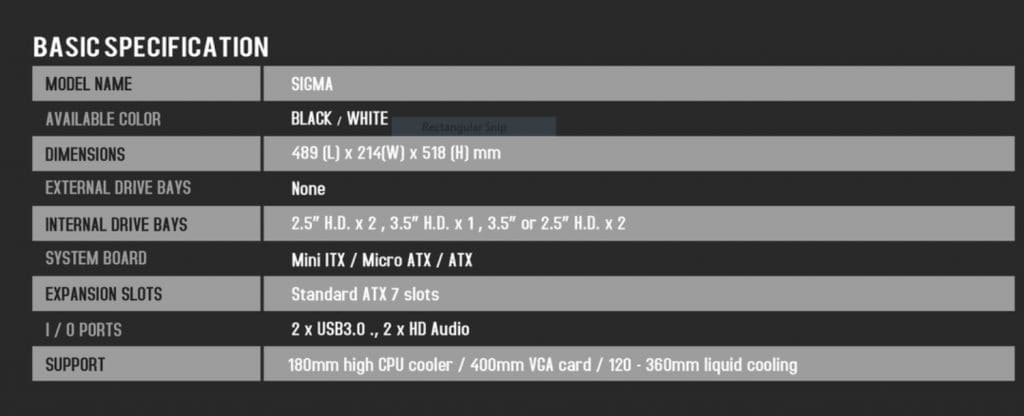 As you can see, the Sigma is a 489mm x 214mm x 518mm ATX case with support for M-ITX, M-ATX or ATX. It's very well constructed with fairly hefty steel panels, so it balances the scales at around 19lbs. It has a Tempered Glass window on the motherboard side, and it's painted steel on the other. There are the usual front panel audio and a couple of usb3.0 ports, this time on the top of the panel as to not detract from the clean lines of the front panel. It comes in Black and White and will support some of the biggest Air Coolers on the market. It's also got plenty of space for water cooling or AIO's, with up to a 360mm radiator on the front and a 240 on the top. The top mount points will take up to 140mm fans. However, there's a small clearance issue that I found when trying to mount my 280mm AIO. The majority of users won't find this an issue, but it's worth mentioning.
Packaging
Both outer and inner packaging is very sturdy, it was shipped to me just in the packaging box with cling-film for weatherproofing and it didn't show any marks of shipping. I've experienced issues with Tempered Glass cases in the past, this wasn't an issue here and the panel arrived fully intact.
Exterior
Time for some glamour shots, the combination of good design and materials choices have resulted in a case that punches well above its price point.
From the top panel with its brushed aluminum inset, and I/O ports, the case just draws your eye to it through the non-parallel lines everywhere.
This theme continues on the front panel, with the brushed aluminum now being on the right-side instead of the left on the top. Plenty of airflow with the large, meshed areas so internal temperatures shouldn't be an issue at all.
Views from the back are equally pretty, with a useful handhold cut into the top panel for ease of removal. Note the movable panel to cover PCI-E devices, something I've not seen on a case before and I'm interested to see how it works in practice.
Removable PSU cover on the bottom, which is a feature usually only found on higher end cases so this addition with the Sigma is welcomed.
This is a neat trick and one I really like. Raidmax has reversed their logo in the bottom of the grill so when the PC is on it glows on the desk. Speaks to a new level of attention to detail, and possibly of things to come. Ideally, I'd like the LED lighting to be RGB in future iterations, but it's not obtrusive as blue.
Interior
Moving on to the inside, there's a few neat well-thought out tricks here also.
For a compact case, there's quite a lot of space for mounting hard drives. Two removable 2.5″ mounts on the back panel, and space for three either 2.5″ or 3.5″ drives with shock-absorbing mounts on the trays. It's a little cramped adding the cables for the bottom one of the three, but it's nice to have the option when a lot of companies only leave you with two 3.5″ mounts. The tray area is also easily removable if you find yourself using a longer PSU than normal or if you want to hide a pump for water-cooling in that space. There's also plenty of securing points for ease of cable management.
Moving around the inside of the case, there is space for a 360mm radiator on the front, with a magnet-mounted, removable dust filter. There's also plenty of grommet holes for cable management and space for magnetic LED strips which securely attach to the metal of the case is fairly thick. There's a Skyway for easy cable management for the 24-pin or other cables going to the motherboard, several holes in the top of the PSU compartment for Audio/GPU/Front panel connectors to pass through, and a vented area so your HDDs don't sit in stagnating warm air. This is a nice touch, with how cramped PSU shrouds usually get it's nice to see some thought put into thermals. There's space for 120 and 140 size fans or radiators in the top. I had a small clearance issue putting my Swiftech H240X into the top; this might be because of its non-standard layout so ended up using an air cooler later on.
There's lots of space to work inside, and my Crosshair Hero VI WiFi and Radeon Fury X had no issues with clearance. I really like how the PCI-E cover slides back down to cover up the usual hole, both for thermal and aesthetic reasons. If I'd needed to mount a reservoir or pump inside, there is plenty of space between the motherboard and the front of the case, however, there aren't any pre-drilled mount points. Again, this probably won't affect most of the target market.
Conclusions
In wrapping up, I'd like to talk about how much this case has changed my perspective on Raidmax overall. To be honest, they weren't really on my radar before this, and this case has turned into one of the sub-100 cases that I now recommend for people who ask me for build help. There really aren't many cases in this price category that manages to look good while staying functionally usable, and the Raidmax Sigma ticks both of those boxes. The couple minor building issues I had were likely my non-standard choice of parts, and are also easily worked around.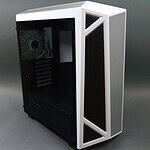 Review: The Raidmax Sigma ATX case
The Good
Tempered glass
Stylish
Space to work in
Plenty of storage mounts
The Bad
Only one included fan that isn't PWM
No RGB on the lighting
That's all for part 1 of this review, stay tuned for part 2…
You can find the Sigma over on Amazon for $79.99
Fans and RGB light strips
Raidmax also sent over a pack of their NV-A12OR3 fans and their RGB strip for review; these are RGB with an included RF controller. The colors are pretty good, they're quiet and push a fair amount of air. They're MOLEX powered and the RF controller is proprietary. I'd like to see new fans to include one of the common RGB controller standards such as ASUS AURA, Mystic Light, etc. That said, they work perfectly well as case fans and are at a competitive price point.
Follow us on Flipboard, Google News, or Apple News