Russian State TV praised a robot that was actually just a dude in a suit
In Soviet Russia, Robot is you.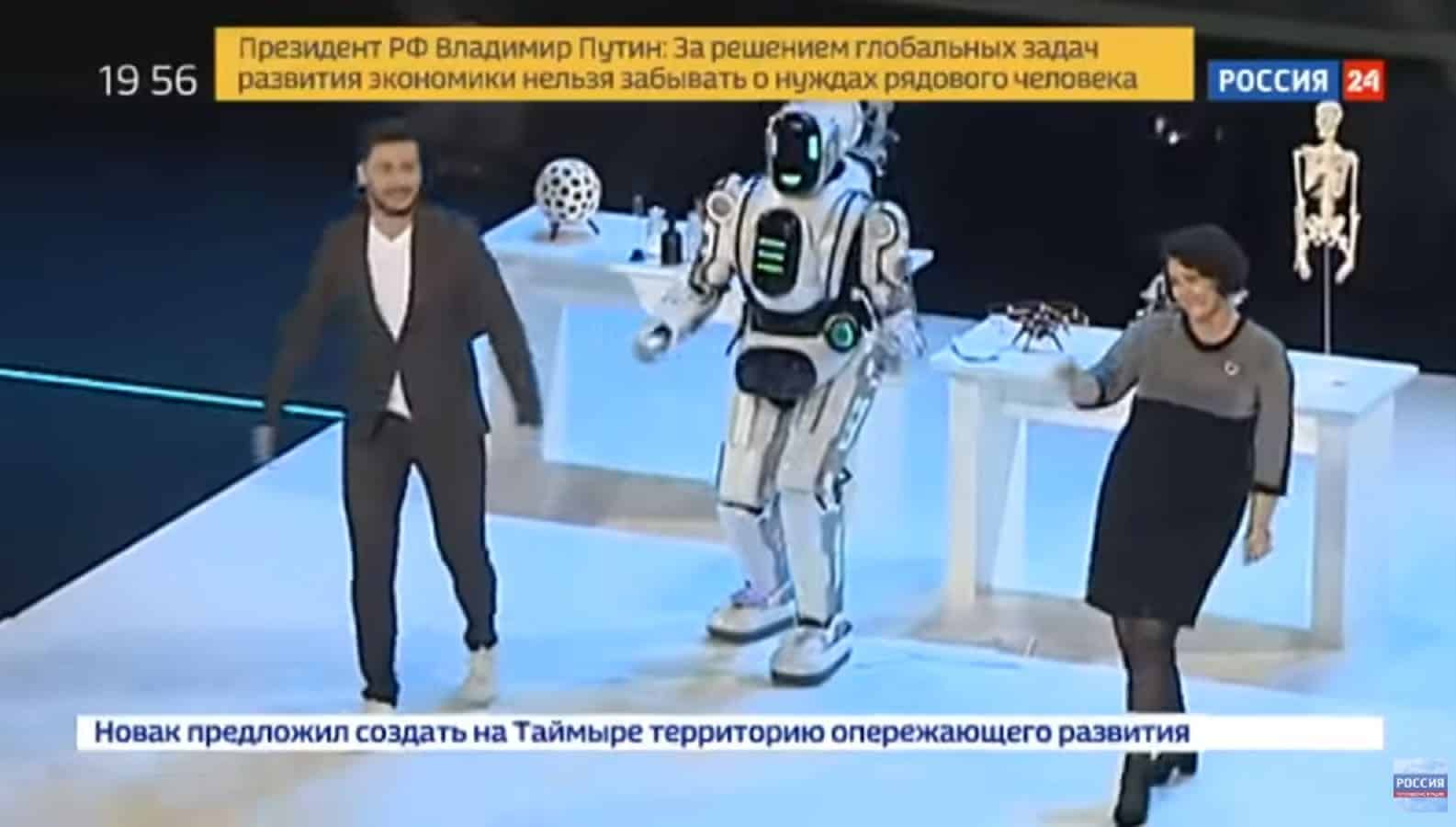 Propaganda or honest mistake? Yesterday, it seems Russian state TV had a confusing day while they were covering a technology forum for kids. One segment featured a man-sized dancing robot called Boris. If you can guess where this is going, give yourself a gold star.
Yes, Boris the Robot was really Boris in a robot suit.
The suit is actually manufactured by a company called Show Robots, and it retails for 250,000 rubles (roughly $3,770). It is sold under the name "Alyosha the Robot," and comes with glowing eyes, a microphone with voice changer and a tablet display, to give the "near total illusion that before you stands a real robot."
Check it out:
There were definitely "issues" with the "robot"
Sharp-eyed bloggers noticed suspicious things about how the robot was moving during the broadcast. The Russian website TJournal listed a bunch of open-ended questions, like "why can't we see a single sensor" and "why doesn't the Internet know anything about this 'most advanced robot in Russia.'" They also noted that the robot didn't have the usual thin joints that most robots have on their appendages.
With companies like Boston Dynamics peppering the internet with videos of their progress on various robots, the lack of a presence by the Boris robot is telling.
Adding to the apparent mystery, images posted on social media showed a very human looking neck on the robot.
Первый день работы форума "Проектория" открыли 6 авторских уроков лучших педагогов Россииhttps://t.co/ON227RuGhz pic.twitter.com/YDeu8RW9un

— Вести-Ярославль (@VestiYaroslavl) December 11, 2018
It's important to note that the organizers of the Proyektoria technology forum, which is held yearly for the "future intellectual leaders of Russia," did in no way try to pass this off as a legit robot. That's all down to the Russia-24 announcers, who praised the funky robot while it was dancing to Skibidi, a track from Russian pop group Big Little.
https://twitter.com/Soviet_flag/status/1072750313692631040
It wouldn't be the first time Russia has tried to pass off a fake robot as real. Just last summer Russian TV showcased a fake military "robot."
What do you think? Let us know down below in the comments or carry the discussion over to our Twitter or Facebook.
Editors' Recommendations:
Follow us on Flipboard, Google News, or Apple News