Surveillance drones that look like birds are flying around China
This idea is for the birds.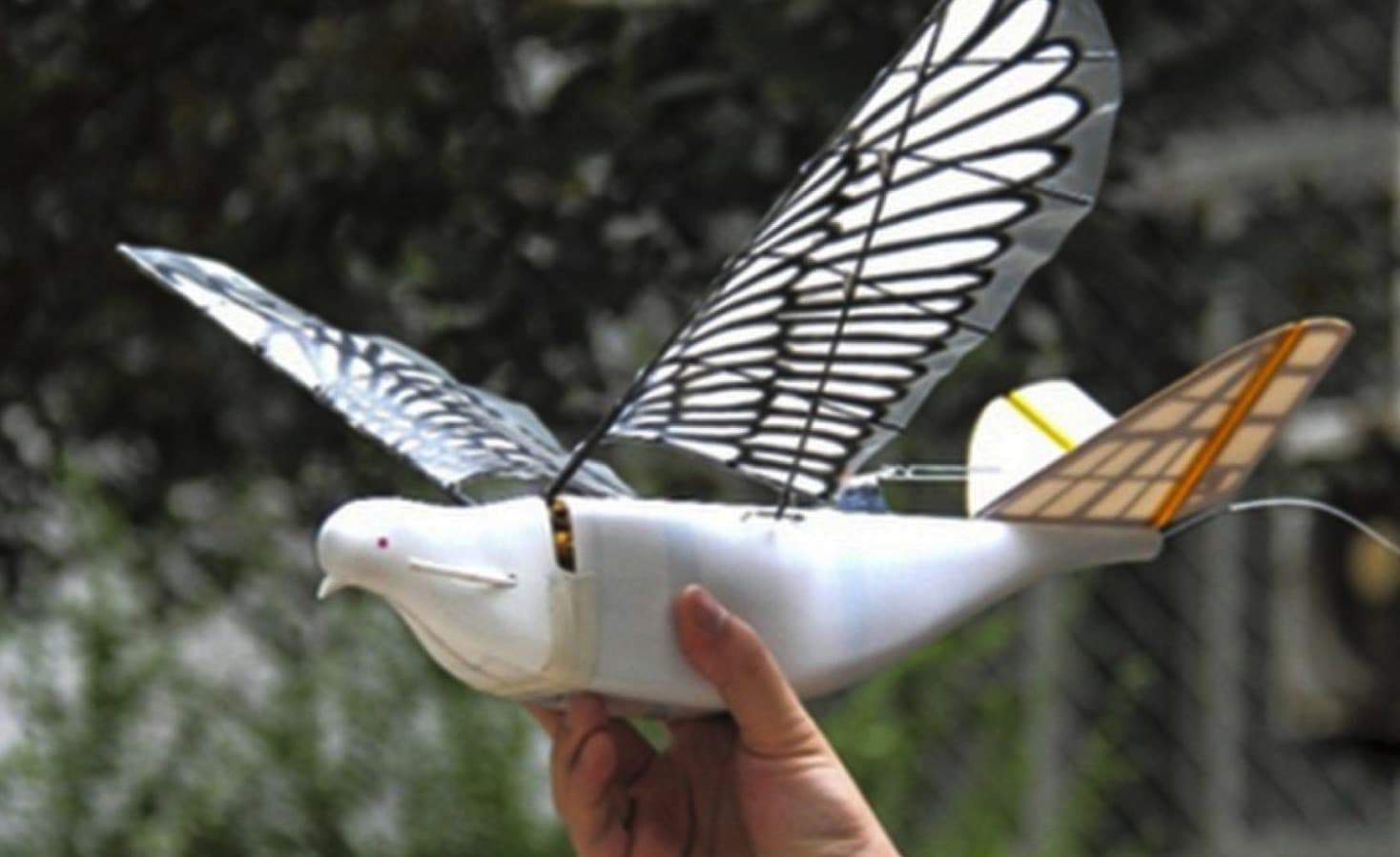 Surveillance drones disguised as birds are now being flown over China, courtesy of the Chinese military and government agencies. These are being used to spy on segments of the Chinese population, especially in areas of Western China which borders Russia, Mongolia, and Pakistan, according to the South China Morning Post.
Part of project "Dove," the mechanical avians look just like everyday birds thanks to the flapping wings attached to the central body unit. The body includes a GPS module, speed sensor, downward-facing camera, and an antenna.
According to the report,
Unlike unmanned aerial vehicles with fixed wings or rotor blades, the new drones actually mimic the flapping action of a bird's wings to climb, dive and turn in the air.

Another researcher involved in the Dove project said the aim was to develop a new generation of drones with biologically inspired engineering that could evade human detection and even radar.
Currently, the Dove program is limited, although it already involves 30 agencies. For now, it's only being used where other drones are already monitoring areas of the country where separatist sentiment is on the upswing.
The report continues,
Specially designed software helps to counter any jerky movements to ensure the on-board camera achieves sharp images and stable video.

The Dove drones' ability to seemingly melt into the background has attracted a lot of interest in military and government circles.

Professor Li Yachao, a military radar researcher at the National Defence Technology Laboratory of Radar Signal Processing in Xian, said the movement of the Dove's wings was so lifelike it could fool even the most sensitive radar systems.

The use of camouflage – perhaps even real feathers – on the drone's outer body could distort the radar signature still further, he said.
With China being China, don't be surprised if we see these birds flying all over the country in the coming years. Hopefully, their "migration" won't extend further into other areas of Asia, or to Europe or North America for that matter.
Do you believe other governments will use robotic birds as surveillance drones? Let us know your thoughts below.
For more news, see:
Follow us on Flipboard, Google News, or Apple News