Call of Duty swatting incident in Kansas leads to innocent man's death
When will it stop?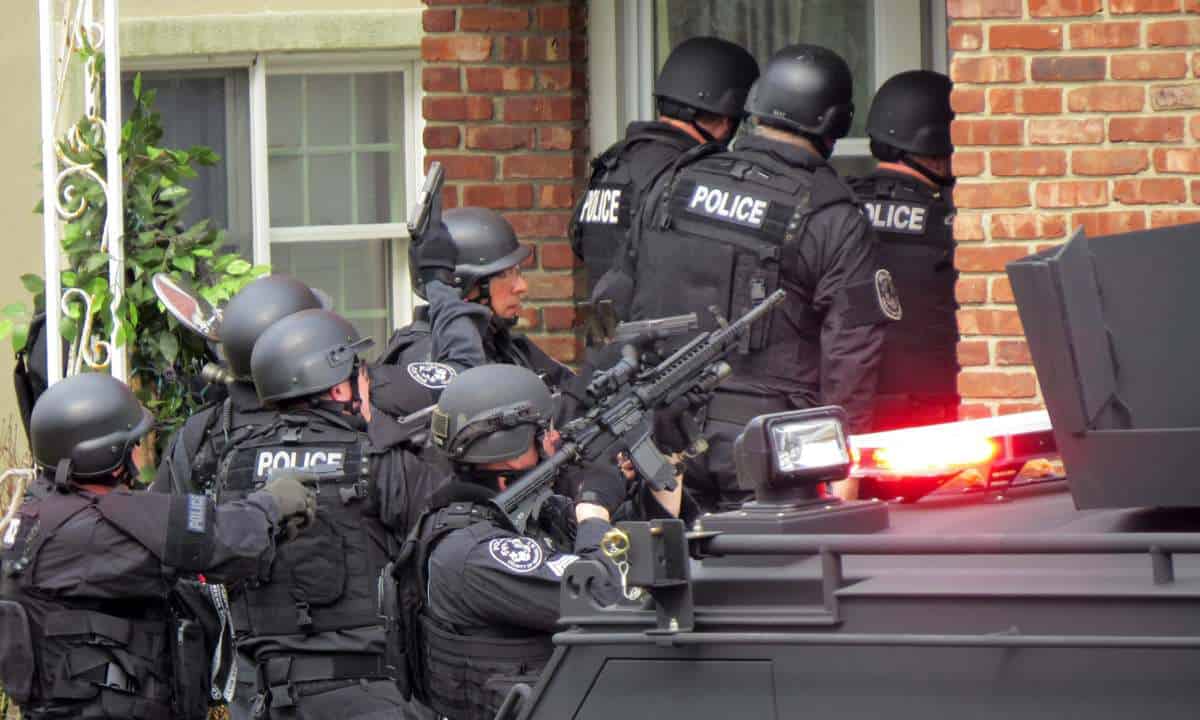 During a week when family and friends are supposed to gather together to enjoy their for the holidays, horror hit for one innocent family in Kansas. A man opened his front door due to the sound of police activity. However, he was fatally shot in the chest and was later pronounced dead at the hospital. Why did this happen? It was due to a false hostage call by an upset online Call of Duty player. You may ask what the wager was that caused these two players to get so angry.
The bet was $1.50, and they were on the same team.
The online gaming community has seen a plethora of false police calls, or SWATTING, as a response to online trash talk. Often, authorities take these calls seriously, and arrive at the suspect's address primed and ready to fire. Armored vehicles, police officers donned in full ballistic armor, and trained personnel are sent to these addresses, when most of the time, there are innocent families inside.
The two players involved were playing an online multiplayer wager game via UMG's online platform when two players got into a heated argument. Both players threatened to SWAT each other when one party sent his false information as a threat. So far, "police say they received a call stating a man was killed, and his family was being held hostage" per KWCH.com. Police arrived at the scene, and that is when the 28-year-old man answered the door, and an officer fired. The information provided by the caller was fake and belonged to a house down the street from him. The man who died was wholly innocent and had no connection to the UMG wager.
Since the incident happened Thursday, both players have since been removed from UMG, and they removed themselves from Twitter. The authorities are looking into both parties. The public and the family affected has called for police body camera footage to be pulled.
I'm not sure what it is about teenagers and young adults who enjoy bringing negative emotions into people's lives outside of a video game, but it needs to stop. It is incredibly easy to get ahold of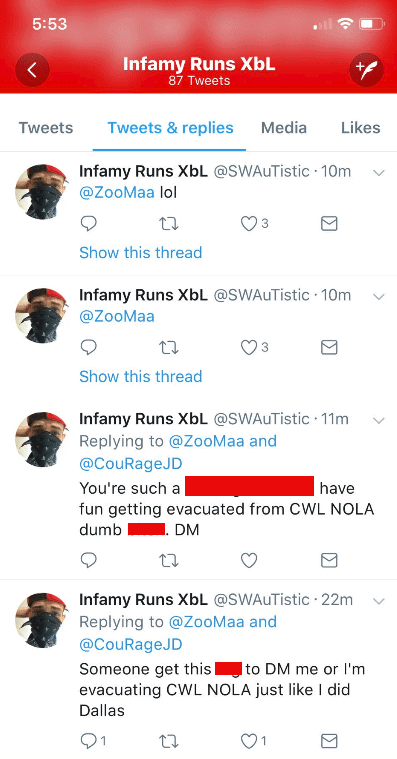 somebody's personal information. Having the power to gain this knowledge is dangerous.
From my research, it looks like one person is behind most of the recent SWATTING incidents in the Call of Duty competitive world. At the beginning of December, the CoD community openly welcomed competitive play back at CWL Dallas. The event walk plagued by false bomb threats that lead to evacuations at the venue. So far, a Twitter user by the name of "Infamy Runs XbL" has been placing many dox, SWAT, evacuation threats to pro players. Most notably, is FaZe clan's ZooMaa, who posted screenshots of Infamy throwing around threats like dollars at a strip club. The man claiming responsibility often changes his Twitter to try and stay hidden. His actions are making the name change irrelevant.
This kid needs to stop. I am going to call him a kid because his actions are only leading me to come to this conclusion. Almost every message he sends off includes a plead for a DM or direct message. All of these threats and actions are for attention. This kid wants attention from pro players in a community he so desperately wants to be included into. Threats aren't the way to do it. If he is looking to hurt people purposely, he didn't even think to make sure the address was correct. He isn't thinking clearly and will make a misstep. If the police don't catch him, the internet will.
This past summer, there was a charity held by OpTic Gaming's Hitch and Call of Duty announcer CouRage to support breast cancer awareness. Players were often kicked offline and were forced to either cancel the event or move to another game. Pro players on Steam offered to give the hackers a call, a DM, or anything they wanted just to participate in the event. Apparently, this isn't enough, and people want more.
I'm not sure what else this person wants. There is already an innocent man dead. If this hacker keeps going, the police will catch him, or worse. A video game isn't worth people's lives.
Read More: Kansas swatting suspect who had an innocent man killed has been arrested
Follow us on Flipboard, Google News, or Apple News