Pogo sticks hitting the streets of San Francisco ushers in the most ridiculous commuting timeline
Bounce straight to hell.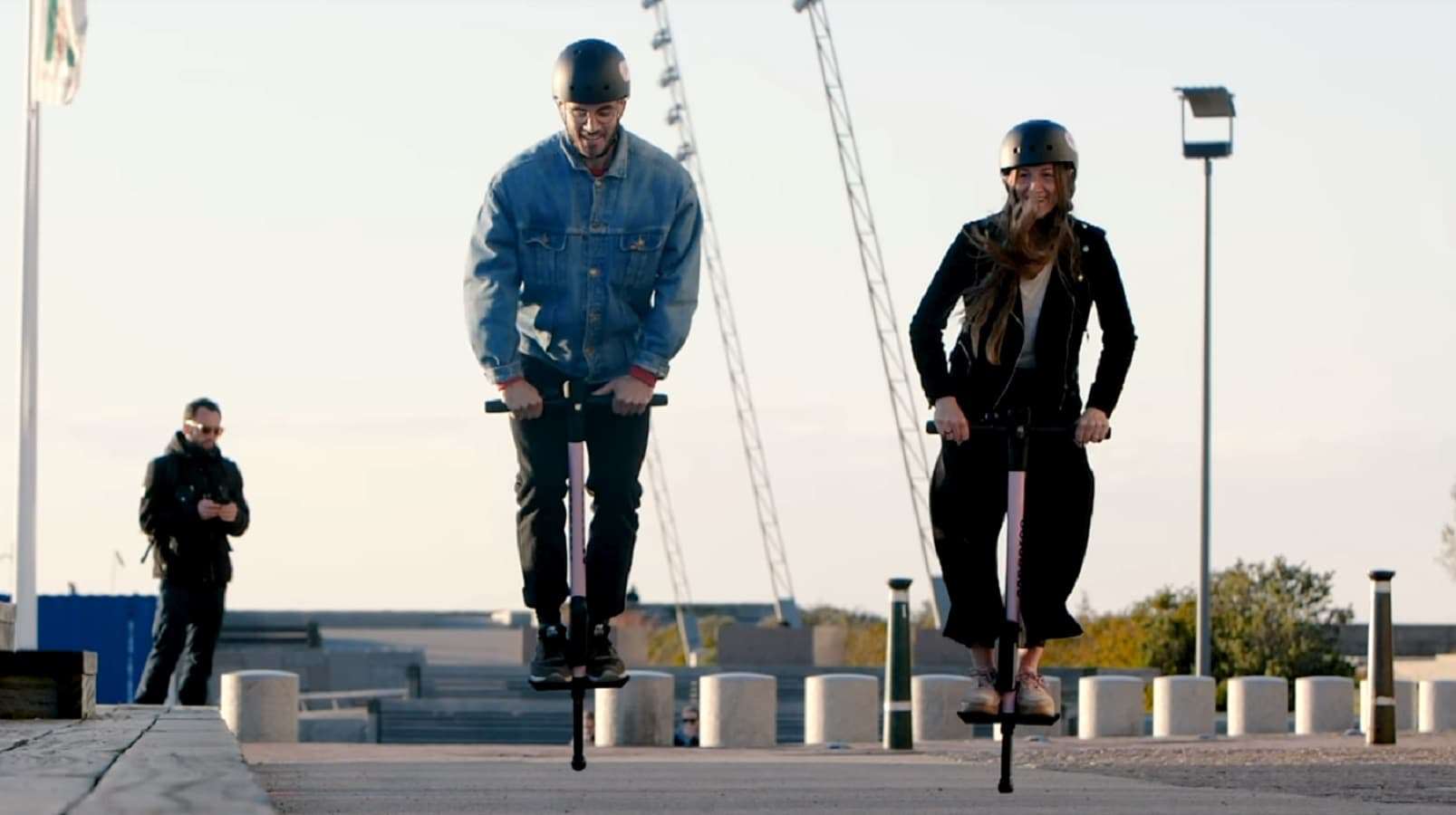 Last month you may have heard about Swedish start-up Cangoroo, which is launching pogo sticks as a form of transportation in Malmo and Stockholm later this year. Well, without much of a stretch of the imagination, it appears that San Francisco will be the first American city to be graced with the glorious bounce of pogo sticks as a transportation option.
And the world folded in upon itself, bounced into a black hole of nothingness.
As we wait for someone to invent pneumatic tubes for cross-city commutes à la Futurama, we have somehow settled on e-bikes, the child-like hell of scooters and data-stealing ride-sharing. People still walk. Some even ride *gasp* regular bikes without motors. Some eat sweat on the Subway. We have options.
We're still trying to figure out who to blame when people get injured or crash into shit when riding an electric scooter. And now for some silly reason, there is a company that thinks putting the hapless uncoordinated general population on pogo sticks is a fantastic idea. It's like giving a raccoon a shotgun.
The pogo stick of reality crashed into our foreheads, opening up a wound of infinite time.
This is a strange trend in the world of personal transportation, propping up children's toys as some sort of revolutionary way to transport oneself from point A to point B, falling somewhere in between and cracking skulls on the way down. I get it. Pogo sticks are fun for about twelve minutes. But as a model of transportation? Littering the streets of any given city as people drop them out of frustration with their inability to maintain balance?
The only trend these pick-up-and-go scooters, e-bikes and now pogo sticks are indicating is a trend in irresponsible human behavior.
Putting pogo sticks on the street and selling them as some sort of transportation device is only going to lead start-ups down a dark path of stupidity
It's not a short jump (pun intended) to hula hoops that use some sort of electric magnet to pull you in a direction while they spin. Or perhaps motorized big wheels, which exist, but not as a transportation-share device.
How about unicycles thrown randomly around the streets of your city as people realize they can barely walk straight much less balance on one wheel. Or straight from the depths of hell — one-size-fits-all electric roller-blades with programmable destinations. Or RipStiks.
The spring propelled us straight into darkness, our minds adrift with the memory of a horizontal world.
This personal transportation sharing world is not only reaching critical mass; it's reaching critical stupidity. Humans are not fit for sharing these types of things, they weren't as kids, and they aren't now. Ride-sharing is one thing but putting scooters, e-bikes and pogo sticks in the greasy, irresponsible hands of humans is another.
Eventually, this trend will come to a crashing halt and then humanity will be faced with the problem of finding a landfill big enough for all of the broken, beaten and tossed-in-a-lake scooters, e-bikes and freaking pogo sticks.
What do you think? Interested in commuting on a pogo stick or is this just another dumb trend that should fade into oblivion? Let us know down below in the comments or carry the discussion over to our Twitter or Facebook.
Editors' Recommendations:
Follow us on Flipboard, Google News, or Apple News