There's a Chrome extension that lets you threaten (I mean support) Congress directly on Twitter
Yeah, I can't see this being used for nefarious means.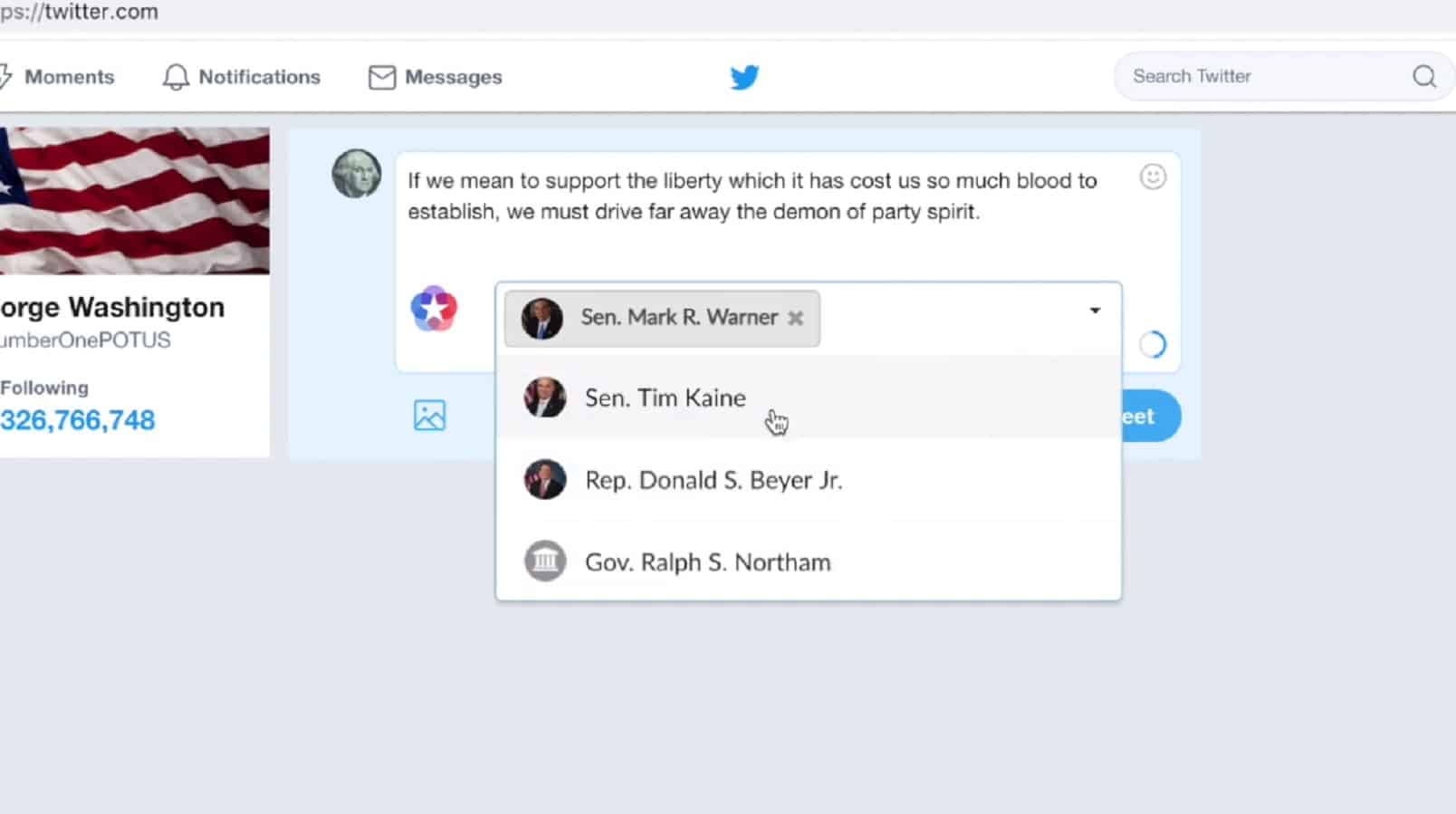 Politics. Politicspoliticspolitics. Amiright? There's so many of them these days! Yesterday was like, full of politics. I'm not very political (if you can tell), but there were so many politics yesterday that even I wanted to get on Twitter and give those clowns up on Capitol Hill a piece of my mind.
And thanks to ePluribus, now I (and average Joes like me) can! What is ePluribus? Well basically, it's a new Chrome extension that allows you to threaten your local Congressman – or Congresswoman! – with a direct message instantly. Did I say threaten? I meant… offer endearing words of support and the occasional bit of constructive criticism! This is how the internet we all know and love works.
"The idea is that people are already talking about politics on social media and news sites, but it doesn't really matter right now because it's in a bubble," said Liam McCarty, co-founder of ePluribus.
"It doesn't get to the decision-maker. And so we are effectively providing an extra layer over that. You can both tell your friends what you think, but also get back to your representatives so that they can act on it."
So when I tweeted earlier that Rep. Paul Gosar looked like an "evil Mr. Rogers with AIDS" that should "f*ck himself up a tree," I now have the power to tell him directly so he can start snagging branches to make my dream a reality. Thanks, ePluribus!
Check out ePluribus in action
Unfortunately for those of us who prefer to do our threatening from behind the comfort of an anonymous egg avatar, ePluribus requires its users to enter their address and phone number before firing off an acid-laced line of vitriol right out of Law Abiding Citizen.
And better yet? ePluribus not only serves as an add-on for Twitter, but works on sites like Facebook, CNN, The New York Times, and many more. So basically, if Alexandria Ocasio-Cortez thinks she's being bombarded with creepy-pervy messages now, she's going to love (hate) the future!
What do you think? Plan on trying this Chrome extension out? What politician will be your first stop? Let us know down below in the comments or carry the discussion over to our Twitter or Facebook.
Editors' Recommendations:
Follow us on Flipboard, Google News, or Apple News