Before you get mad at Ninja, are you even familiar with his Fortnite streams?
No, I bet you aren't.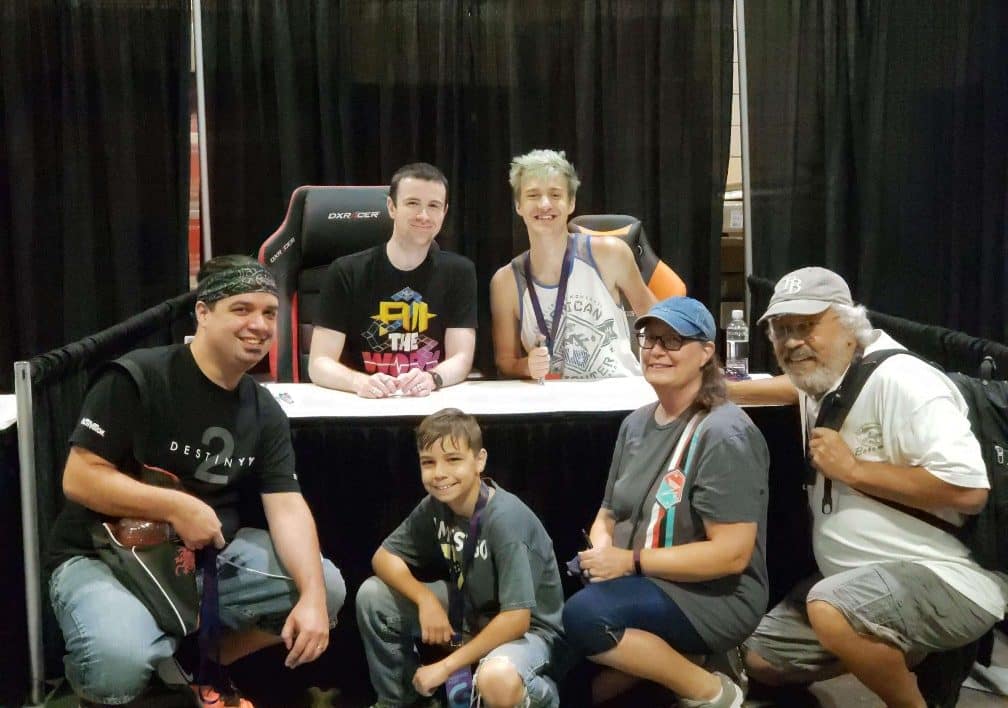 "We're sorry but we have a scheduled break for Ninja and DrLupo and will be cutting the line off. You can leave or stay here and they will get to you after they take their break."
The line attendants voice cut through my patience like a hot knife through butter. My 10-year-old son, both my parents and I had been waiting for two hours to get into GuardianCon and then another two hours to get into the actual line to meet Fortnite legends, Ninja and DrLupo. I'm familiar with both of them and my mom actually watches Ninja occasionally, but holy hell was my 10-year-old son, Aiden, hyped to meet his favorite celebrity. After being in line for so long, this was absolutely gut-wrenching. No one really wanted to be in line anymore and now we were going to have to wait at least an hour longer.
Upon the sudden announcement from the attendant, Tyler "Ninja" Blevins looked at her and the line relatively bewildered. He motioned for her to come over and was quickly joined by another attendant as well and they began to discuss something. The attendant turned around and went to the line we were waiting in and announced that Ninja and DrLupo would stay to clear out the queued line we were in before taking a break. That was my first real impression of Tyler Blevins, super streamer and professional gamer.
As we moved through the line, I could hear almost every kid ask Ninja if he would play with them or if they could add him on Fortnite and every time he was asked, his answer was unwavering. He told them he only plays with his group of friends, or he would tell them he only really plays with DrLupo. It was a kind way of letting kids down without completely dismissing them.
When Ninja was paraded out in front of the court of public opinion by Polygon last week for explaining why he doesn't stream with women, I wasn't surprised at his reasoning. Ninja comes off as a reserved, yet animated individual and with 10 million Twitch subscribers, he keeps his friends close and his streams entertaining. Honestly, anyone that watches Ninja isn't surprised by the revelation that he decided the best way to avoid "shipping" drama and hassle was to avoid sharing his stream with female streamers.
If you haven't watched a Ninja Fortnite stream, they are always the same, not that there's anything wrong with that. Ninja will play with friends like DrLupo, TimTheTatMan or even in solos by himself. He is incredibly skilled at Fortnite and effortlessly does things that end up being emulated by the community for months to come. He wins a lot, plugs Amazon Prime Twitch subs and talks about all manner of things. He keeps his streams inclusive to his viewers and tries to make it family friendly unless otherwise noted. Above all else, he's entertaining and is often raising money for charities. He even helped raise enough money to run St. Jude's for an entire 24 hours ($2.4 million)! When it comes to being an adult, Ninja isn't the worst guy out there.
Ninja has also had a long-running list of rules on his stream, they are as follows:
Be positive & helpful to other viewers.
Be respectful to moderators.
Do not self-promote!
Do not ask to play with Ninja.
Do not ask Ninja to play with other streamers.
Do not disrespect other streamers or create drama between streamers.
Do not ask Ninja to play a clip, song, or game.
Jokes about mental disorders will result in a ban.
Racism or discrimination will result in a ban.
English only.
Avoid religious & political discussions.
No trading or selling of online accounts or currency.
As you can see, Ninja tries to avoid as much drama as possible and follows those rules extremely diligently. Minimizing online harassment seems to be incredibly important to Ninja.
Without any surprise, Ninja crafted a response to the controversy of him not choosing to steam with women. In it, he focuses heavily on making sure people understand that his decision to avoid streaming with women is to simply avoid the issues that could go along with it. He makes sure to note that this isn't anything against women streamers at all, but a personal choice to try to keep some control over his and his wife's own hectic lives.
Hilariously, it seems that those that are mad, don't know much about the streamer at all. Ninja has hosted women's streams in the past and also has streamed alongside them in tournaments as well. Those are not actions of a woman-hating chauvinist, just someone that had an interview boil down to a singular point for attention.
When we finally got to meet the two, Aiden asked him if they could ever play squads together. Ninja looked at him and smiled warmly and said that he only plays with people he knows are worse than him and that's why he plays with DrLupo. At the end of the day, being mad at Ninja for not streaming with women would mean I'd also have to be mad at Ninja for not streaming with Aiden. Well, that's just fucking silly.
What do you think about Ninja's decision? Let us know in the comments below.
For more gaming news and reviews, check out:
Follow us on Flipboard, Google News, or Apple News