Google Pixel owners aren't very loyal to the brand, study finds
Google Pixel struggles to keep customers.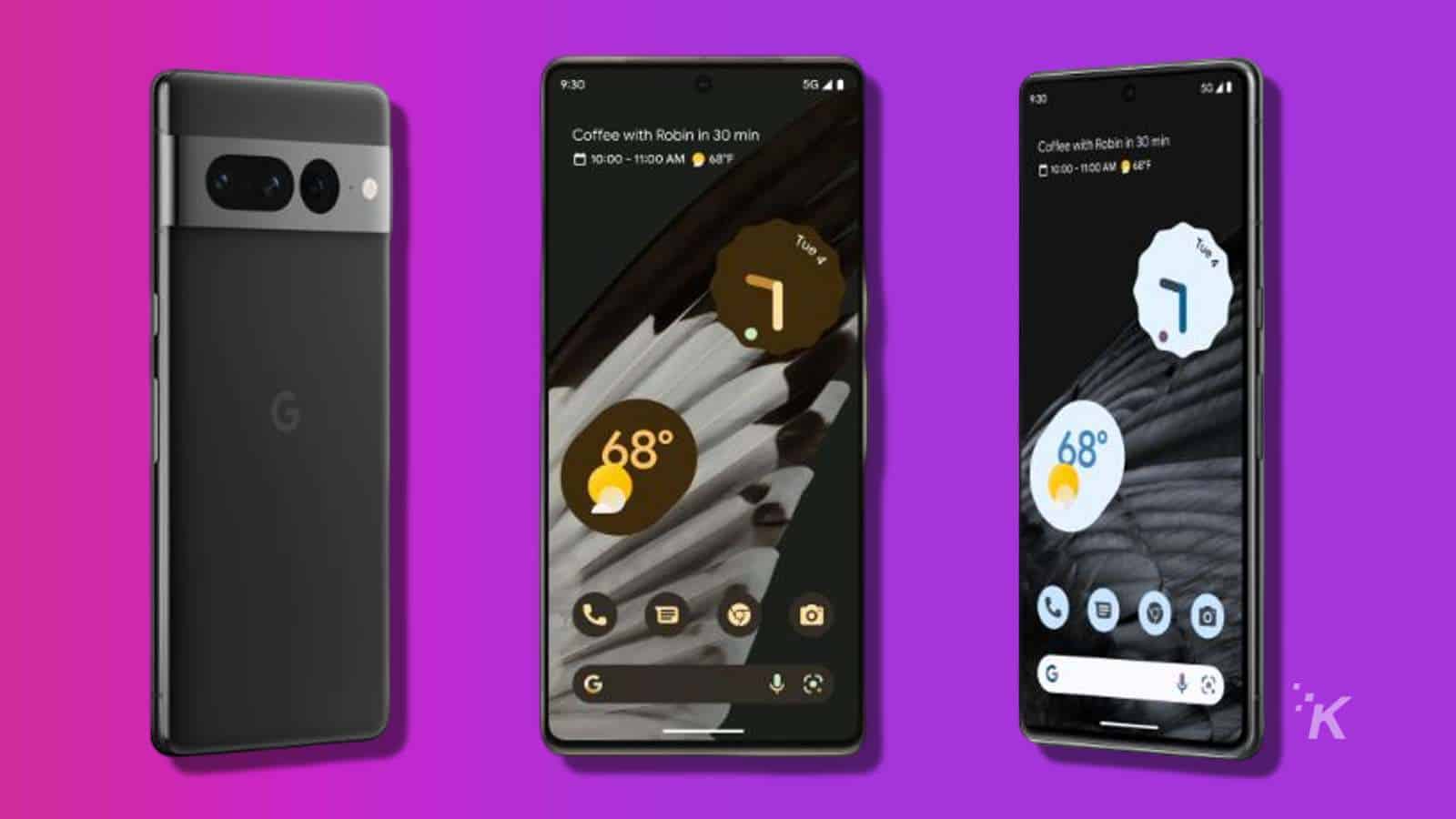 A recent survey has found that Google Pixel owners are less likely to return to the Pixel brand when it's time to buy a new phone.
The study, conducted by a data analytics website, Statista, found that 57% of Pixel owners in the US are likely to switch to another company when they purchase their next device. 
This particular dataset revealed an average loyalty rate of 41.6%. The customers analyzed in the study were from Google, Apple, and Samsung.
Here are some additional details about the survey:
The customers were questioned between April 1, 2022 – March 28, 2023.
9,571 customers were surveyed in the United States by Statista.
4,446 were Apple buyers, 2,738 were Samsung buyers, and 442 were Google buyers.
Apple has the best customer satisfaction, as 49% of their customers said they planned on returning. 
Similarly, 44% of Samsung customers plan to return.
Meanwhile, 34% of Samsung and Apple customers will likely choose other brand names next time.
Additionally, Pixel customers are only 26% likely to return to the brand.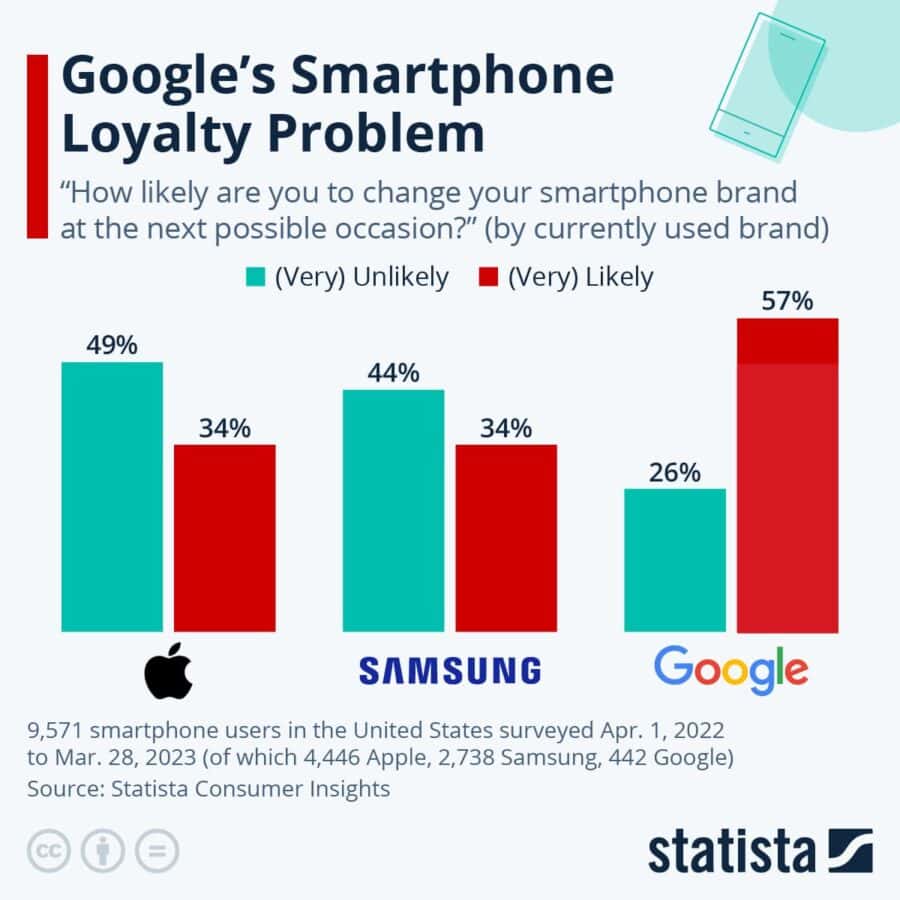 Is Google doing anything about these low numbers?
Yes, they are. Google has announced new Pixel devices, including the Pixel Fold, Pixel 7a, and Pixel Tablet. This should help the company retain customers.
Additionally, Google has been actively refining its software and expanding its offerings with initiatives like Project Safety and enhancements to Google Workspace.
Google's announcement of significant upgrades for Bard at I/O 2023 has generated excitement, and the company could retain customers by featuring Bard more prominently in Pixel devices.
A report by 9to5Google claims that Pixel owners will get an exclusive Bard AI homescreen widget when it eventually makes its debut on mobile.
A Redditor makes a valid argument here on how all phones have their share of problems, but as a newer and lesser-known brand, Pixel's issues tend to stand out more.

"The r/Android community is having a melt down over why Pixels don't have brand loyalty. From things like, "it's a tech phone and tech people use it and Google kills the tech they rely on."

To, "well the issue is that consistency. It's very scientifically clear that people leave Pixel because Material U 3 just isn't in all the apps."

I love my Pixel but as someone who worked for a major Verizon retailer. The issue I saw was hardware and reliability. The Pixel brands issue is just reliability. It's buggy and you never know if you get a good Pixel or not. People leave if they think their phone is junk or it crapped out on them or it just doesn't work like normal.

I think as someone who has carried every Pixel and loves both it's benefits and flaws I can openly talk about it and highlight the negatives and any fan boy on here that thinks Pixel is perfect and it's user error I am here to tell you first hand you are wrong and that is that. Downvote all to hell but there are genuinely some of the strangest issues on Pixel.

The customers we sold them to were often people looking for a deal, old people looking to upgrade that have grandkids that think they need an iPhone, and younger people who were just making their first smart decision.

My biggest finger to point blame at is easily the company I worked for. We were paid commission based on the thing we sold you. Shocker, Pixel and Motorola paid us the most while Samsung and Apple paid us the least.

My issue with this is incentivizes selling for the most money at any cost without most considerations towards a customer or having any knowledge of what we are selling. The other issue is Pixel hardware. From poor service, heating issues, and over all strange software bugs like, the phone app not working (a standard app), the Gboard app literally just not pulling up. Displays going out. Buttons falling out, to random reboots.

The combination is this, "hi Lucinda, you want a new phone how about a Pixel, your grandkids wants you to have an iPhone well how about the closest Android experience to an iPhone." Then a month later the Google app and Assistant keep crashing. This in return makes Lucinda not want another Pixel and then tell the youngest grandkids not to get a Pixel.

Pixel is fantastic and I personally prefer it over iPhone and Samsung because of the little things I use in the moment like copying a sentence of text by swiping up and looking at that open app and just copying and swiping over to the app I want to paste.

However, this is now something iPhone does. With that being said a phone should be criticized for it's issues and I saw a ton of iPhone issues that the Apple sub doesn't believe exist at all. iPhones are just perfect and work. I also saw my fair share of Galaxy issues. Looking at you Samsung and not being able to send a text because the Galaxy doesn't think it has service. All phones have problems the difference is that Pixel is newer and less known and so those issues stand out more."
Have any thoughts on this? Drop us a line below in the comments, or carry the discussion over to our Twitter or Facebook.
Editors' Recommendations:
Follow us on Flipboard, Google News, or Apple News