Microsoft doubles down on Bing AI with new iOS and Android features 
Microsoft's Bing Chat gets deeper Edge mobile integration, a widget, SwiftKey support, and much more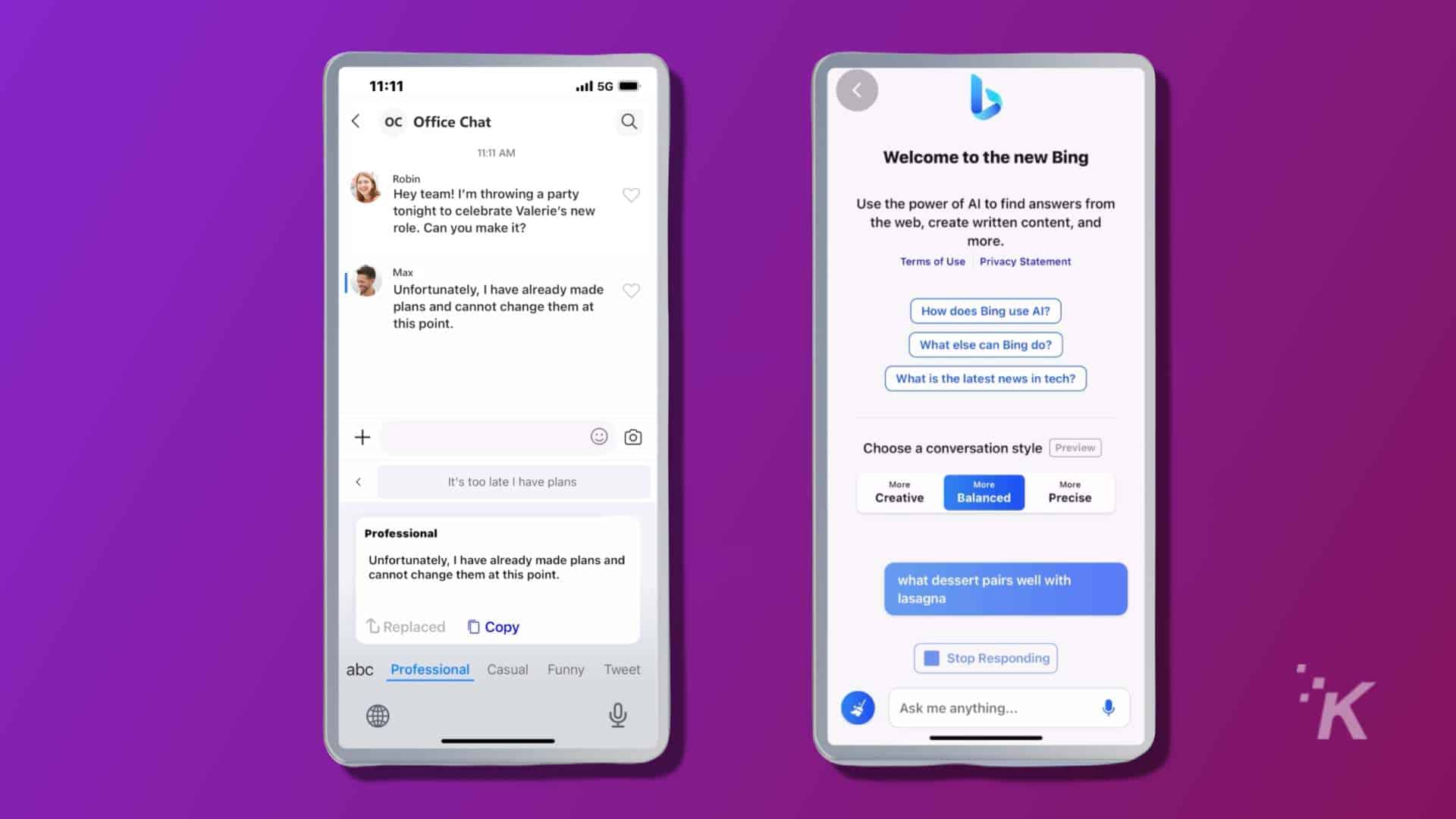 Microsoft announced a bunch of new updates for its Chat GPT-4 powered Bing Chat earlier in the month. Today, the company has started rolling out those new features.
Microsoft announced the new updates days after Google rebranded its AI to Duet AI for Docs and Gmail. However, Microsoft is focused on a different area.
The company is expanding Bing's reach on mobile by introducing AI-powered Bing integrations for iOS and Android, along with seamless chat conversation syncing between mobile and desktop versions.
Among the numerous features unveiled by Microsoft, the standout addition is a chat history button. This clock-shaped icon, found at the top of current chats, allows users to access and view their previous conversations easily.
The feature is already available on mobile, but Microsoft is bringing it to the desktop version.
It has only been more or less 100 days since Microsoft released Bing Chat, and it shows no signs of slowing down. Growth is at an all-time high, with eight times more daily downloads since the introduction of AI chat features.
The Bing mobile app gets a fresh coat of paint
Microsoft is adding new features to the Bing Mobile app, starting with the new Bing app widget, which enhances the overall app experience by enabling faster access to Bing Chat directly from the widget.
Users also have access to a speech-to-text via their phone's microphone. However, the best possible addition is the ability to continue your conversation from the mobile to the desktop and vice versa. According to Microsoft, the feature is coming within a week. 
Additionally, the company has made significant headways in terms of the quality of chats in other languages. So, you have the ability to use Bing Chat in multiple different languages.
Updates for Edge Mobile
Microsoft Edge is available for mobile, and Microsoft is launching a new Bing feature for it.
The new feature is called Contextual Chat, and it allows users to tap the Chat icon while browsing the internet and ask Bing to summarize the page. You can also ask questions in relation to that page.
The second new feature is named Selected Text. Suppose you come across a text or a phrase while browsing and you don't know its meaning.
In that case, you can simply select the text and ask Bing AI for further information. Sure, it's nothing groundbreaking, but it's a nice tool to have at your disposal.
The new Edge features have yet to arrive, but they will be available to users soon. However, Microsoft hasn't provided a concrete timeline.
Additionally, Microsoft is also extending the Bing AI chatbot to group chats on Skype.
So, even during a conversation, you can ask Bing AI for help. And before you get your hopes up, Microsoft hasn't disclosed if a similar feature would appear on Microsoft Teams.
Compose & Translator for SwiftKey
SwiftKey, a mobile keyboard app, is set to receive new Bing features courtesy of Microsoft. The first, called Compose, allows users to ask Bing to create content based on a brief prompt, simplifying email composition.
Initially exclusive to desktops, this feature will be introduced to SwiftKey in an upcoming update within the next few weeks.
SwiftKey is also getting an AI-powered Translator feature too. However, Microsoft hasn't clarified how this feature differs from the existing SwiftKey translator feature.
We are assuming the new feature is better with intricate texts and delivery. It is already available for Android users and coming to iOS pretty soon. 
Lastly, a Tone feature is coming to SwiftKey. It helps to rewrite messages in a different tone, and currently, it supports two new tones, Funny and Witty.
Have any thoughts on this? Drop us a line below in the comments, or carry the discussion over to our Twitter or Facebook.
Editors' Recommendations:
Follow us on Flipboard, Google News, or Apple News