Review: The AutoFull racing-style gaming chair – like NASCAR with lumbar
It's a chair.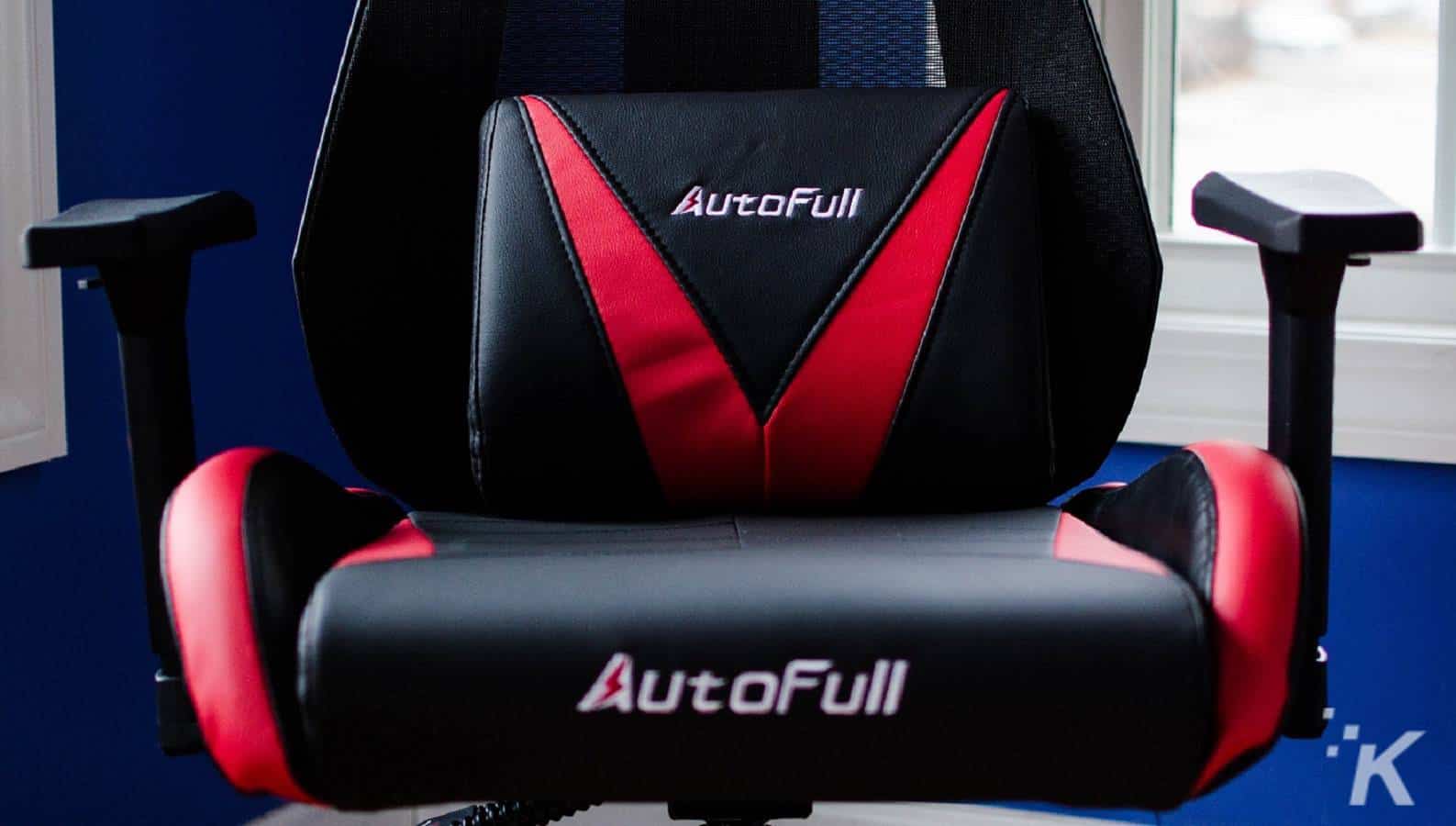 The Good
Ergonomic, huggable design
Breathable mesh back
Reclines + locks up to 170 degrees
Comfortable lumbar support and headrest
The Bad
Some screw anchors are hard to locate
Slightly stiff cushion
Like with my first vaporizer review, the prospect of reviewing a gaming chair struck me as a unique one when I was first approached with it, if only because of how uniquely unqualified I was to do it. The extent of my gaming knowledge peaked with the N64 I got when I was 7, the most recent game I've played was Borderlands 2, and I can't even think of a third gaming-related thing to complete this list.
On the other hand, I have become something of an expert at sitting down over the years. I do it a lot, I enjoy doing it, and I have developed a phobia of step counters because of the horrifying truths they might reveal. You know, the ordinary plights of the average nine-to-fiver.
All of which brings us to the AutoFull gaming chair.
First Impressions
It's a chair.
In the box:
Five-star base
5 caster wheels
2 adjustable armrests
Tilt mechanism
Safety metal plate
Gas lift cylinder + cover
Back & seat joint + cover
Racing-style back
Seat cushion with lumbar support
Design
It might not look that different than most of the performance gaming chairs that have come before it, but the AutoFull does cut a striking design nonetheless. Its hard-edged, "spider" look and bold colors would make it a perfect fit on the NASCAR track or in an episode of Dethklok, which oddly (and nicely) contrasts with the ergonomic curvature and breathable mesh design of its back.
The AutoFull can also recline to a full 170 degrees backward and has one of the smoothest 360-degree swivels of any chair I've ever sat in, making it a must-own for gamers who enjoy sitting like JP from Grandma's Boy.
Setup + Performance
The AutoFull comes with a booklet of easy-to-follow instructions complete with pictures, with the only caveat being that they were clearly not written by a native English speaker. Despite that, the chair shouldn't prove too difficult to set up for anyone who has ever spent an afternoon constructing a piece of IKEA furniture before (not to mention, the $68 assembly fee offered by Amazon is a bit pricey for its $200 price tag).
Unfortunately, the AutoFull does suffer some of the same issues as the Techni Sport TS-5000 when it comes to the frame base in the cushion of the chair – mainly, in that a couple of the screw anchors required to hold it in place are hidden or otherwise difficult to actually find without some struggle.
On the comfort end, well, the AutoFull is kind of a mixed bag. I probably haven't yet been able to put in the long hours required to break in a chair like this, but my initial takeaway is that it's a bit stiff. The lumbar pillow and headrest is a nice touch, though, as is the AutoFull's deep recline feature.
Does it stand out from most of the gaming chairs out there? At a $200 price point, I can't really say, but it's certainly more comfortable and dynamic than your average office chair and that's about as analytical as I can get about a chair.
A sample unit was provided to KnowTechie for the purpose of this review.
Editors' Recommendations:
The Good
Ergonomic, huggable design
Breathable mesh back
Reclines + locks up to 170 degrees
Comfortable lumbar support and headrest
The Bad
Some screw anchors are hard to locate
Slightly stiff cushion
Follow us on Flipboard, Google News, or Apple News