Review: Toybox 3D Printer for kids – a solid 3D printer for the price
The perfect 3D printer for getting children interested in STEM.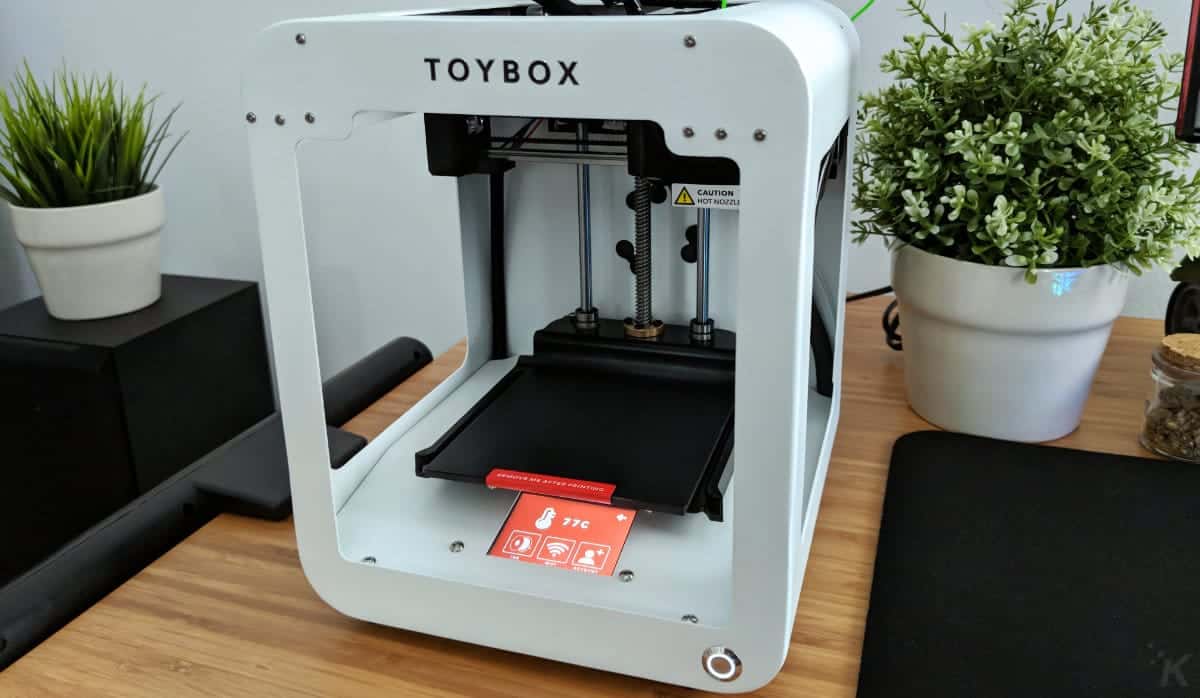 There's a lot of things that get described as "the future," including children and 3D printing. So what if the two are combined? Do we get a double-rosy future?
Certainly, the future of manufacturing seems to be firmly enmeshed with 3D printers and 3D printing. The rapid prototyping that it enables is beneficial across almost every sector of business. This rapid development cycle is also great for kids, where their often short attention spans lend itself well to the technology.
With several studies discussing the importance of developing creative activities from an early age, the two seem to be well matched. For example, the Japanese government has already begun to add 3D printing courses to the school curriculum with the aim of preparing them for new technologies and the future.
That same mindset led to the Toybox 3D Printer
That same mindset is in Toybox Labs' CEO, Ben Baltes, and was behind their development of not just a cheap 3D printer, but the ecosystem that goes along with it. The Toybox printer is all-metal, partly enclosed for safety, and can outperform some more expensive models out-of-the-box. The whole system is designed to be easy to use, from the printer itself, the web software that runs it, or the app that lets you print and create straight from your mobile device.
Toybox's main focus while designing the printer was on safety, 3D printing uses a very hot nozzle for the print head so partly enclosing the printer helps to keep little hands away from any dangerous areas. They even used a material for the printing that's non-toxic and biodegradable – PLA plastic made from corn oil.
Following the successful Indiegogo campaign in 2017, you can now pick up a Toybox printer direct from the company. They were $299 as an introductory rate, and the starter kit is back down to that price level today.
It has a 9 x 8 x 10 cm print volume, which is on the small side for typical 3D printers but is suitable for the intended uses. It can print between 20-60 mm/s which is fast enough that the munchkins won't get too impatient while waiting, and can reach a resolution of 10 microns. The all-steel frame helps with the inherent misprints of cheaper printers that aren't structurally sound enough for the stresses.
Toybox's advanced high-res 3D printing technology means precision details, bringing toys to life faster than ever before, said Ben Baltes, CEO of Toybox Labs. Each model in the library has been pre-optimized to minimize printing time and pre-tested to guarantee high-quality, detailed prints at a resolution of 200 microns.
Toybox sent over their Deluxe package to KnowTechie, which comes with the printer, 8 pre-selected spools of "Printer Food," a magnetic print bed and access to the Toybox catalog of 500+ toys to print along with the web-based software that controls the printer or lets you create your own items to print. The software also lets you import anything designed in the popular .stl format, provided it will fit in the print volume of the printer. This was retailing at $469 but it appears to be marked down to $349.
[envira-gallery slug="toybox-3d-printer-for-kids"]
Setup and software
Setup was super easy, so simple a kid could do it. I mean, that's kinda the point, right? Plugging in the printer and opening either the web software or the mobile app starts a pairing process that connects the Toybox printer to your WiFi. Then all you have to do is browse the catalog for what you want to print, and presto – one tap later you're printing your desired item. A word of warning – it's fairly noisy when in operation. Think dot-matrix printer kinda noise.
[envira-gallery slug="toybox-3d-printer-software"]
The "Toys" section of their site has over 500 models in it, including some more advanced multi-part items like castle playsets. There's everything from Minecraft-esque tools to customizable Block Buddies that your child can make look like themselves. You can also import an image, and the software will help you make it 3D. Ever wanted to immortalize your kids' drawings? There's a sketching function that lets you do just that and print out the results.
In use
Straight out of the shipping box with no manual calibration the Toybox printer did an admirable job. I showed the final print to a friend who has a more expensive printer and he was pretty impressed at the quality. With how well this thing prints, you and your kids should have a ton of fun with it. It really does take all of the usual pain points of low-cost 3D printers out of the equation. Setup is a breeze, no manual calibration, no bed leveling, no assembly, it's a dream.
I printed a jaunty pumpkin for Halloween, which took just over an hour to print. There were minor layer bonding issues partway through, which could have been due to any number of common issues with 3D printing. I also printed some racecars which were multipart toys with separate colored tires that fit on over some clips on the printed axles. Those printed perfectly. There were some minor bonding issues on one print of the wheels, but that was down to me being a newcomer to 3D printing.
I hadn't cleaned the print bed properly after the last print. Doing that, and remembering to do that after every print has resulted in great adhesion. You could also put some masking tape on the bed, which is a very common 3D printing trick to aid in adhesion for that all-important first layer.
So should I buy it?
STEM education is one of the most important parts of your child's education. In my opinion, we should do every last thing we can to instill that sense of wonder at how things work, how they get made, how to put them together. 3D printing teaches so many associated skills including problem-solving, manufacturing, design thinking, creativity.
It's great to see so many schools introducing it to their curriculum, and printers like the Toybox that can be used at home to support that are amazing to me. Growing up I watched shows like Star Trek where products were created out of thin air and I marveled. Now it seems that science-fiction is going to be science-fact sooner rather than later, in part thanks to trailblazers like the Toybox Labs team.
The Toybox 3D printer is available exclusively on the Toybox website.
A sample unit was provided for the purpose of this review.
Editors' Recommendations:
The Good
Prints right out-of-the-box
Easy to use interface for kids
Extra functionality as skill grows
Well-made, all-metal printer
Can print from computer or mobile app
The Bad
All 3D Printers are noisy, this is no exception
Follow us on Flipboard, Google News, or Apple News