Review: The DaVinci MIQRO personal vaporizer – not exactly a revelation
A far cry from the Mona Lisa of vapes that you and your Brona Lisas deserve.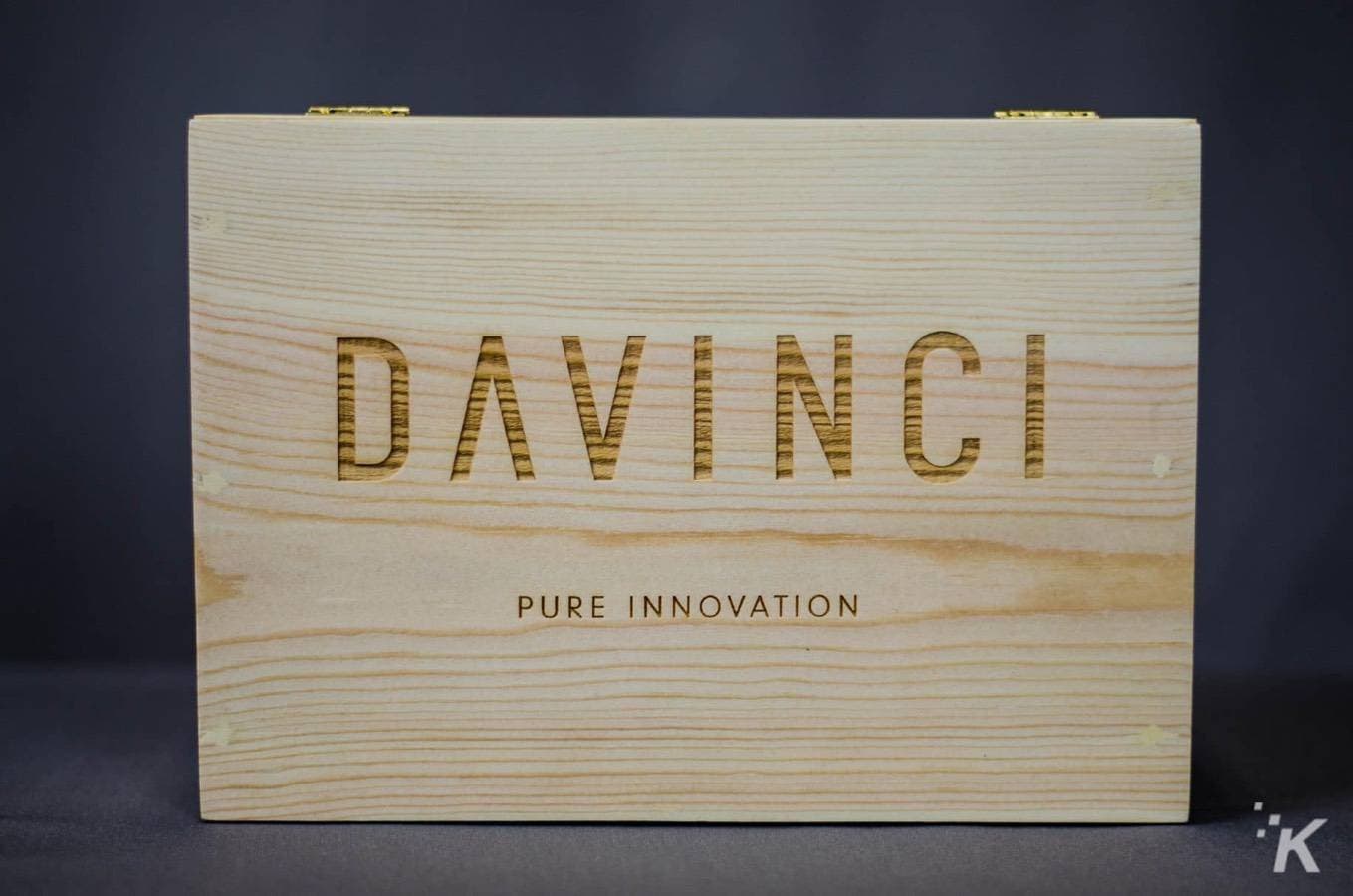 The Good
Beautifully packaged
Easy to operate
Doesn't overheat in your hands
The Bad
Incredibly short battery life
Small herb chamber
I don't know what's to blame for the wave of pretentiousness surrounding even the most minor advancements in tech these days (my top two guesses: Steve Jobs and the ghost of Steve Jobs), but all I know is that we are reaching George Clooney acceptance speech-levels of smugness at a breakneck pace. Tech products aren't created to solve a problem anymore; they're created to change the world.
The DaVinci MIQRO personal vaporizer is no different, right down to its wiqed qool, wiqed qlean name. Try not to puke in your mouth a little while reading the description written on this thing's (admittedly gorgeous) packaging:
Leonardo DaVinci bravely defied conventional wisdom, re-imagining and reshaping the world around him. DAVINCI honors his legacy of innovation with tireless craftsmanship and design. Get ready to experience vapor in a whole new way.
I've just come to the heartbreaking revelation that the actual da Vinci would totally be a vape bro if he was alive today, his hair manbunned and his Mona Lisa shrouded behind the fattest goddamn ploom you've ever seen. And now I'm sad.
First impressions of the DaVinci MIQRO
Pretentious name and description aside, the MIQRO arrived in what is easily the nicest packaging I've ever seen for a vaporizer, right down to a carved wood case that would make Jesse Pinkman green with jealous rage. I mean, just look at that picture above. I'd dig up my family's prized pet bird from his current grave just to rebury him in that thing. (God, I miss you so much, Mr. Peeps.)
The MIQRO also comes with a whole slew of goodies and extras, including a grinder card for discretely breaking up your herb on the go, a second 900 wAh battery (which you'll need, as the battery life of the MIQRO isn't exactly resilient) and a carrying case.
In the box:
Davinci MIQRO
Carry Can
Glove
Grinder Card
2 18350 900 mAh Batteries
10mm Water Tool Adapter/Extended Mouthpiece
USB Cable
Multitool
4 Cleaning Swabs
Peral Posts
Peral Gasket
Mouthpiece Gasket
Carry Case
Owners Manual
Design
For such an "innovative" company as DaVinci claims to be, it really didn't do much to make the MIQRO stand out (from a purely aesthetic standpoint, at least). I couldn't pick it out of a lineup of PAXs or Vapiums or any modern portable herb vaporizer, really, save for its size. I mean, where's the imagination? Where's the creativity? Where's the mildly racist cartoon bunny rabbit mascot?!
Meet Therabody's All-New TheraFace Mask
TheraFace Mask is a breakthrough FDA-cleared LED skincare mask with added tension-relieving vibration therapy. Clinically proven results include firmer, smoother, healthier-looking skin with a visible reduction in fine lines, wrinkles, and uneven tone in as little as 8 weeks
Once you get under the hood, however, the MIQRO actually offers a couple cool features that help set it apart from its peers. For starters, its ceramic herb chamber/oven is located at the bottom of the vape, making it virtually impossible to pull any herb through during a session. And if you're sick of all the, for lack of a better term, vapor-less vaporizers currently flooding the market, look no further than the MIQRO's built-in zirconium tamper (dubbed the "Pearl") to solve all your vapor density issues.
Performance
The MIQRO offers a variety of heating temperatures ranging from a fairly standard range of 350 – 430 degrees, which can be accessed via "Precision Mode," as well as four "Smart Path" presets that should satisfy most regular vape users. The Pearl certainly does its job in regards to the density of each hit, ensuring that each session burns as cleanly and evenly as possible.
Unfortunately, the MIQRO doesn't exactly have what you'd call "staying power." In an effort to compensate for its size, DaVinci replaced the 18650 900 mAh battery found in its other models with the more modest 18350, making the MIQRO's average lifespan about as long as the pet goldfish you took home to feed your prized family bird. Only exacerbating things is the fact that you'll need to have the MIQRO set to its highest Smart Path in order to get full, satisfying vapor every hit, and that it takes between 60-120 minutes just to charge it up again.
Final thoughts on the MIQRO
Unlike Curtis, I wasn't exactly blown away by the MIQRO, though that's not to say it isn't a well-built vape for the most part. Will it change the way you think about vaporizers or any other such pretentious nonsense? Probably not.
At $200 a pop, there are certainly other, more moderately priced vaporizers out there that offer a similar experience, but to quote the man himself, "Art is never finished, only abandoned. Now watch me puff a siiick ploom while I hit this Kickflip McTwist."
A sample unit was provided to KnowTechie for the purpose of this review.
Editors' Recommendations:
The Good
Beautifully packaged
Easy to operate
Doesn't overheat in your hands
The Bad
Incredibly short battery life
Small herb chamber
Follow us on Flipboard, Google News, or Apple News