Review: EcoQube Air hydroponics desktop greenhouse
Your apartment will thank you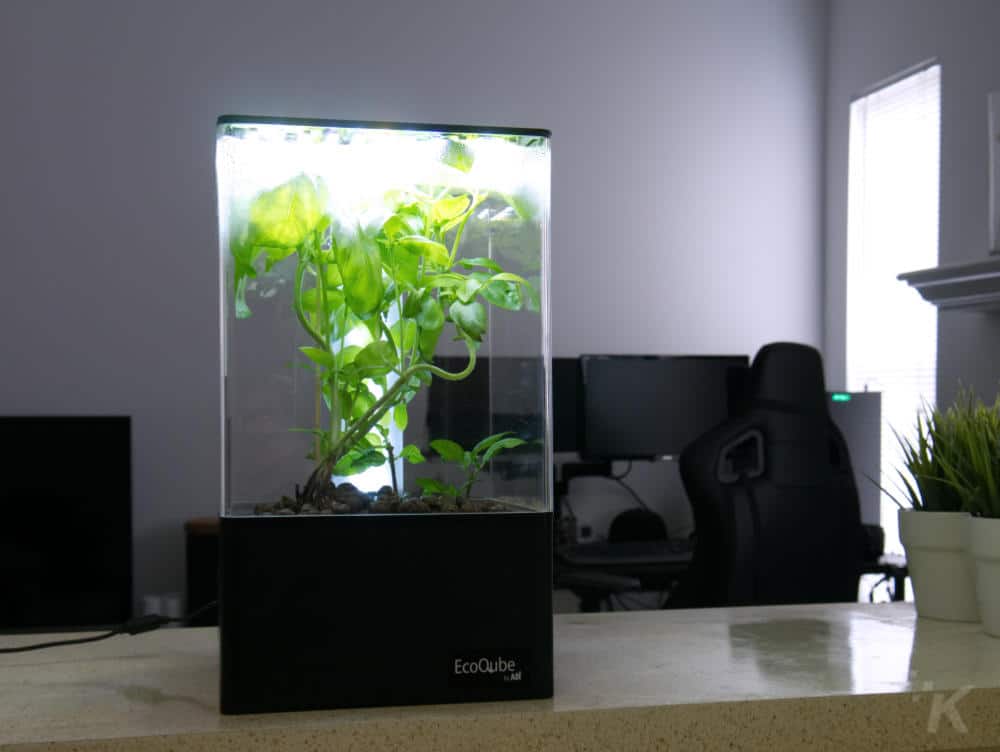 The Good
Low maintenance way to grow herbs
Stylish
Fun thunderstorm effects
With our ever-increasing apartment dwelling lives, it's hard to connect with nature – especially if you live in a midrise apartment building in the city.  Aqua Design Innovations want to change all that, leaf by leaf, creating devices that aim to reconnect you to nature. They've got a history of successfully crowdfunded devices under their EcoQube brand, such as the C Plus which uses a hydroponic setup to clean the aquarium below it, and the device we're looking at today, the EcoQube Air.
At its heart, the EcoQube Air is a closed-system hydroponic setup, that's conveniently sized to fit on your desk or countertop in place of a traditional potted plant. It has an activated-carbon HEPA filter to take in air from your room, pass it past the plant growing inside to oxygenate it and return it back into your living quarters.
It's also got a full-spectrum LED array on the underside of the roof, which is designed to provide plants with the optimal amounts of light and can also do some nifty tricks, like simulating sunrise/set or even a thunderstorm. With us getting less natural light due to our office jobs, setting the light cycle on the EcoQube Air can also help adjust your circadian rhythm so you sleep better. This is especially beneficial in the winter months.
You can grow most plants in the EcoQube Air, from cooking herbs to small decorative plants. ADI recommends the Kokedama plant as an especially decorative, low maintenance plant.
The setup process was super easy: take everything out of the box, put the clay pebbles into the grow tray, and make sure the pump is in the correct place. I also added distilled water that had fertilizers specially formulated for hydroponic growing, you'll need to pick these up from Amazon etc, as they don't come with the kit. Here's the one I ordered, which will last for ages. As it's a closed system, you only have to top up the nutrient-filled water on a monthly basis.
My kit didn't have any seeds, but I'm told the retail kit has some mint and basil to get you going. Place a seed in each of the growing media plugs, about half an inch to an inch down. This then goes on the growing tray you put the clay pellets on earlier. Make sure there's at least a 1 pellet layer between the growing medium and the base of the tray, you want it to be able to drain properly.
I put a living Basil plant from my local supermarket and a few cuttings of Thai Basil I picked up from the local Asian mart. Both of these plants flourished under the LED lights, with the lighting on a 14-hr on, 10-hr off schedule. This was set using the EcoQube app on the iOS App Store, and my iPad connected to the EcoQube Air using Bluetooth. I did find that my Pixel 2 didn't want to connect for whatever reason. You don't actually need to tweak the light cycles, the EcoQube Air is all set up to plug and play straight out of the box.
You will need the app to play with the extra features, however, like setting the pump to continuously on for cuttings and seedlings to sprout/root, or to use the light show of thunderstorms.
The whole point for me is to grow some herbs for my kitchen that I can't get fresh easily while looking good on my countertop. I'd like to share a recipe that used the fresh basil that was growing fast in the EcoCube Air.
Cod with Basil Butter
Sometimes the simplest dishes are the best, especially with fresh ingredients. I used peanuts for the crust here, but you could use almond meal, breadcrumbs or panko if you prefer.
Ingredients:
• 4 fresh cod fillets (about 1 1/2 pounds total)
• 1/4 cup butter
• 3 tablespoons packed fresh basil leaves, roughly chopped and
packed
• 1 small garlic clove
• 3 tablespoons ground peanuts (or almond meal, panko, etc)
• Salt and pepper
YIELD: 4 servings
PREP TIME:5 minutes
COOK TIME:10 minutes
[envira-gallery id="68326″]
Directions:
1. Preheat the oven to 400°F. Line a large rimmed baking sheet with parchment paper and set the cod fillets on top.
2. Place the butter in a small food processor and add the fresh basil and garlic. Puree until smooth.
(Or place the ingredients in a bowl and puree with an immersion blender.)
3. Dollop 1 teaspoon of basil butter on each cod fillet, then spread the butter over the surface with a spatula. Refrigerate
the rest of the basil butter until ready to serve. Salt and pepper the fillets. Sprinkle approximately 2 teaspoons of ground
peanuts over the top of each piece.
4. Place the baking sheet in the oven on the middle rack. Bake for 6 minutes. Then set the oven temperature on high broil.
Broil the fillets for another 5-6 minutes, until the tops are slightly golden. Be careful not to overcook here, the tops should be a little
crispy, but the inside of each cod fillet should be moist and flaky. Serve the baked cod warm with a dollop of basil
butter on top, with your favorite side dishes.
Conclusions on the EcoQube
The EcoQube Air is a nice way to grow some kitchen ingredients so you've always got fresh herbs on hand. It'd also look good on a desk with a structural plant inside it. I feel it's a relatively low-cost option for interior planting, especially for those lazy gardeners amongst us.
Having to only top up the water monthly is a huge time-saver over potted plants that usually need daily watering to keep thriving. The pump and fan are fairly quiet, and I really like glancing at it during my day. It's no pine forest of my youth, but it's enough to keep me grounded.
You can purchase an EcoQube directly from their website. Prices start at $99.
A sample unit was provided for the purpose of this review.
For more reviews, check out:
The Good
Low maintenance way to grow herbs
Stylish
Fun thunderstorm effects
Follow us on Flipboard, Google News, or Apple News