Review: Mamaroo 4 infant seat from 4moms
Time is precious (and so are your knees)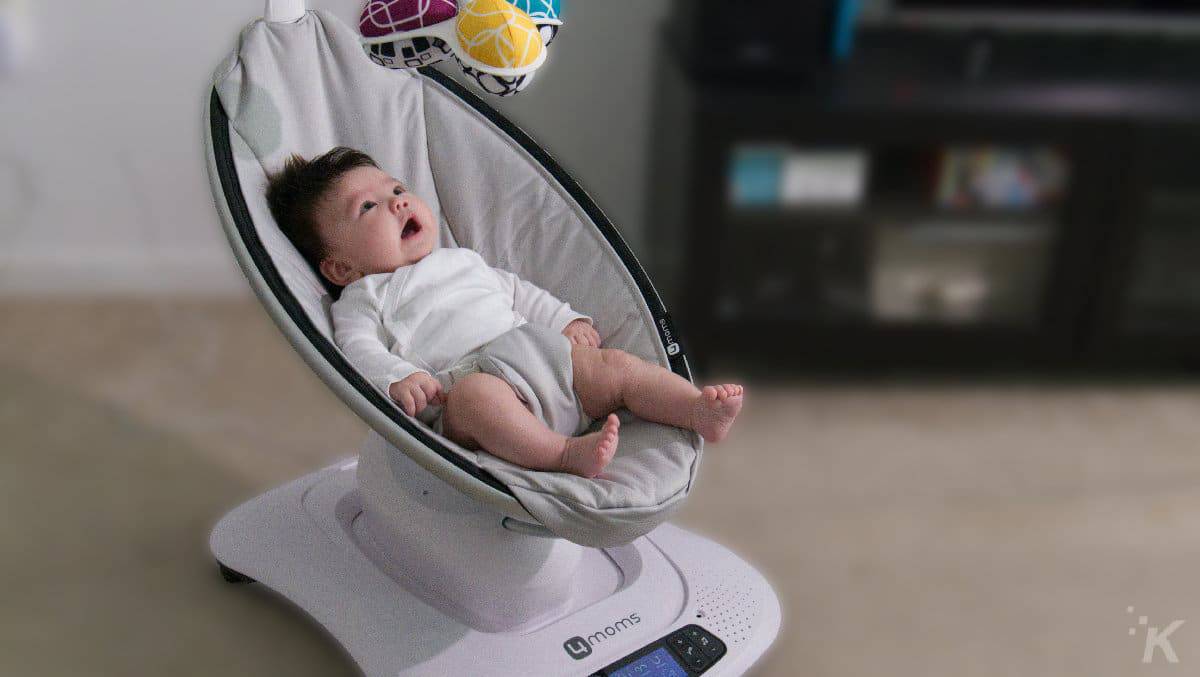 Once you have a child, you realize pretty quickly that the most comfortable place for them to rest is your loving arms. It makes sense, you're warm, familiar, and able to adjust according to their changing needs.
There's no better feeling than having your baby sleep on you contentedly, but what if you need to do anything? How do you wade through the sea of baby products that all claim to be comfortable to find one that works for your little one's needs?
Maybe they have reflux so they can't lay flat. Or they're a preemie and need extra comfort. Perhaps they're just more comfortable being rocked to sleep while you pace around the nursery.
Whatever the reason, you want your child to be comfortable and safe when you need to do something requiring both hands. That usually means a bouncer of some sort, since they're designed to comfort and keep your baby away from a meltdown.
Now, while useful, all the bouncers on the market have one thing in common – they don't move like you. Wouldn't it be great if your little bundle of joy didn't have to get used to another sensation, especially if they're sensitive, like my little one?
It's a robot, masquerading as baby gear
Enter the mamaRoo. What 4moms has created in the mamaRoo is revolutionary. Starting with motion sensors stuck to actual parents soothing their kids, they built a bouncer that has five unique motions based on those sensor readings. That means the bouncer was already parent-tested. How cool is that?
This is the fourth iteration of the mamaRoo, and it's a far cry from the mock-up robot that was created the garage of one of the founders. Now, at $219, it's not cheap. Then again, look at it from another angle – how much would you have to pay to get a nanny to help out for even an hour a day? How much of a price would you put on your own peace-of-mind and the well-being of your kid? That sticker price is looking better already.
Designed to soothe
Designed by a world-leading roboticist, the mamaRoo is a pretty impressive piece of engineering.
For starters, the seating area is half-seat, half-hammock, with a fabric section that yes, is machine-washable for those inevitable messes. There are currently several fabric types with a total of five designs, and they're all sold separately so if you want to change the fabric at a later date, you can.
That fabric zips on to a curved aluminum frame, which both supports the seat and also makes it so the angle of the seat can be changed from fully-laid down to almost fully-upright. That makes it great for preventing reflux, soothing babies in a hammock that's designed after the angles of being carried in the womb.
It's also great for entertainment, with the easily clipped-on mobile. The hanging part has three removable 'eggs' with colored patterns on one side and high-contrast black and white ones on the other. They're also interactive, with a rattle, a crinkly center, and a mirror.
Because of the unique way the mamaRoo moves, it takes up less floor space than other bouncers (up to three times less), while being rock-solid stable. That unique motion is really five unique motions (car ride, kangaroo, tree swing, rock a bye, and wave), all with five levels of speed, ranging from sedate to vigorous. Because of the robotic pedigree of the creator, that movement is silky smooth, just as if it was you doing the bouncing.
Our little one loves most of the movements, although due to her changeable moods we're still figuring out which motion at which speed is best at any one time.
There's an app for that
You can control the mamaRoo through the large buttons on the base, or there's a companion app. The app is good, if basic, letting you select which motion you want and what speed, and change other settings like the white noise playing on the inbuilt speakers. I'd love to be able to program a sequence of motion changes, as my little one gets bored with any one motion pretty quickly.
Those speakers can play four different white noise types, or you can plug a phone or mp3 player in with a 3.5mm aux lead to play your own music. These are functional if a little weak over the noise of the motions. I'd like to see 4moms add full Bluetooth audio support, so you could use your phone to play music wirelessly, plus the speakers could do with a refresh. With so many good Bluetooth speakers on the market now, this functionality feels a little dated.
Safety first
We've got a bunch of baby equipment in the house, and other than her crib, the Mamaroo is the safest feeling bit of kit here. That large base and low center of gravity really make it super stable, and I never got the feeling it would topple. Don't just take my word for it, after all, I can understand if you want a second opinion, it is your kid we're talking about. Over 375 hospitals use the mamaRoo, finding that it is especially useful for the most sensitive of newborns, like preemies or those born with opioid withdrawals.
Hospitals, specifically Neonatal Intensive Care Units (NICUs), find the mamaRoo infant seat transformational in the care of their smallest, fussiest patients. The natural motion helps promote longer periods of comfort and calm to facilitate testing and provide parents and caregivers some respite.
So should I buy this?
Now, I'd love to say that our little one is happily strapped into her mamaRoo as I write this. On any other day, she would be, just that last week she had a triple hernia repair so bouncing is off the menu for a while.
It's made me appreciate the extra time the mamaRoo was giving me back daily even more. Seriously, this is the best bouncer on the market. For those times your tired arms need a break, or the clothes/dishes/etc are piling up, the mamaRoo is almost as good as cloning yourself. As 4moms says, "It moves like you."
A sample unit was provided for the purpose of this review.
Editors' Recommendations:
The Good
It moves like you, seriously
Comfortable for your baby
Your little one will love it, once you find the right combination of settings
Doesn't take up as much space as the competition
The Bad
Kinda pricey but hard to argue with the results
No Bluetooth audio
Follow us on Flipboard, Google News, or Apple News