Review: The Spire Studio mobile recording studio – drop the mic
It's a good idea, but how needed is it?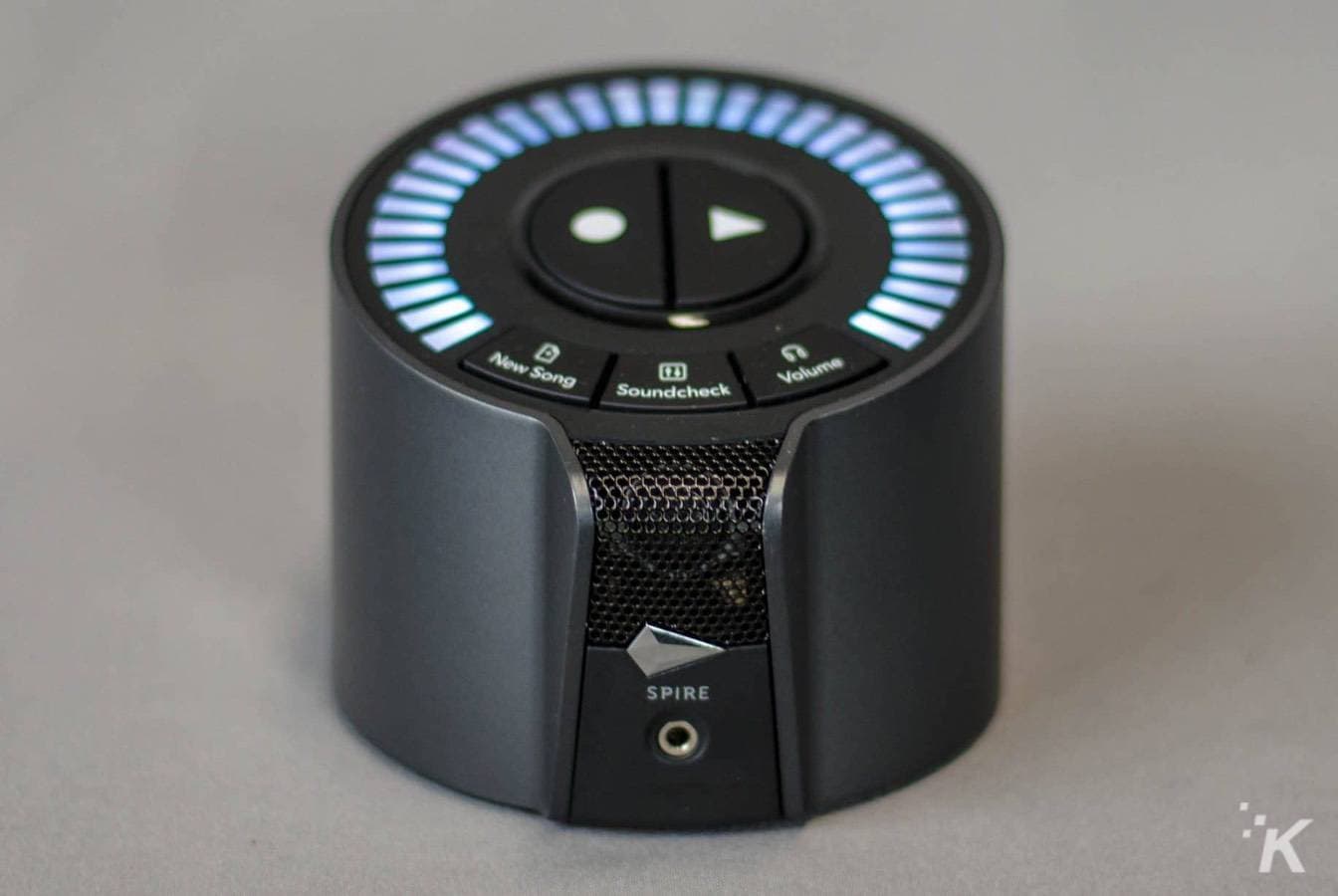 The Good
Records up to 8 tracks in a single recording
Soundcheck feature sets input levels, eliminates any clipping
Great sound quality and wide array of effects
The Bad
Short battery life (up to 4 hours max) + long charge time (up to 5 hours)
Somewhat basic editing functionality
I don't know if I've mentioned it before, but I've been a musician for close to 15 years now. I actually play in a real, non-VR band with Kevin, which is how I started writing here in the first place. I guess I didn't mention it because I wanted you (and perhaps even, myself) to believe this was a merit-based hiring instead of another shameful bookmark in Kevin's long and brazen history of nepotism.
Regardless, as the type of musician who finds himself prone to random bouts of inspiration (aka "all musicians"), I was excited to give the Spire Studio from iZotope a try. Billed as a mobile recording studio that lets you record, mix, edit, and share songs on the fly, the Spire Studio will turn that crappy demo you recorded in the back of your car into a professional-level masterwork… or so it claims.
First impressions of the Spire Studio
Clocking in at roughly four inches in height and a little over 1.5 pounds, the Spire certainly doesn't look your average recording device. Its cylindrical shape and touch-sensitive display give off a very EDM vibe, and the five buttons adorning its surface make it seem almost too rudimentary to be capable of achieving a studio-quality sound.
Of course, that's where the app you need to download in conjunction with the Spire comes into play. Featuring a clean, user-friendly interface that walks you through each step of the process – from connecting the app to the Studio to editing and mixing your tracks – the app circumvents a lot of the pain points that even something like GarageBand can cause for newer (or less tech-savvy) musicians.
In the box:
Spire Studio
AC Power adapter
That's fuckin' it
Design
In the palm of my hand, the Spire Studio feels like a million bucks. It's sturdy but sleek. Compact, but heavy. It feels like how I imagine that pair of night vision goggles felt in Timmy's hands in Jurassic Park.
Worth noting on the Spire Studio are two key features:
A "Soundcheck" button that allows the Spire to measure the volume you're playing at (whether acoustically or through one of the two input jacks located on the back panel) and adjust its input levels to prevent clipping. It's a really ingenious feature that will no doubt be ripped off by every Tom, Dick, and Dodgson audio company out there.
The touch-sensitive display on the circumference of the device, which allows you to do things like manually adjust the volume of a track in a couple of quick taps.
As John Hammond would say, it's clear that iZotope spared no expense when putting the Spire together.
Performance
The Spire's omnidirectional, mono condenser mic achieves a pretty incredible sound quality for its size, offering bright tones on acoustic guitar and vocals and a surprising amount of gain to beef up your tracks – of which you can record up to 8 per song. The user interface on both the app and the studio itself makes recording an impromptu riff as easy as opening a voice memo on your phone, and the Spire offers a number of effects to help further flesh out your ideas (including three amp models and four ambient effects).
Did I mention that you can record up to 8 tracks per song and even pan them to perfection in the app? Because you can, and then send that track off to your bandmate to have him record 8 tracks on top of it. Surely, the Spire is the greatest thing to happen to music since John Williams' score for, you guessed it, Jaws.
Final thoughts on the Spire Studio
The Spire Studio actually lives up to most of its claims. While I would consider it more of an idea device than something to record your demo on (especially if you play heavier music, which I happen to), the Spire sounds great, feels well-built, and offers a lot of fun features.
The thing is, by requiring both an app and a separate device in order to work, the Spire kind of defeats its own purpose. There are tons of similar apps out there that cost far less than the Spire (which will currently set you back $350) and don't require you to carry a separate device around. Worse yet, the Spire takes "a minimum of 5 hours" to fully charge for only 4 hours worth of battery. Would I recommend the Spire over say, the GarageBand app, which offers far more features and can be downloaded to your phone for free? No.
I guess if there's one way to wrap up my argument here, it's in the words of noted chaos theorist Ian Malcolm.
A sample unit was provided for the purpose of this review.
Editors' Recommendations:
The Good
Records up to 8 tracks in a single recording
Soundcheck feature sets input levels, eliminates any clipping
Great sound quality and wide array of effects
The Bad
Short battery life (up to 4 hours max) + long charge time (up to 5 hours)
Somewhat basic editing functionality
Follow us on Flipboard, Google News, or Apple News