Review: RevoNext QT3 – great quad-driver IEMs for under $100
More means better, right?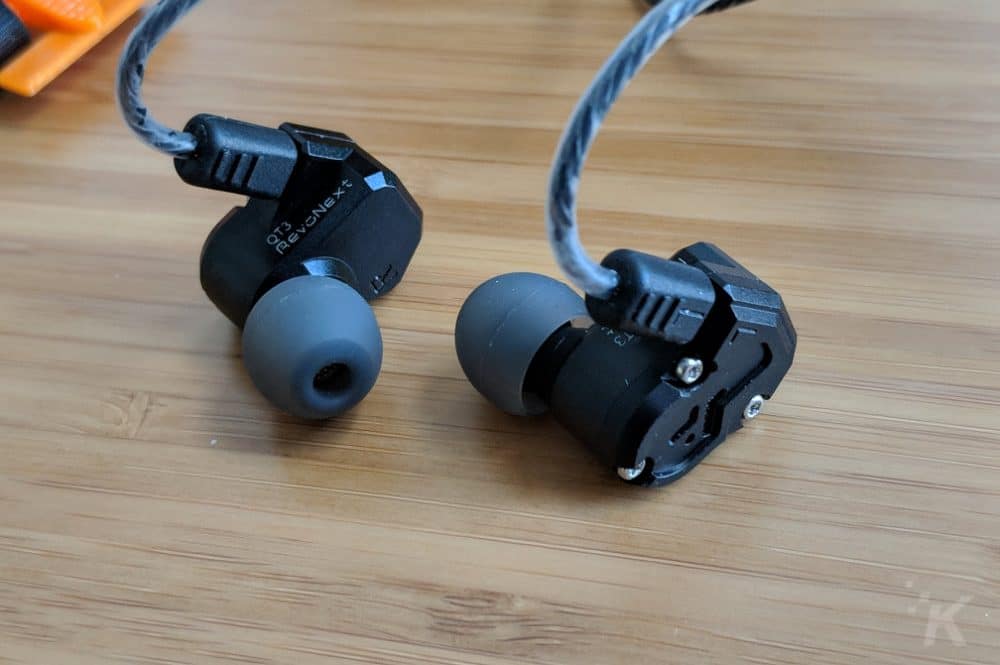 The Good
Great build quality
Replaceable cables
Great for gaming use
Good bass
The Bad
Slightly heavy
Would be nice to have the Mic/No Mic cables in the same box
Slightly treble-heavy
Since its inception in Stockholm back in 2015, RevoNext has dedicated itself to challenging the industry by doing things differently. One product that came out of this ethos is the one we're looking at today, the RevoNext QT3 Quad-Driver hybrid IEMs.
Now, quad-drivers are usually expensive by design, with even the low-end sets in the hundreds of dollars. So for this set from RevoNext to come in under $70 is pretty miraculous. Check out the review below.
Design
The QT3's are pretty brutal in their styling, with chunky aluminum housings holding all the drivers. They're almost the same as their prior IEMs, the QT2's, with a couple of design cue differences. There's now some recessed mesh on the faceplate and three visible screws that hold them together.
All the materials used feel quality, and the fit and finish are great. They are heavy to hold (and when in the ear) but you should really expect that from most aluminum housing IEMs. The two-prong removable cables are fairly stiff, and loop over the top of your ears like studio IEMs favored by musicians. That loop helps them keep in your ears somewhat with the weight of the IEMs.
Inside the box, there are three sizes of silicone ear tips, the two IEM housings, and the cable. No frills here, all the magic is inside those housings. There are four drivers, a dynamic bass driver, a dynamic sub-bass driver, and two balanced armatures for the top end. The set we were sent to review were black, but you can also get them in dark gray and red if you prefer.
Note they have a 7 – 40,000 Hz range, which is due to that sub-bass driver.
[envira-gallery slug="revonext-qt3-quad-driver-iems"]
Listening
With a V-shaped sound signature, the RevoNext QT3's won't be to everyone's tastes. Fans of modern music that accentuate bass and treble should be happy here. Those of you that like Jazz or Classical might be less happy, as the midrange is often overshadowed by the bass end.
All music listening was used with the new Creative Labs G6 headphone amp in direct mode so it's just using the 32-bit 384kHz DAC with no digital signal processing.
The Britpop sensibilities of Ocean Color Scene's Hundred Mile High City come through with all the energy you'd feel in a live performance. The separation of the QT3's is great, with all the retro-tinged guitar having a real presence. Almost too much presence for some instruments, with hi-hats and cymbal crashes being almost too bright.
Liquid's Sweet Harmony is an absolute belter of a breakbeat classic from the heyday of British rave, and the sub-bass produced by the QT3's is sublime. You can really feel how low that dynamic driver goes. With most of the midrange being the vocal sample from CeCe Roger's Someday, there's plenty of space for the piano samples to shine over that bassy note. Major favorite track of mine and the QT3's show it off beautifully.
The Freestylers' Rude Bwoy gets some remix love from Aphrodite and threatens to blow out my eardrums with the bass response of the QT3's. I mean, if you're a bass head and you were looking at Beats, look elsewhere. These IEMs from RevoNext pack some serious punch, and any bass-heavy electronic music styles would benefit from them.
Roni Size's Reprazent project was one of the shining lights of the jazzy side of UK Drum N Bass and Share the Fall was an instant classic. Hard basslines, out-of-time breaks and jazzy instrumentals and vocals all mix into something greater than the sum of the parts. I still have fond memories of hearing this live on their first tour way back when, and it's not lost any of its punch over the years. The V-shaped sound signature of the QT3's is beneficial here, and I didn't notice any of the overbright highs from the guitar tracks I sampled.
Heartless from Bad Company UK starts out with a reverb-y guitar that has real power behind it and a soft vocal before descending into dark madness when the hard edge of the UK Drum n Bass scene kicks off. The RevoNext QT3's remind me of the soundstage of my favorite clubs of the time, where chest-bursting bass and crescendos of cymbal rushes were the only things you could hear.
Gaming use
I've been using the QT3's with my Nintendo Switch for the most part, while I've been hooked on the latest Zelda. Hyrule feels super alive through them, every melody when you open a chest or figure out a puzzle sparkles. Grunts from Moblins have weight, and all the other background noises come through the mix as if you're actually running along the terrain.
It helps that Nintendo decided to include the 3.5mm jack, with more phones phasing it out it's likely that games consoles like this are going to be a growing market for wired headphones. With the dual dynamic drivers in this adding weight at the low end and superb clarity across the range, they're really well suited for gaming use.
Conclusions
For $70 on Amazon, these QT3's from RevoNext are a steal. I've used quad-driver IEMs before, and even the low-end are 3x this price. For not much more than a normal set of IEMs you get a huge jump in audio quality.
The aluminum housing is a bit of a double-edged sword, it does really increase the durability at the expense of added weight. Depending on how sensitive your ears are, this might be an important point. For electronic music of all kinds, the QT3's are great – low, booming bass and clear highs. For other types of music they're a bit of a mixed bag, but then they weren't tuned for a flat response across the board.
A sample unit was provided for the purpose of this review.
Editors' Recommendations:
The Good
Great build quality
Replaceable cables
Great for gaming use
Good bass
The Bad
Slightly heavy
Would be nice to have the Mic/No Mic cables in the same box
Slightly treble-heavy
Follow us on Flipboard, Google News, or Apple News