Review: RimWorld – a story of love, loss, and cougars
What a ride.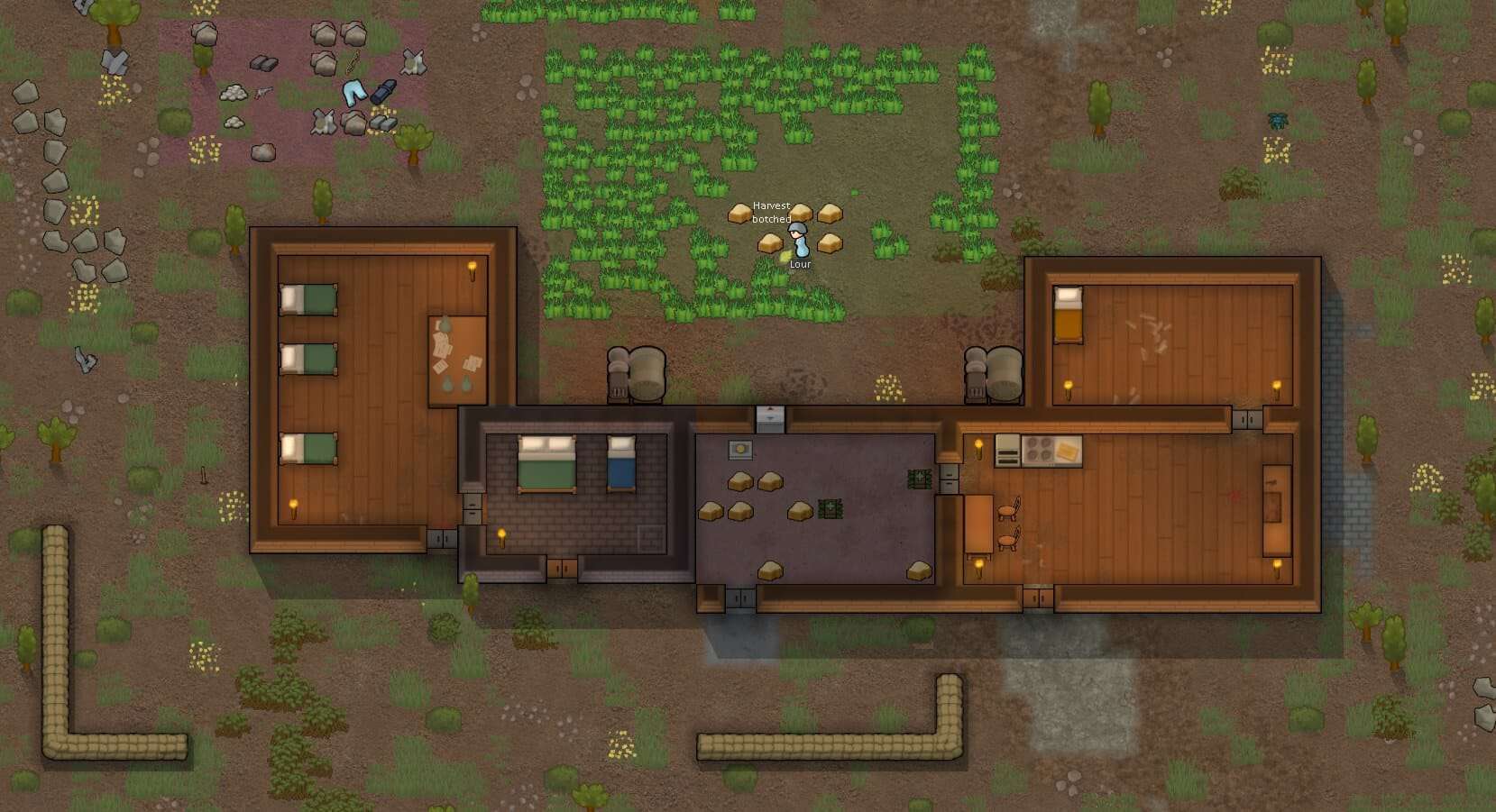 I honestly didn't know what to expect from RimWorld when I downloaded it over the weekend. It was a new release with overwhelmingly positive reviews, some of which being extremely funny. I thought to myself, no way is that really what the game is like, you just made that up, before ultimately purchasing the title to find out for myself.
And let me tell you friends, it was exactly what the game was like. Instead of a normal review here, I'm going to tell you about my first experience with RimWorld and let you be the judge when it comes down to a purchasing decision.
New Beginnings
Our spaceship had crashed. On it, three survivors – Leonid, Kristy, and Lour. We also had a dog, a Husky, named Belladonna, who had a passion for sleeping outside and getting into things she shouldn't. Together, we began to rebuild on this strange planet. We gathered materials, built small homes, grew rice. We led a simple life, but it was ours and ours alone. Things were good.
As our rice grew and our refrigerated stockpile of plants of medicine rose in quantity, we traded with some random passers-by, gaining even more medicines and weapons for our stockpile. As it turns out, these would all be needed.
Everything wasn't perfect, however, at the Secure Alliance of Alloum, a name Kristy decided we needed since it seemed we were slowly but surely building a new colony – a new identity – on this planet. Lour and Kristy didn't always get along, and Leonid was definitely into Kristy, but it took Kristy quite awhile to warm up to Leonid. Leonid sulked a lot, spending his time mining metals and sleeping in the dirt.
Leonid also had the "Warden" skill, which meant tending for our new RimWorld prisoner, Tomaru, a wanderer who thought stabbing Lour with a knife was the play he should make. Lour spent some days holed up in her bed, slowly healing, but she was never the same after the attack. Tomaru, meanwhile, also had his wounds tended to and his prison cell cleaned – we would recruit this confused person and bring him into the Alliance, he would break.
At least, that was the plan. Until the gazelle.
While Lour spent some time in the healing beds, slowly regaining her strength, she found Leonid in an adjacent bed the day after she arrived at the infirmary. A gazelle, gone mad with rage, had bruised up Leonid and was now also confined to bedrest. This left Kristy on her own – to cook, to protect, to gather, to build. She did not possess the "Warden" skill, so our prisoner Tomaru had to go without food for a couple of days – this would set back our recruitment process.
Now, with everyone healthy, it was time to get back to work. We continued to improve our happy home, and love was in the air during those hot, summer days. Kristy and Leonid had developed feelings for each other and wanted to be assigned a larger bed. Great! We could use some children if our legacy should continue.
Things were great on the surface, but still, both Lour and Leonid were struggling after their recent brushes with death. Lour constantly ignored her work, Leonid stayed on the brink of heatstroke. Mental breaks were a real possibility on RimWorld, but we continued on.
Leonid would occasionally get snappy, hurling insults to anyone he came across, the heat, workload, and past trauma peaking through long enough to make his friends and lovers feel like shit.
We were fine until the dog died
That's when everything went to shit. A cougar, which had been roaming near our base for days, finally struck. Belladonna was the first victim, our dog, mauled down in our yard. Blood everywhere, Leonid quickly rushed in with his rifle, missing shot after shot, his emotions getting the better of him. Kristy, who had no penchant for violence and refused to participate in any fighting, holed up in her and Leonid's bedroom. She would await his return.
Lour was then recruited to help Leonid, and the two of them could surely take on this beast. Sure, the two might get some scratches, but we would see another day, we would survive. At least, that was the plan, but Lour wasn't quite over those insults Leonid hurled earlier in the week.
She saw him there, getting mauled by this cougar and instead of helping, decided to ignore the problem and instead lock herself up in her room, refusing to come out for any reason. Leonid's words would literally come back to bite him.
Leonid, seeing he was losing this fight, tried to retreat, running to his bedroom where a worried Kristy waited for him. Things would have been fine, but the cougar persisted, following Leonid into his home.
When the doors opened, chaos ensued. Now inside, Leonid continued to punch the beast, while Kristy, now in a fight for her life as well, also began wailing on the animal. But it was too strong. Leonid was the first to go down, having crawled into a makeshift sickbed, his body mauled, his right ring finger missing. Kristy was also down, sprawled on the cold, concrete floor, the blood loss and shock immobilized her.
The cougar, having been punched and shot, also succumbed to its injuries, falling in shock beside Kristy. Lour continued to ignore the problems on the other side of the wall, her friends slowly dying in the room next to her.
They all fall down
It had been days on Rimworld, the bodies of Belladonna, Leonid, Kristy, and the cougar slowly decomposing where they originally fell. Lour finally begins to leave her room, ignoring the piles of blood, guts, and feces in the next room over. She spends most of her time now playing horseshoes, eating only when necessary. Her mental health is declining. The prisoner, now ignored, is suffering from malnutrition and eventually, he too dies.
Lour continues to play horseshoes.
Days pass, and eventually, Lour garners the strength needed to at least remove the bodies from the property, dumping her friends, her pet, and the cougar some ways away from camp. Life continues.
But fate would not be kind to Lour. Her mental health stable, she begins to clean the camp, repairing walls and fields that had been burnt down by a raiding party the night before. She survived, once again, by hiding in her room until they left.
As she rebuilds, another raiding party arrives, and Lour, having watched passively as everything she loved died, finally had enough, meeting the raider head-on. It went poorly, as expected, with our story ending with Lour being dragged away to an enemy camp, her fate uncertain.
---
So, that's it, my first experience with RimWorld, and it was a wild one. I personally can't wait to hop back into the world and see what this resource management and construction sim has in store for my next colony.
Thanks to AI and unique character interactions, each playthrough is completely different. With an endless variety of starting characters, relationships, and character cause-and-effects, it seems like RimWorld has truly been worth the wait.
RimWorld is now available on PC.
Editors' Recommendations:
Follow us on Flipboard, Google News, or Apple News