Review: ROCCAT Vulcan II Mini Air Mechanical Keyboard
The ROCCAT Vulcan II Mini Air keyboard has plenty of flair and works like a charm.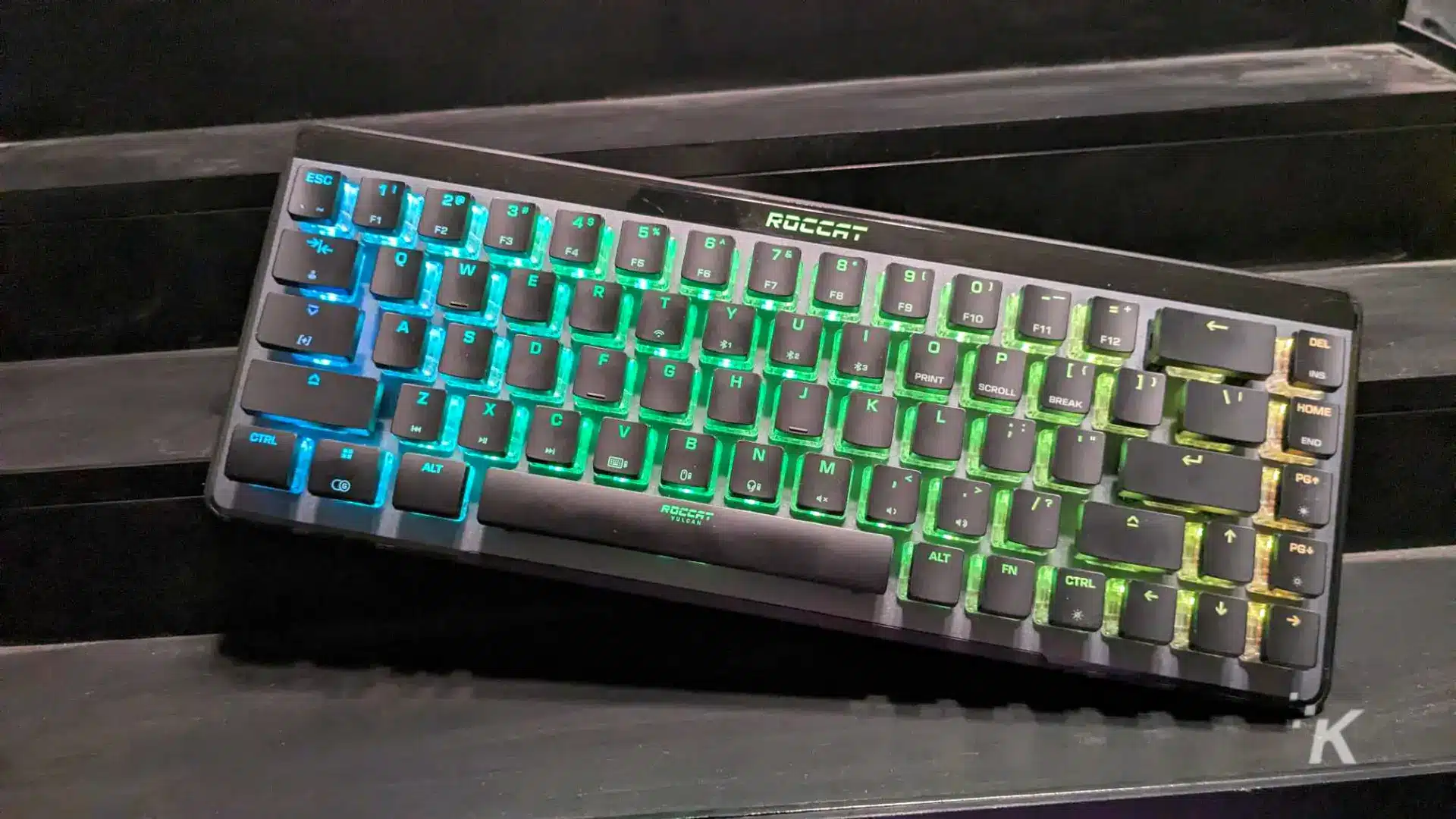 Sitting on a desk, you likely want a full-sized keyboard like the ROCCAT Vulcan II. But keyboards can get so bulky and cumbersome when you're on the go.
The problem is that some people want the same conveniences and feel as their regular keyboard when traveling, but most travel-capable keyboards are bland and simplistic.
The Vulcan II Mini Air sets out to be a keyboard that feels at home both on the road and at a desk.
While the ideal user of this keyboard is likely traveling and gaming from hotels, they also don't want to worry about swapping back and forth when using their laptop at home.
If you need a comfortable, gaming-capable, small, travel-worthy keyboard, you're in for a real treat.
ROCCAT Vulcan II Mini Air Keyboard Features and Specifications
ROCCAT Vulcan II Mini Air Technical details
| Field | Value |
| --- | --- |
| Connectivity | Detachable USB-C to USB-A Wired, Wireless 2.4GHz dongle, 3x Bluetooth 5.2 |
| Cable | Detachable 1.8m braided USB-C to USB-A 2.0 |
| Switch Lifecycle | Tested to 150 million |
| Polling Rate | 1000 Hz |
| On-board Memory | 4MB |
| Profiles On-board | 5 |
| RGB | RGB per-key illumination + 29 smart keys |
| Keyboard Rollover | Full Key (NKRO) with 100% Anti-Ghosting |
| Processor | 32-bit ARM Cortex M3 |
| Software | ROCCAT SWARM |
| Battery Life | Up to 240 hours (Varies with usage/proximity sensor) |
| Adjustable Height | 3 different heights |
| Key Switches | Red or Brown |
| Dimensions | 325 x 124 x 33 mm (12.80 x 4.88 x 1.30 inch) |
| Keyboard with Cable | 620g (21.87 oz) (with dongle). 618g (21.80 oz) (without dongle) |
| Keyboard without Cable | 578g (20.39 oz) (with dongle), 576g (20.32 oz) (without dongle) |
| Box Contents | Keyboard, USB-C to USB-A cable, wireless dongle, quick-start guide |
Design and layout
The great thing about the Vulcan II Mini Air is that it's designed like a standard keyboard in everything except its size. If you're a mechanical gaming keyboard fan, it will feel comfy.
I have some pretty big, clumsy sausage fingers, personally. So, when I started typing on this keyboard, it was like butter.
They didn't shrink the mechanical keys for the smaller form factor. Instead, they trimmed the bigger model.
As such, the keyboard offers RGB colors for the keyboard, just like its bigger sibling. It provides the usual AIMO intelligent lighting and other options like wave or ripple.
One unusual but welcome detail is that the back feet of Vulcan II Mini Air offer two additional heights, aside from being flat on your desktop.
The Vulcan II Mini Air axes the numpad to get to its smaller size. While some people may need it if they're using it for work or calculations, dropping it off the smaller keyboard meant it gets a much more slim form factor.
Since this is a mechanical keyboard, you also can choose between linear (red) and tactile (brown) options.
While the key switches use Cherry MX-compatible stems, the design is incompatible with other companies' keycaps.
Also of note is that the keyboard comes in black and white color options. The keyboard I'm reviewing here is the black model, but the white one looks pretty slick, too.
Compatibility
The great thing about any Bluetooth keyboard is that they're pretty versatile. Sure, it's designed for gaming on a computer, but that's not all it can do.
Since this can plug directly into a USB port for a PC with the dongle, it's worth using it if you have a free slot. But what about devices that don't have USB functionality?
The Vulcan II Mini Air works like a charm on our iPad and the small, crappy laptop. It also connects to my phone quickly and types.
While not entirely unheard of, a mechanical keyboard that efficiently works with a phone or tablet and travels well is a big deal you rarely see.
As mentioned, the keyboard is built for gaming. Like most gaming keyboards, it has a gaming mode that will turn off your Windows button.
Battery
The ROCCAT Vulcan II Mini Air keyboard has several battery-preservation and consumption modes. It also has proximity sensors, which dim the RGB lighting when you're not poised to type.
It has three modes: work, work & play, and holiday.
The work mode turns off the RGB lights entirely. This hikes the battery life for up to 750 hours, which is fantastic for those not looking for anything fancy while they type for work or school.
The average user is more likely to use the Vulcan II Mini Air in work & play mode, which has the LEDs at a lower brightness. This gives about 150 hours of battery life.
The holiday mode goes full-tilt with the RGB lighting. If you want glow on your face, this is the mode for you. But, it significantly drops the battery life to only 90 hours.
There are two additional modes that you can toggle on and off from the ROCCAT Swarm application. Those are Standby and Sleep, both of which turn the RGB lighting off after a set period.
Since the ROCCAT Vulcan II Mini Air has such a good battery life as it is, I let it sit overnight without any charging cable plugged in, but on. It dropped it from 100% to 95%.
After plugging it in the next day, it returned to 100% in 15 minutes. I'm impressed, honestly, as my other Bluetooth-capable Logitech K780 keyboard uses AA batteries, and I dread the day I have to replace them.
Comfort and weight
The ROCCAT Vulcan II Mini Air is 65% the size of a full-sized mechanical keyboard. This gives users a lot of flexibility in terms of weight, depending on their needs.
While most people will use this keyboard on a table or desk to type, it feels great on a leg for those who don't have a stable surface.
As for weight, this keyboard tops the scales at 620g (or 21.87 oz), with the cable and dongle attached. That's great for portability as you will be able to carry it around all day.
ROCCAT Swarm
ROCCAT Swarm offers a ton of customization for the Vulcan line of keyboards. You can control the RGB lighting, sound feedback, and character repeat settings. It also gives complete key assignments, including ROCCAT's Easy-Shift+ functions.
You also get more functions to do with wireless connectivity. Not only does it show the battery status and offer notifications for the battery, but it also includes the toggles for the standby and sleep modes.
The proximity sensor used for the battery-saving modes can be adjusted and turned on and off from here.
Firmware is handled directly through the Swarm program. It's as simple as just plugging in the keyboard, then you go through a couple of clicks, and it's generally done in moments, if not seconds.
One thing to note is that ROCCAT Swarm can only find the Vulcan II Mini Air when plugged in via a USB-A to USB-C cable.
That means you need to plug in to change any settings or update firmware, but once changed, the keyboard will remember its settings when used wirelessly.
Alternatives
Final Verdict
I'm not going to lie: I had trouble finding anything I disliked about this keyboard.
I will mention that the keys can come off easily in a backpack. That's true for any keyboard, but it's easier on these switches due to their design.
The ROCCAT Vulcan II Mini Air sets out to do a specific thing, and it does it so well that it'd be hard to top.
This keyboard is perfect for travel and desk use, with Bluetooth and 2.4GHz wireless options, full RGB lighting, full-size mechanical keys, high battery life, and a compact, lightweight design.
I pair this keyboard with my ROCCAT Kone Air, which I also reviewed recently, for my travel laptop, and they work together like a charm.
I have nothing bad to say about this fantastic keyboard. If you need a small, long-lasting keyboard that works for gaming and has pretty lights, buy this.
You can pick up the ROCCAT Vulcan II Mini Air Optical Mechanical Keyboard from ROCCAT, Amazon, Best Buy, and other big retailers.
Editors Recommendations:
Just a heads up, if you buy something through our links, we may get a small share of the sale. It's one of the ways we keep the lights on here. Click here for more.
Follow us on Flipboard, Google News, or Apple News