Review: Solo: Islands of the Heart – as valuable as any therapy session
There is a lot to love here.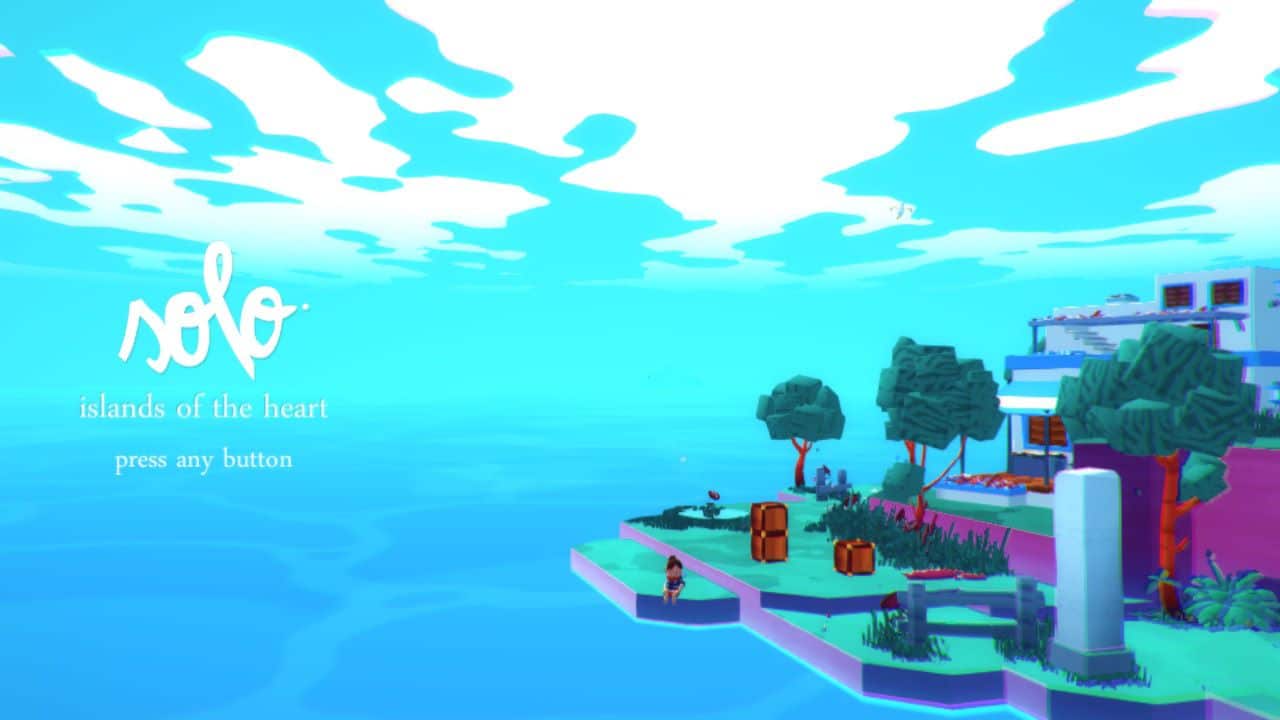 A serene shot of the ocean comes into view, adorned with soft, bright colors and the soothing sound of the waves. Quiet, mellow music gently plays in the background. You see an island with a small house and cute, cartoonishly chunky trees. "What is the name of your most beloved one?"
Solo: Islands of the Heart by Team Gotham, published by Merge Games, pulls no punches and has zero chill. I had a profound experience with this game – despite its clunky puzzles – and here's why.
The game opens by putting you on this cute, little island featured on the title screen, but all is not well here – see for yourself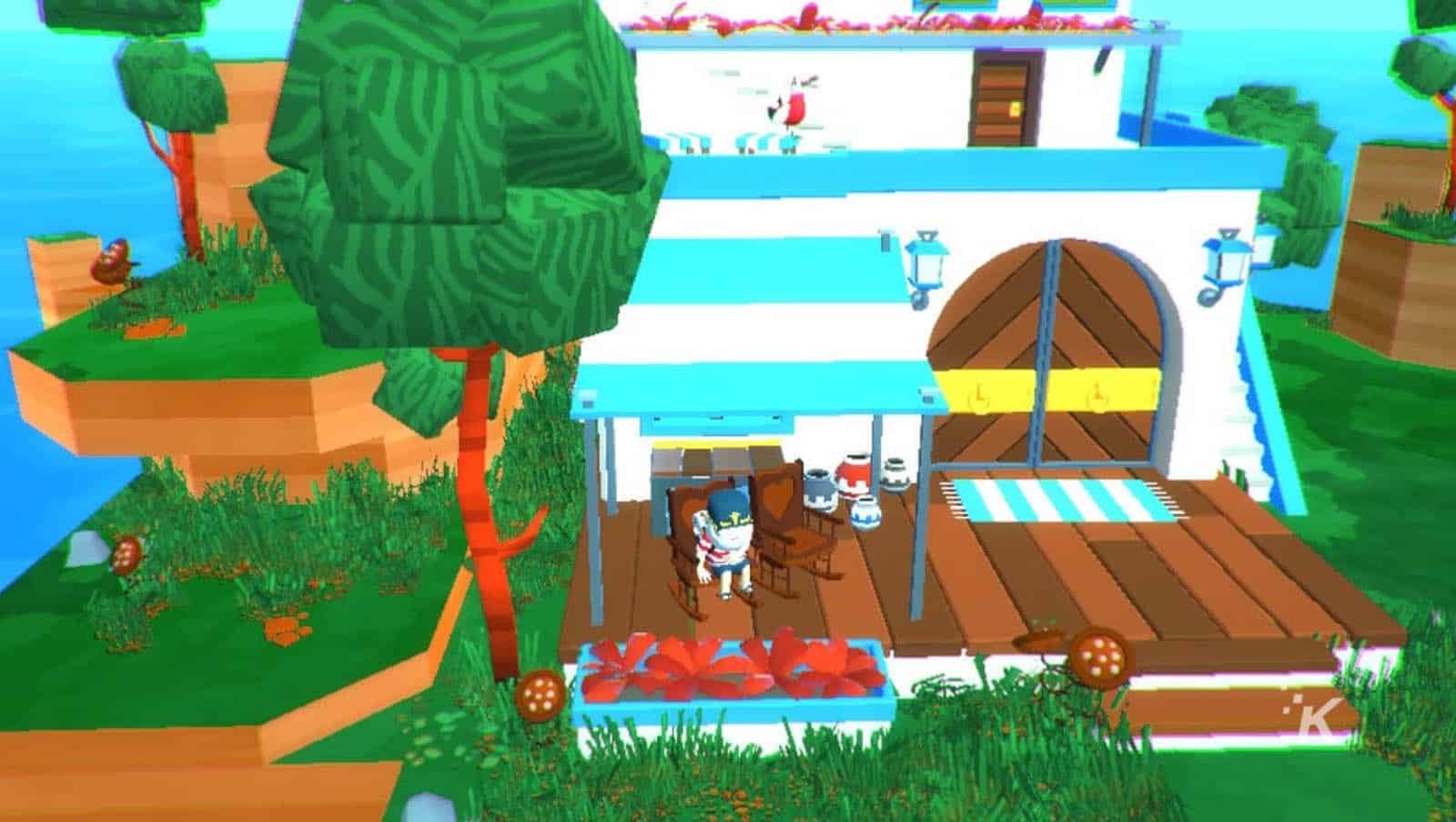 There are two chairs, one for the character you create – which can be male, female, or non-binary with various visual options – and one for someone who simply isn't there anymore. You're alone in this world. I came in expecting a cute puzzle game, so I was not ready for this.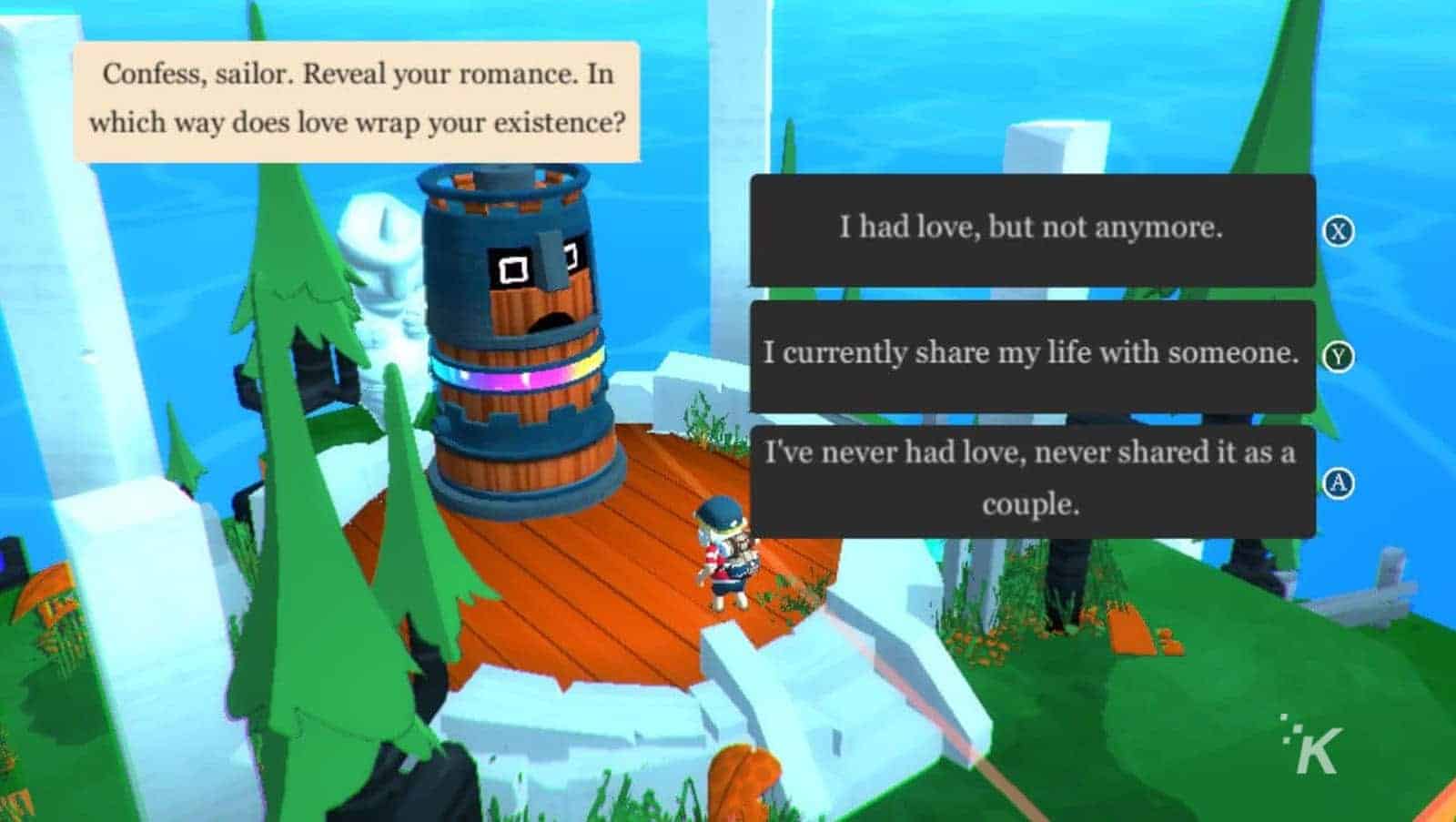 Wow, okay. Getting straight to the point, huh?
Meet Therabody's All-New TheraFace Mask
TheraFace Mask is a breakthrough FDA-cleared LED skincare mask with added tension-relieving vibration therapy. Clinically proven results include firmer, smoother, healthier-looking skin with a visible reduction in fine lines, wrinkles, and uneven tone in as little as 8 weeks
Solo: Islands of the Heart centers around this structure: Get to a new island, find and activate the lighthouse, follow the beam to the totem it brings to life, and unlock the next island. Repeat. Standard puzzle fare, really.
What the game does not prepare you for is the level of intimacy and intensity of the questions that you're asked, all of which affect future dialogue
It's worth noting for the sake of this article that I'm not currently in a relationship, so all of my choices reflect that. Maybe this game would be different, less brutal, for someone who's currently in a happy, loving situation. Alas.
Anyway, how bad could it get?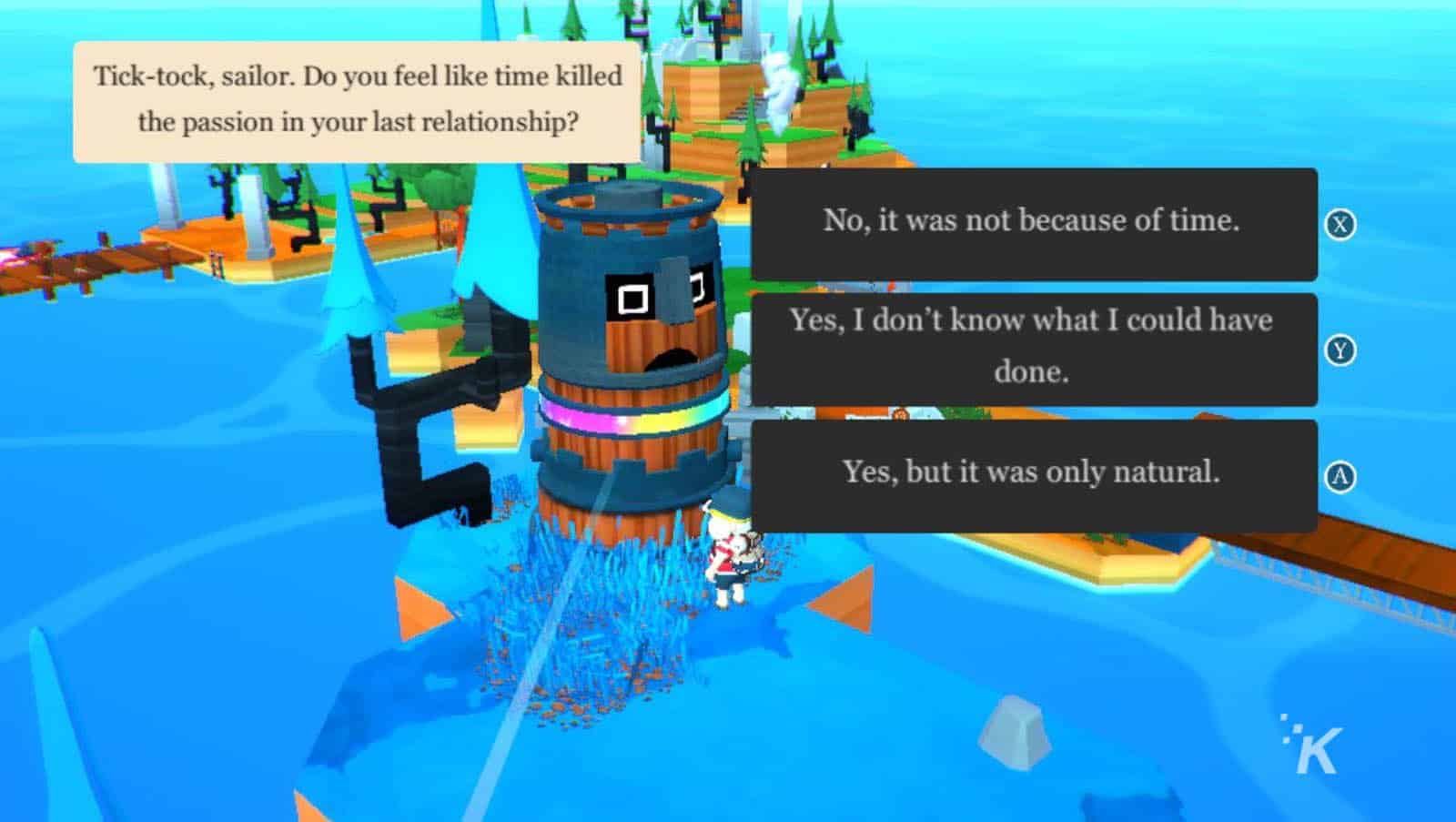 GOOD LORD, GAME.
And honestly if you think that's intense, I assure you that this is the tip of the iceberg. Solo: Islands of the Heart is an unadulterated, face-first dive into love, intimacy, relationship values, working through past traumas, uncovering uncomfortable biases, and more. In my ~30 years of gaming, I don't think I've played anything that's been quite so emotionally demanding.
This isn't cheap drama either; This game is incredibly well-written and it's like they know exactly what you need to hear given your responses to these intense questions. I have a therapist I see weekly and this game is honestly as poignant as any therapy session I've had, at least in terms of relationships.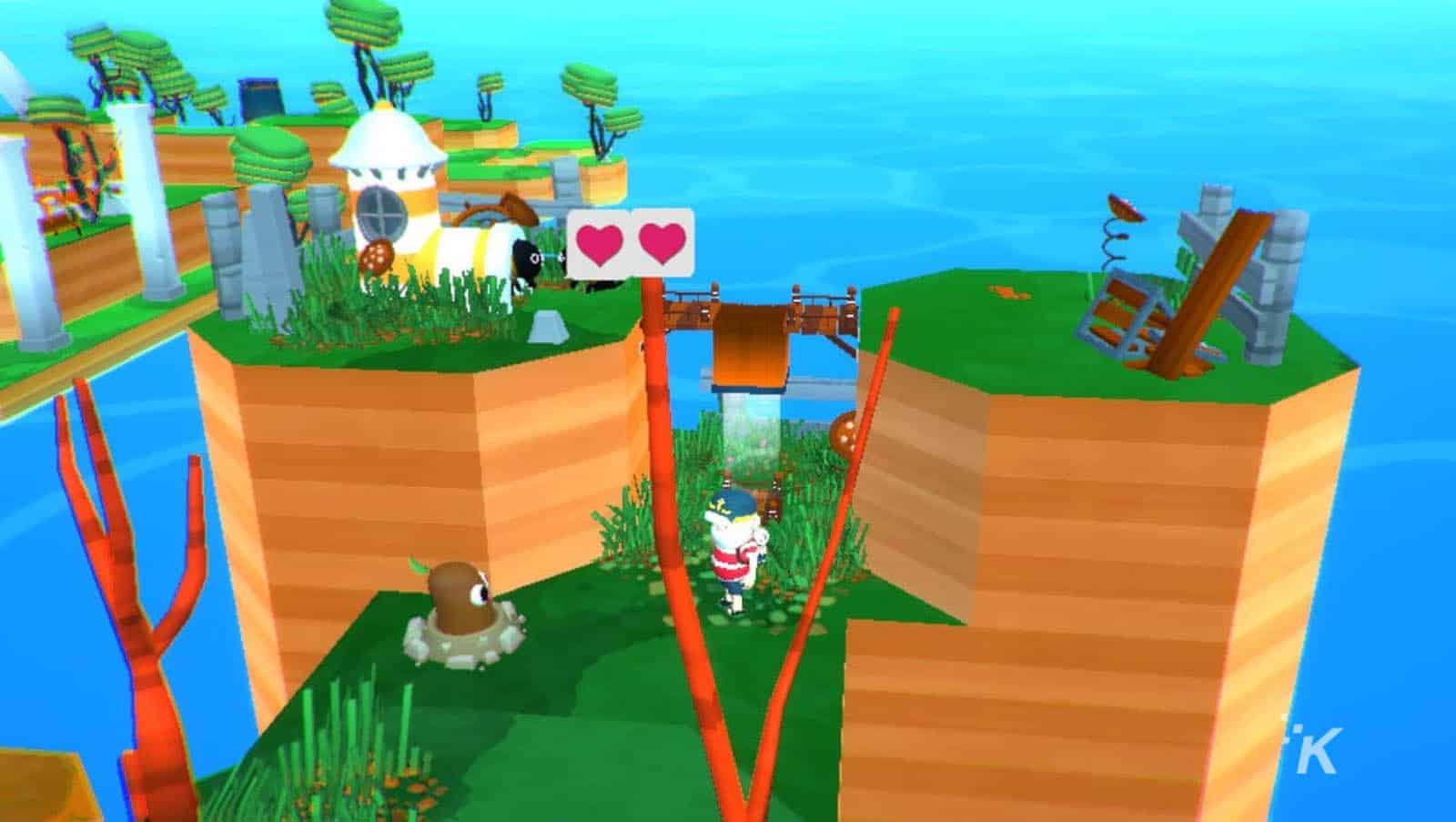 Mechanically, Solo: Islands of the Heart starts out simply enough. It's really just a box-mover, with different kinds of boxes needing to be placed in different ways to traverse the world. There are plain boxes, boxes with fans in them, boxes with extending bridges, boxes that divert the flow of water, and boxes with suction cups that can stick to walls and to other boxes. There is absolutely nothing earth-shattering here.
Sometimes you have to mend bridges so animals can cross them and be together, sometimes you have to get yourself to the lighthouse on the island, sometimes you have to make sure crops are watered, and sometimes you have to replicate shadow patterns inside the more abstract puzzles.
For all of its emotional intensity, I would describe the puzzle-solving in this game as "aggressively fine" at best and "extremely tedious" at worst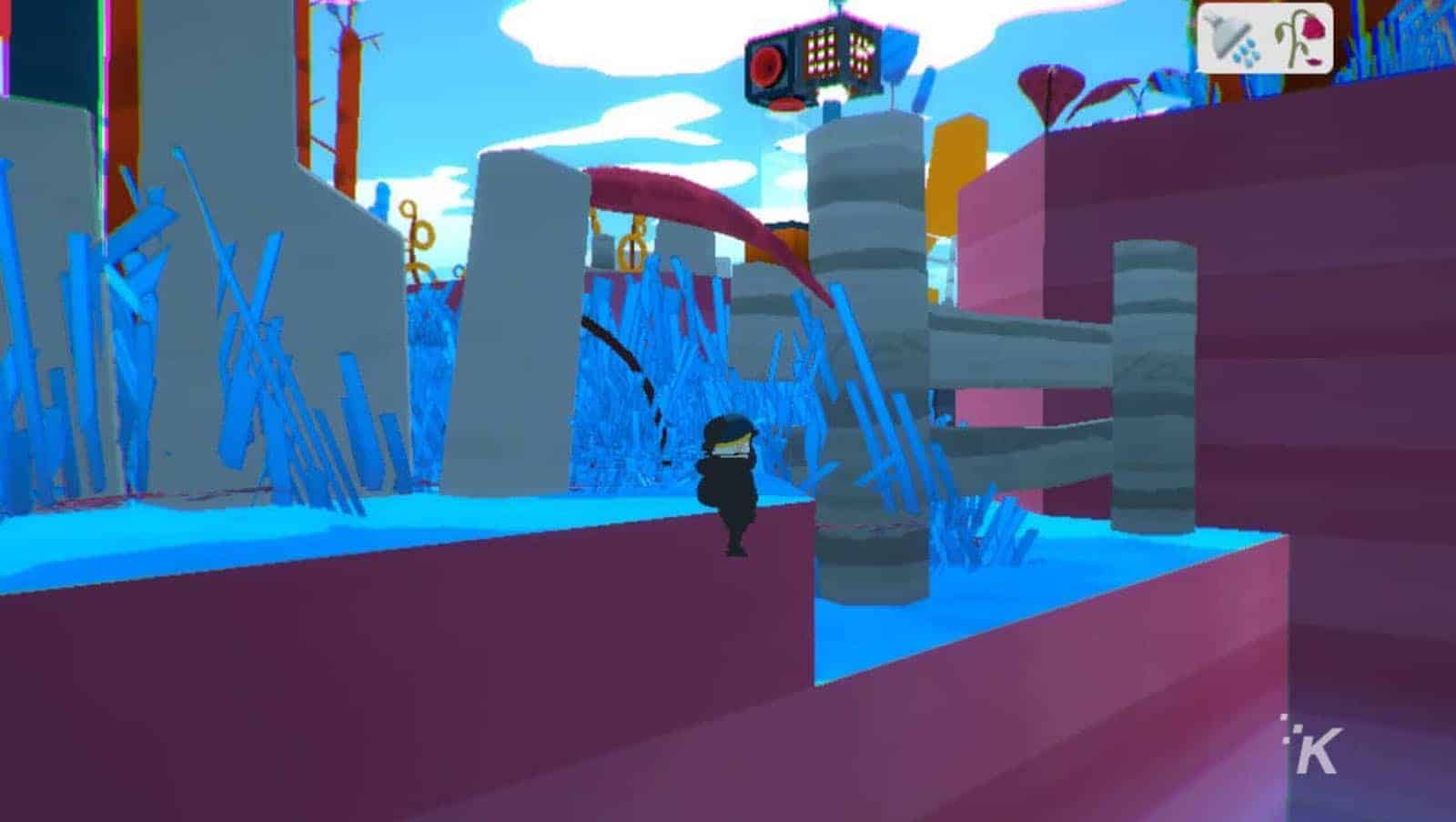 Nothing is exceptionally challenging, some of the puzzles are frustratingly obtuse, and the controls are consistently irritating. Occasionally you'll feel smart or clever for getting something right, but mostly you'll most likely be annoyed.
For example, look at this puzzle above. In it, I'm trying to use a combination of water-moving blocks to redirect a stream into a crop field. The problem is that the camera in Solo: Islands of the Heart is frequently the biggest enemy, forcing you into awkward angles like this one with alarming regularity. If I had to make an estimate, I'd say I spent about 40% of the time in this game solving puzzles and 60% fighting with the controls and camera to actually execute those solutions.
I get that the game can't just be a rapid-fire barrage of questions. I get that you need time to think, introspect, unpack, and recover from the most gut-wrenching inquisition you've ever faced in a game. I understand, I do. But please, why like this? Why do I have to solve so many fidgety, tedious, annoying puzzles in pursuit of this emotional journey?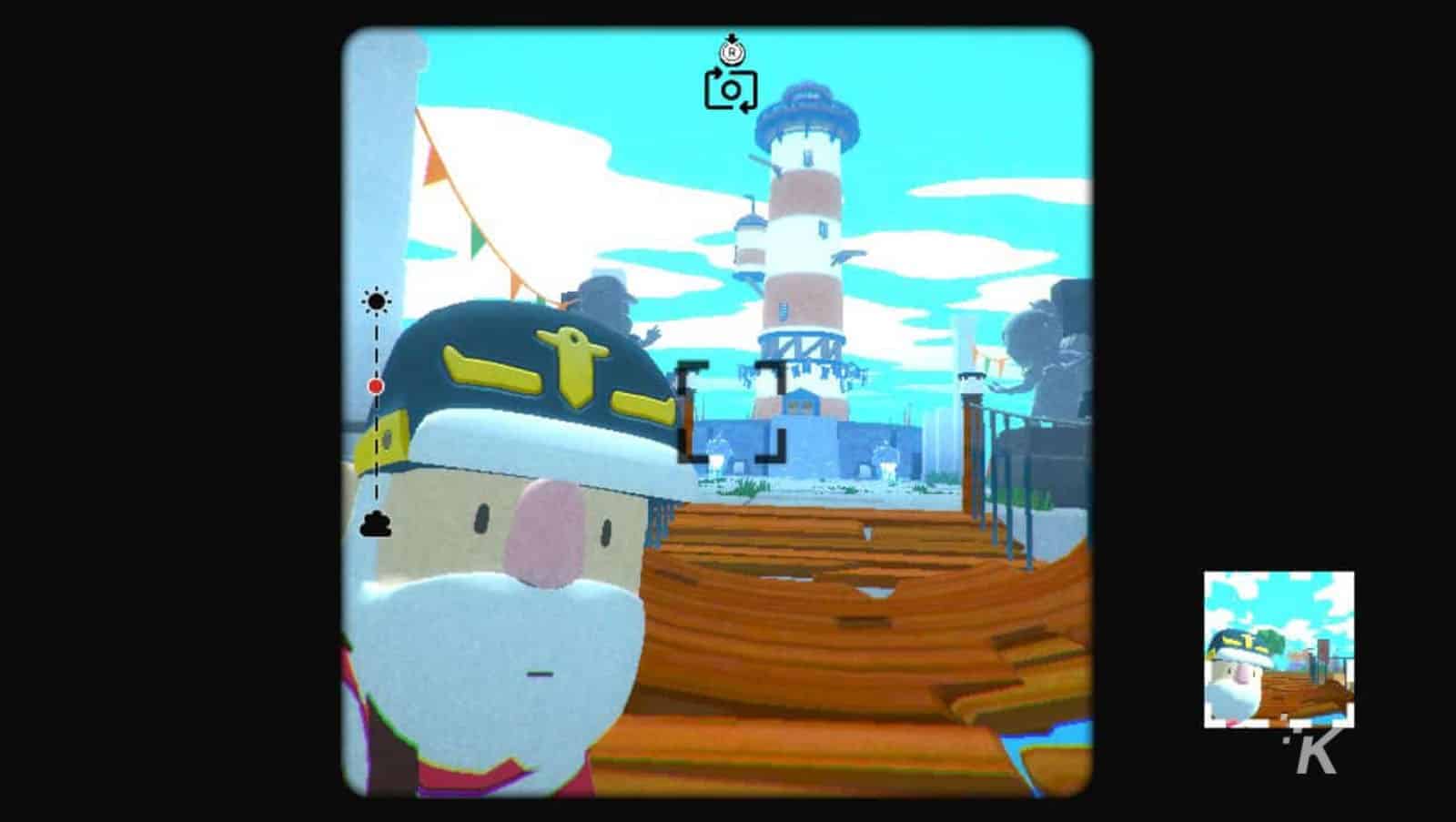 Still, Solo: Islands of the Heart won me over at the end of the day. The writing is ineffably good, the colors are soothing and peaceful, you can feed and pet every animal you encounter, it's digestibly short at about 1-3 hours (not counting the time you have to pause the game and cry), and there are tons of small, charming touches like a camera where you can take selfies and a guitar that lets you play a small range of semi-dynamic music whenever you want.
There is a lot to love here and the experience is so unique and compelling that I still strongly recommend it in spite of the puzzle-solving irritants.
Jake reviewed Solo: Islands of the Heart on Nintendo Switch with a code from the developers. It is available now on Nintendo Switch, PlayStation 4, and Xbox One.
Curious what our scores mean? Find out more in our comprehensive guide to Understanding KnowTechie's Game Review Scoring.
Editors' Recommendations:
The Good
Incredible, poignant, important, and emotionally unique writing
A soothing, charming aesthetic obviously crafted with lots of love
Extremely time-accessible, at only a few hours long
The Bad
Clunky, tedious puzzles that break up the most engaging elements
Follow us on Flipboard, Google News, or Apple News