Review: Super Mutant Alien Assault – a great arcade action game
Hectic arcade goodness.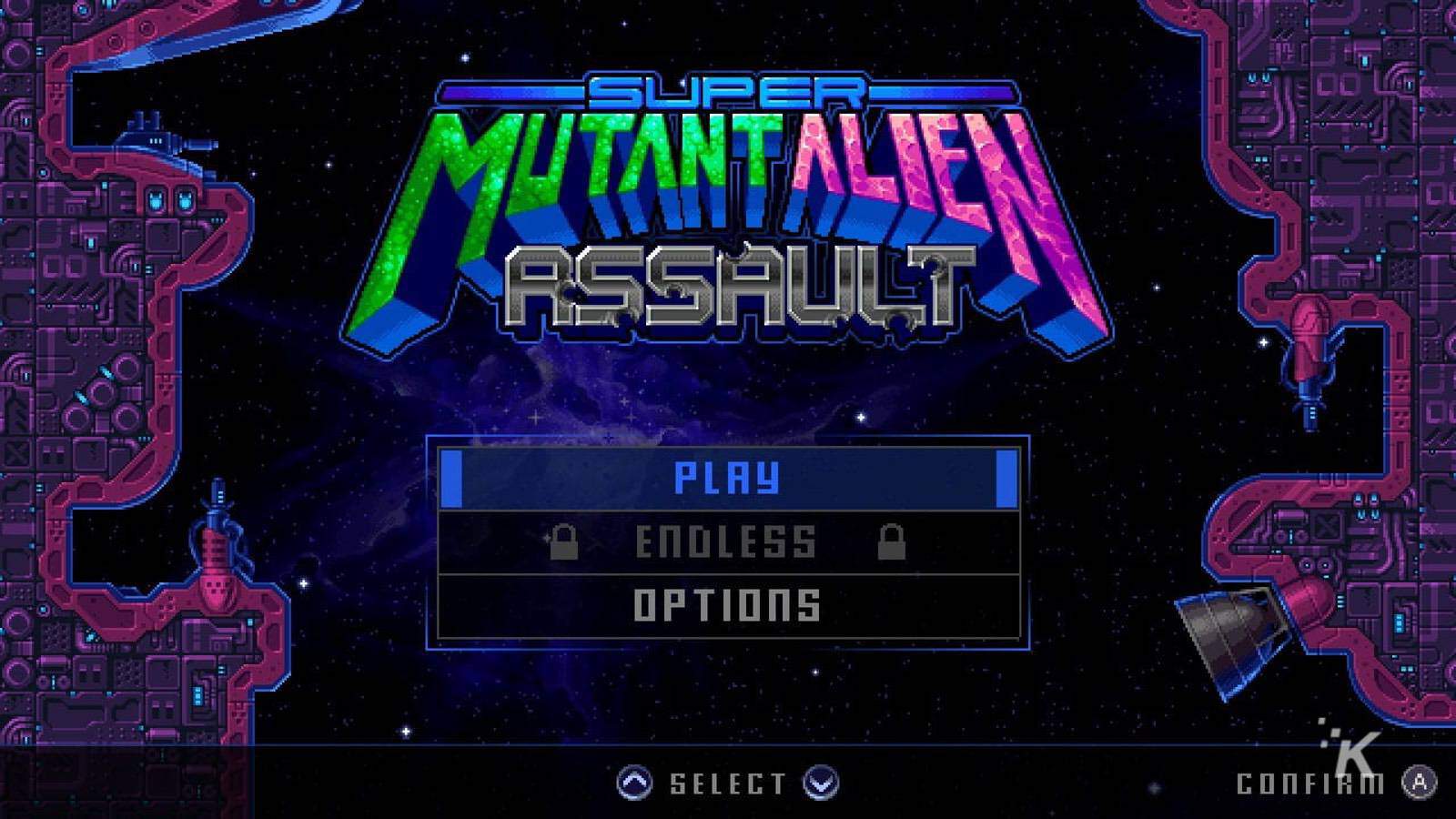 The Good
Simple, refined arcade action
Brilliantly tuned unlock system
The Bad
Completely forgettable name and setting
Please, please no more dubstep
One of the main ways I look for new games to review is I turn on my Nintendo Switch, open up the eShop, and skim through the coming soon tab. That's where I found Super Mutant Alien Assault, published by Surprise Attack and developed by Cybernate.
I had never heard of it before, but the presentation looked nice, and "inspired by Super Crate Box" is a magical phrase for me given that I adore Super Crate Box. The name is so forgettable that I literally had to look it up while writing this despite playing this game for hours, but I need you to look past that for a minute: Super Mutant Alien Assault has got some great, distilled arcade action waiting for you. Let's dig in.
I'm going to be honest with you, reader: I really don't remember the story for this one. There was a quick cut-scene, something about aliens being on your ship when they're not supposed to be, and I'm pretty sure it's your job to make sure the ship can keep traveling and can ideally do so without any of these hostile aliens on it. Also, you're a robot. Also, there are a ton of weapons just kinda being dispensed from weapon dispensing machines for you. It makes sense, I promise.
The first chunk of time I spent with Super Mutant Alien Assault (god, that name, it just vanishes as soon as I look away from it) didn't click with me that well
Your first few weapons are a machine gun that sprays forward, a shotgun that bursts forward, a sniper rifle with infinite horizontal range, high power, and slow reload, and a pair of submachine guns that spray both left and right. If you've played much 2D arcade action, it's pretty standard fare.
All of this is set in a series of randomly selected, hand-crafted levels with retro modernist pixel art with a dubstep soundtrack thumping over everything. It felt pretty forgettable.
Then I kept playing and realized, oh, this is just the vanilla, newbie stuff before you start unlocking the good shit.
I started to unlock different level types first. The most basic stage type is the survival type, where you just have to survive for a certain amount of time before advancing to the next level. Then I unlocked a sort of capture the flag style level where you have to pick up a fuel cell from a spawn point and deliver it to a refueling station a few times, which was much more interesting.
After that, a level type where these alarm stations start going off and if you don't flip them off in time they burst and deal damage to you. Then a new type of fuel cell stage where instead of carrying a cell on your back, it's a ball and you have to roll it, but you can't attack while you're carrying it, but also you can throw it and actually roll it into the station and and and…
The game had me in its grasp. This system of unlocks drip feeds you new things to chew on at a pace that's brilliantly designed
After the basics, my absolute favorite has to be a weapon called the Pogo Blaster. When you have it and have ammo remaining – all pickup weapons have finite ammo before you have to get a new weapon – your basic locomotion fundamental changes, because now you hop on a pogo stick.
Now, instead of getting hurt when you touch enemies by landing on them, landing on an enemy creates a massive explosion that deals ridiculous amounts of damage. As if that wasn't enough, you can also press the fire button to launch yourself downwards, blasting the ground with that same force and an even bigger explosion regardless of whether or not you made contact with an enemy. It's absolutely wild and it feels incredibly well-tuned.
I should probably also mention that that's just the primary weapons. When you run out of primary ammo you get to use your infinite ammo sidearm. The first of these is fine – just a weak, kind of boring pistol – but the second sidearm you get is a bouncing chakram of pure death and destruction. You throw this purple discus and it arcs through the air, bouncing off enemies and dealing somewhere in the vicinity of 3x the damage of the wimpy pistol.
Beyond that, however, you can press and hold the fire button and it glows bright purple, trying to fly directly back to you with a powerful magnetic force. You can use this bouncing+magnet mechanic to really pull off some absolutely bananas shit and getting the hang of it is out of this world.
Seriously, you need to see this in action:
There isn't a ton of game here, but Super Mutant Alien Assault's brilliance is in its atomic delivery. It's a 2D, one-screen arcade action game, nothing more and nothing less. The dubstep might drive you nuts after a while but that's really the only actual complaint I can levy about it.
You play this game for arcade action and it delivers that action to you exactly as intended. You don't go to a burger joint and get mad at them when they don't have caviar, you go to a burger joint and think, "Fuck yeah, this burger is exactly what I was craving."
Also, this game is hard but when you die you'll think, "Yep, that was totally my fault." If that sounds appealing to you, definitely check this one out. I don't think you'll regret it.
Jake reviewed Super Mutant Alien Assault on Nintendo Switch with a review code from the developer, Cybernate. It is available now on Windows, Playstation 4, PS Vita (?!), Xbox One, and Nintendo Switch.
Curious what our scores mean? Find out more in our comprehensive guide to Understanding KnowTechie's Game Review Scoring.
Editors' Recommendations:
The Good
Simple, refined arcade action
Brilliantly tuned unlock system
The Bad
Completely forgettable name and setting
Please, please no more dubstep
Follow us on Flipboard, Google News, or Apple News