Review: WASD Keyboards V2 87-Key mechanical keyboard
Customization and customer service, a winning combination.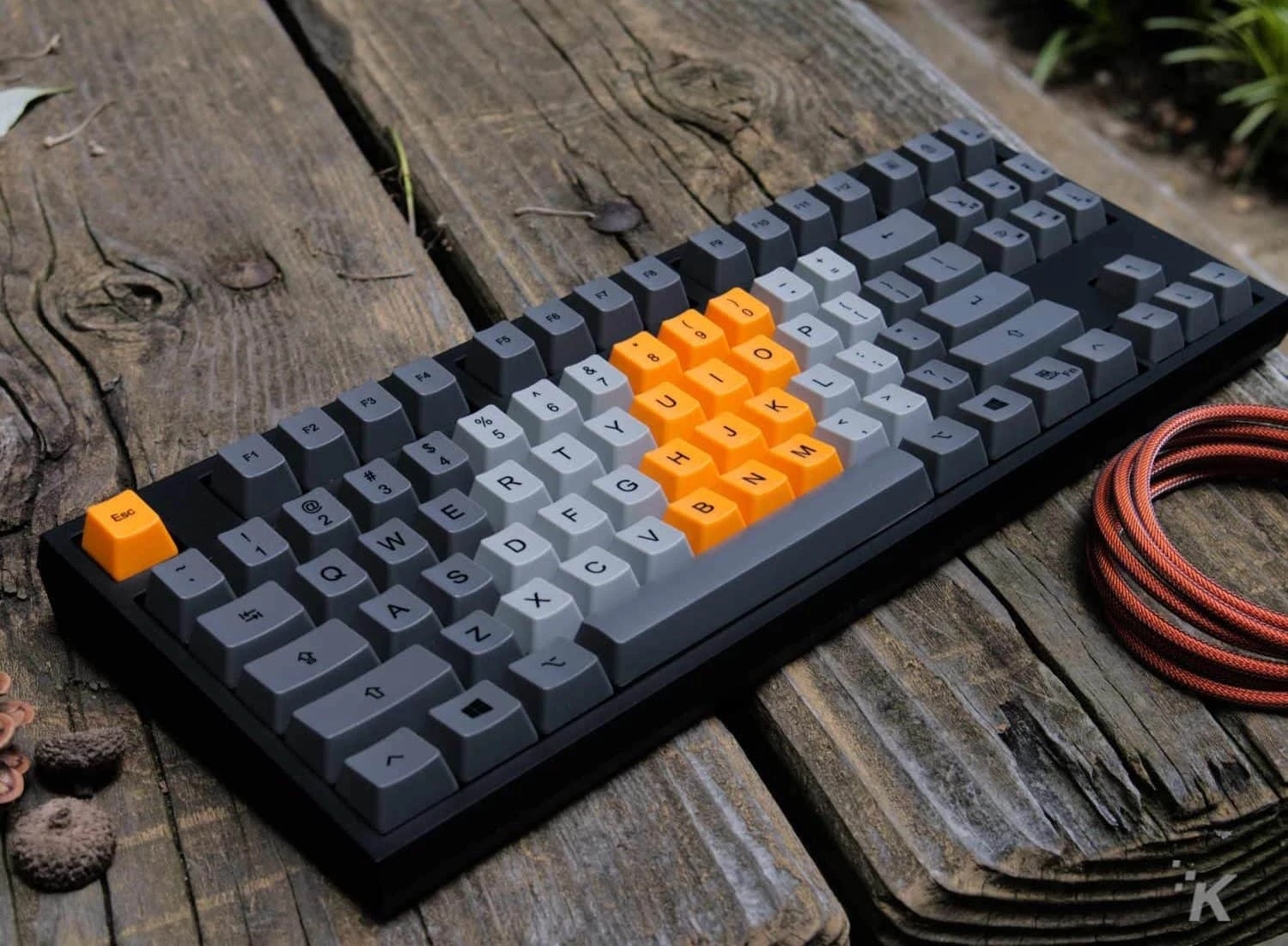 The Good
Quality construction
Great customization options
Quality customer service and warranty
The Bad
Gets pricey when adding extra options
I've long-admired WASD keyboards, with several of them making the shortlist on my recent post on low-cost mechanical keyboards.
Their flagship product is a full-size mechanical keyboard, a variant of Costar's reference design with Cherry MX switches. Today, we're looking at a variant of that flagship, in the 87-key tenkeyless (TKL) form factor.
Since WASD's inception in 2011, the company has built a solid reputation for themselves with solid products and oodles of customizability. You can get their flagship V2 in full-size, tenkeyless, and 60% compact sizes, each in both ANSI and ISO layouts.
All of the flagships feature their Custom Keyboard Designer, where the customer can choose exactly which color they want on every key, layout options for the legends, and a host of different Cherry MX key switches, o-rings, and other tweaks. WASD also sell a whole range of accessories, from custom sleeved cables, wrist rests and keycaps.
WASD have a unique selling point, they have a full UV-printing service where you can control every aspect of your keyboard design. They supply Illustrator and Inkscape files for the layout, and you can add custom text, icons, and full images. Pretty cool for a unique keyboard that will last you years.

Build software without devs. Blazingly fast. Trusted by 100,000+ teams worldwide. It's so easy, anyone can use it. Start building now.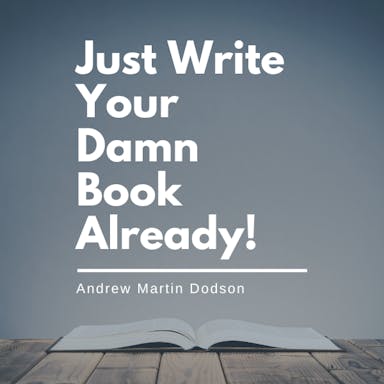 "Just Write Your Damn Book Already" is a printable guidebook that helps you turn ideas into manuscripts. It's affordable and perfect for aspiring authors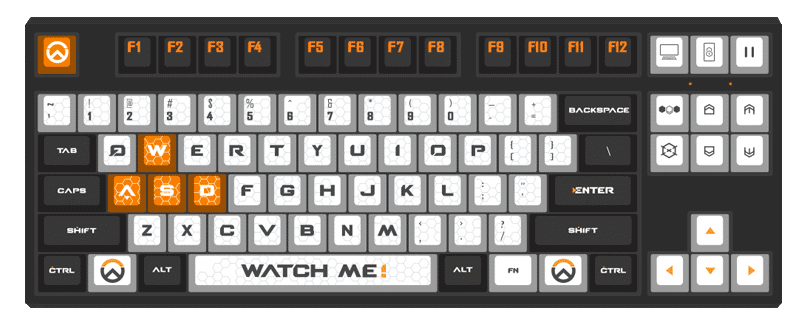 There's also a Maker Designs section, where community members have created layouts if you want a custom keyset but don't want to design your own.
And it will last for years. Only original Cherry MX switches, MOD switches from Originative, and the 65g Zealios are available. These are all switches with a solid reputation for quality, finger-feel, and longevity. The case is solid and is a variant on Costar's reference design. There's a little bit of flex when twisted, but no amplification of key noise which is good to hear (or not). The case has feet for if you want to raise the back slightly, and those feet have rubber on them to prevent you from skidding while typing.
On the back there's a small row of dip-switches, these can be used to switch between QWERTY/Dvorak/Colemak modes, Mac/PC mode, enable/disable the OS keys, and disable CAPSLOCK. You can also change the Fn key operation, which normally works as a modifier for the HOME/END cluster to use as media keys. Having them here instead of on F-key modifiers means you can control your media from just one hand. All of this is hardware based, and the keyboard doesn't need a driver other than the basic USB driver Windows uses.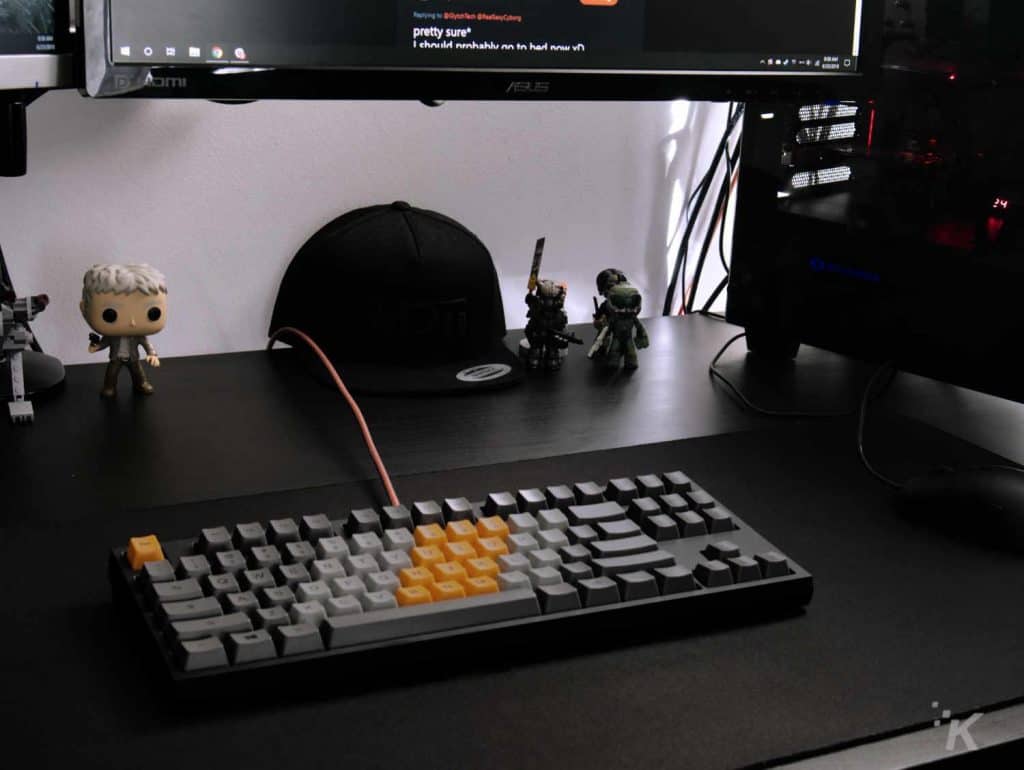 WASD keeps their design minimal, with the label on the underside being the only place that the company name is shown. Even without shouting it, a WASD board is pretty distinct. There are also two discrete LEDs for showing scroll and capslock.
I opted for a Graphite/Dark Gray/Orange pattern, with Media Key legends and Symbols instead of names for modifier keys. I also opted for a custom USB cable, which was sleeved in orange and then with loose weave Graphite over that. I've wanted to use the hard-to-find Cherry MX Clear switches for the longest time, so choosing them was a no-brainer.
I've long owned their keyswitch tester, which I use as a fidget tool, so I knew what switches would suit me. I highly recommend picking one up before you decide on your keyboard, especially if you've never used a mechanical keyboard before. I also opted for factory-installed o-rings, to further foil any attempts at bottoming out.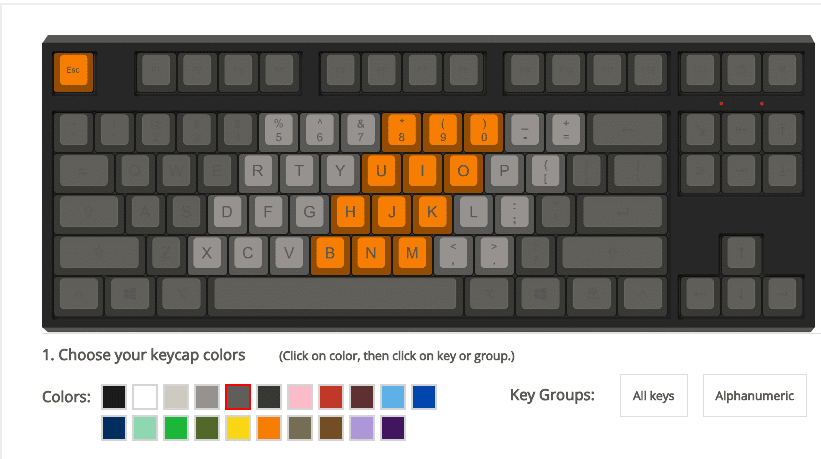 The Cherry MX Clears have a tactile bump partway down the travel, and the springs have more resistance to reduce bottoming out. They're designed to give you a similar typing experience to the old rubber dome switches or TOPRE ones. If you're not used to the extra resistance they might feel tiring to begin with, and that's exactly what I've noticed. After a couple of weeks of use though I'm acclimatizing to them and now find myself typing faster than I did before.
The combination of tactile bump and the steep resistance curve afterward really helps me to reduce typos. They're less utility for gaming, as the high force needed to actuate is tiring if you're holding the keys down. That said, they're a bit of a typists dream switch and reminds me of the IBM keyboards that I first learned to type on all those years ago.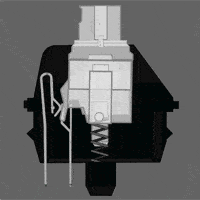 Force/Travel diagram (CN / mm) comparing Cherry MX Clear to Cherry MX Brown. Each graph is the slider color. Shadowed lines are the up-strokes.
As you can see from the pictures, the customization came out even better than I could have hoped for. Really sterling work, especially since almost every keyboard WASD sell is built-to-order (they do have a prebuilt CODE range with white backlighting). No RGB needed here, while some people might hanker for backlighting I quite like not having my desk glowing at me. With the large legend, I can see what the keys are at a very quick glance. I really like having the symbol/media legends combo, it's a lot classier than having PGUP and the rest printed on.
Coming in at a price of $185 with the options chosen, it's not cheap. That said, it's built to last and should serve you for many years to come. With a two-year limited warranty and lifetime support after that for a nominal fee as long as WASD have the parts, it's clear that they stand by their product. With so many prebuilt mechanical keyboards on the market, don't your fingers deserve the customized-to-you treatment?
A sample unit was provided for the purpose of this review.
The Good
Quality construction
Great customization options
Quality customer service and warranty
The Bad
Gets pricey when adding extra options
Follow us on Flipboard, Google News, or Apple News