As a Nintendo guy, the Sega Genesis Mini is nostalgic as f*ck
I need this new, retro offering now.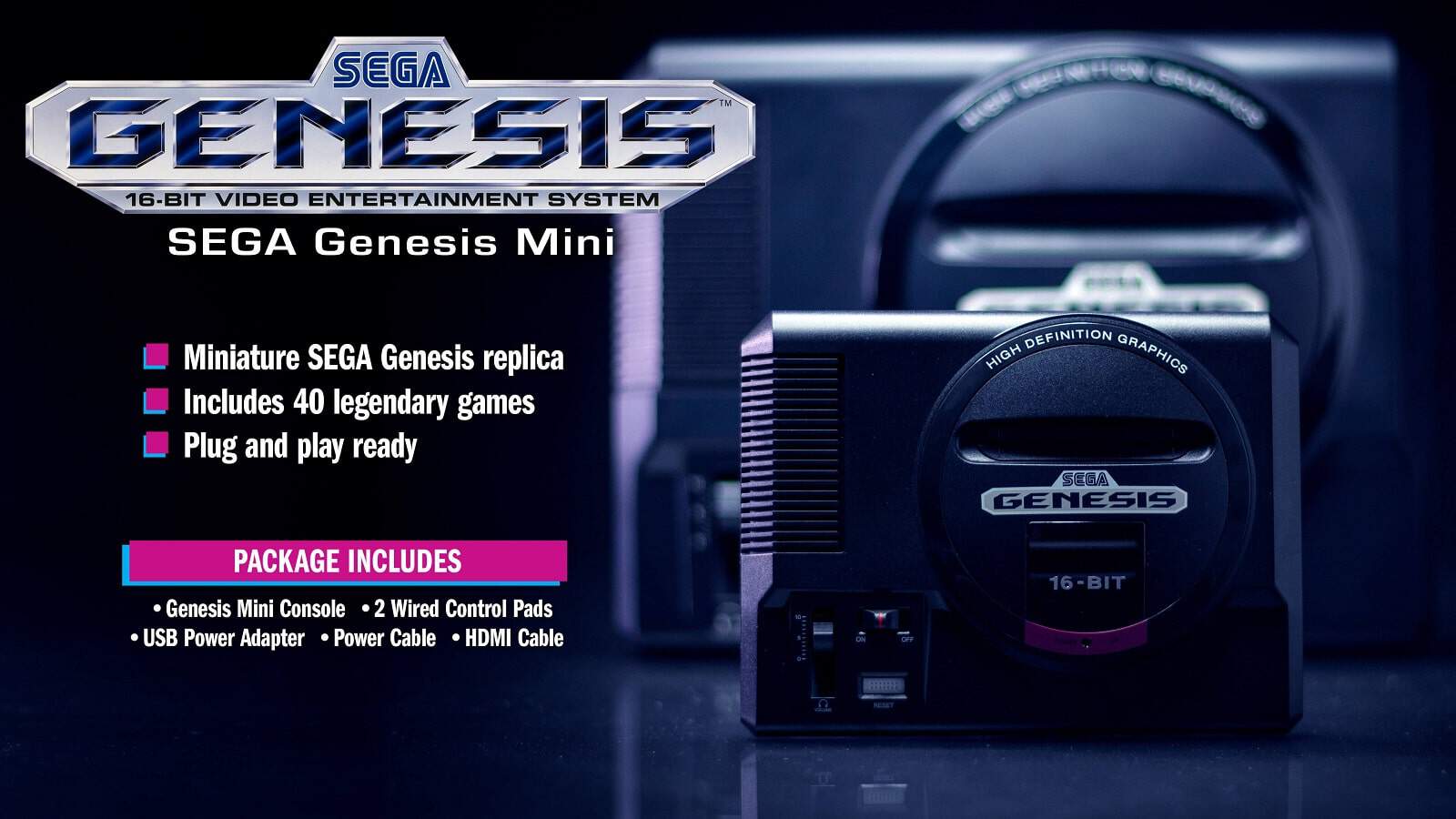 This is the first mini console I actually feel like I actually need.
Growing up,  I always had game consoles in my house. My parents owned an Atari and some of my earliest memories were playing Tanks with my mom. I got an NES for my 3rd birthday (who buys their kid a console when they are a toddler), a SNES for Christmas of '90, and an N64 on Thanksgiving of '96.
My first Sega console was a hacked Japanese Dreamcast that I bought at the Daytona Beach Flea Market for $99. The Sega Genesis was what I played at friends' houses when I went over. It was the system my jerk half brother never let me use. It was the console I posted up at and played for 30 minutes while my parents shopped at Sam's Club. I was entrenched in Nintendo from the get-go, but Sega Genesis was that forbidden fruit.
When Sega announced the Genesis Mini, I was interested to see what was brought to the table
I expected Sonic games, Phantasy Star, probably Golden Axe or Columns. Those seemed to be the games that my friends owned. The Sega Genesis Mini is going to include 42 games and, for the most part, they are very recognizable.
Ecco the Dolphin
Castlevania: Bloodlines (Castlevania: The New Generation in AU/UK)
Space Harrier 2
Shining Force
Dr. Robotnik's Mean Bean Machine
Toe Jam & Earl
Comix Zone
Sonic the Hedgehog
Altered Beast
Gunstar Heroes
Sonic the Hedgehog 2
Earthworm Jim
Castle of Illusion Starring Mickey Mouse
World of Illusion Starring Mickey Mouse and Donald Duck
Thunder Force III
Super Fantasy Zone
Shinobi III: Return of the Ninja Master
Streets of Rage 2
Contra Hard Corps (Probotector in AU/UK)
Landstalker
Mega Man: The Wily Wars
Street Fighter II: Special Champion Edition
Sonic Spinball
Phantasy Star IV
Beyond Oasis (The Story of Thor in AU/UK)
Ghouls 'N Ghosts
Alex Kidd in the Enchanted Castle
Golden Axe
Vectorman
Wonder Boy in Monster World
Tetris
Darius
Virtua Fighter 2
Alisia Dragoon
Monster World IV
Kid Chameleon
Road Rash II
Eternal Champions
Columns
Dynamite Headdy
Strider
Light Crusader
I remember playing Kid Chameleon on my half brother's Genesis while he was at football practice. I remember going over to visit my friend's house and playing Eternal Champions and reading through EGM to try to figure out stage fatalities. Golden Axe is the only virtual console game I owned for the Wii.
While I debated with friends that Final Fantasy IV was the best, some dared to suggest Phantasy Star IV was just as good. I remember playing Ecco the Dolphin and trying to figure out what exactly was going on.
As someone proud of their gaming background,  these games played an important role
These were the games I saw in magazines and thought "I was I could play those." I saw many of these game played during the console wars but never had any ownership of them. I've emulated NES titles from games I owned, but have never bothered to mess with Sega games. The Sega Genesis Mini is a second chance to experience these classic Sega Genesis games in the way they were meant to be played.
In the end, I'm super hyped to have a small version of a console that I never had a chance to own. As an adult that can now choose to own whatever console I'd like, the Sega Genesis Mini is highly coveted because of this. It'll be weird to handle the Genesis gamepad after such a long time, but I'm looking forward to it.
The Sega Genesis Mini is currently available for preorders on Amazon and other retailers, like GameStop.  It will launch on September 19th and will run $79.99.
What do you think? Interested in the Sega Genesis Mini? Let us know down below in the comments or carry the discussion over to our Twitter or Facebook.
Editors' Recommendations:
Follow us on Flipboard, Google News, or Apple News