The Sega Genesis Mini 2 will be available in October
The new mini console will set you back about $100.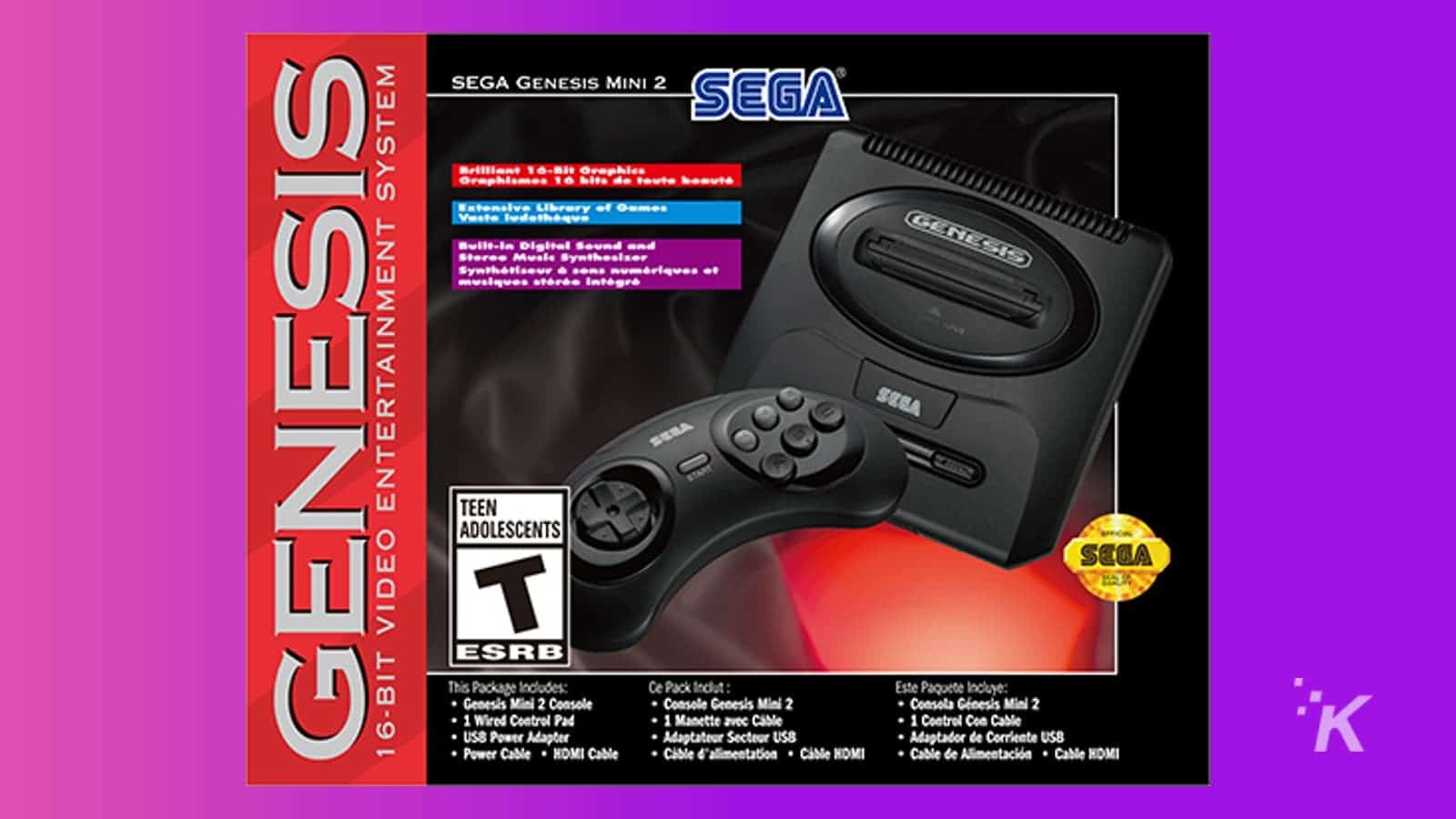 The first Sega Genesis Mini released back in 2019, and now, Sega is back with a follow-up version. The Sega Genesis Mini 2 is coming to North America on October 27.
So, obviously, the main question here is – what's different about the Genesis Mini 2? According to Sega, it boasts "even more power" and includes new games.
With the new version, gamers can expect "unreleased" titles that didn't make their way to the first miniature console. Additionally, the Genesis Mini 2 adds Sega CD titles.
Sadly, it doesn't look like it will be getting a direct US release, but dedicated players should still be able to snag one from Japan through Amazon.
The Genesis Mini 2 will be packed with games
In total, there will be over 50 games available for people to enjoy. If you are curious about which games will be available on the tiny console, check out the full list below.
All the games included with the Sega Genesis Mini 2
Ecco The Dolphin Sega CD version
Ecco: The Tides of Time
Final Fight CD
Mansion of Hidden Souls
Night Striker
Night Trap
Robo Aleste
Sewer Shark
Shining Force CD
Slipheed
Sonic CD
The Ninja Warriors
After Burner II
Alien Soldier
Atomic Runner
Bonanza Brothers
ClayFighter
Crusader of Centy
Desert Strike
Earthworm Jim 2
Elemental Master
Fatal Fury 2
Gain Ground
Golden Axe II
Granada
Hellfire
Herzog Zwei
Lightening Force: Quest for the Darkstar
Midnight Resistance
OutRun
OutRunners
Phantasy Star II
Populous
Rainbow Islands Extra
Ranger X
Rister
Rolling Thunder 2
Shadow Dancer
Shining Force II
Shining in the Darkness
Sonic 3D Blast
Splatterhouse 2
Streets of Rage 3
Super Hang-On
Super Street Fighter II
The Ooze
The Revenge of Shinobi
TomJam & Earl in Panic on Funkotron
Truxton
Vectorman 2
Viewpoint
Virtua Racing
Warsong
Fantasy Zone
Star Mobile
Spatter
Super Locomotive
Devi & Pii
Puyo Puyo Sun
Space Harrier 2
As you can see, Sega is going all-out and planning a ton of great games for players to check out.
Sega Genesis Mini owners can use their controllers with the new console
Another important note is that owners of the previous version will still be able to use their controllers with the new mini console.
That said, the new version does come with the six-button Genesis controller, whereas the first version used the three-button controller.
Also, if you couldn't tell, the Genesis Mini 2 has an updated casing to match newer generations of the original console.
We don't know the exact price of the Sega Genesis Mini 2 (most likely under $100), but there is already an Amazon page set up for it, where it will be sold exclusively.
Have any thoughts on this? Let us know down below in the comments or carry the discussion over to our Twitter or Facebook.
Editors' Recommendations:
Just a heads up, if you buy something through our links, we may get a small share of the sale. It's one of the ways we keep the lights on here. Click here for more.
Follow us on Flipboard, Google News, or Apple News