According to a new study, iPhone's crush the competition for holding value, for now
iPhone's brings all the dollars to the yard.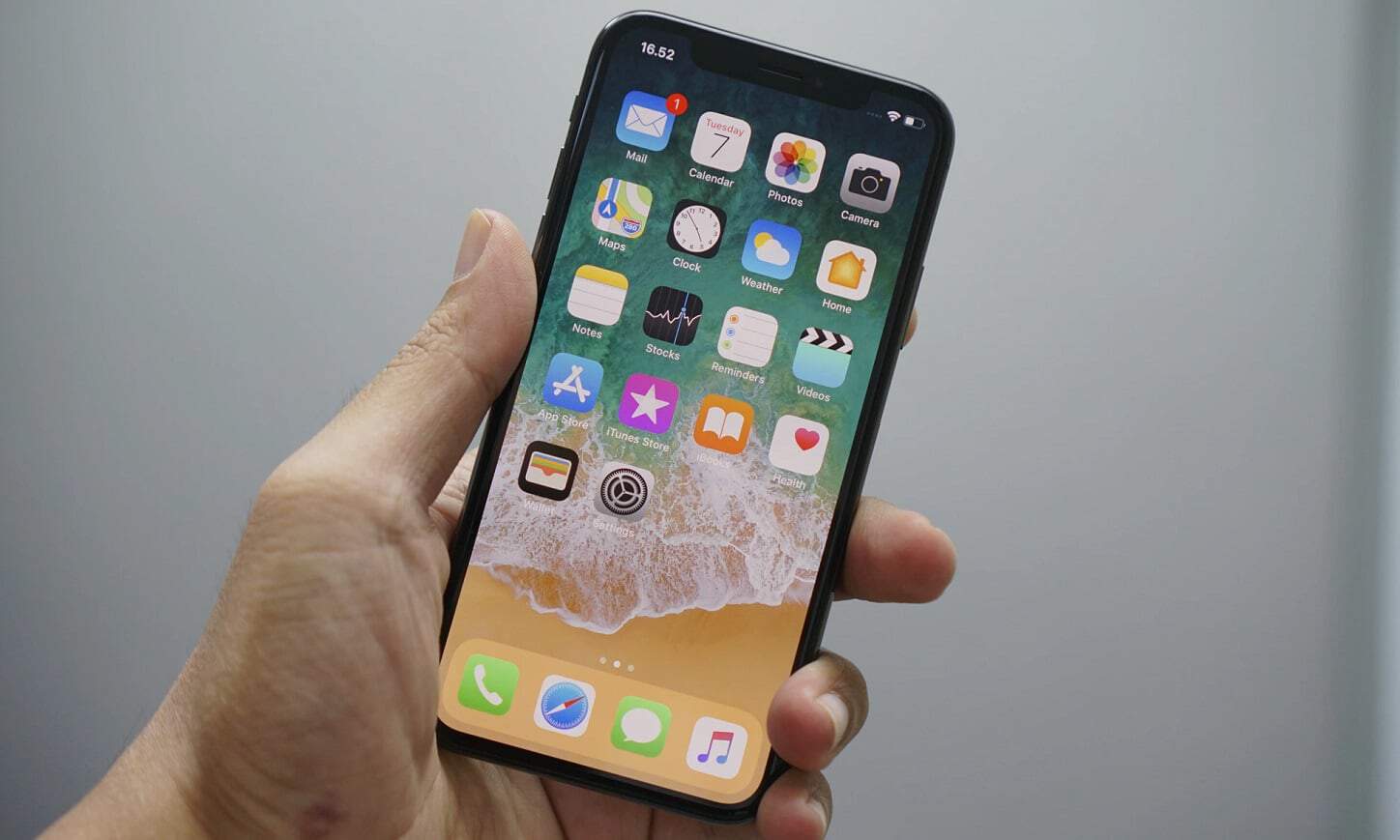 Depreciation data from last year's flagship smartphone releases paint a sorry picture for Galaxy S9 owners.
Opening the box and powering on your new smartphone is a lot like driving a new car off the lot, as soon as it's been used, the value plummets. Over time, anyone that has switched between brands will be aware that iPhone's have commanded much higher price retention than Android devices.
A new study shows, despite Apple recently reporting a decline in demand for the company's handsets, the value of last year's models are holding true. Regrettably, the same can't be said for the Samsung Galaxy S9 range, which lost its worth significantly in the same length of time from launch.
In the same period, how quickly did prices fall?
With the maximum monthly timescales to date since 2018's Google Pixel 3 releases, the study shows an '8 month from launch' decline of trade-in value for last year's flagship handsets by Apple, Google, and Samsung. 
Below see how much each phone lost 8 months after they were released: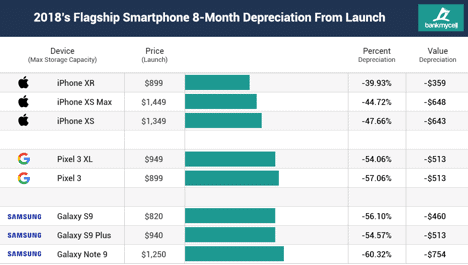 All prices quoted represent the top storage size available for each handset.
How quickly do iPhone's lose value?
Despite last year's iPhone range arousing some criticism due to the ever-increasing launch prices, according to phone trade-in site BankMyCell, they have retained buyback value reasonably well against the Pixel, Note 9 and Galaxy S range. It's worth mentioning; the cell phone trade-in market is only one avenue to sell your old phone; these values can be slightly different if you're selling privately on classified or auction websites.
Keeping in mind each device's decline is measured over 8 months since launch, the iPhone XR held its value the best. Debuting last fall for $899 for 256GB of storage capacity, it lost -39.93 percent of its value, whereas the iPhone XS 512GB launched for $1,349 losing the most at -47.66 percent.
How quickly did the Galaxy S9 and Note 9 lose value?
The same could not be said for Apple's rival, Samsung, which had depreciation figures ranging from -56.10 percent for the Galaxy S9 up to -60.32 percent for the Galaxy Note 9.
The overarching storyline here is, during the first month of release, the Samsung Galaxy S9 lost -42.68 percent in one month compared to the -39.93 percent the XR iPhone did in 8 months.
Android depreciation: Google Pixel 3 lost the same
The data suggests that the depreciation figures for flagship Android devices follow a similar pattern. Comparable to the Galaxy S9 devices, the Google Pixel 3 and Pixel 3 XL were recorded losing over half their trade-in value in the same period.
Galaxy S10 VS iPhone XS resale value
Aimed at seizing chunks of the premium smartphone market, the iPhone XS and Galaxy S10 represent the global pinnacle of next-generation features from manufacturing superpowers Apple and Samsung. While exploring the figures, it made sense to compare the two to understand if the resale trend with the Galaxy S9 continued with the latest S10 range.
The chart below shows the price of all the phones against how many months ago they were released. Take a look at the resale figures of the iPhone XS today: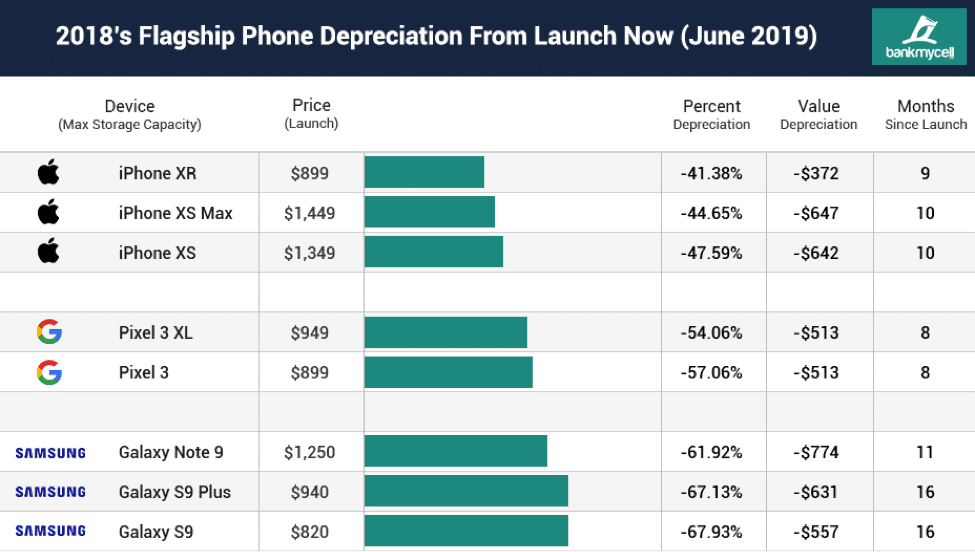 While we see that in 10 months the 2018 iPhone range suffered a decline of -41.38 to -47.59 percent, the Galaxy S10 took just 4 short months to surpass them in loss of value. This data becomes more astonishing when we take into consideration the drop in sales and demand Apple has seen so far this year.
Compared with the initial 8 months decline in Galaxy S9 value, the 16 month chart above shows the aggressive value deterioration of Samsung devices does slow down considerably, the worst decrease being in the first year. This is a pinch of good news if you're not in a yearly upgrade cycle with your Samsung Galaxy or Note smartphones.
Tip: Not every phone depreciates in value the same
According to BankMyCell data, iPhone's and Android devices do not follow the same monthly depreciation trends. The Samsung and Google phones had an initial drop at launch, then continued to aggressive decline. iPhone's on the other hand, actually increased in resale value after an initial dip, then plateau until the next device is released.
When last year's iPhone range was released, the initial trade-in values were awfully low for 2-3 months; this is where trade-in stores target consumers that keep their old phone and trade in the new device their carrier provides as an upgrade.
These resale prices raised in January 2019, and when we look at the values now, it's evident that there's been little movement in the 6 months since
iPhone XS only lost $30 in value since Jan-June 2019
iPhone XS Max only lost $23 in value since Jan-June 2019
iPhone XR only lost $53 in value since Jan-June 2019
It's far from all good news for the iPhone manufacturer
Even though the iPhones are performing well against other premium handsets released around the same time, they are not competing well against historic iPhone price retention. The iPhone X only lost -30.9 percent of its value in 8 months compared with the -47.66 percent the iPhone XS in the same timescale from launch.
Irrespective of the perception that iPhone's are a reliable handset to put your cash into, this year's drops in the latest models resale value mirror other issues with the firm. Apple has made price cuts in China as an attempt to increase sales, a market where the US has been struggling in recent trade wars. They also offered creative trade-in deals through the Apple trade-in program to drive sales, incorporating the strategy of pushing iPhone upgrades on vulnerable consumers without device warranties.
We could also see drastic price changes this year, Tim Cook was speaking to Reuters and said:
"Apple is rethinking how it prices the iPhone outside the United States after largely setting the price in U.S. dollars, which made the phones more expensive in local currencies as the dollar strengthened."
As far as reselling your old devices go, there isn't much you can do to make sure you hold onto a reasonable price, make sure you keep it in good condition with a case and screen protector. The best advice for getting the most money back is to compare trade-in offers online first, more often than not instore trade-in deals, kiosks and carrier buybacks offer a lot less than you can potentially get through physical buyback stores.
It's a fact that even though it's a little more hassle, you will get the best value by selling your device privately through eBay or Facebook marketplace. Just be sure to erase your data and reset the phone before sale to avoid any issues.
What do you think? Are you surprised by how much your phone can lose in value? Let us know down below in the comments or carry the discussion over to our Twitter or Facebook.
Editors' Recommendations:
The iPhone XR and its gaming possibilities
Follow us on Flipboard, Google News, or Apple News