Anthem's release schedule is so convoluted that I plan on skipping the game entirely
EA: It's in the spreadsheet.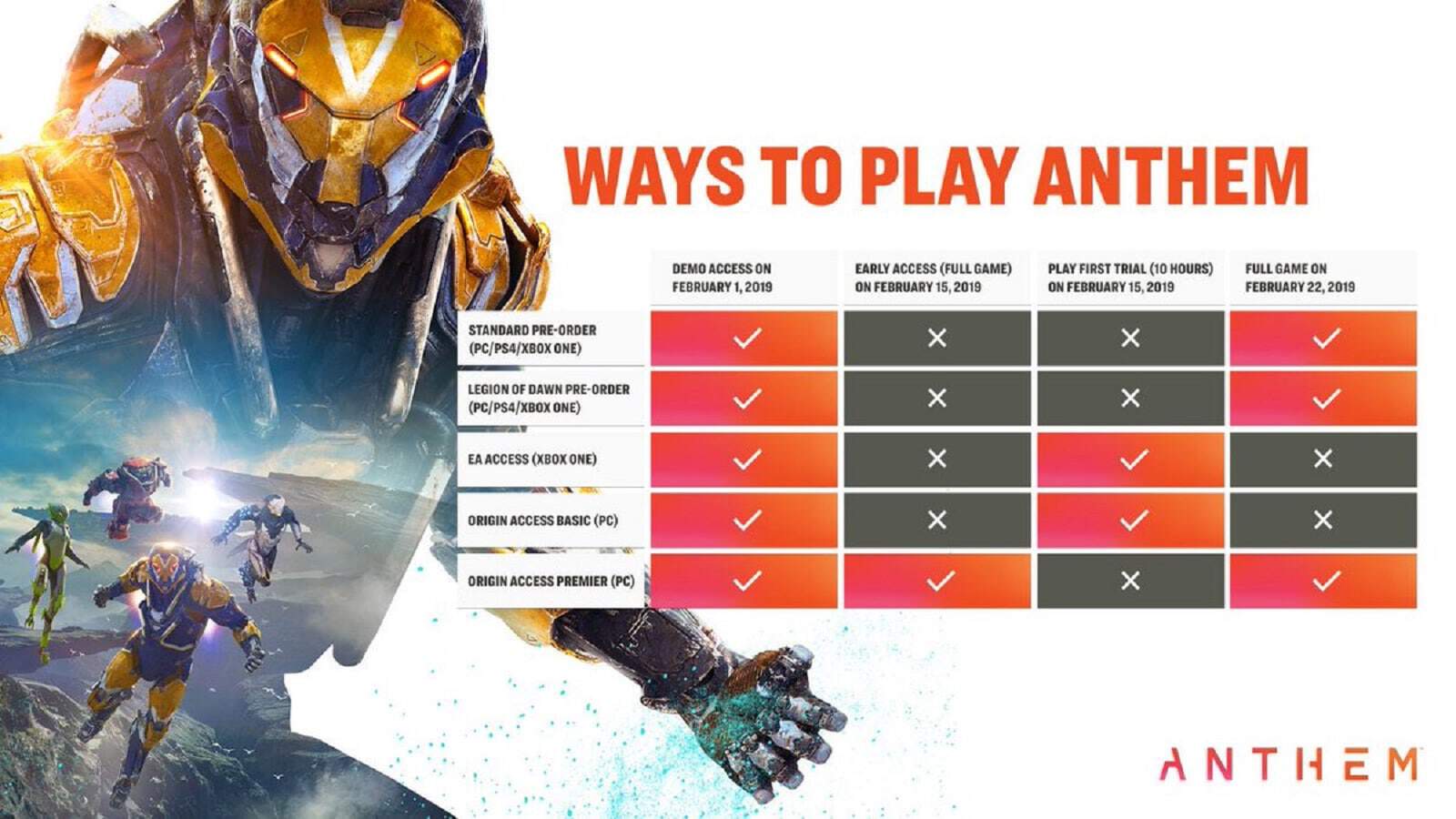 Anthem, the highly anticipated game that has been on the tip of everyone's collective tongue for the better part of a year now, is finally getting ready to release. With mixed opinions after the game's initial demo/beta/stress test was released, it is still an interesting title that I planned on checking out. I mean, it looks like third-person Destiny, and I loved me some Destiny.
So, why am I going to skip it? Because of this. Because EA has completely forgotten how to connect with gamers. When a game requires a freaking spreadsheet to explain its release schedule it will be a hard pass from me. Every time. Do better.
The "release" "schedule"
Ok, let's break this down. The game has "Demo access" starting today for Xbox One, PlayStation 4, EA Access (Xbox One), Origin Access Basic (PC), and Origin Access Premiere (PC). Ok, whatever. Demo starts today for everyone, cool.
Here's where it gets absolutely ridiculous interesting for Anthem.
Then "Early Access (Full Game)" starts on February 15 for Origin Access Premiere members. This is presumably to push its Origin Access Premiere service that costs gamers $100 a year. Don't hold games hostage with your services. It's lame and no one appreciates it.
Also on February 15, "Play Trial (10 hours)" starts. But not for everyone else, oh no, that would be too simple. Instead, regular Origin Access and EA Access members will get access to the game for a whopping 10 hours. Gee, thanks EA! Also, apparently, fuck the people on Xbox One/PS4/PC that spent their hard-earned money on your game before it was even released as you try to push your lame subscription models on us.
Finally, the game's full release
And finally, here we are at the game's full release on February 22. On this day, PlayStation 4, Xbox One, PC, and Origin Access Premiere finally can just play the damn game.
I'm sure Anthem will be a great success and make EA buckets of money, but this is enough for me to skip the game entirely. I understand that gaming has become big money. I understand that more money than ever is being put into these games and that microtransactions are probably going to stay forever in games. What I do not understand, and will not accept, is a game release that requires a spreadsheet to explain.
What do you think? Are you as upset about this as me? Let us know down below in the comments or carry the discussion over to our Twitter or Facebook.
Editors' Recommendations:
Follow us on Flipboard, Google News, or Apple News