CamSoda introduces Camoji digital avatars so you can cam with relative anonymity
Cam Pornonymously.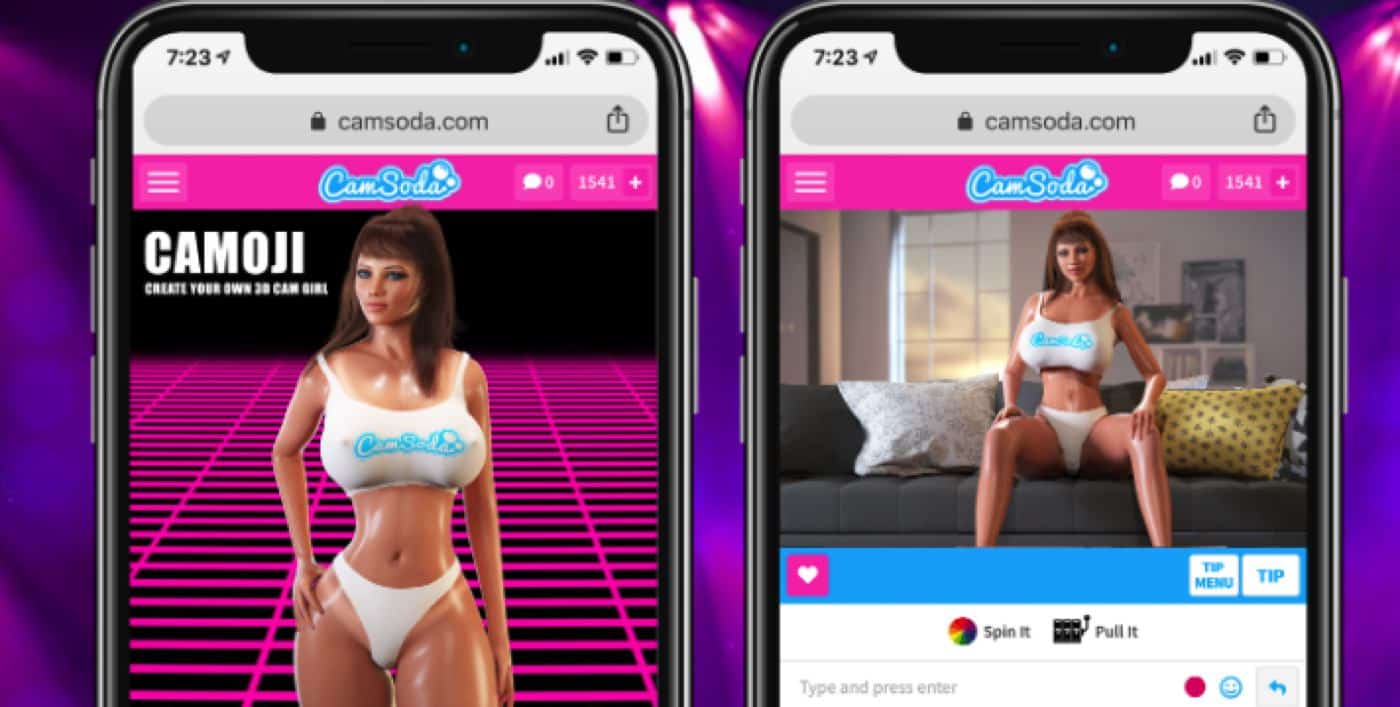 Today in porn news, webcam site CamSoda is launching Camoji, which appears to be both singular and plural. Camoji will allow cam users to interact with fans anonymously. You'd think this would defeat the purpose of camming, as the appeal of it is usually the amateur nature of it all, but you'd be wrong. People like all kinds of things, including being able to be an exhibitionist without revealing one's identity. On the other side, people also like VFX porn.
It's a pretty simple process. Cam users create a personalized (within limits) XXX avatar of themselves to perform as a cam model. Then the model can record different actions of themselves, which are then animated. Those animated actions can be strung into combo moves and have details like colors and proportions changed. The recorded actions are then played out by the Camoji, either prompted by tips from users for certain actions or controlled by the cam model. The cam model can also, behind the face of their VFX avatar, chat and collect tips and hold private shows. It's a foolproof system for anonymous camming.
Currently, the available character creator modifications are more WWE 2K14 and less Kenji Wasteland. You can make the bust bigger, butt smaller, change hairstyles and so on. The animation is similar to what you'd find in the current selection of VFX porn. There is a simplicity to VFX porn characters that reminds us of video games from the 1990s but is practical in that it uses less memory and less effort for the sake of efficiency.
"Given the popularity of Animoji, and now Memoji, which allow for people to create an avatar that looks just like them, we wanted to introduce a sexy alternative with a twist," said Daryn Parker, VP, CamSoda in a press release. "With the launch of Camoji, now anyone can get into adult entertainment and anonymously interact with people, all under the guise of a XXX avatar. So whether you're a mother of three, who can't afford to have your kids' friends' parents find out or a C-level executive at a well-known company with clients, Camoji now allows you to moonlight as a cam model and anonymously interact with fans, all while earning money."
It's logical to assume that this will bring in a fresh crop of cam models who were to this point, unwilling to go as far as to show their actual face on screen. This might open the literal flood gates. Anything that helps people get out of their repressed little bubbles and at least pretend to masturbate for an audience can't be a bad thing.
CamSoda is already working on upgrading the technology to make it a bit more interactive and responsive to the actions of the cam model. Integrating face tracking and motion capture technology, cam models will be able to map Camoji characters to their face and body. The Camojis will then be able to mimic movements in real time, so when the model shoves a toaster oven where it doesn't really belong, the Camoji will do the same. This is future tech and not available at launch.
Also not available at launch is a wide selection of gender. The initial run of Camoji will be gendered female, but CamSoda will be adding male and trans options in the near future. This kind of shit has got to be inclusive, so I'm a bit surprised that those aren't available at launch. It can't be too difficult to copy/paste a dong onto these animations at the least.
This isn't CamSoda's first foray into higher tech to enhance interactions on its site. It launched a sex robot people can interact with and before that, got into teledildonics and virtual reality.
So to sum up, any person who wants to be a cam model but hasn't made that jump from acting out in front of the mirror to in front of a camera, can now create a virtual avatar of themselves that doesn't really look like themselves and become a cam model, interact with users and collect tips. Kevin, it's your time to shine.
Do you plan on using this? Have any thoughts on this? Let us know down below in the comments or carry the discussion over to our Twitter or Facebook.
Editors' Recommendations:
Follow us on Flipboard, Google News, or Apple News