The UK's second-biggest airport was shut down for almost a day because of dumb drone pilots
Ho ho ho, Merry you're-not-getting-home-for-Christmas.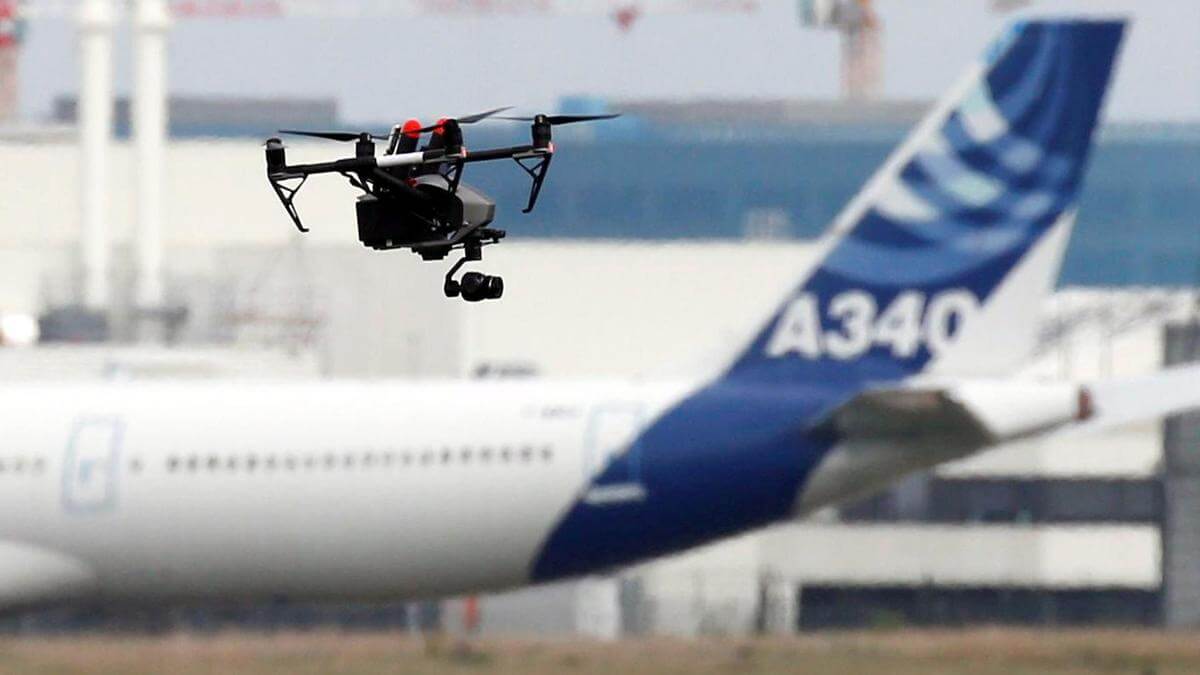 Gatwick Airport, just outside of London, is the UK's second-busiest airport, with over 100,000 passengers flying daily. Or should I say, scheduled to fly, as the airport has been closed to air traffic for almost 24 hours due to some irresponsible drone operators.
First spotted at 9 pm GMT on Wednesday, the duo of drones caused the airport to suspend all flights coming in or out. Sightings stopped at around 3 am, causing the airport to briefly reopen before the drones returned 45 minutes later. Currently, the airport is scheduled to reopen at 7 pm GMT, although that may change if the drones return again.
This suspension of flights has knock-on effects on the whole area. Incoming flights had to be diverted to other nearby airports including Heathrow, Luton, and Stansted, causing air traffic to be a nightmare over the whole region. Some international flights were diverted to Paris or Amsterdam. So much for late-fliers trying to get home for the holidays.
How many people have been affected by this?
To give you an idea of how big a deal this is, 760 flights were scheduled over the course of Thursday alone, containing 110,000 passengers. Over 11,000 passengers are currently stranded in the airport.
Euro Control: Gatwick won't open until at least 7pm local time (4 hours 18 minutes from now) pic.twitter.com/Tx8U2g30zc

— Steve Lookner (@lookner) December 20, 2018
Police have been searching the local area for the operators, whose actions they characterize as "a deliberate act to disrupt the airport." The flying of the drones isn't being viewed as a terror act at this time.
Early on, Gatwick's administration had ruled out shooting the drones down, due to the risk of injury from stray bullets. A change of heart might have happened recently, as images of police-trained snipers arriving at Gatwick turned up on social media.
Gatwick Airport have brought in specialist police snipers to shoot down the rogue drones pic.twitter.com/NwLsOTlHJS

— Aircraft Tracking (@Trexcent) December 20, 2018
Ensuring this doesn't happen again
Flying drones within 1 km of any airport has been illegal in the UK since May. The crime can lead to a 5-year prison term. The real problem is in enforcement. With even off-the-shelf drones having anywhere between a thousand feet to five miles, that makes searching for the operator a difficult task for the police.
The UK government is bringing in a registration system next year, similar to the one the USA already has. It has also been testing drone countermeasures at prisons, to combat their use in smuggling contraband. The jamming technology used at the prisons isn't suitable for use in an airport, as it would likely interfere with critical systems.
Whatever the solution is, it's clear to me that we're going to have more incidents like this as consumer drones get cheaper and more powerful.
What do you think about the airport shut down? Let us know down below in the comments or carry the discussion over to our Twitter or Facebook.
Editors' Recommendations:
Follow us on Flipboard, Google News, or Apple News