Researchers have created an insect-drone that mimics the movement of insects
It's basically a fruit fly with 5 minutes of battery life.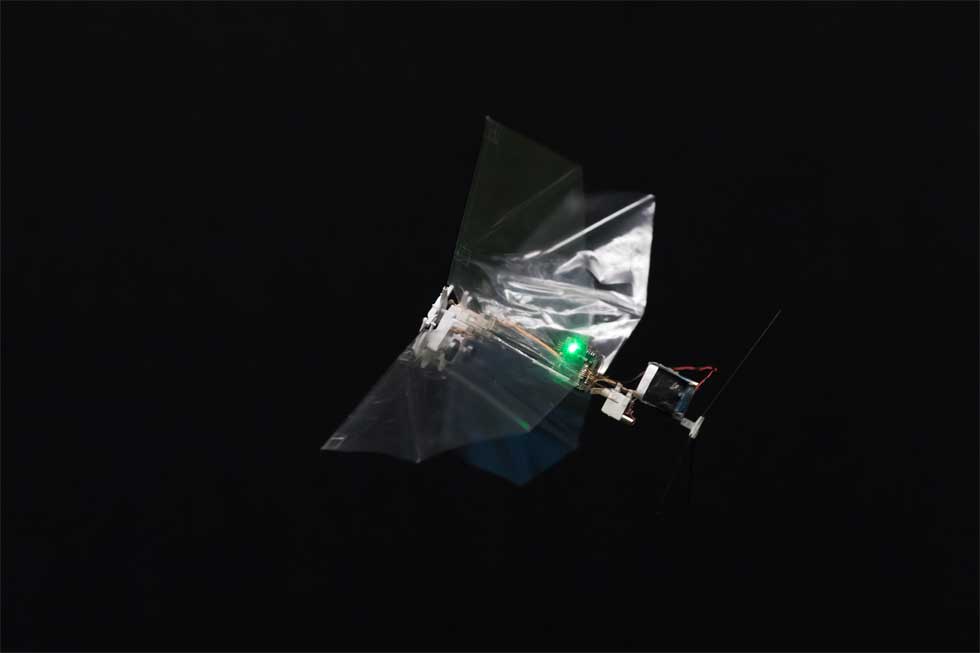 Researchers at TU Delft from the Micro Air Vehicle Laboratory (MAVLab) have created a flying robot that flaps its wings to move. The robot was developed to get a better understanding of how fruit flies control aggressive escape maneuvers like those deployed to avoid someone's swatter, according to SlashGear.
The report notes that the robot can flap its wings 17 times per second to generate both lift and directional control using the wing motions. In doing so, it's able to make minor adjustments to its wing motion while in flight. The adjustments and rapid wing movement allow the robot to hover, fly in any direction while remaining agile.
Take a look:
The buzzing specifics
Each robot can travel up to 25 km/h and can perform maneuvers such as 360-degree flips that are like loops and barrel rolls. Each has a wingspan of 33 cm and weighs 29 grams. Between charges, each robot can hover for five minutes with a range of up to 1km.
This isn't the first time someone has developed a robot or drone that looks like or mimics something that's real. In July, for example, we told you about Rolls-Royce's plans to build robo-roaches that will be around 15mm tall and weigh in at a few ounces. There's also surveillance drones that look like birds that are making an impact in China. And who can forget the flying dragon drone?
No doubt, it will be interesting to see where MAVLab's flying robots go from here. As long as they aren't used by the military to blow things up or kill people, I'm okay with it.
What are your thoughts on this? Let us know below.
Editors' Recommendations
Follow us on Flipboard, Google News, or Apple News