How to unlock your iPhone without a passcode or iCloud activation code
Locked out of your iPhone? We'll walk you through on how to gain access to it again.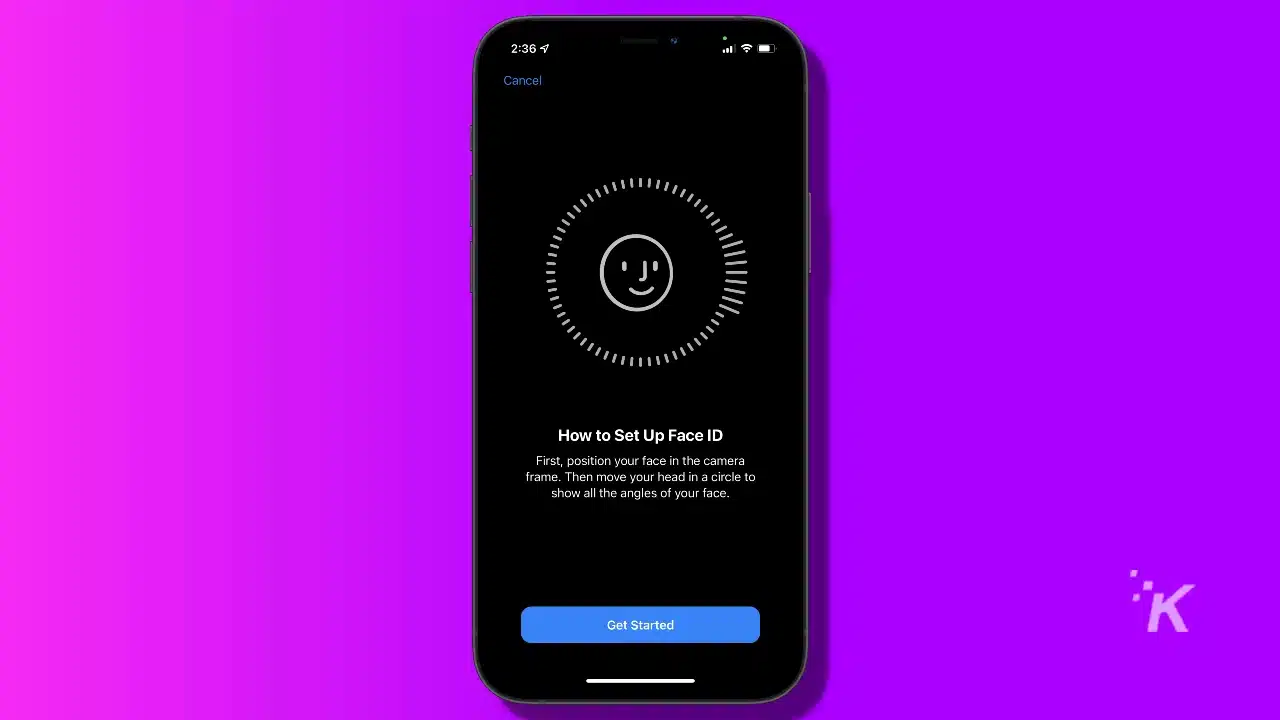 StarzSoft KeyPass is an application that helps you reactivate iOS devices when you can't enter the lock screen passcode or iCloud activation passcode.
In this review, we first explain why people can't unlock their iOS devices. Second, we will discuss how to unlock your iPhone without the passcode or your iCloud activation lock. Lastly, we will cover a few methods that you can use to unlock your phone.
Furthermore, we will introduce the top features of the StarzSoft KeyPass application and the pricing options. Next, we will compare using the KeyPass application to other methods you can choose to unlock your iPhone.
Finally, we bring the StarzSoft KeyPass review to an end by evaluating the advantages and disadvantages of the application before passing our final verdict on the application.
4 situations where you can't unlock your iPhone with your passcode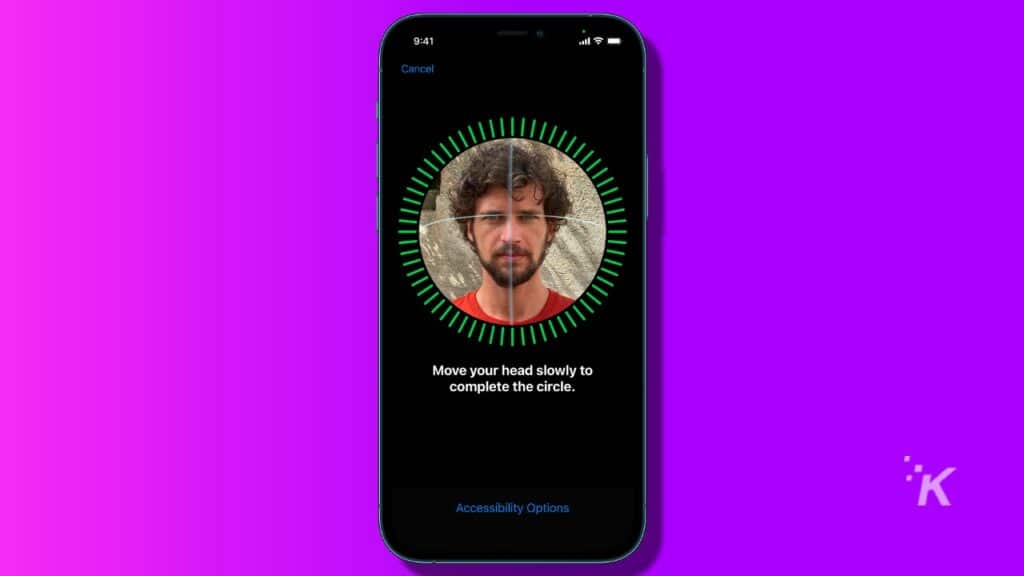 While there are four conventional methods to unlock your iPhone or iPad, if you lose your passcode and iCloud activation password – you'll get locked out of your device.
Under such circumstances, you can't use any normal methods for unlocking your iPhone. So let's review the the most standard ways to unlock your iPhone before trying other methods:
iPhone/ iPad passcode: you can set a 4-digit or 6-digit passcode to protect your phone. All you have to do for unlocking your phone is reentering the passcode to activate your phone.
Touch ID: alternatively, you can press the fingers that you have scanned with your iPhone on the mid-bottom section of your iPhone, where the phone displays a fingerprint icon.
iPhone X and later models also come equipped with a face detection algorithm that can unlock your phone. In order to unlock your phone with your face, you have to scan your face in the passcode and Touch ID settings.
However, if you forget your passcode and there is a problem with your Touch ID and Face ID, you could get locked out of your phone, and your phone will be disabled if you try too many times.
Here are some situations where you might need alternative ways to unlock your disabled iPhone:
If you forgot your password and tried unlocking the phone more than five times with the wrong passcode: If you continue to enter the wrong password again, the duration before you can attempt again will escalate to up to three hours. Finally, suppose you entered the wrong passcode 10 times. In that case, your iPhone will erase all your data to prevent anyone who is trying to breach your phone from stealing any important information.
When Face ID or Touch ID isn't accepted, and you can't remember your passcode.
When the iPhone screen is broken, you can't enter your passcode or use Touch ID on your iOS device.
Finally, you might have bought a second-hand iOS device with a different iCloud activation password, and you don't have access to the previous user of the phone.
In the scenarios demonstrated above, you can't use conventional methods to unlock your iOS system. However, you're far from a total disaster.
Can I legally unlock my iPhone without the passcode?
You can legally unlock it using different methods if you own the phone. However, if you are unlocking a second-hand iPhone, make sure the device wasn't stolen since unlocking someone else's phone is illegal.
Additionally, you can ask Apple Support to help you recover the iCloud password to access your device using iCloud. You need to prove that you have purchased the iPhone to get support from Apple Support.
How to unlock your phone without passcode or iCloud activation code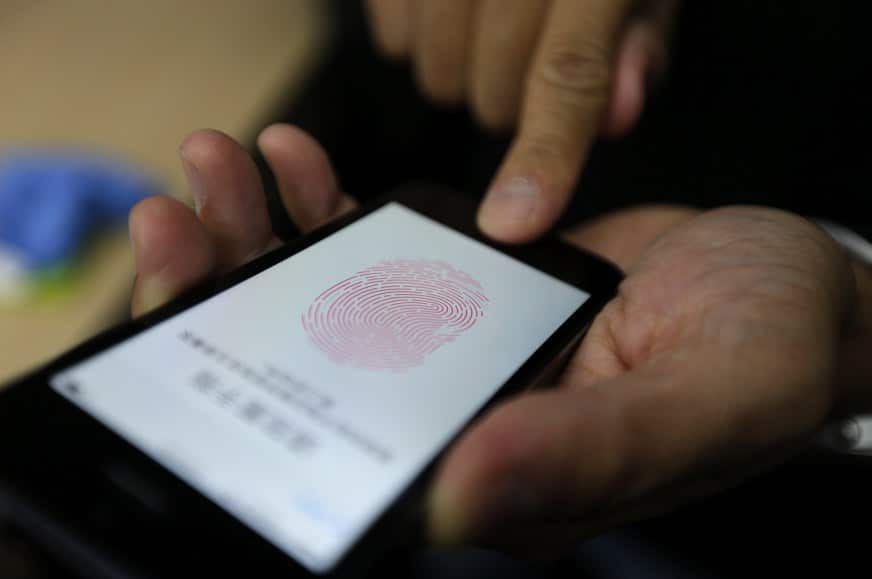 Note that you won't be able to recover the data on your phone if you fail to enter the correct passcode or use alternative methods to unlock your iOS device due to security and privacy reasons.
Although it sounds a bit disappointing to some users, most people consider it an advantage that ensures your privacy and discretion will not be violated by a thief or someone who wants to sneak into your phone.
Considering that your phone will be restarted to factory settings, you can use the following methods to activate an iOS device without using the passcode:
Connect your iPhone to your computer and use iTunes to restore your iPhone. However, you need to have the password to your iTunes or iCloud account to apply this method.
Sign in to iCloud and delete your iPhone from the Find My application. Of course, you still need access to your iCloud account for using this method. If you don't have the password to your iCloud account, try this:
Use the StarzSoft KeyPass application to unlock your iPhone. This method requires no additional passwords. However, your iPhone will lose all its information; therefore, we strongly recommend creating a backup every once in a while just in case you need to restore your iPhone.
Since activating a disabled iOS device is complicated using the first two methods, we recommend using KeyPass since it is user-friendly and straightforward. However, we understand your concerns regarding using a third-party application that can circumnavigate Apple's passcode.
Therefore, before explaining how you can unlock an iPhone using the KeyPass app, we will introduce the application and highlight its features in the next chapter.
KeyPass features
KeyPass is an application developed by the StarzSoft, a leading software development team. Since you have to make sure your iPhone is in the right hands, in this section, we scrutinize StarzSoft and the most significant features of the KeyPass application.
Who has published the KeyPass app? Can you trust them?
The StarzSoft Company has developed the KeyPass application and a few other apps, including FixCon and Find my photo applications, which respectively solve iOS issues and recover photos on Android devices.
StarzSoft is based in China, where they are safe from further claims from Apple for breaking their strict regulations. However, they provide services to over 150 different counties across the world. StarzSoft has over 200 million users worldwide with a high approval rate and many users recommending their services.
Therefore, although trusting a third-party company with your most personal device seems stressful, over six years of positive user feedback and high approval confirms that the StarzSoft company can be trusted.
What are the benefits of using KeyPass
Besides fast and easy recovery, using KeyPass to bypass the iPhone passcode has the following advantages:
You can regain access to your device in a few minutes
Using the app allows you to use a new Apple ID
Users can download and purchase apps from App Store
You can get media files from iTunes Stire
Your iDevice won't be remotely tracked, locked, or erased by the previous Apple ID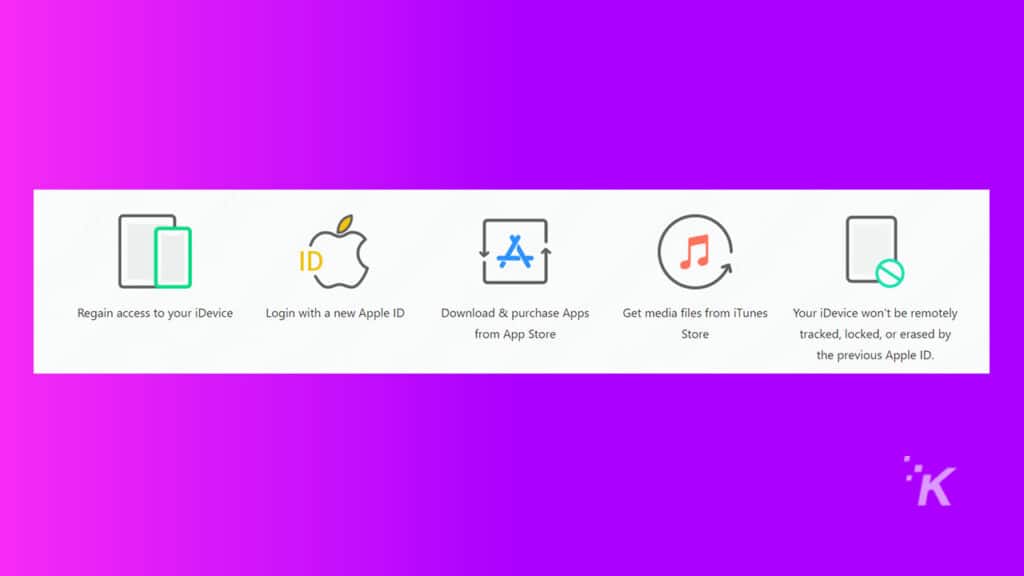 Compatible Devices
The KeyPass application works on any iPhone, iPad, and iPod touch with iOS 7 or a later version of the operating system when you want to unlock the screen passcode. However, if you want to remove the activation lock, your options are more limited. You can remove the activation code on models released between iPhone 5s and iPhone X. In addition, this feature only works on iOS 12.0 to iOS 14.8 as far as December 2021.
KeyPass rate of success
According to StarzSoft, users have reported over 98% success when using the application to unlock their iOS devices. This number exceeds all similar applications by a wide margin.
KeyPass pricing and payment methods
Now that we have discussed the features of StarzSoft KeyPass let's see how much it costs to regain access to your iPhone using the application. You can choose any of the three license packages that suit you best:
Personal license:
This deal is best for users who have just one disabled iPhone. The service can unlock one device with lifetime updates and free technical support for infinite times. In addition, the StarzSoft Company supports you by offering a 100% money-back guarantee if you can't unlock your iPhone using the app. A single KeyPass license costs $29.95.
Family License:
This plan is the license pack that the company recommends since it includes all the benefits of purchasing a Personal license for three devices. The price is also relatively close to that of the personal license pack. It costs you $39.95 to purchase this package.
Business License:
This plan offers a limitless service; in other words, you can unlock an unlimited number of iPhones and other iOS devices for a lifetime. Furthermore, this deal offers all the features included in the Family license package. You have to pay $89.95 for purchasing the Business License. This plan is an excellent bargain for iPhone service providers, with many customers asking them to unlock their phones.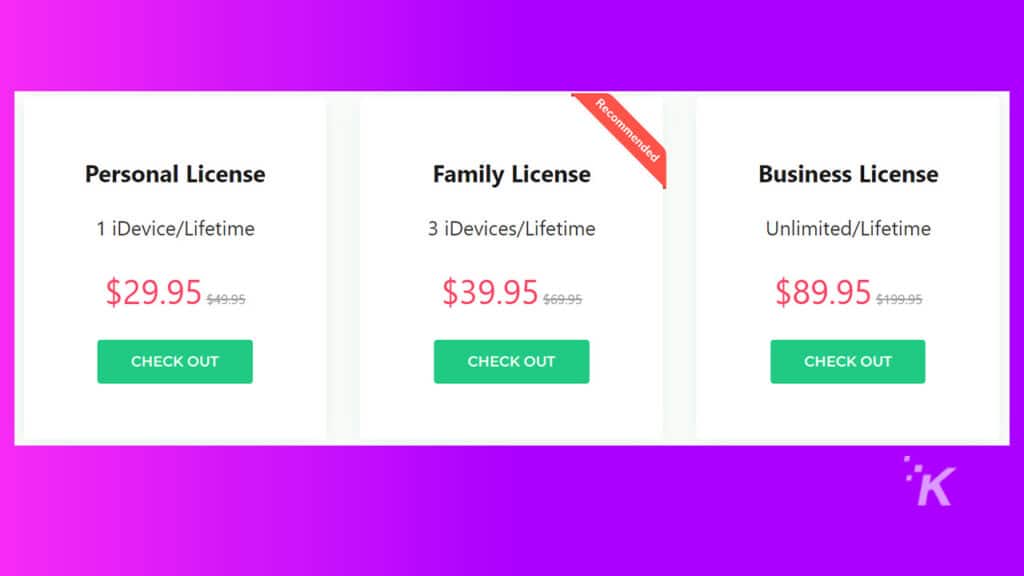 KeyPass payment methods
StarzSoft accepts payment through the following services:
PayPal
Visa
Master Card
Maestro
JCB
Discover
American Express
Diners Club
Giropay
Wire Transfer
How to unlock your iDevice using StarzSoft KeyPass
Now that you know what KeyPass is and which plan is best for you, let's walk you step-by-step through unlocking your iPhone using KeyPass. Before you can unlock the passcode or bypass the activation code using KeyPass, you need to download and run the application from the StarzSoft website. Click here to download the StarzSoft KeyPass application for free.
Now that you have downloaded the app note the following before you decide to use KeyPass to regain access to your iDevice. Then, we will guide you
Notes for using KeyPass to unlock the lock screen passcode:
All the data on your device will be erased after you unlock the phone
The iOS on your phone will be updated to the latest version
Make sure your device has enough battery
You need to enter your iCloud password to set up your device if the Find My application is active
Nots for using StarzSoft KeyPass to remove iCloud Activation Lock:
Your device will be jailbroken after removing the iCloud activation lock
Please make sure that your device has enough battery
Step-by-step instructions for unlocking screen passcode using KeyPass
1. Launch the KeyPass application on your PC and select Unlock Screen Passcode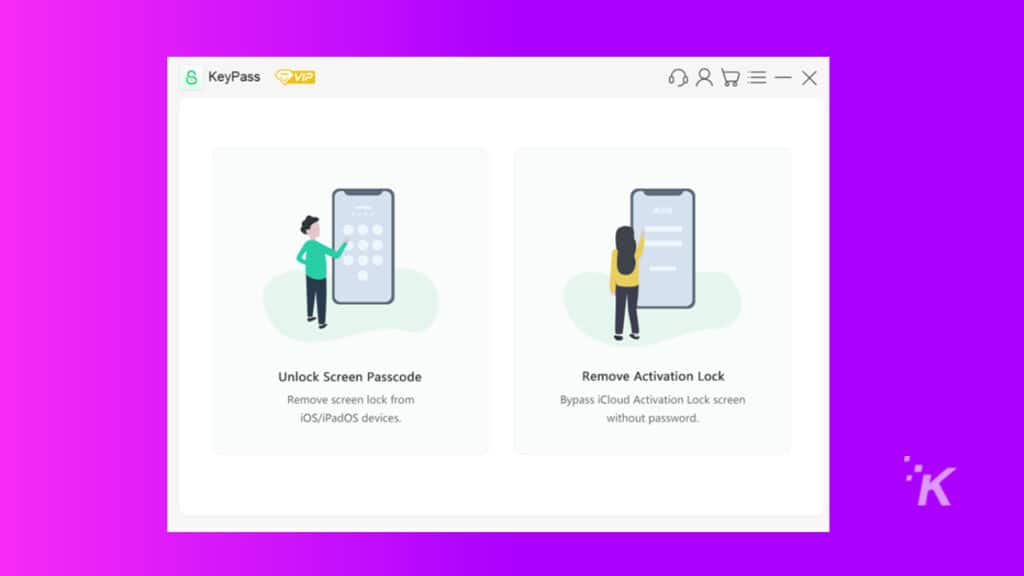 2. Press start, read the notes again and press the Unlock Now button to proceed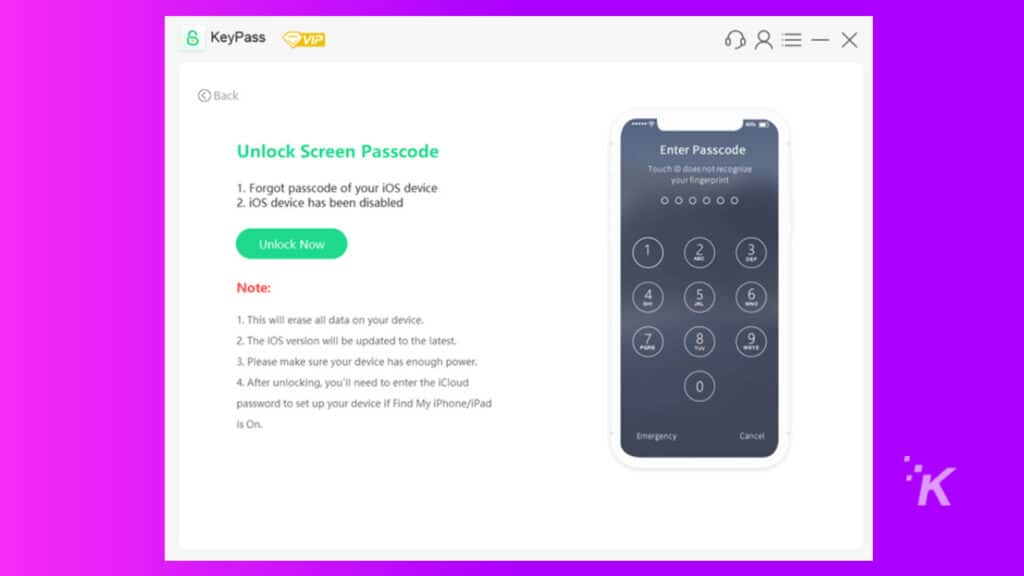 3. Connect your iPhone/iPad/iPod Touch to your computer using a USB cable. Then click the Next button. The KeyPass application will detect and load your device information.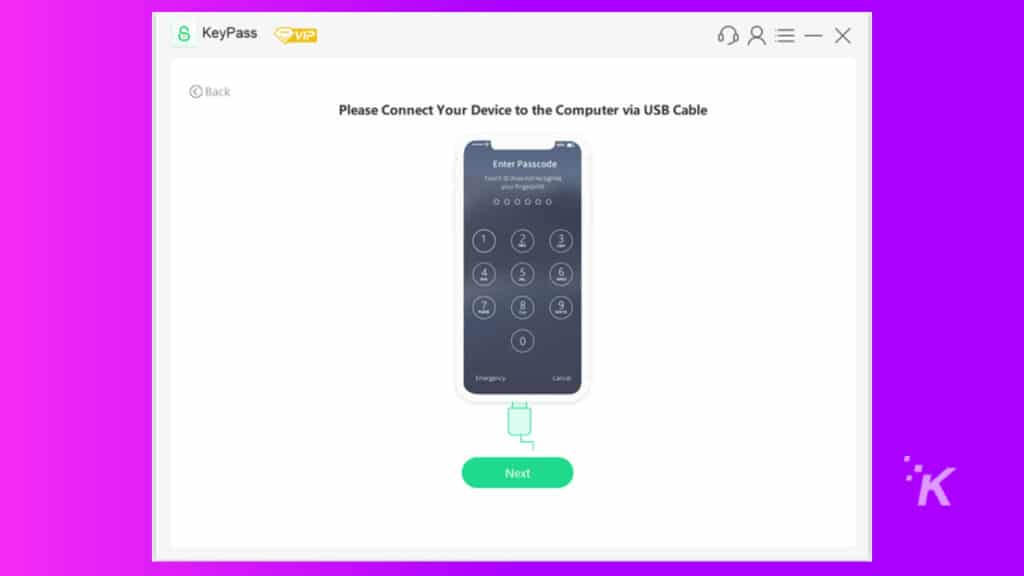 4. Verify your device information and select the firmware version, then click Download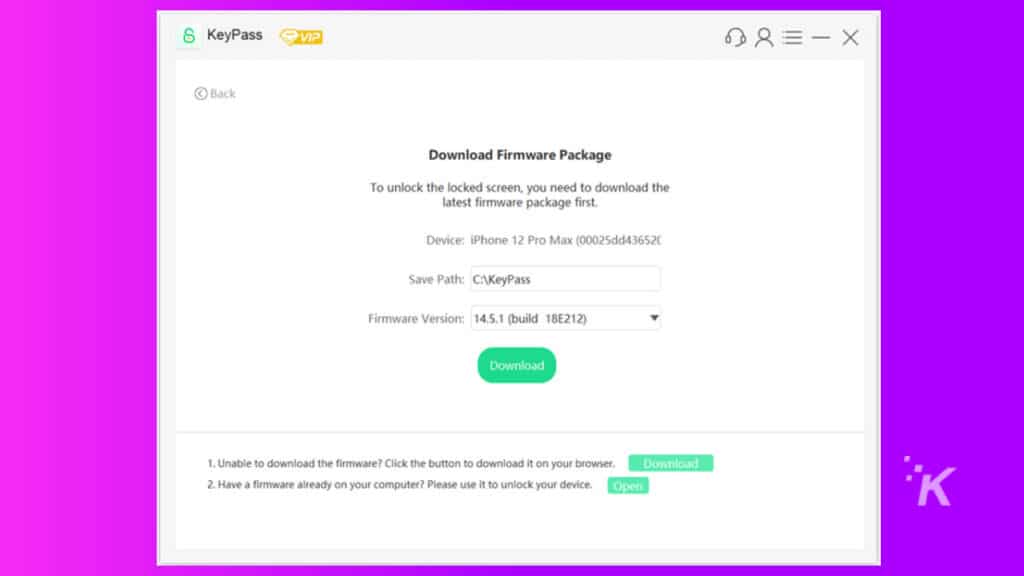 5. Wait a few minutes until the application completes downloading the firmware. Keep your device connected to the PC during all steps. After the downloading completes, KeyPass will automatically verify the firmware package.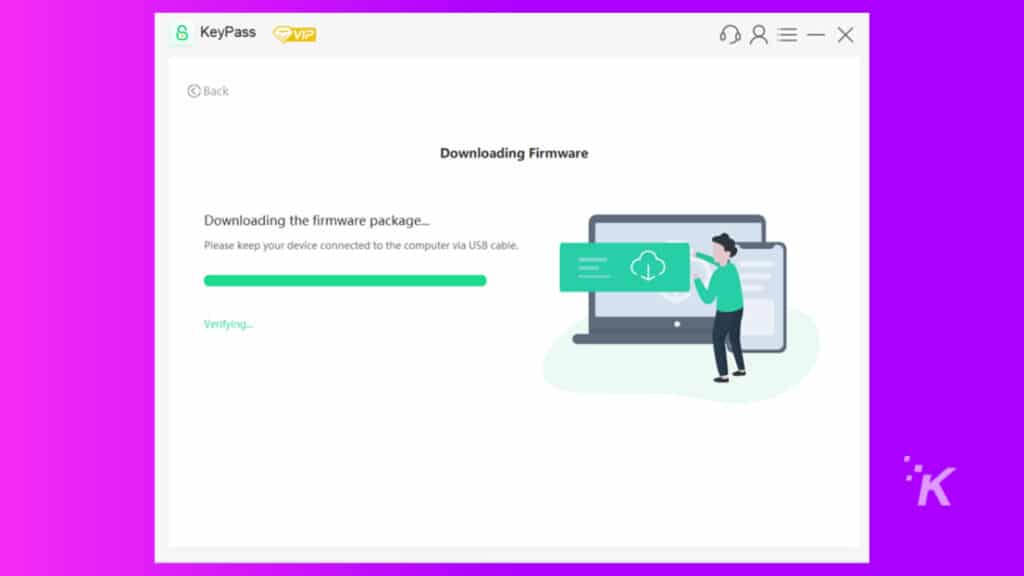 6. Once the firmware is ready and you see the following message, click Continue.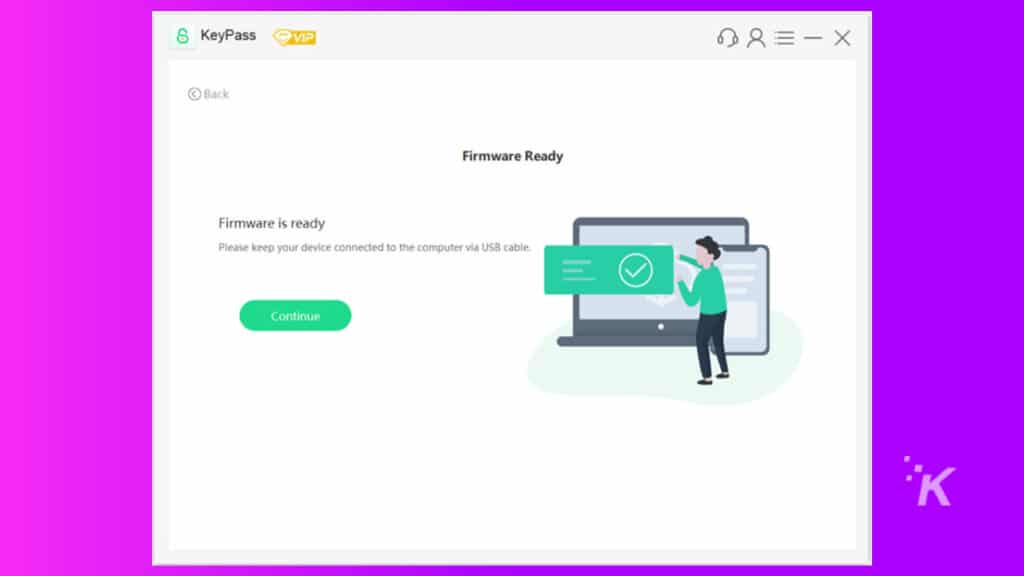 7. Enter the code 1111, and then press Confirm to unlock your phone.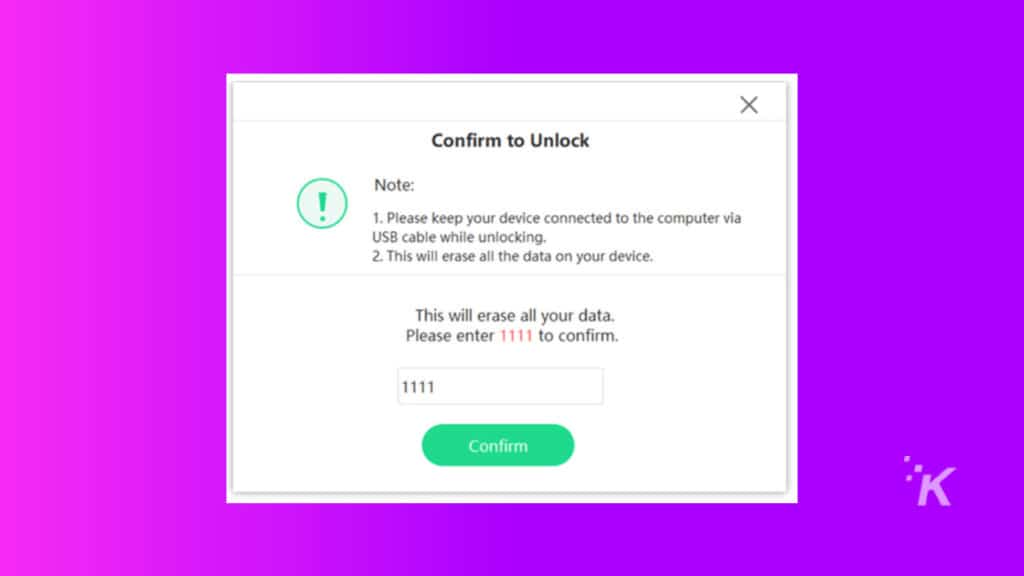 8. The application will start to unlock your iOS device. After a few minutes, the passcode, Touch ID, and Face ID will be removed from the disabled device.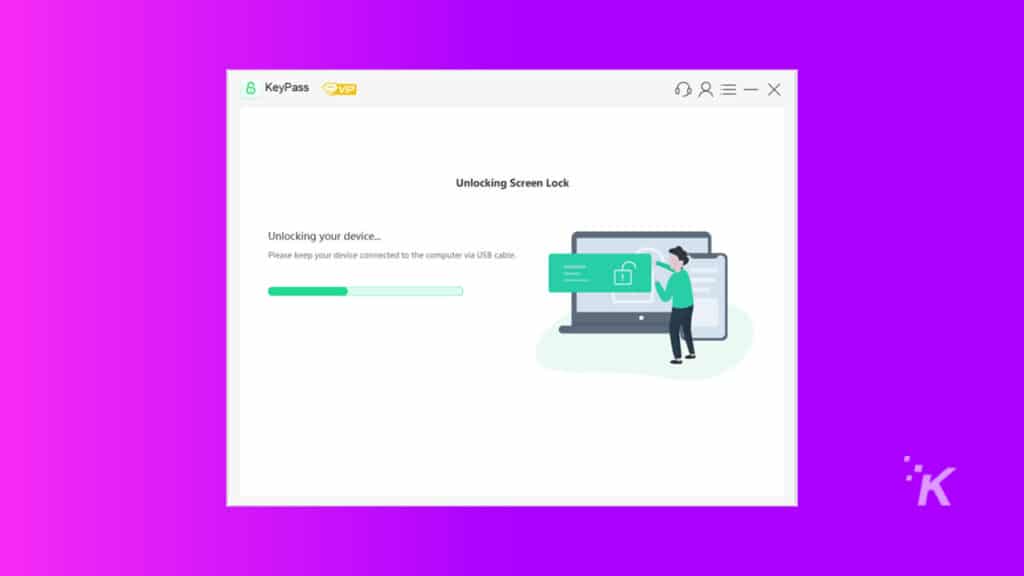 9. When you see the message below, your phone has been unlocked.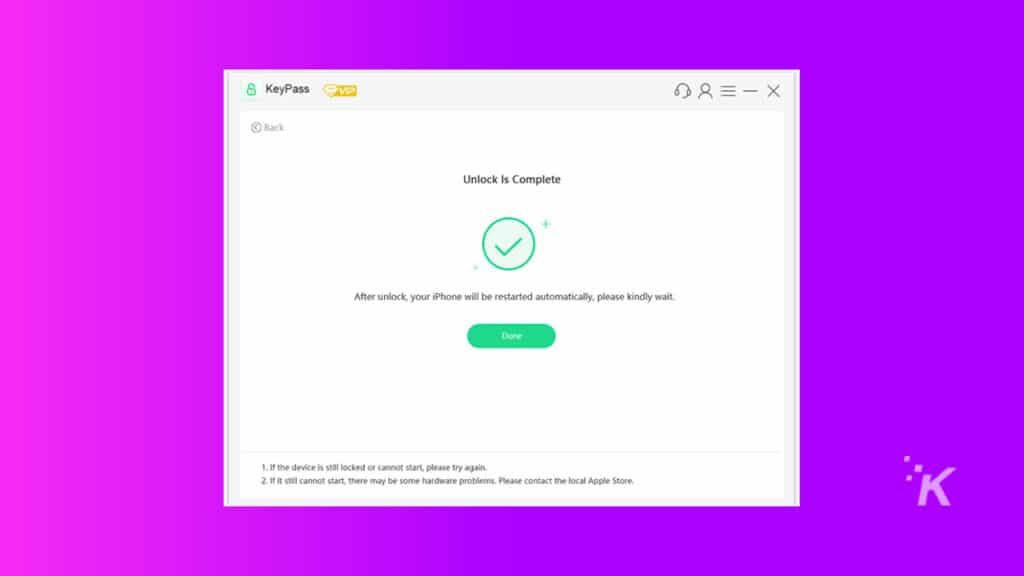 Removing iCloud Activation Lock using KeyPass: a step-by-step guide
Open the StarzSoft KeyPass application on your computer, then click Remove Activation Lock.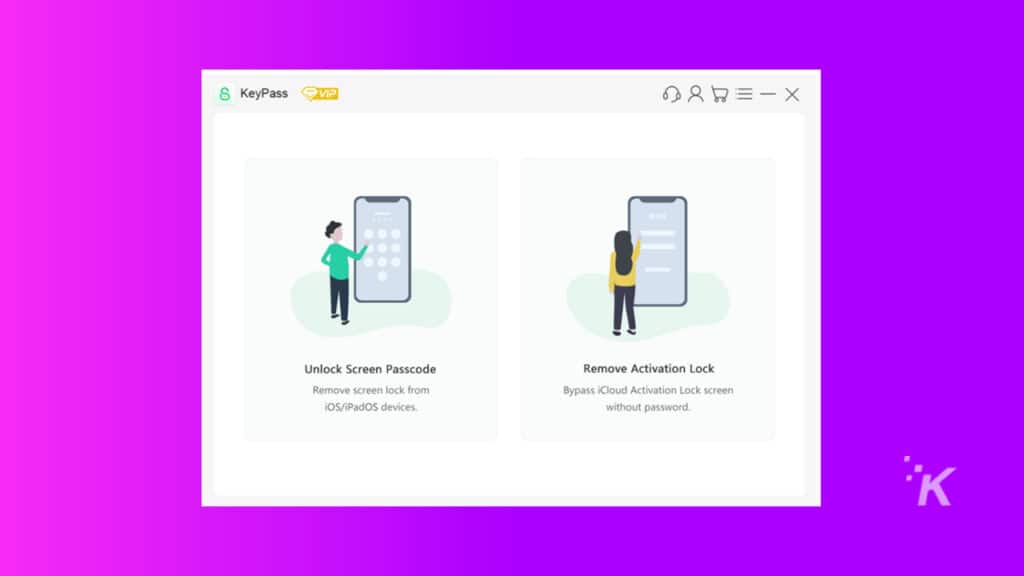 2. Read the notes before you continue. Then, check the box that says, " I have read and agree to the Terms of Use." Now, press the Start button.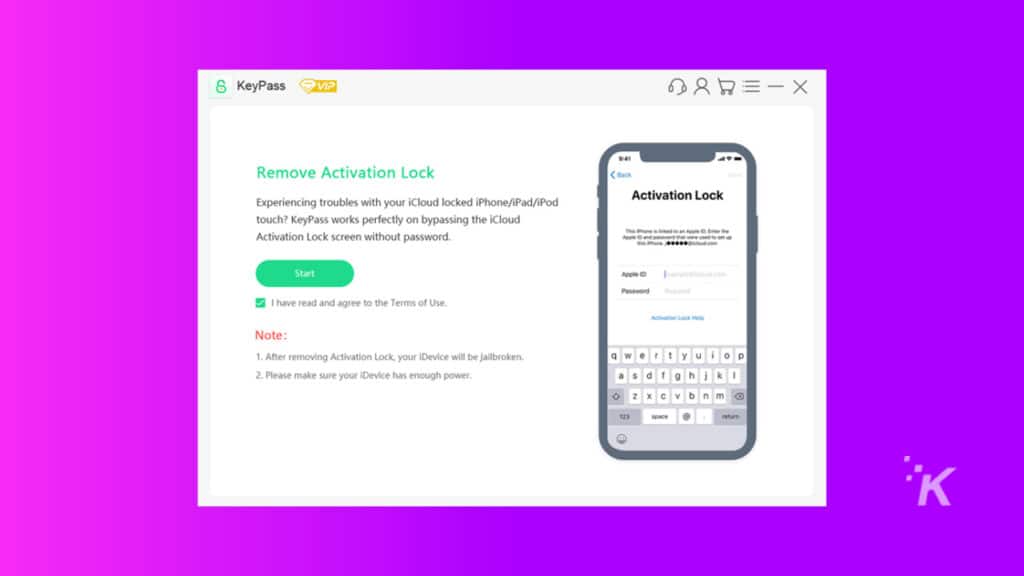 3. Jailbreaking your device: Keypass needs to jailbreak your iOS device for removing Activation Lock. Once the app detects your device, it will automatically download the appropriate jailbreak tool to your computer.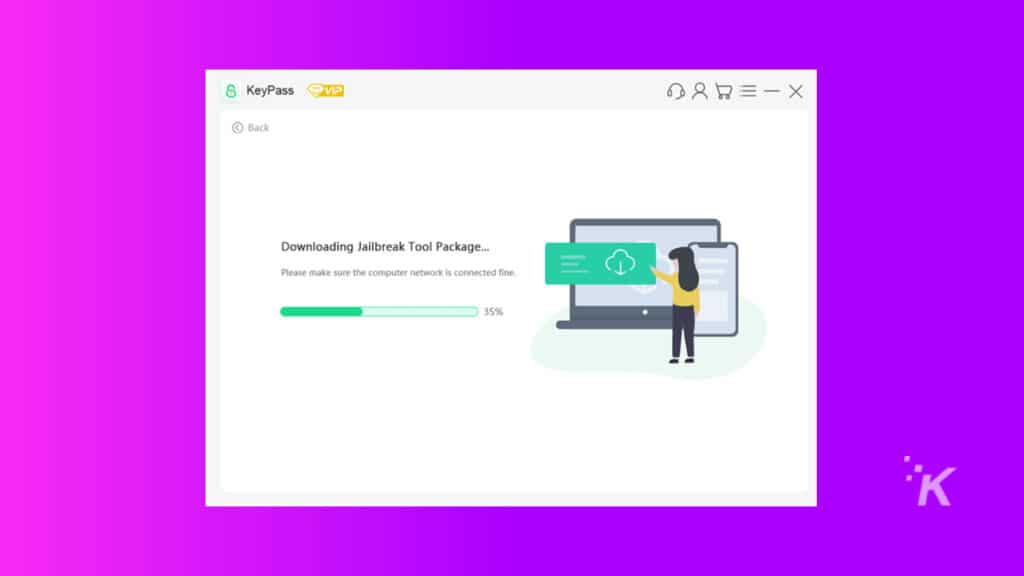 4. Connect a USB flash drive to your computer when the jailbreak tool is downloaded. Next, select the flash drive from the KeyPass interface and click Next.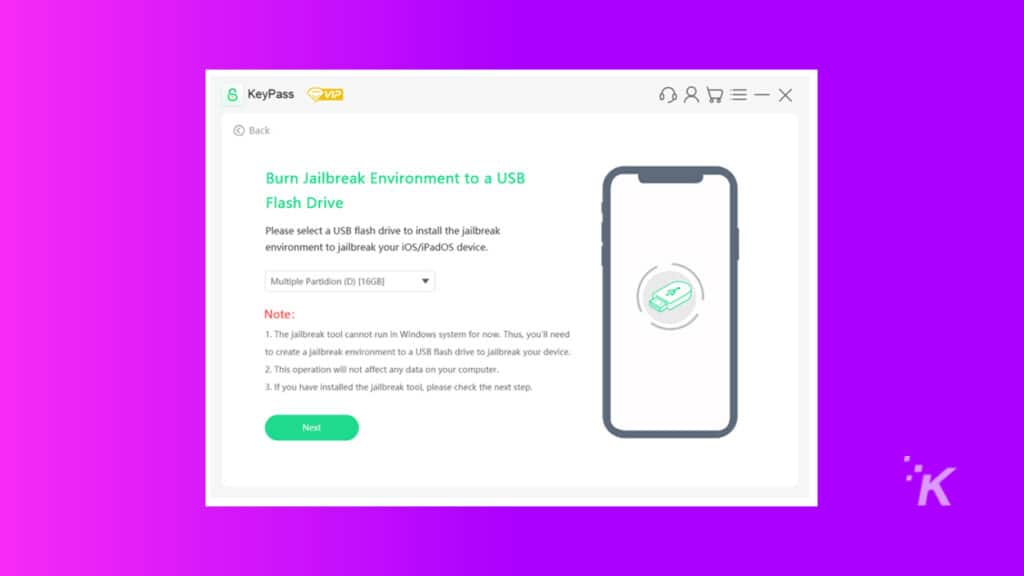 5. A pop-up prompt will remind you that installing the jailbreak tool on the USB device will erase all data stored on the flash drive. Therefore, we strongly recommend creating a backup before clicking Yes.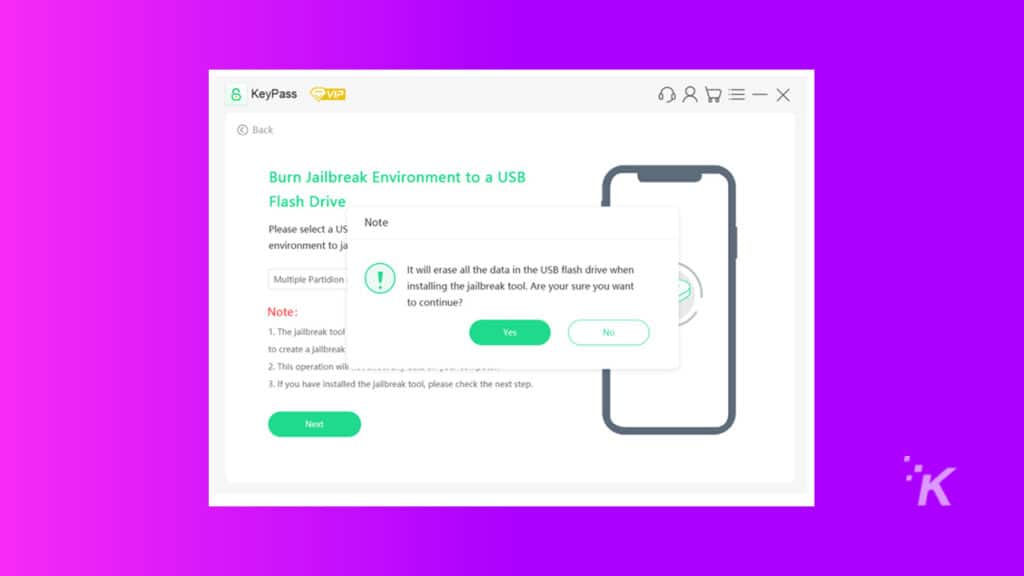 6. After the jailbreak tool is successfully burned to the USB drive, you can start jailbreaking your iOS device. Click here to see how to jailbreak your iOS device on Mac and Windows computers.
7. Now that you have successfully jailbroken your device, you can confirm your device information and click Unlock Now to begin removing the activation lock.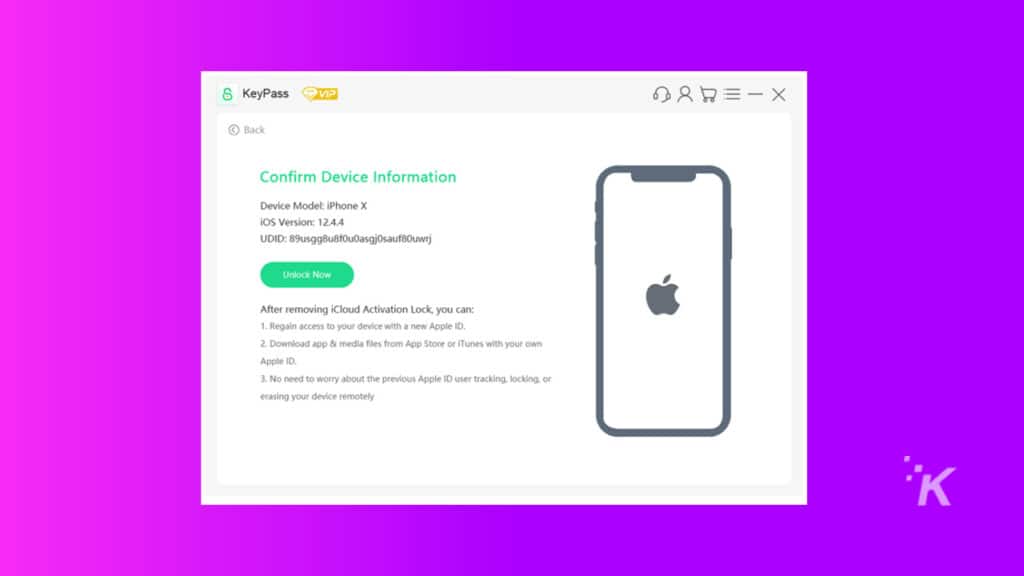 8. After a few minutes, you will see the following message, which means your iCloud Activation Lock has been removed.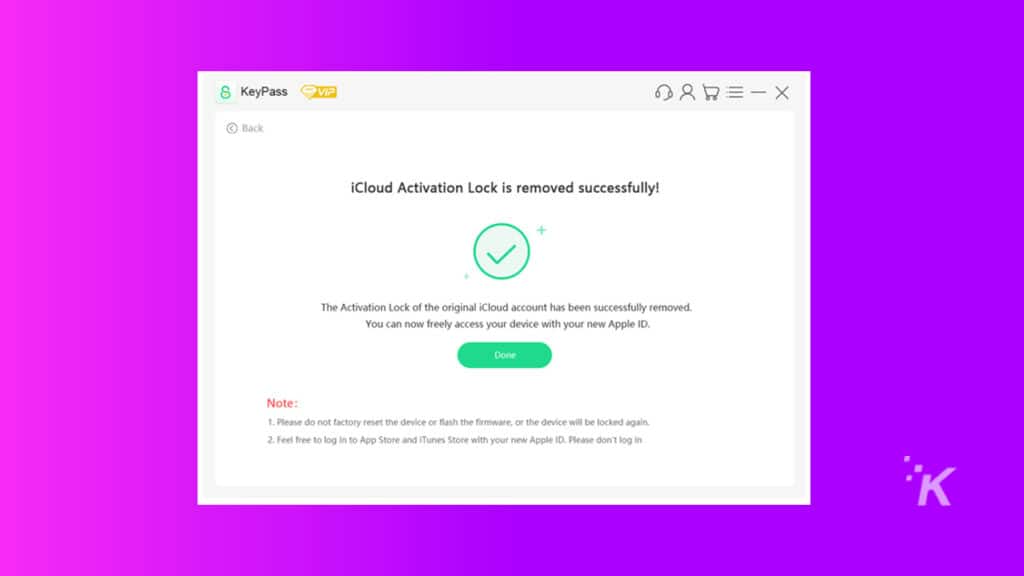 Using KeyPass vs. alternative methods: What's the best way to unlock my phone?
Using KeyPass is one the most user-friendly method to unlock your disabled iPhone. Other methods discussed in this article require going back and forth several times. On the other hand, KeyPass is a one-stop-shop application that will solve the problem in a few minutes.
In addition, sometimes it's virtually impossible to try other methods.
For instance, when you have bought a second-hand device, and the previous owner has not removed the device he has sold from his Find My application, you can't unlock your disabled phone using the iCloud activation password since you'll need the previous owner's Apple ID password.
All in all, StarzSoft KeyPass is the best and fastest way to regain control of your iOS device.
Before bringing this review to an end, let's recap some of the advantages and disadvantages of unlocking your iPhone, iPad, or iPod Touch using the application.
The positive points of KeyPass
KeyPass is easy to use with sufficient tutorials and support From StarzSoft
The cost is reasonable, especially if you opt for the Family License package, which unlocks three iOS devices for a lifetime
KeyPass has helped many iPhone owners successfully unlock their phones with a high success rate
You can access the App Store and iTunes Store using your new Apple ID
If you need to unlock the same device in the future, it will be for free
The negative points of KeyPass
All your data will be deleted from the iOS device due to security reasons
To Remove the iCloud Activation Lock, you have to jailbreak your iOS device
You can't use your previous Apple ID for that device, or the phone will be locked again
Conclusion
Although it is not that common, some iOS users might lose access to their phones because they can't enter the correct passcode. Moreover, when you can't activate your iPhone using the iCloud activation code, you have to opt for alternative solutions.
StarzSoft KeyPass is the best secure third-party application that can unlock your phone legally with minimal collateral damage and absolute legitimacy.
Using the application will take only a few minutes, and the KeyPass application is reasonably priced compared to other third-party applications. Although using the application has some negative points, it is by far the best option for iOS users.
Have any thoughts on this? Let us know down below in the comments or carry the discussion over to our Twitter or Facebook.
Editors' Recommendations:
Disclosure: This is a sponsored post. KnowTechie's opinions, reviews, and other editorial content remain objective and are not influenced by the sponsorship.
Follow us on Flipboard, Google News, or Apple News