iRobot's new Roomba i7+ just flipped the script on the robot vacuum cleaner game
Game changer.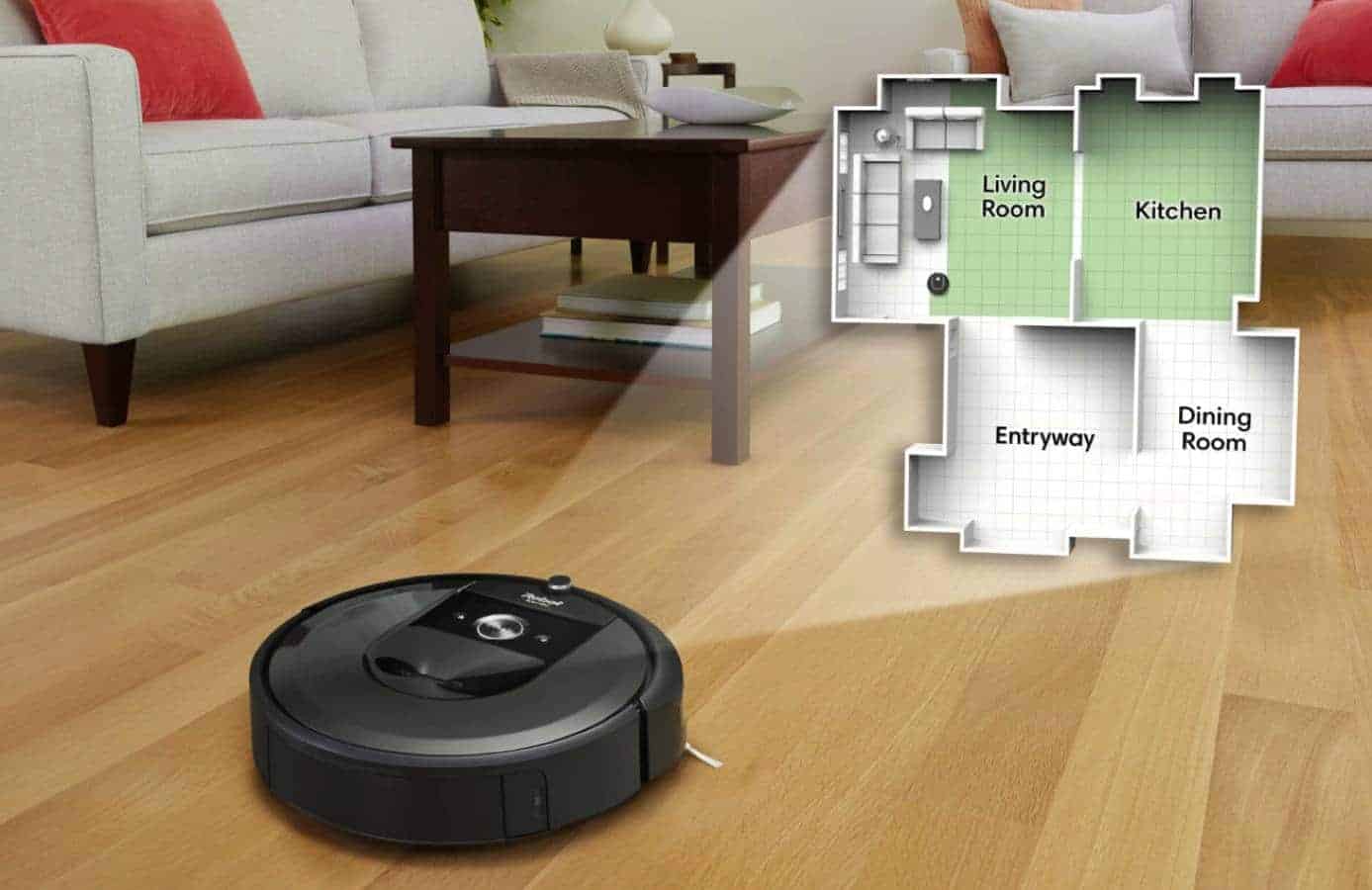 If you haven't noticed lately, there's a ton of different robot vacuum cleaners out there. Like, way too many. While some differ in price and features, one name that consistently leads the pack is iRobot's Roomba. Today, they're offering yet another reason why they're the leader in the consumer robots game.
Meet the Roomba i7+.
Alright, this one is kind of a big deal. For starters, this is the first robot vacuum that can clean your entire home and automatically empty itself. This is all thanks to a new unit called Clean Base. It doubles as both a charger for the i7+ and an automatic dirt disposal. In other words, it automatically empties the contents of the Roomba i7+ dustbin into the Clean Base. Meaning, it does all the dirty work for you.
The Clean Base Automatic Dirt Disposal is quite the unit. When the i7+ is done with its current job, it rolls itself into its base. From there, the Clean Base goes to work and starts vacuuming everything from the robot vacuum into an enclosed bag inside the base. When the bag is full, users will receive a notification from the iRobot HOME app. All that's left to do is pull out the bag from the Clean Base and replace it with a new one. According to the company, the bag holds about 30 bins of debris. Depending on your usage, you probably won't have to replace a bag for a couple of weeks.
Another stand out feature of the Roomba i7+ is its new mapping system. It can now clean any room you want, by command. If you want it to clean just your kitchen and bedroom, you can instruct it to do that via iRobot's HOME app. What's even better is that you can utilize Alexa-enabled devices as well as Google Assistant.
This is the first robot vacuum cleaner that lets users clean specific rooms by name with a voice command. So essentially, users can say "Hey Alexa, clean the kitchen," or "Hey Google, clean my bedroom," and the i7+ will casually make its way to the room of choice. When it's done, it strolls on back to the Clean Base, which automatically cleans it out and charges the unit.  
The technology behind this is all thanks to the company's Smart Mapping feature. After a couple of cleaning jobs and time to learn about its environment, the robot creates a floor plan for every room. It can remember up to 10 different floor plans, meaning users can lug their robot to another floor or a different home. The robot features the company's patented iAdapt 3.0 Navigation with vSLAM technology helps the Roomba i7+ navigate and clean throughout your home. This helps it keep track of where it's cleaned and where there's work left to be done.
Christian Cerda, COO of iRobot, noted in a recent press release:
iRobot is addressing a long-standing customer call by giving Roomba the ability to empty its own binafter each cleaning. This enhances the customer experience by eliminating the dusty and dirty mess often associated with emptying vacuum canisters. With the ability to remember the home, clean specific rooms and empty itself when its finished, the Roomba i7+ with Clean Base Automatic Dirt Disposal quite literally frees customers from every aspect of vacuuming – from start to finish – for weeks at a time.
There's still a lot left to unpack here, but here are some more notable features packed into the iRobot i7+:
Features two Multi-Surface Rubber Brushes that can clean both carpets and hard floors.
It vacuums faster.
Has a low-profile design which helps it clean under furniture and cramped spaces.
Dirt Detect Technology in which it looks for places that need the most attention and focuses its effort in particularly dirty places.
Clean Maps reports where users can access in the iRobot HOME app.
For what it's worth, being a Roomba owner, this new Robot i7+ sounds like a dream come true. One of the biggest pain points with previous models is that there's a lot of human intervention and having something that can do its job and clean itself is extremely convenient. On top of that, having the ability to bark a command via Alexa or Google Assistant and having it clean a specific room is a game-changer. There's no one out there doing this, and that's huge.
The Roomba i7+ robot vacuum with the Clean Base Automatic Dirt Disposal is available for pre-sale starting today in the U.S. and Canada and will sell for $949 via iRobot.com. Units are expected to ship starting September 12. For the folks who prefer just to buy the vacuum without the base, the Roomba i7 will only set you back $699. The Clean Base can also be purchased separately which will cost $299. More info can be found be found on the iRobot website.
What are your thoughts on this? Are you drooling at the thought of never having to touch a dirty and hair-riddled dustbin again? Share your thoughts down below in the comments. 
For more tech and gadget news, make sure to check out:
Follow us on Flipboard, Google News, or Apple News