Maingear MG-1 Platinum–first impressions
The Maingear MG-1 Platinum is badass.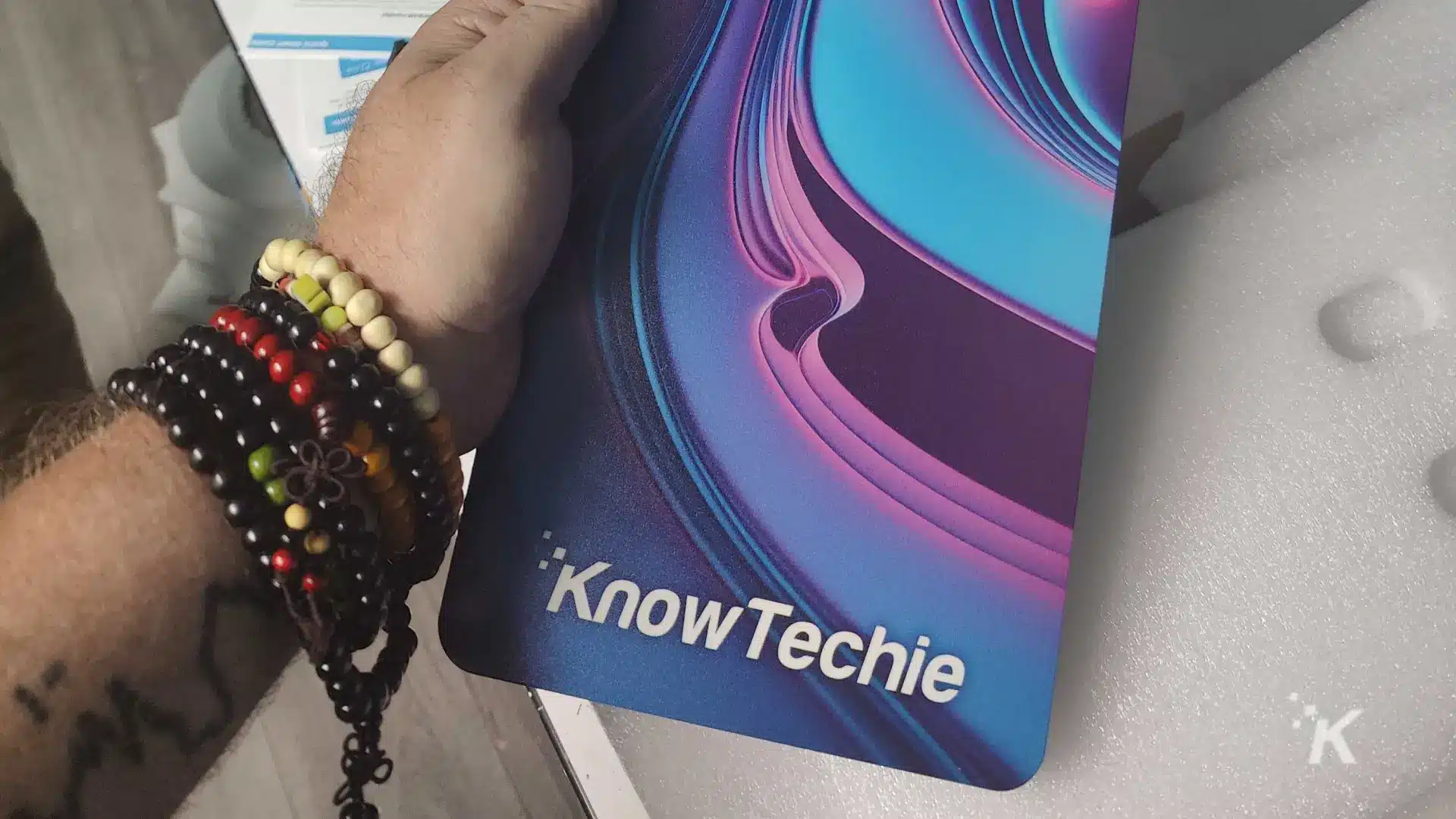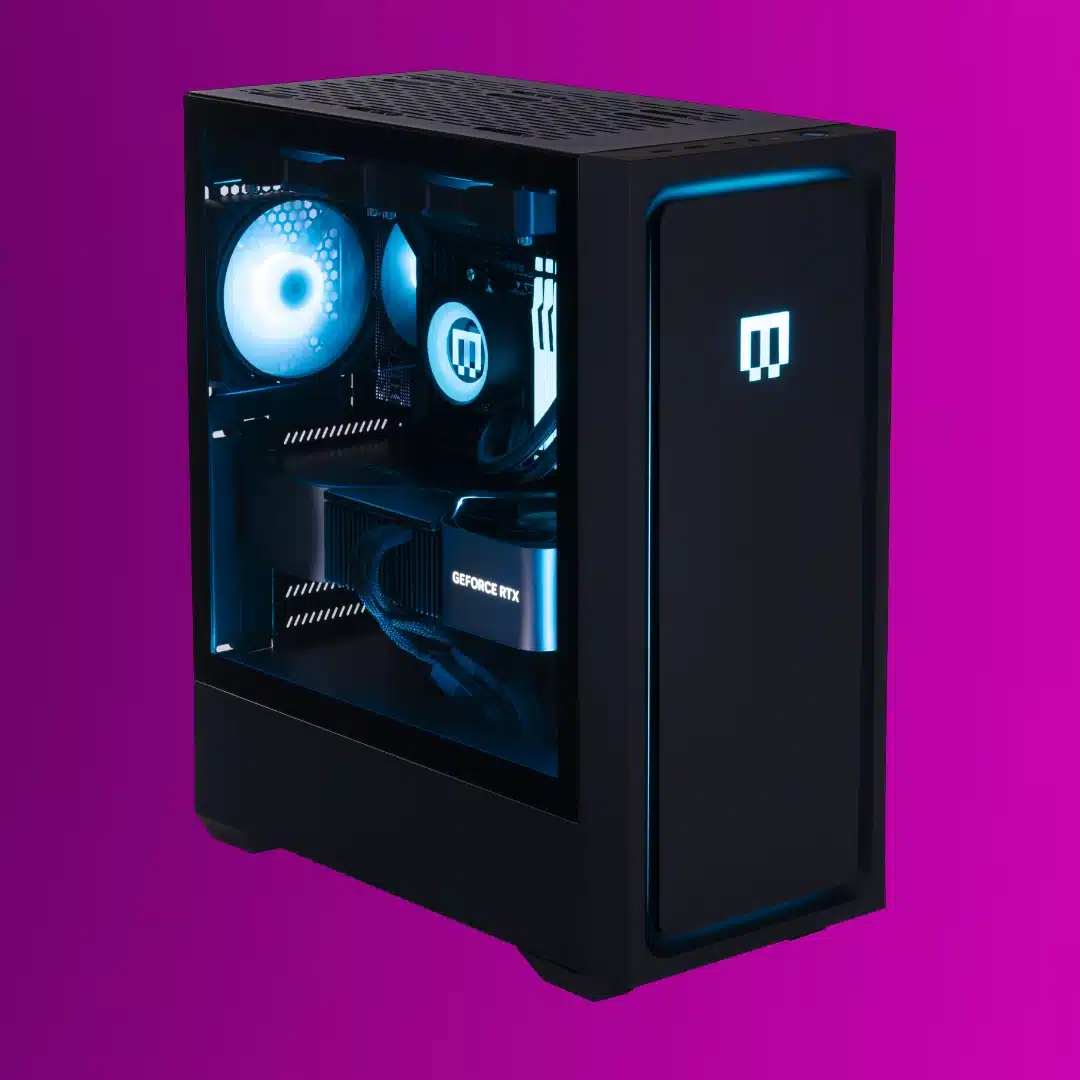 Maingear MG-1 Platinum Gaming PC
The MG-1 is a range of gaming PCs designed in collaboration with shroud, one of the best competitive gamers around.
What We Like:
Powerful Nvidia GeForce RTX 4070 graphics card
280mm AIO liquid cooler to keep the Intel i5-14600K cool under pressure
Stylish case with removable, customizable, magnetic front panel
KnowTechie is supported by its audience, so if you buy something through our links, we may get a small share of the sale.
When you've been reviewing consumer tech products for nearly two decades, a bit of malaise tends to creep in. There's only so many words to write about Bluetooth speakers, headphones, and toasters.
But when Maingear reaches out and asks if you want to take a gander at its new gaming PC, you say abso-freaking-lutely.
Which brings us to the Maingear MG-1 Platinum, the third variant in Maingear's MG-1 product line. The flavor list for the MG-1 goes Silver ($1,149), Gold ($1,299), Platinum ($1,799), Diamond ($2,299), Legendary ($3,299), and Ultimate ($4,299).
The MG-1 was developed in partnership with Shroud, a professional Counter-Strike player turned YouTuber. The Ultimate version is a direct copy of his personal rig.
The Platinum version I received is a mid-tier option, but the specs are still pretty good:
| | |
| --- | --- |
| Graphics Card | NVIDIA GeForce RTX 4070 (12GB GDDR6X) |
| Processor | Intel Core i5-13600K (14 Cores/20 Threads) |
| Cooling | Cooler Master 280mm AiO Liquid Cooler |
| Motherboard | MSI Pro B660M-A CEC DDR4 WiFi Motherboard |
| Memory | 16GB T-FORCE RGB DDR4 3600MHz Memory (2x8GB) |
| Storage | 1TB Solidigm P41 M.2 NVMe SSD |
| Power Supply | 600W EVGA Power Supply |
| Operating System | Windows 11 Home |
| Lighting | RGB Lighting Kit & Rear RGB Fan |
As soon as I received the PC, Maingear reached out to see if I wanted a replacement, as it just implemented Intel's 14th-generation processor into these PCs without adjusting the price.
I passed, not wanting to deal with shipping at this point and content to mention the upgrade in the previous sentence (and the specs, but know that I received the last version with a 12th-gen CPU with fewer cores).
The Maingear MG-1 is pretty sweet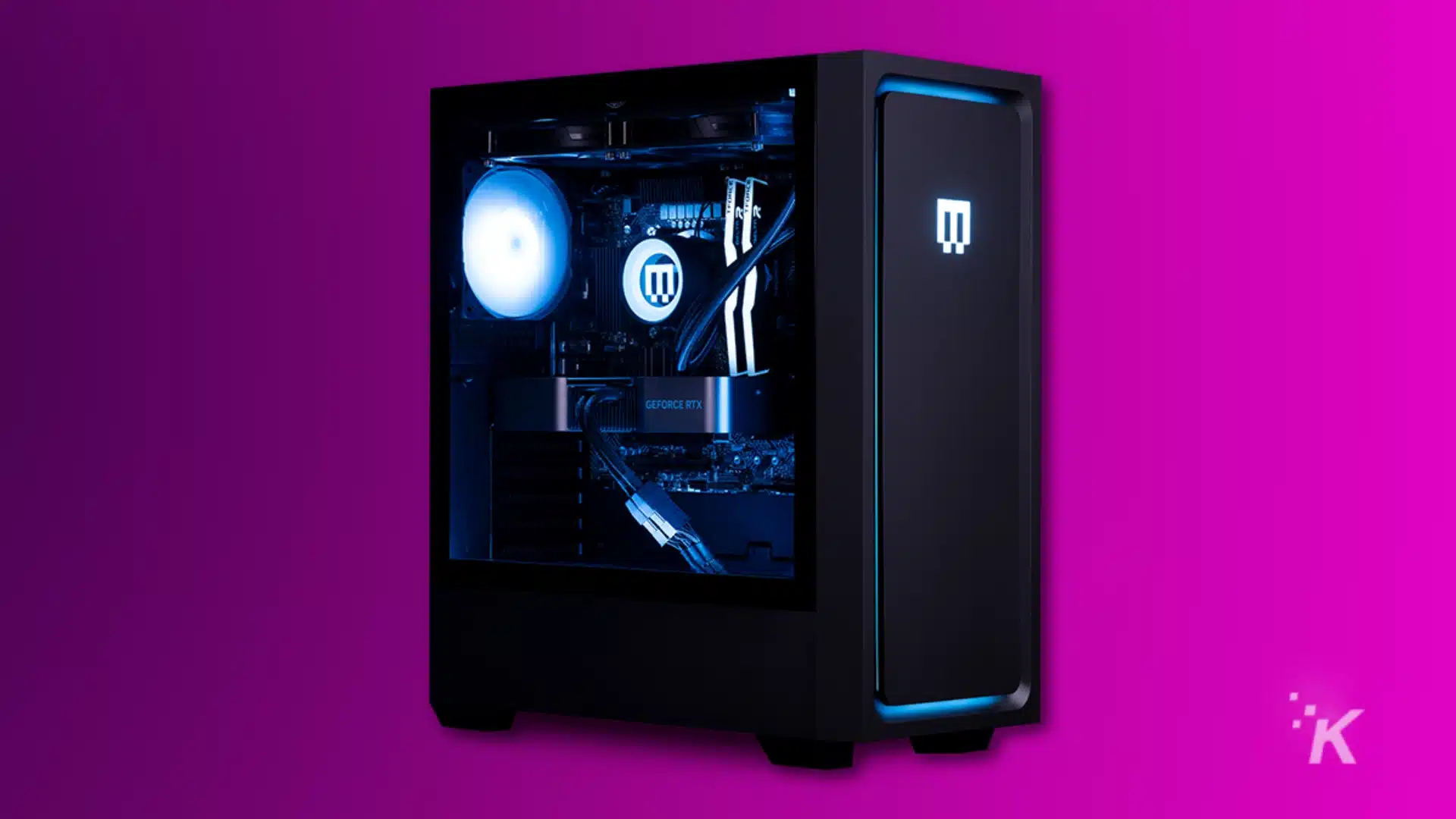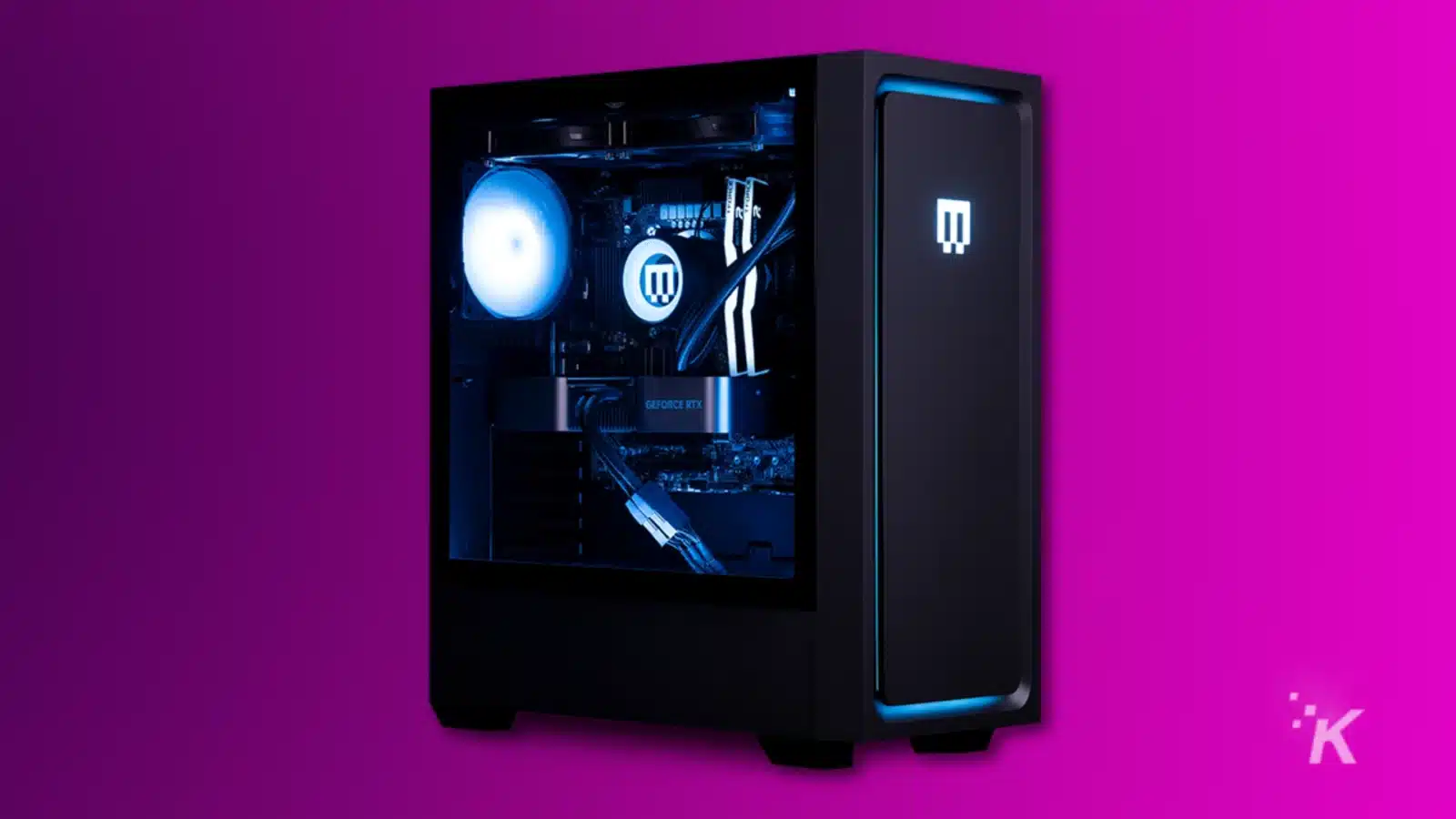 I've reviewed a few Maingear PCs over the years, most notably the Shift, R2 Razer, Potenza, and Spark, and along with the MG-1, there is uniqueness in design.
Its physical form has enough surprises that sets it apart from standard PCs, gaming or otherwise.
For the MG-1, that's a multitude of internal fans, lit up with RGB color around glowing memory cards and a liquid cooling system. Tack on an interchangeable, customizable face, and you've got a PC tower that deviates from the norm.
So visually stunning, check and check. While a minor aesthetic, the RGB lighting adds a nice dimension to the overall feel of the machine.
There's even a light cycle on the processor housing, reminding you that not only is this a Maingear PC, but the liquid cooling keeps the processor cool enough to allow for additional, albeit low-wattage, lighting on top of it.
And you can't miss the NVIDIA GeForce RTX 4070, a massive chunk of GPU power dominating the motherboard. And there appears to be a slot for an additional GPU or other add-in cards like a capture card.
Even if you were to slot another one in, there's plenty of extra space for hard drives or whatever else you store inside a PC tower, like snacks or rare baseball cards.
Turn it on already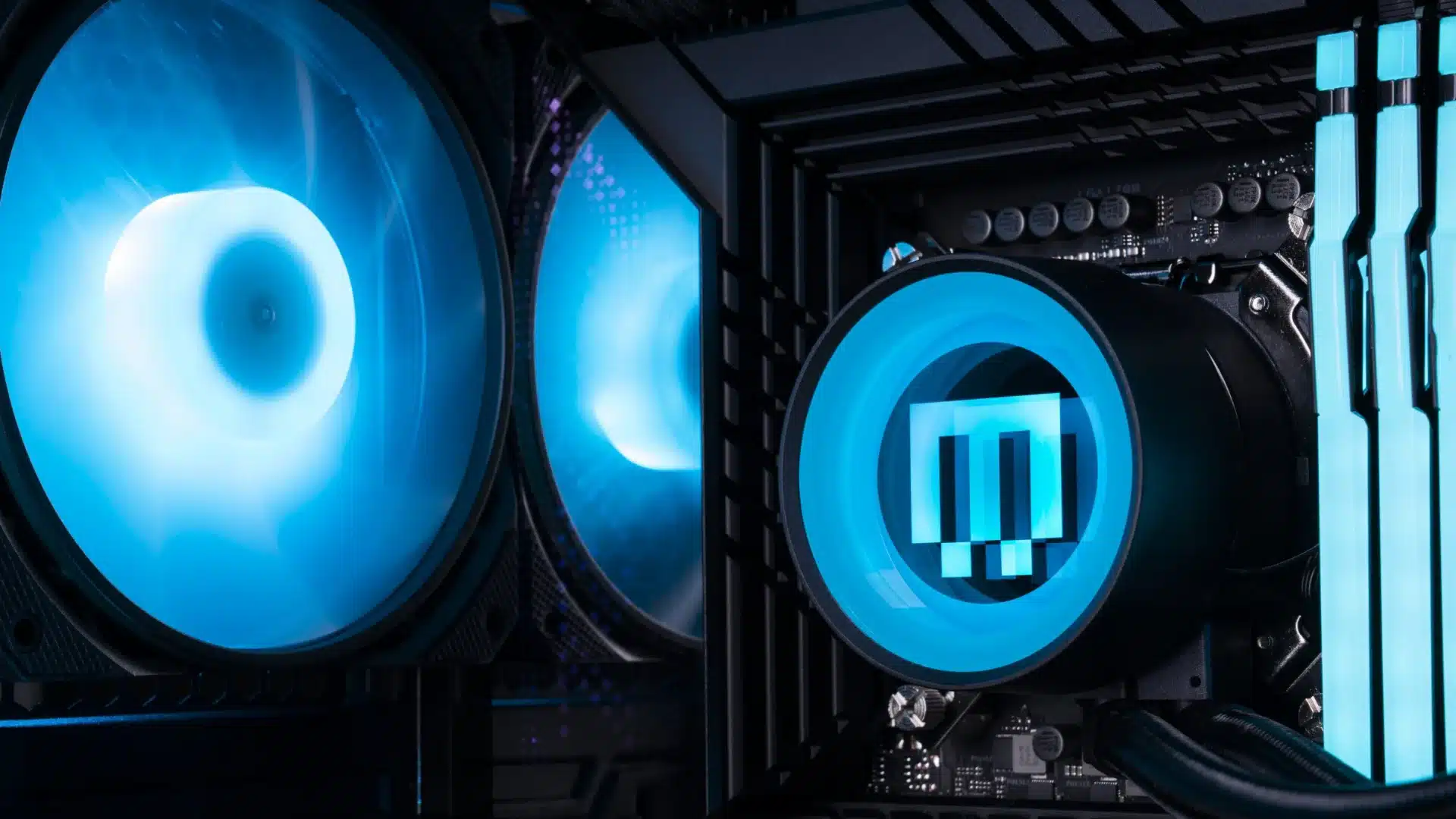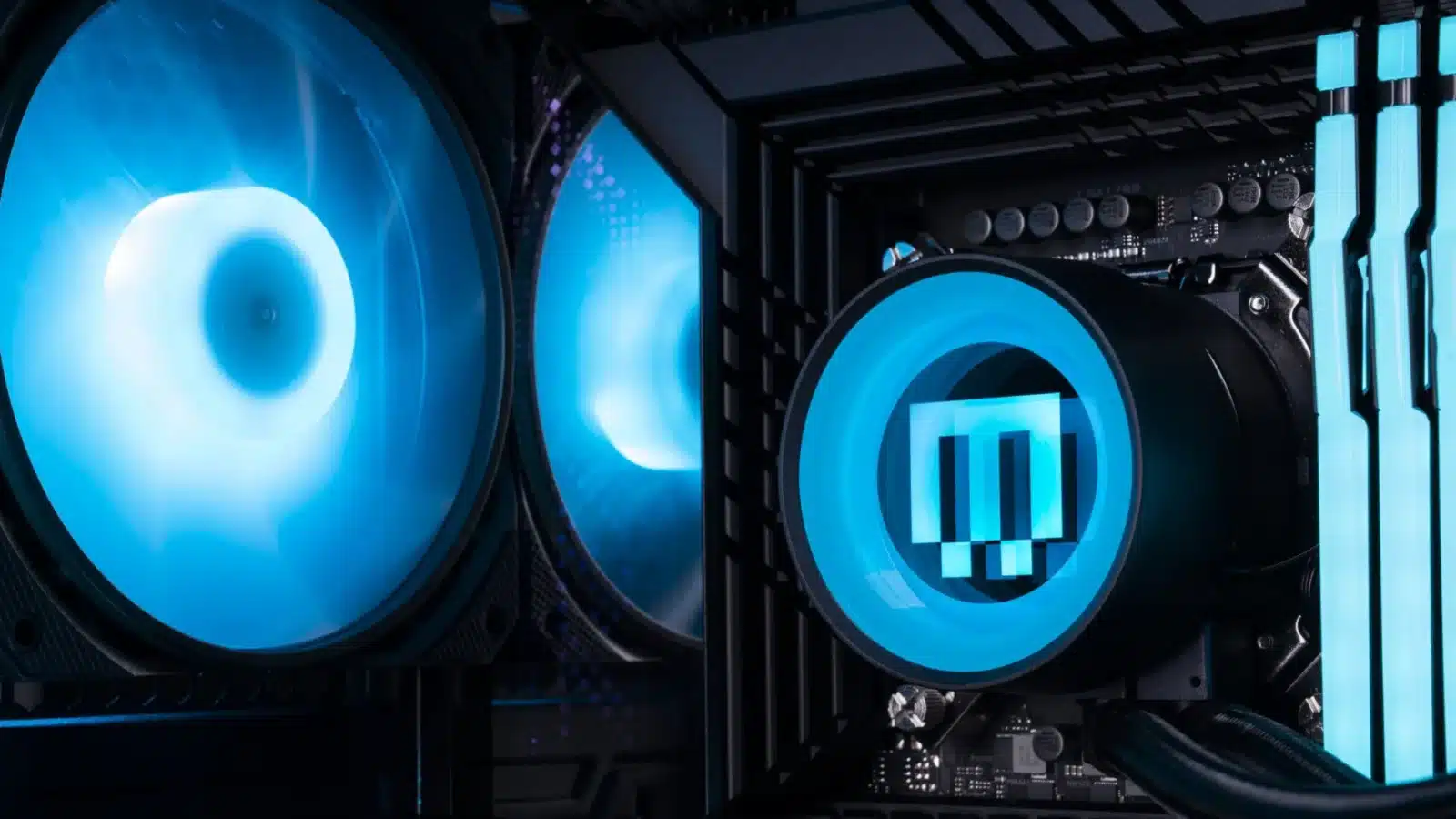 As we powered the MG-1 Platinum and began the Windows 11 setup, the power-gaming 15-year-old in the house exclaimed, "this thing might be able to run Star Citizen!" [Ed's note: Is that ever going to be released?]
That's TBD as he doesn't have enough money in his allowance account to purchase it, but within moments, he had Steam downloaded, along with the Opera browser, and was grinding away in Barotrauma.
We don't do benchmarking in this house, but there have been nothing but smooth returns on gameplay.
The thing is, this PC is damn quiet. I've never met a PC with six (yes, six) internal fans that ran so freaking quietly. My work PC has three fans, and only a constant stream of '70s music keeps the whirring at bay.
Not to mention that strange noise my GPU makes every time I utilize a third monitor. But that's a story for another day. The point is, if you couldn't see the glow of the RGB around the fans, you wouldn't know this PC was on and running.
While this might seem like some minor detail, it's important in creating a sense of awe when booting up a PC like this for the first time — it's not flooded with bloatware.
I've found that's a Maingear standard, that even with Windows 11, it doesn't come packed with the bullshit you'd find floating around the screen when you purchase a PC from Best Buy or some other retailer.
That feels good, when you aren't hit with an immediate annoyance and you can just get to the games.
Do you even game bro?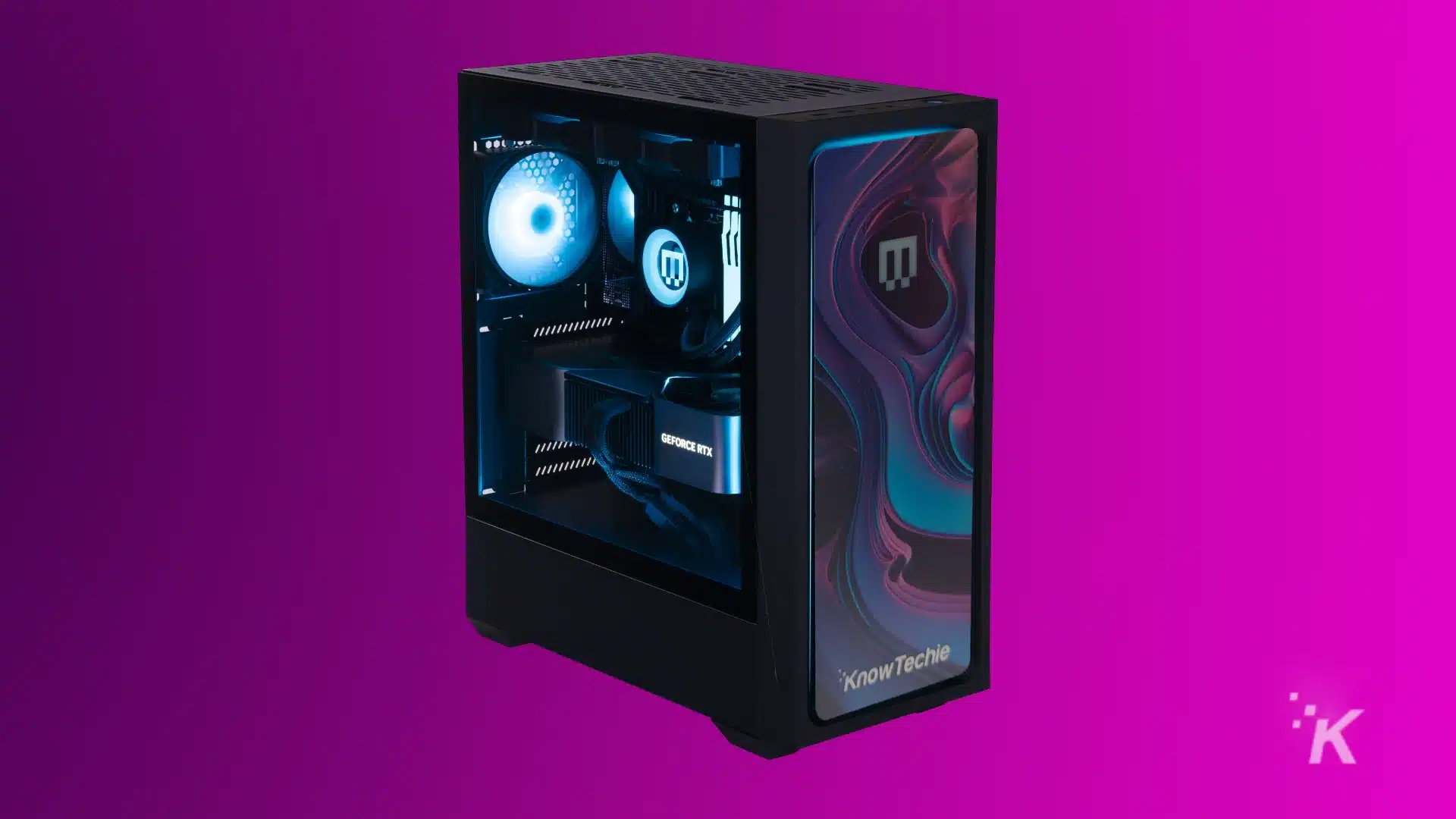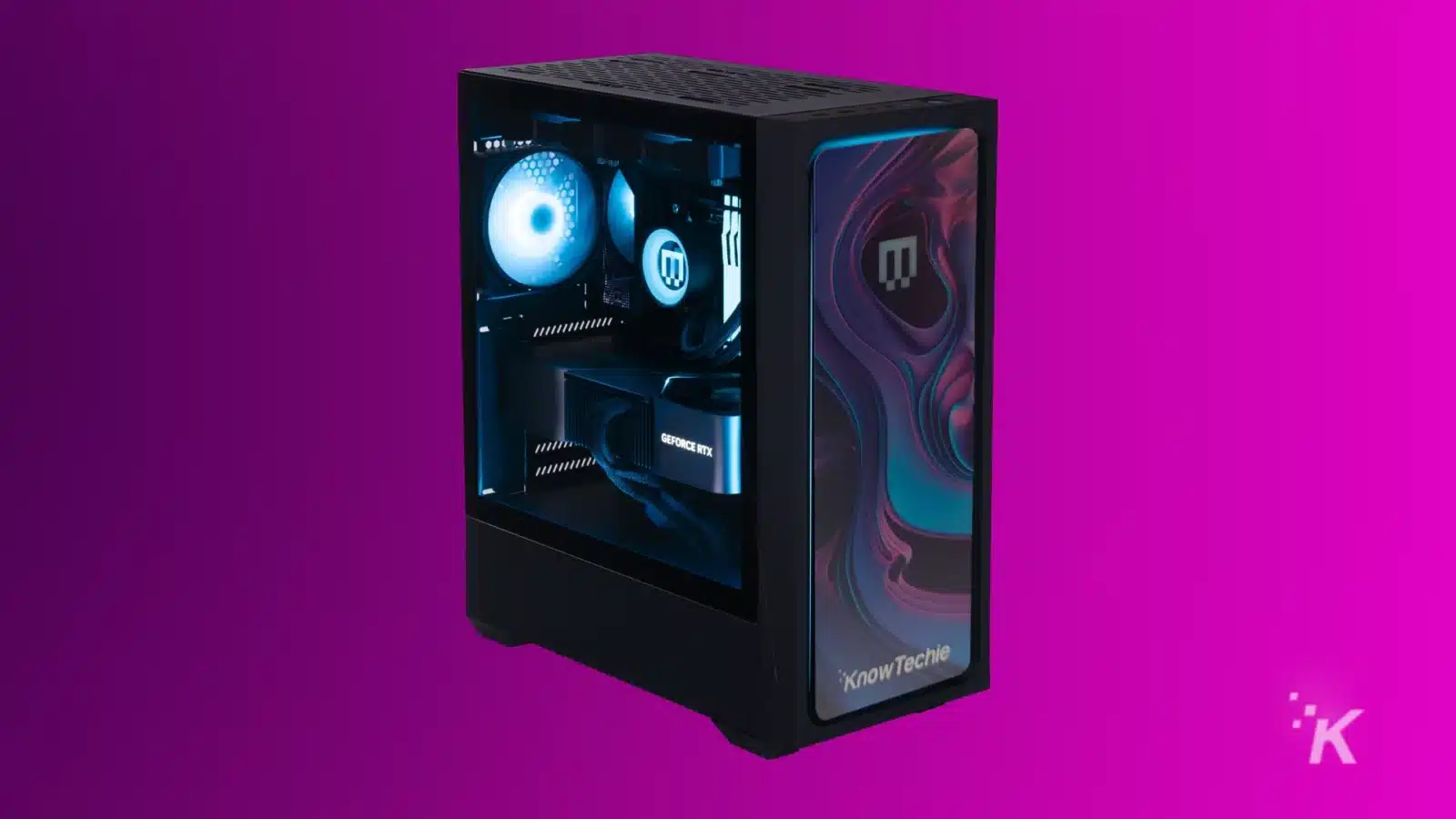 Actually, no, at least not on PC. I began gaming at a time when the best PC had to offer was Kings Quest and Ultima IV. So, console (Atari, Nintendo) was the most available option.
Naturally, there were opportunities to transfer my skills from console to PC, but it has yet to happen. I was never a Counter-Strike LAN party kid. I have Steam on my current PC and sometimes play Roller Coaster Tycoon.
The Maingear MG-1 Platinum is a gaming PC. It's optimized for gaming. On Ultra/4K settings, you'll get well over 130 fps on most games and even higher on medium settings. Those are gaming specs.
While I will use it for business (stay tuned for an Excel-themed review), it has no problem playing most AAA titles at engrossing specs. Get a good monitor; there's no sense in using this thing on some rusty 19-inch Dell you found in the gutter.
Any of the six versions of this PC makes for a solid gaming PC lacking the memory-sucking bloatware that bogs down many retail-specific gaming PCs.
Even with it running Windows 11, we found immediate performance speedy and unhampered by nonsense.
While we're yet to download Star Citizen, there is hope that it'll run within moderate parameters on the MG-1. The liquid cooling adds confidence to that assessment, but the six fans pointed at the GPU brings it up a notch.
Stay tuned for more
I'm not done with this PC. Today was turning it on and seeing all the pretty colors as it silently whirred into existence. Downloading Steam and Opera only does a little to test the capabilities of the MG-1.
It's like going for a hike with some new hiking boots, but all you've done is put on socks. There's more to discover here, mainly how it handles my Index(match) formulas, but that's an article for another day.
The Maingear MG-1 is worth a look if you are in the market for a new gaming PC. Of all the Maingear PCs I've encountered over the years, it checks all the boxes regarding internal specs and form factor.
The pricing is relative to not only the included parts but also the care and time spent ensuring each PC shipped meets the highest construction and testing standards.
Maingear doesn't just pump out blocky PCs meant for Walmart shelves; it gives a crap about the PCs it constructs, which is highly evident with the glowing RGB perfection of the MG-1 Platinum.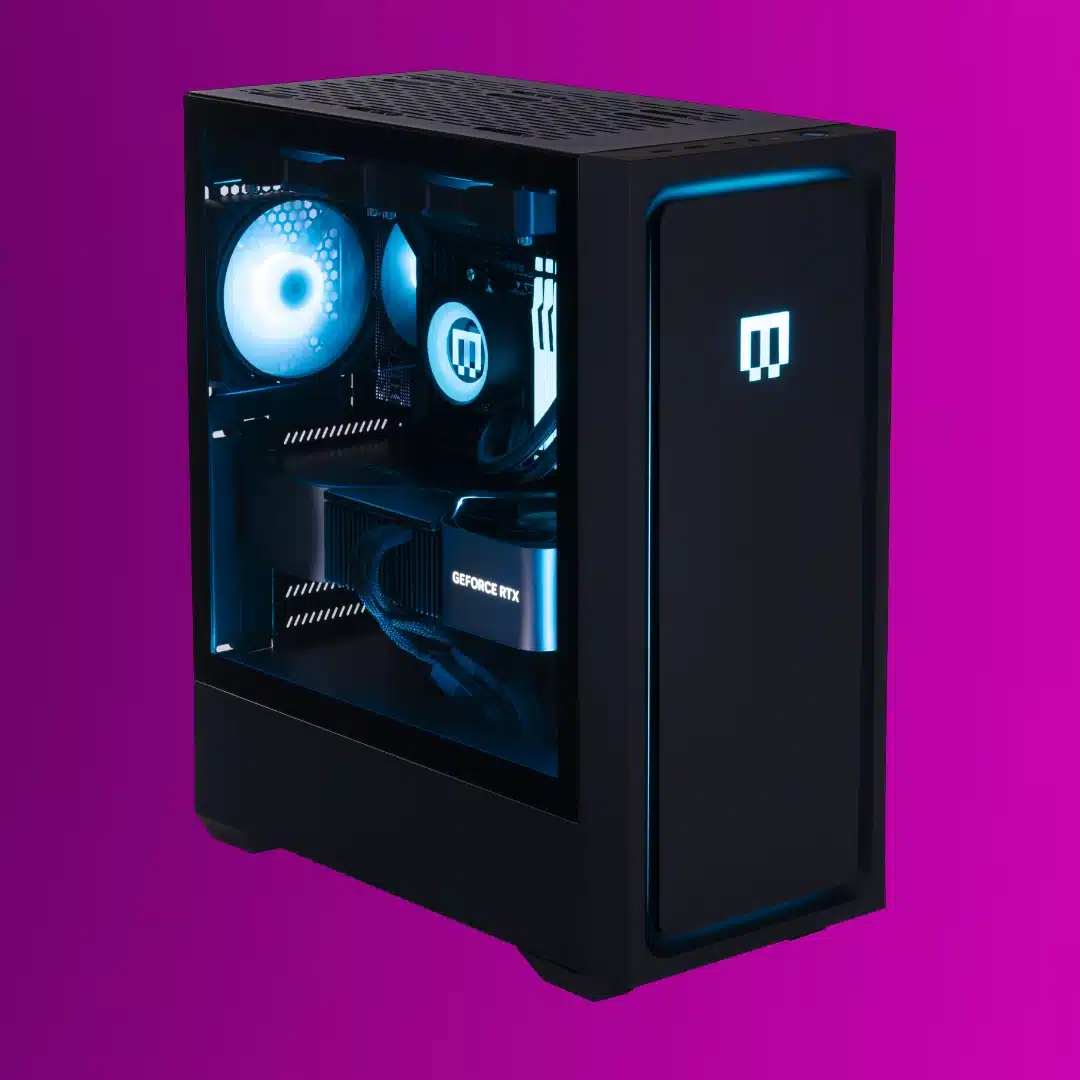 Maingear MG-1 Platinum Gaming PC
The MG-1 is a range of gaming PCs designed in collaboration with shroud, one of the best competitive gamers around.
Check Availability
KnowTechie is supported by its audience, so if you buy something through our links, we may get a small share of the sale.
Editors Recommendations:
Just a heads up, if you buy something through our links, we may get a small share of the sale. It's one of the ways we keep the lights on here. Click here for more.
Follow us on Flipboard, Google News, or Apple News