Preview: Daemon x Machina for the Nintendo Switch
Looking for some giant mech action on your Switch? Look no further.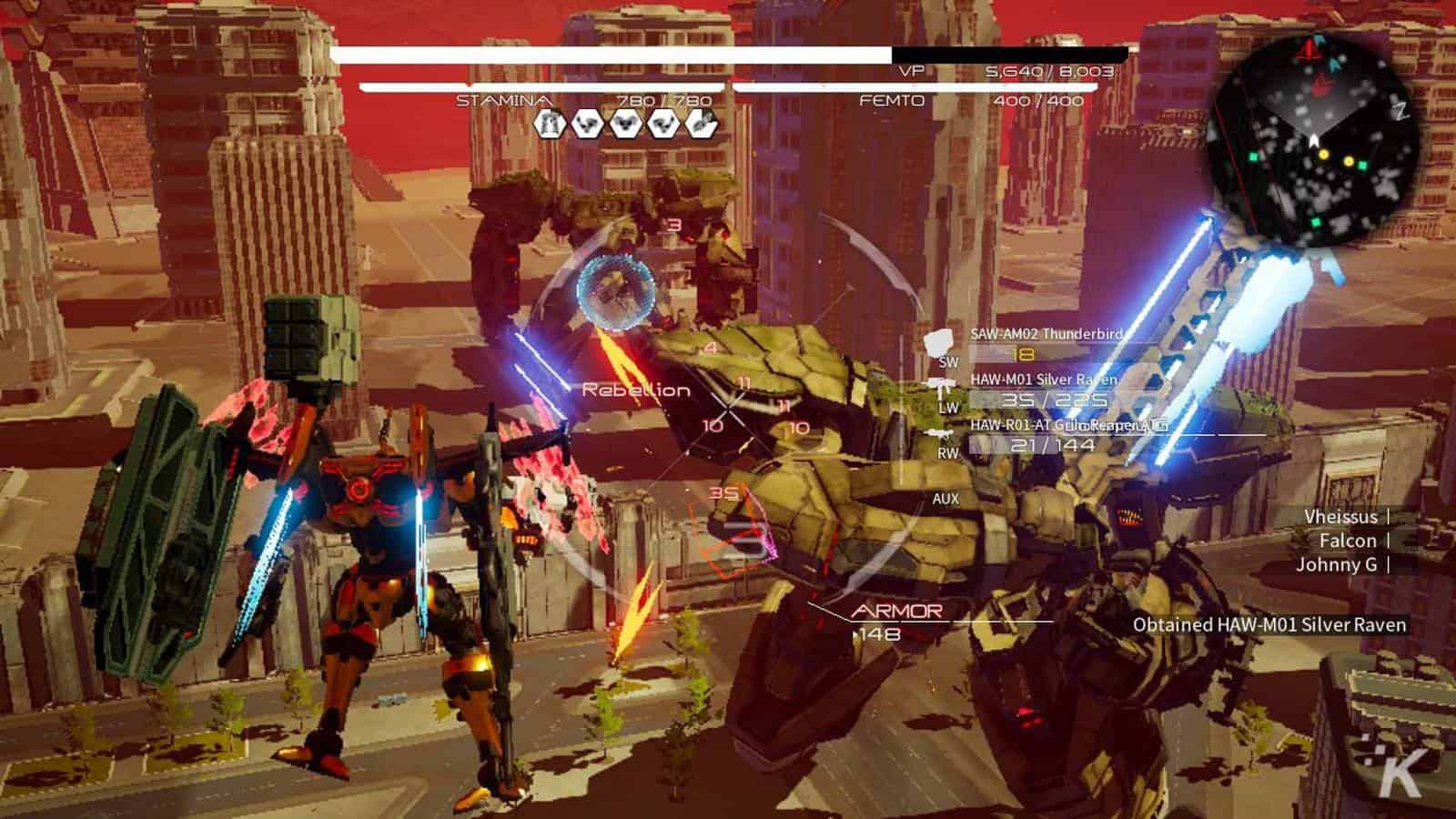 Daemon x Machina is an ambitious new mech combat game from developer MARVELOUS! headed to Nintendo Switch in 2019. A new demo, called Prototype Missions, dropped recently and as a veteran of the Armored Core series I had to check it out.
There's a game play cycle in Daemon x Machina that's going to be familiar to anyone who's played Armored Core, Monster Hunter, God Eater, Toukiden, or a number of other games that have you bouncing between missions and your home base.
The demo starts you in the Hangar, which is where you do all of your maintenance and customization, both to yourself, the pilot, and to your mech (Arsenal). A large portion of your time in the game is likely to take place here, so it's worth talking about first and foremost.
There are tons of customization options
When I play a mech combat game, the thing that interests me most is the ability to customize my mech, both cosmetically and mechanically, to be exactly the kind of machine that I want to use. In Armored Core, for instance, I loved running around with the fastest mech I could build, usually sporting high powered boosters and some high-speed humanoid legs, while carrying a single extremely powerful weapon, usually the infamous Kurosawa laser rifle.
Daemon x Machina has that in spades, allowing you to customize your body components as well as all of the equipment you carry, including left and right arm weapons, left and right shoulder weapons, backup gear, and a processor unit. There are also some auxiliary slots, but I didn't get to use any of these. I think I spent about 60% of my play time in the hangar customizing my Arsenal and it all felt like time well spent.
Once the action does start, initiated by accepting orders via a central terminal in the hangar, not unlike the Job Board in Monster Hunter, you're dropped into a relatively small mission area to do whatever it is you're told to do. In the demo, you have missions to test your weapon systems on weak drone units, to defend a library, and to take out a colossal unit.
All of this is set to music by Junichi Nakatsuru that ranges from melancholy orchestra to high octane synth metal. It's evocative of everything from NieR: Automata to Aldnoah Zero and fits right into the mech genre.
Daemon x Machina feels like a lot of other games combined
If it sounds like I'm making reference to other games frequently, that's because that's how Daemon x Machina feels. It feels like the intersection between several other games without ever making any bold decisions in its own voice.
Are you a Raven, earning credits in the bleak post-apocalyptic landscape of earth where corporations rule everything? Or wait, does that apocalypse make you more of a YoRHa soldier doing missions for your Operator, I mean your Orbital liaison? Even the action feels drawn from Armored Core, with a similar lock-on system and similar boosting and weapon systems, albeit with a few interesting additions like being able to jettison your weapons to pick up new ones on the fly. It doesn't rip anything off wholesale, but it does feel like an echo of everything that's come before it.
That's not a bad thing, however
By the end of the demo, however, I can't say that I really have a problem with any of that. I care that my Arsenal feels frustratingly floaty, depriving me of much agency to avoid enemy attacks. I care that I run out of ammo before I can take down a Colossal and the sword is almost totally useless in taking down the flying drones that drop more.
I care that I can customize just about anything about my character but I'm still confined to a gender binary, even in whatever anime future this is. But the overall structure of the game and heavy inspiration from other places? I like those other games. It's good to learn lessons from similar games that came before yours did. When you consider that the Switch doesn't have many other giant mech combat games in its library, Daemon x Machina feels like an even more welcome addition to the system's library.
Overall, Daemon x Machina feels like a game with a lot of potential, one with room to go in a number of different directions as the game unfolds. If you have any interest in giant mechs or you like any of the inspirations I mentioned, you should at least check out the free demo.
---
Editor's Note: Jake wrote this preview based on the Daemon x Machina demo, available for free exclusively on the Nintendo Switch eShop. He is still working on the platinum trophy for Monster Hunter World and periodically has nightmares of fighting Nine Ball.
---
What do you think? Plan on giving this a try? Let us know down below in the comments or carry the discussion over to our Twitter or Facebook.
Editors' Recommendations:
Follow us on Flipboard, Google News, or Apple News