Review: Dangerous Driving – Burned out
Dangerous Driving has the right ideas but crashes before the finish line.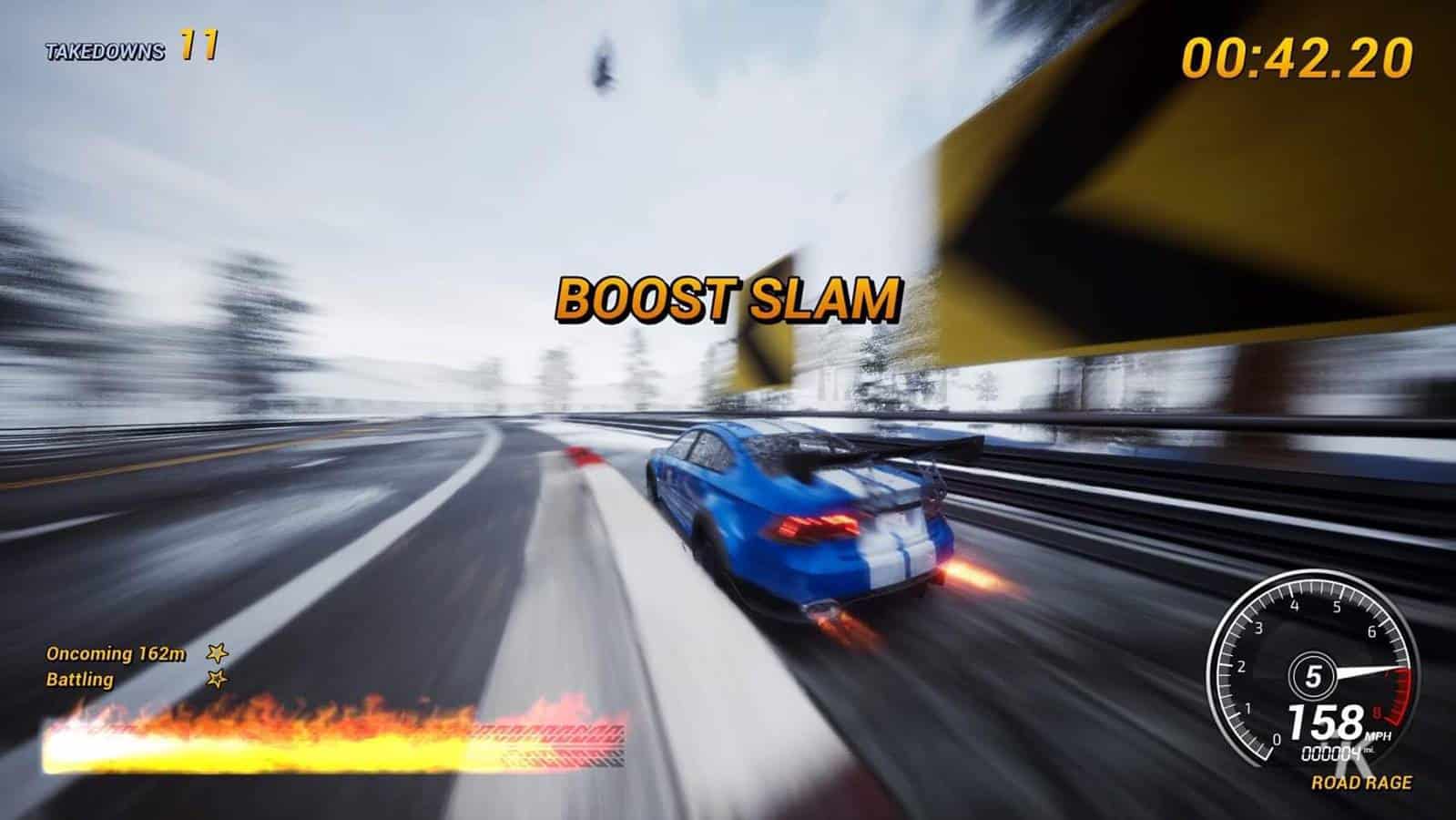 The Good
If you wanted to play a racing game where you can smash the daylights out of other racers, this game delivers
For an indie game, it's super pretty
The Bad
If you don't have a Spotify account, only the sound of your roaring engine will keep you company
When you really get moving, the world just becomes a blur until you smash into something
Invisible obstacles and falling off the track really marred the experience
$40 is just too much for the game
While I was at PAX East earlier this year, I had a moment to sit down with Dangerous Driving and run a race. At the get-go, I immediately had Burnout flashbacks.  Everything felt so similar and the controls, HUD, and graphics looked so similar.
I hate car racing games, with Burnout only ever being that solo exception to the rule. I soon learned that the original developer of Burnout was the guy behind Dangerous Driving and my sights were set on checking the game out.
When you see a game at a convention, many times you miss out on the full scope of the game. It isn't until you have the game in the comfort of your own environment that you realize that things may not be exactly how you thought they were.
Dangerous Driving at its heart and soul is a racing game heavily inspired by Burnout
What it also happens to be is an indie game that doesn't have the obvious budget for voice actors, an abundance of vehicles, multiplayer modes, or even a soundtrack. The product you are left with is a rough shell of a game and a yearning question of "what if?"
I'm not saying Dangerous Driving is a bad game. In fact, for an indie release for a 3D racing game with tons of crashing, it's fairly impressive on a lot of fronts. Tracks are pretty fantastic and beautiful. When given the moment, there's a lot to take in and appreciate. While there isn't a massive range in vehicles, there's enough to get the job done and they look quite reminiscent of real vehicles out there in the real world.
Even vehicle damage is subtle and realistic. Doors get damaged, trunks get smashed and windows spiderweb.
The issue with all the great graphics is that you can't see much when playing Dangerous Driving
This wasn't an issue with Burnout and I wonder to an extent if I'm just getting old. In Dangerous Driving, more often than not, you don't see traffic or obstacles until you're barreling into them at 160mph. The world becomes a blur as you drive and even though you can occasionally catch the flashing headlights of soon to be head-on crash victims, too often you might as well be driving with blinders.
I think part of this issue is that as you go fast, the screen stretches a bit and without an engine that can really flex some muscle, a lot of the game has motion blur.
There are a bunch of different game modes you can play across the different vehicle classes in Dangerous Driving
My personal favorite is Takedown, which has you flying through tracks and smashing opposing racers' vehicles.  There's something so cathartic about blasting down a track and smashing other cars into trees, off cliffs, and into the front of semi trucks. These moments of aggressive driving are where Dangerous Driving shines.
The same strategies from Burnout apply here and there's even a crash time feature, however, I've only used it a few times successfully as the AI in the game is pretty basic.
I think this is where Dangerous Driving suffers the most, outside of literally having no soundtrack. Cars take off from the starting line like the computer is making them go faster than they should ever be able to.  At the same time, a single crash can often put you in last place down from first.
The cars race almost like they are slot cars and it isn't very often that you can see them swerving to avoid traffic and accidents. They just kinda know where everything is. This usually means you are either playing from behind or woefully lonely at the head of the pack and without the traffic seen in Burnout games, the game starts to feel painfully empty.
As I said before, my initial impressions of Dangerous Driving were admittedly higher than my final ones. It blows my mind that there isn't a single unlicensed song or in-studio butt rock track in the game.  Yeah, you can link your Spotify Premium account so you can play the Burnout 3 soundtrack, but that requires you actually pay for Spotify.
The vehicles themselves also have issues, sometimes feeling dangerously light and I've had weird stuff happen, like suddenly falling through the track or hitting something invisible.
I'm sure that Three Fields Entertainment set out to make a successor to Burnout. Instead, Dangerous Driving is an homage to the type of gameplay I've sorely missed. It scratches an itch but is so rough around the edges that ultimately it frustrates and irritates. Dangerous Driving is an indie game, it plays and feels like an indie game. Because of this, it comes off as an admirable first-time effort but still falls woefully short.
At $39.99, Dangerous Driving doesn't strike me as a great investment. It's not a horrible one and I genuinely hope the team learns from this and has a chance to smash it out of the park next time. In the end, Dangerous Driving is a fun experience in moderation but generally serves to remind me just how much fun I had with Burnout instead.
Dangerous Driving is available for Xbox One, PlayStation 4, and PC.
A copy of the game was provided for the purpose of this review. You can check out our review scoring criteria here.
Editors' Recommendations:
The Good
If you wanted to play a racing game where you can smash the daylights out of other racers, this game delivers
For an indie game, it's super pretty
The Bad
If you don't have a Spotify account, only the sound of your roaring engine will keep you company
When you really get moving, the world just becomes a blur until you smash into something
Invisible obstacles and falling off the track really marred the experience
$40 is just too much for the game
Follow us on Flipboard, Google News, or Apple News