Review: Loftek RGB LED Cube Lights – Glow in style
RGB goes with more than just custom PCs.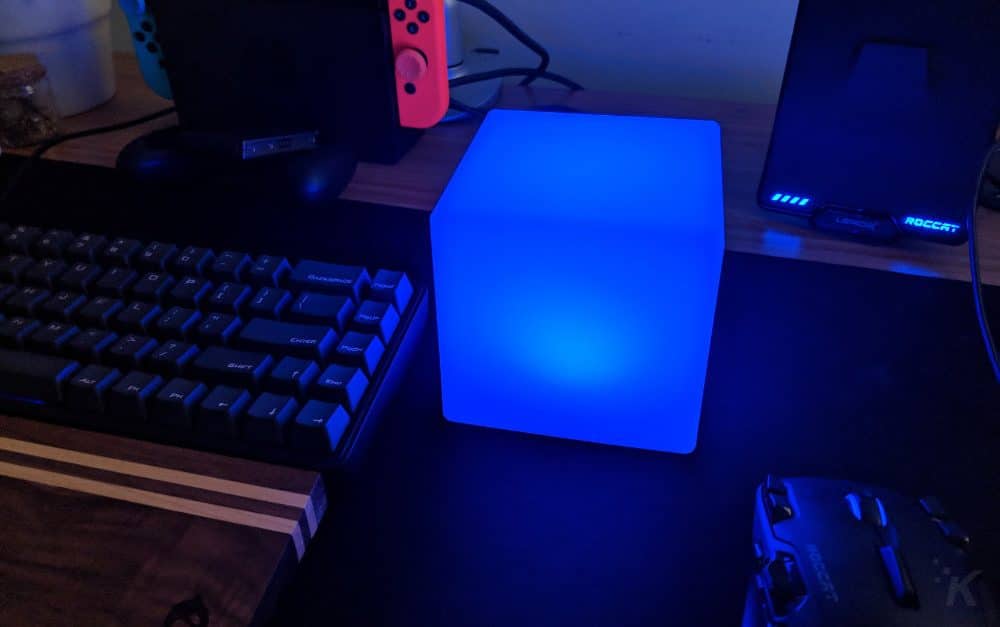 The Good
No heat generated
Pretty good colors
Built in battery so great for emergencies
The Bad
RGB isn't fully customizable
Accent lighting can make or break a room. Sure, you spend so much care and attention with the lights inside your PC, or behind your TV – but what about the rest of the room? Boring white lamps are great for light, but what about ambiance? You could add a RGB bulb into an existing lamp, or you could go big with a lamp that's both structural and lights up the room.
Loftek's been around for a while now, with a range of LED lighting from floodlighting to whimsical shapes. Somewhere in-between those extremes lies the Cube lights we're looking at today.
The Cube Light comes in a variety of sizes, 4″, 8″, 12″ or 16″. I opted for a 4″ for using in desktop scenes, and a 12″ one to use as a light-table when doing review pictures. The lights themselves are multicolored LED inside, with a high-quality frosted acrylic housing. Crazily enough, the 12 and 16-inch sizes can even support up to 300 pounds of weight for sitting or standing – perfect for that extra touch at your next garden party.
More about the Cube Lights
The lamp inside has 16 RGB colors controlled by an RF remote controller. There are also multiple lighting modes, including flashing and a slow rotation of the colors. Just be aware that multiple lamps (or anything else RGB that uses RF) will also get triggered by the remote.
There's also a fairly hefty battery inside them, recharged by the included AC adapter. As long as the power port is covered with the silicon plug it's also rated to IP-65 so it's fully waterproof and dustproof. That also means it's fine for outdoor use, something that a lot of lighting can have issues with.
They came in a fairly nondescript cardboard box, but that probably means you're not paying extra? Light is soft due to the frosted acrylic, and the amount of time they stay lit is pretty impressive.
SPECS
Power: 0.8W
Input: AC 100V-240V 50/60Hz
Output: Output: DC 4.2V 800mA
Work time: 6-12 hours (White: about 6 hours; RGB Color: about 12 hours)
Charge time: 4-5 hours
IP rating: IP65 (completely sealed against dust ingress and moderate jets of water)
Light up your life
I recently experienced a power outage at my home and the Loftek Cube Lights came to the rescue, keeping both the main living area and the bathroom lit all night. I've also enjoyed using them as props in review photography, they could be slightly brighter for this use however as the studio lights wash them out slightly.
That's not something that most users would experience, so I feel pretty good recommending them for mood lights or accent lights. With how RGB is taking over every part of the home, it's good to see some choices for the consumer like this. It's a versatile piece of lighting to add a splash of color to your rooms.
Sample units were provided for the purpose of this review.
Editors' Recommendations:
The Good
No heat generated
Pretty good colors
Built in battery so great for emergencies
The Bad
RGB isn't fully customizable
Follow us on Flipboard, Google News, or Apple News