Review: Rotor Riot mobile wired gaming controller
Rotor Riot has options for both iOS and Android.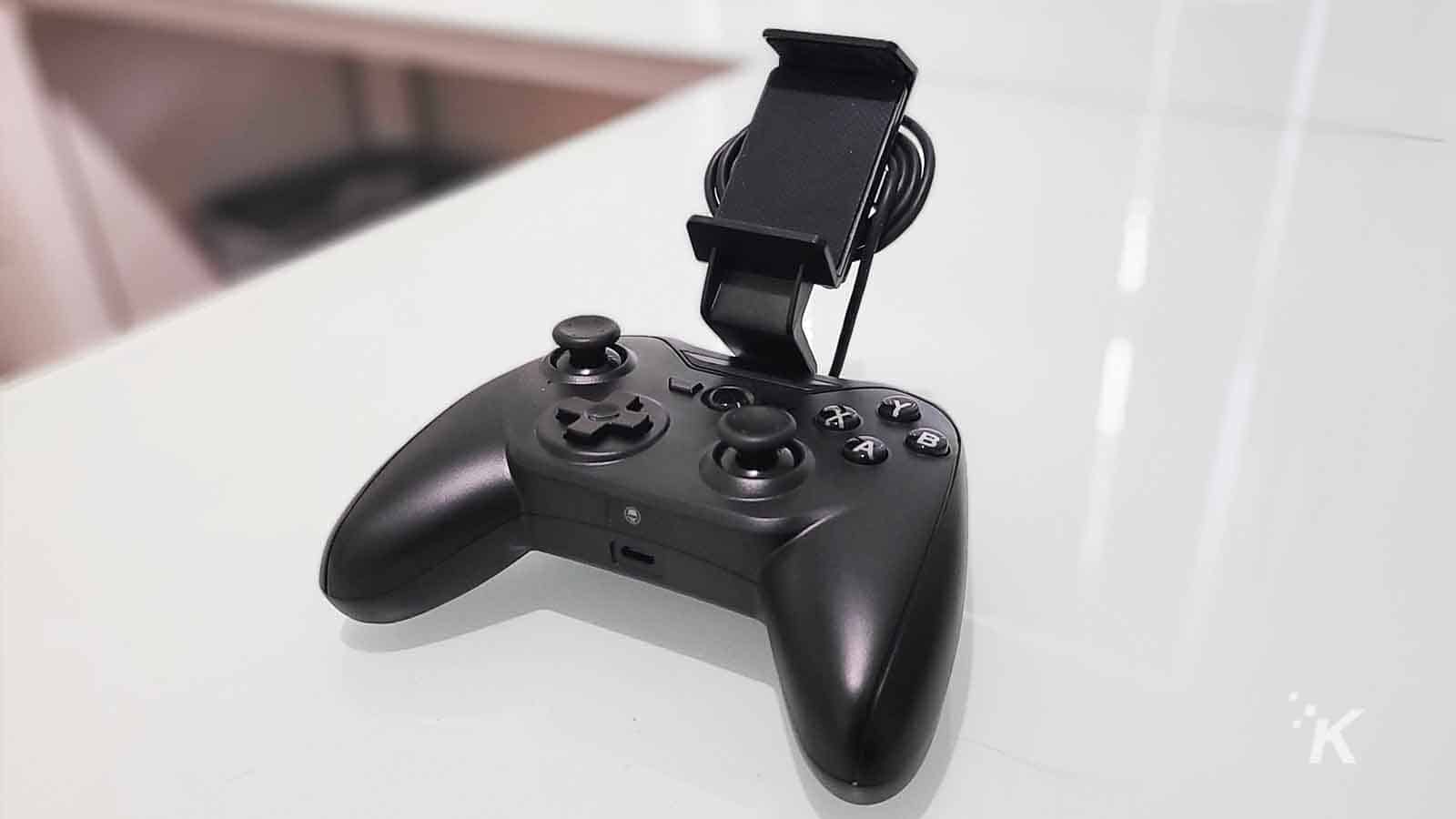 The Good
Affordable
Wired with no lag and pass-through charging
The Bad
D-pad feels a little stiff
Limited game options
I spend a decent bit of time playing mobile games but I've never actually played with a controller. I recently found a racing game that I like a lot, so I was super excited to try out the Rotor Riot wired gaming controller.
The Rotor Riot mobile controller is a wired controller with a tray situated on top that can hold your phone while you game. It's got your traditional controller layout with a couple of joysticks, a directional pad, and four buttons on the right side, as well as a couple of triggers and bumpers on the front.
Rotor Riot offers its mobile controller for both Android and iPhone. I've got the Android version that I've been using with my Samsung Galaxy S20, and I've definitely enjoyed it so far. So let's see what this controller is all about.
How does it feel?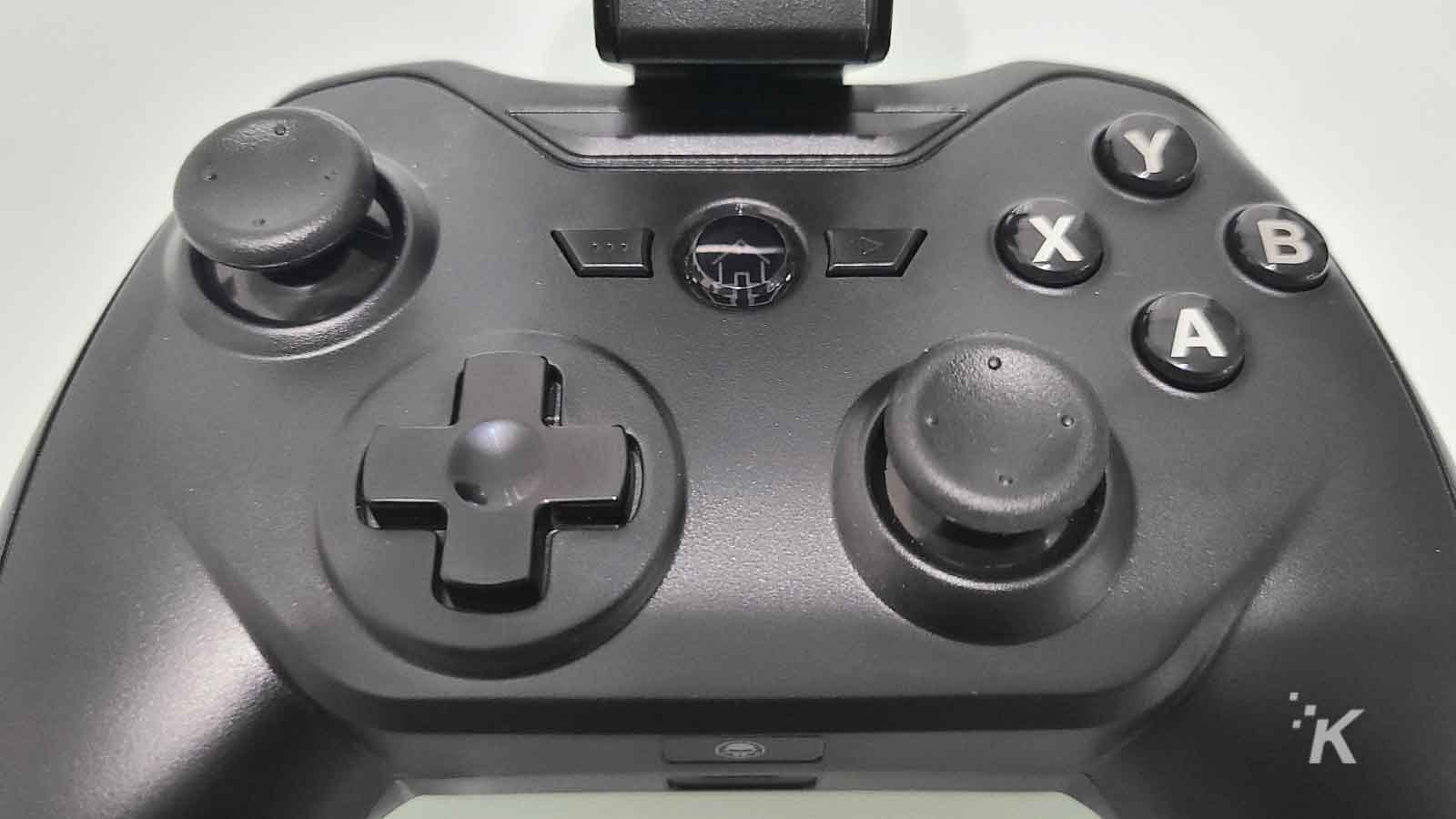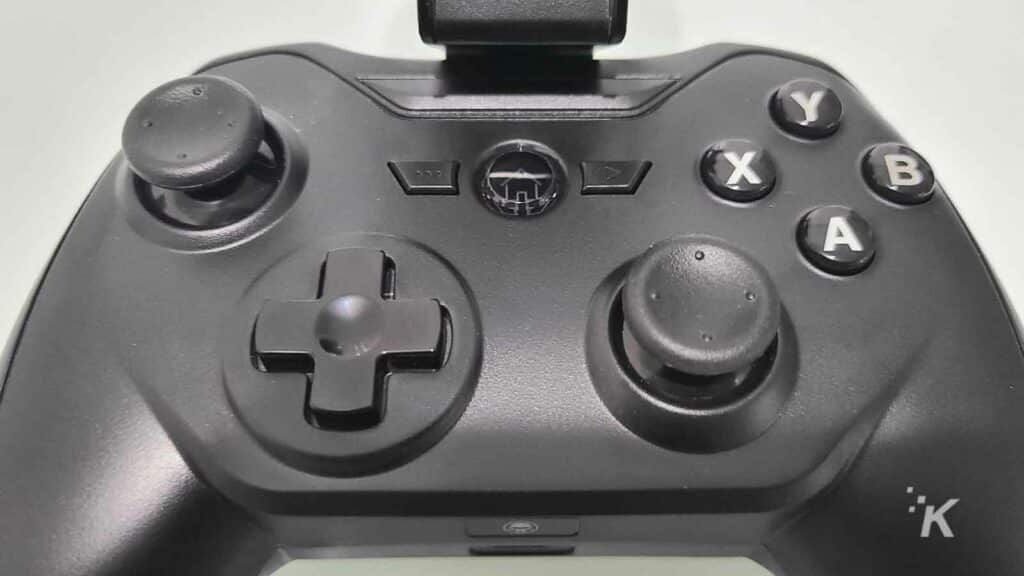 READ MORE: Review: GameSir G4 Pro mobile controller
When I first opened the Rotor Riot mobile controller, it looked a lot like any other controller you'd see. It's got the standard Xbox layout (the best layout), with the left joystick at the the top and right joystick at the bottom. It's got your four AXBY buttons and a directional pad on the left.
But, of course, this controller comes with a nifty clip that screws into the top and holds your phone while you game. Attaching the clip is super easy, with one simple thumbscrew that I was able to tighten down while holding the clip in place.
The clip itself is spring-loaded and rubber-coated so it doesn't cause any damage or scratching to your phone. I did have to take my Galaxy out of its case for it to sit properly in the clip, but the clip worked great once I did that.
The controller feels fairly solid, and all of the buttons feel pretty good. The only hang-up I noticed was with the full, eight-direction directional pad. The buttons feel a little stiff, almost like they could get stuck in a certain position. Fortunately, you don't use the directional pad much in games, and I never noticed any issues as far as gameplay.
One of the more interesting things about Rotor Riot's controller is that it's wired. Of course, this means that you are always tethered when playing games using the controller, but there's another aspect that I found pretty cool.
The Rotor Riot controller allows for pass-through charging, so you can charge your phone up while you're gaming. As long as the controller is plugged into a power source while you're gaming, it will send a charge to your phone at the same time, something I found very useful considering my Galaxy's battery is basically nonexistent.
Initial setup of the Rotor Riot mobile controller is a breeze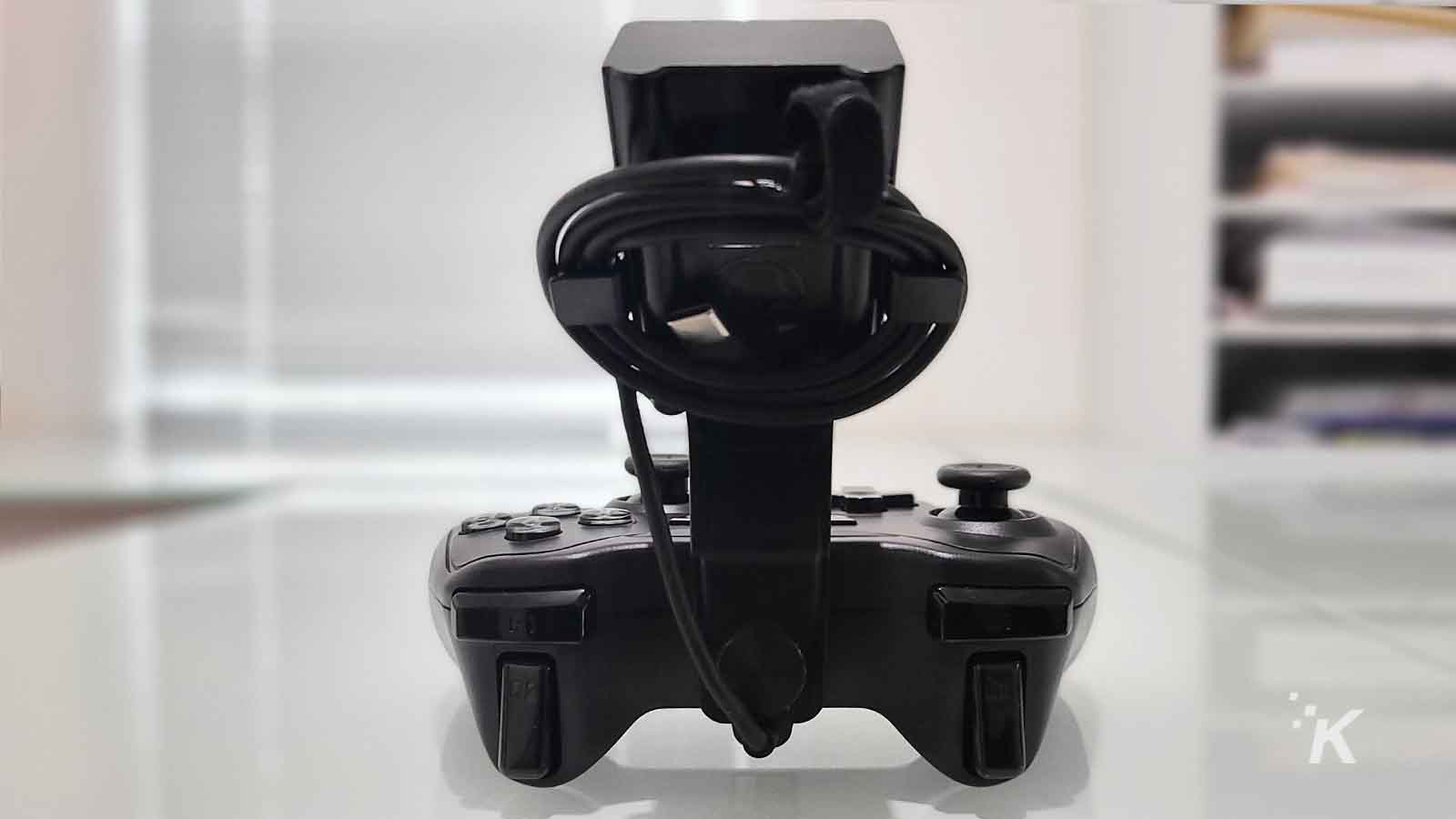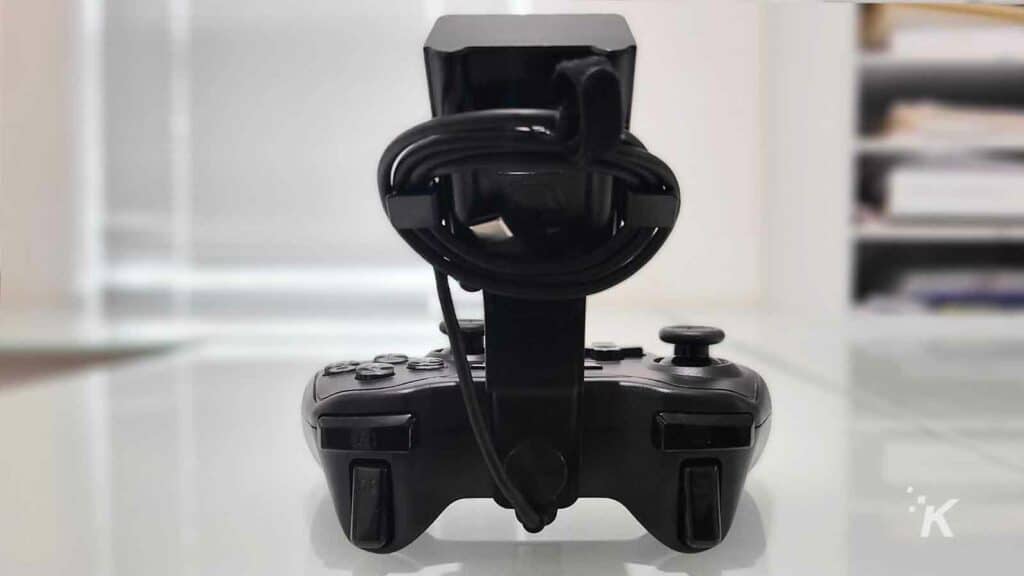 The wired aspect of the Rotor Riot controller also makes setup a breeze. Just fit your phone into the clip, plug in the USB-C, and you're good to go. The cord is about two feet long and there's a clip on the back that you can use to keep the excess cable out of your way.
Once you're plugged in, you're ready to game. I actually found that the controller can navigate a good bit of my phone's interface. I was able to scroll through some apps and open things like Spotify, which I thought was pretty cool. But that's not what we're here for.
So what about the games?
I've always thought that adding a controller to games that are designed for mobile devices could make them too easy, and I was pretty correct in that statement. After scanning the QR code that brings up the Ludu Mapp app showing you a list of games that the Rotor Riot controller works for, I found a game I was familiar with, Asphalt 8.
Asphalt 8 is an arcade-style racing game similar to the likes of the Burnout franchise and it's right up my alley. Adding the Rotor Riot controller into the makes made the game somewhat trivial with how fast I became. There's absolutely no lag with Rotor Riot, presumably thanks in part to the wired connection, and I was leaving all the competition in the dust.
I found the same thing when playing one of the more popular mobile FPS titles out there, Modern Combat 5. One lobby I was in never stood a chance as I ran around the map like I was playing Call of Duty: Modern Warfare 2 while they were swiping their sweaty hands all over their mom's iPad. It felt amazing.
The only problem with gaming on Rotor Riot's controller is the lack of options. The Ludu Mapp app I mentioned before has a bunch of games that are confirmed to work with the controller, but there's infinitely more not included on the list.
Of course, there could be games that are supported that aren't on the Ludu Mapp list, but I tried a few that weren't listed and I didn't have any luck. With thousands of games out there, it could definitely be frustrating to have a controller that doesn't have full support.
Should you buy the Rotor Riot?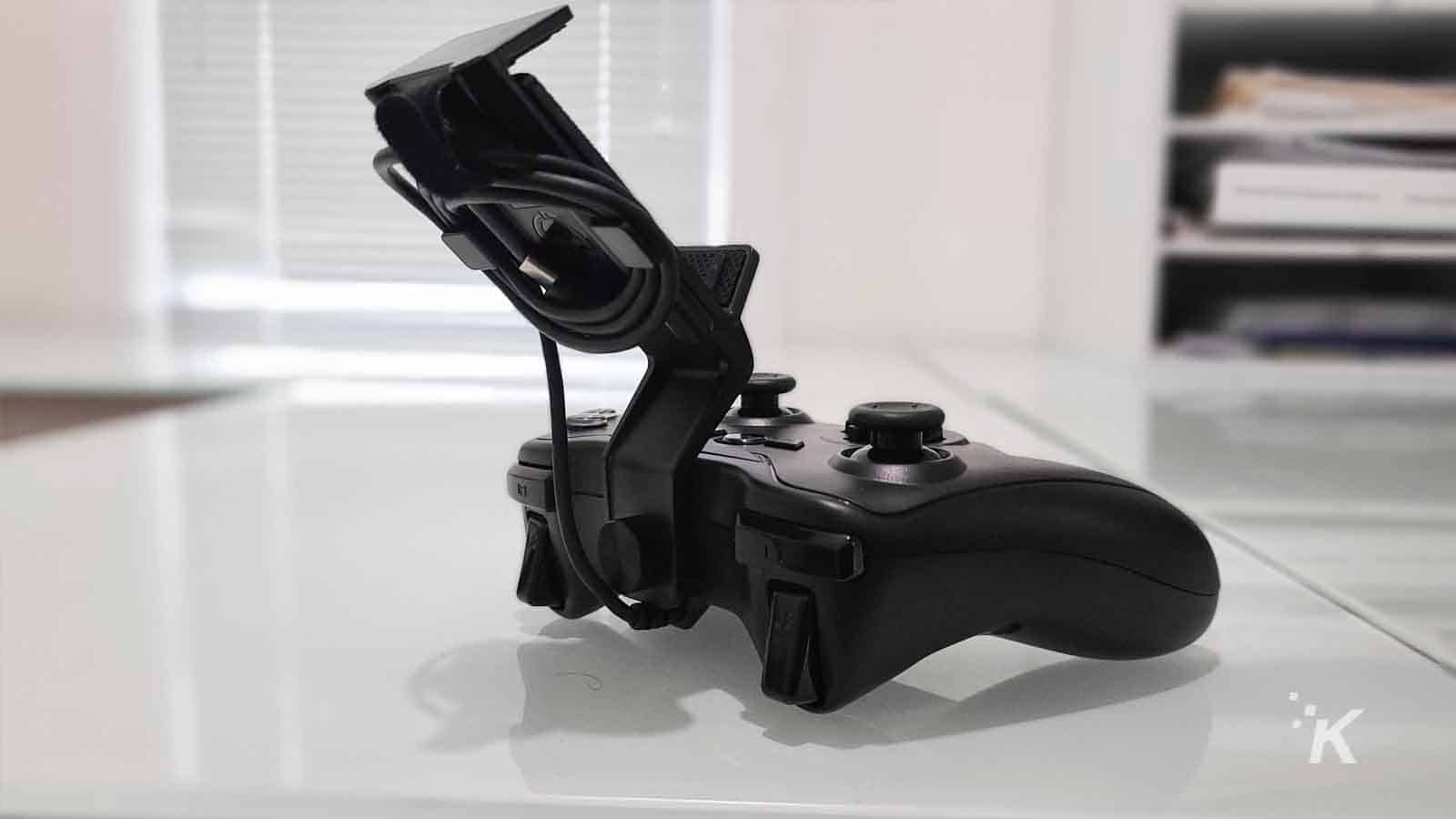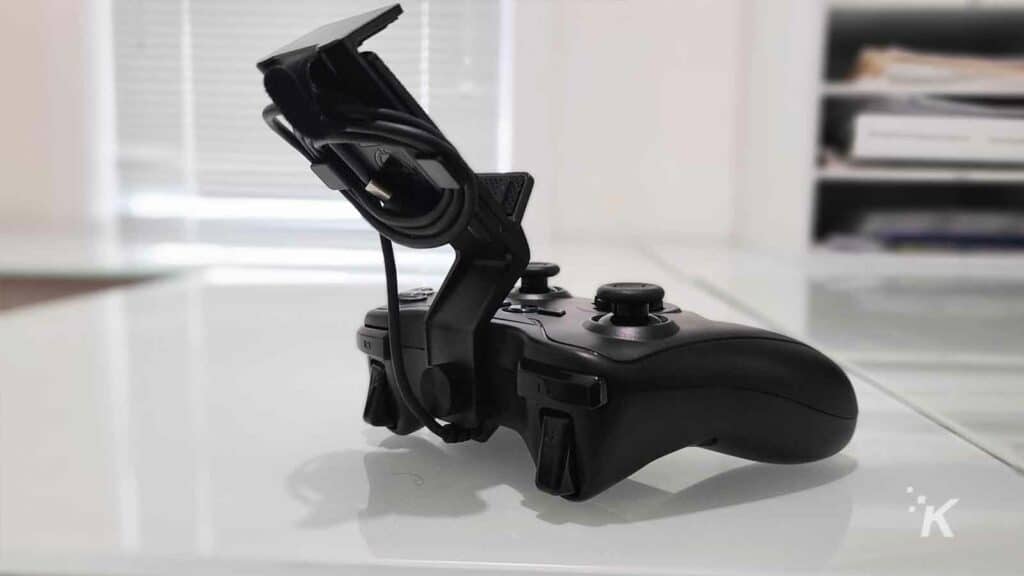 I was very impressed by the Rotor Riot. If I could change one thing about the controller, it would be adding a little more grip to the joysticks. They don't feel quite as good as the Xbox One controller, which is probably the most comparable design. Still, that only became a problem when I was sweating my ass off trying not to go 30 and 0 in a Modern Combat 5 lobby.
I do wish the controller featured more universal support for games, especially considering that I out the controller with a few Steam games via Steam Remote Play and found that it worked flawlessly. While I don't have access to Xbox Cloud Gaming or PS Now, I imagine it would also work with those services on Android, making this a versatile controller.
If you do a lot of mobile gaming and you've been looking for a good mobile controller, then Rotor Riot's controller is a pretty good option, as long as you play the right games. At $49.99 you're able to get a high-quality controller for a little bit cheaper than the average controller costs.
Have any thoughts on this? Let us know down below in the comments or carry the discussion over to our Twitter or Facebook.
Editors' Recommendations:
Just a heads up, if you buy something through our links, we may get a small share of the sale. It's one of the ways we keep the lights on here. Click here for more.
The Good
Affordable
Wired with no lag and pass-through charging
The Bad
D-pad feels a little stiff
Limited game options
Follow us on Flipboard, Google News, or Apple News