Review roundup: Samsung Galaxy Fold – You gotta know when to fold 'em
Know when to hold 'em (with both hands)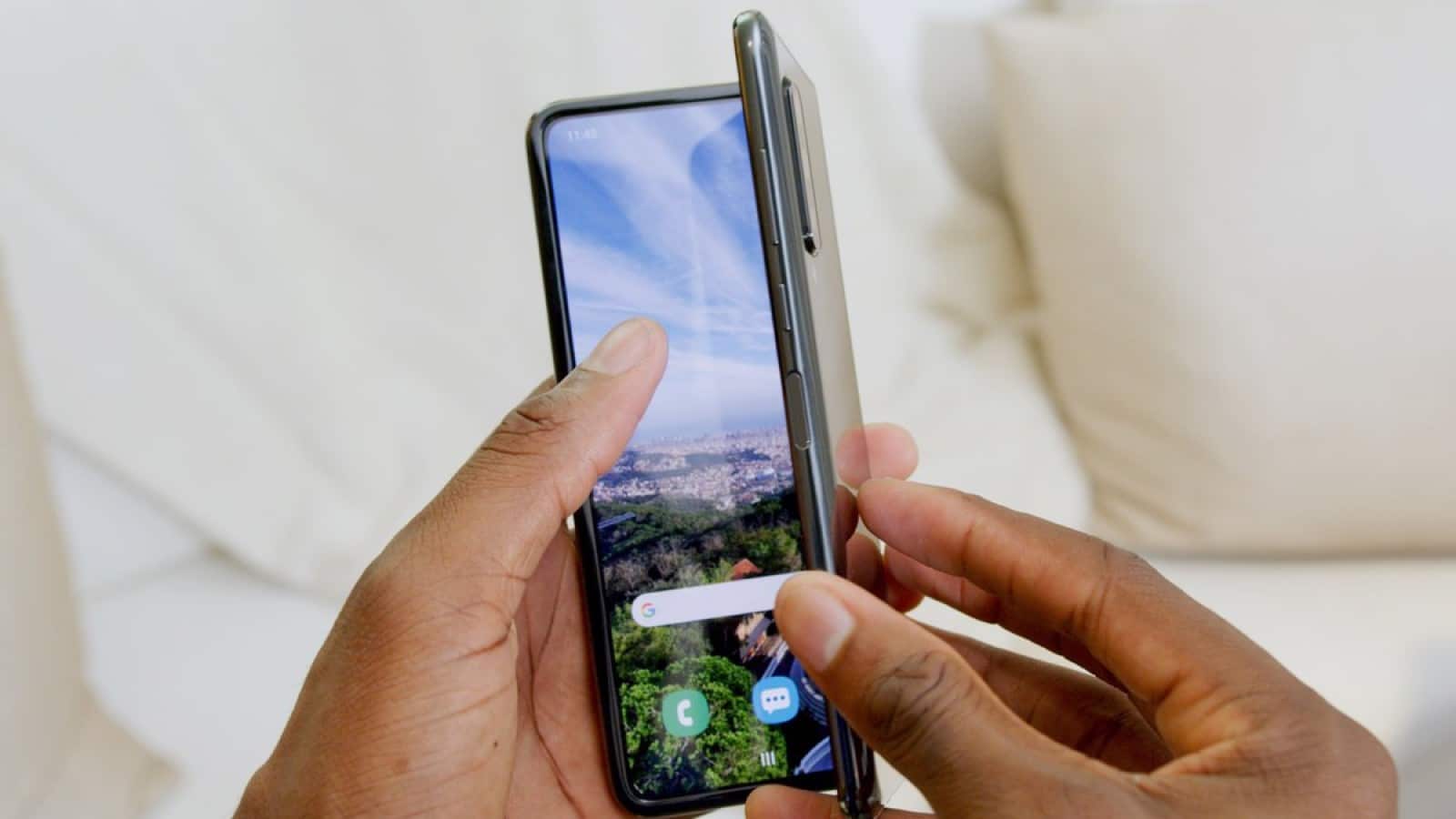 After a year filled with smartphone notches in 2018, it's time for innovation to be turned up a notch in 2019 with the release of foldable handsets. Looking like something straight out of a science fiction movie, the $1,980 Samsung Galaxy Fold is the first foldable from a major household name to make it to the market.
The Galaxy Fold feels like a mishmash of ideas to me. The foldable screen is truly innovative, but it comes with some trade-offs that might mean it won't be a daily driver for most people. For a start, bezels are back. I mean in a big way. The frame of this phone looks like a handset from the last decade, not the future innovation that we expected. That only changes slightly when opened, as the unfolded screen is beautiful but framed by bezels that look like an aftermarket eBay protective case.
At least those bezels allow for a whopping six cameras to be inserted. That's a 10-MP cover camera when the phone is closed for quick selfies, a 16-MP ultra-wide-angle lens, a standard 12-MP wide-angle camera, and a 12-MP telephoto lens. That's the same back combo from the S10+. In tablet mode, a notch (yes, you can't escape the notch, even on this device) has a 10-MP camera and an 8-MP depth sensor (that doubles as face-unlock).
That's a lot of cameras for a device that seems more suited to consuming content rather than creating it. Then again, Samsung does love to 1-up the competition (and its prior devices) so we shouldn't be that surprised they raised the camera number.
Some big outlets and TechTubers have had the Galaxy Fold in their possession for a short while now, and the embargoes are lifted so let's see what they have to say about the Fold, that crease, and the bezel-ful future.
…Scroll down, all the content is… below the fold…
That screen
I should really say "those screens," as there's a smaller 4.6-inch outer screen with a lower resolution, with the 7.3-inch, almost-square inner screen being the star of the show. The flexible OLED is a real technological leap, even if you don't like the form factor. It's fully-plastic and glued to the inner surfaces of the phone.
With almost every phone on the market having shatterproof glass in one form or another, the plastic OLED feels like a step backward, even if the folding design is several steps ahead. Will the fact it's folded in protect it from scratches in daily use? Samsung hopes so, although anything that gets caught between the sides is going to shred your expensive screen pretty quickly.
Android Central points out something I didn't see mentioned anywhere else, that the "two sides of the screen appear to refresh at different speeds, leading to a jankiness that, while difficult to spot at first, is unmistakable once you actually notice it." Oh dear, that's a pretty bad issue from Samsung, who are indisputably the kings of OLED displays at the moment.
Tom's Guide took no time to dive into the crease, saying that "it's not that noticeable head-on" but "you can feel it in tablet mode." That's going to ruin the experience for many, as we're so used to touchscreens without blemishes that feel the same on every part. They also mention that the front cover display is "too tiny to type on," although it'll work fine for things like notifications and what's playing on your Spotify app.
The crease also came up on TechRadar's coverage, where instead of pointing out the awesome AMOLED, the only major point they pointed out about the screen was the noticeable crease.
Oh, and Digital Trends also mentioned the crease, saying it's "most noticeable when watching video." That's a big yikes when the draw of a larger screen is consuming content like video.
There's a pattern forming here, and it's creasing me up with laughter at all the people who will splash down nearly $2k on this phone.
Design on the Galaxy Fold
Okay, so it folds. It doesn't do so completely though, leaving a small angle gap in-between the two halves of the plastic OLED screen. That's going to gather anything that you have inside your jeans pocket, so maybe put your keys and small change into the other pocket. The two halves are kept closed by some hefty magnets, and there's a satisfying click when you open or close the fold.
The Galaxy Fold is a two-handed device – at all times. Opening the screen needs both hands unless you want to risk dropping $2k onto the concrete. With that in mind, I'm at a loss why Samsung didn't give the Fold an S-Pen, which would have made it more usable. I guess it's to avoid encroaching on the Note market when the tenth device in that line turns up later this year.
Oh, and don't think that those bezels and extra space mean you get a headphone jack – Samsung didn't include one on the Fold. You do get Galaxy Buds with the phone though, according to Marques Brownlee's early impressions video.
TechRadar wasn't impressed by the overall design, calling it "far from pleasing to the eye," before talking about how the bezels don't "match the premium price tag" as they make the phone feel like a handset from the past.
Pocket Lint's coverage had a "Word of warning" that echoes what I always find wrong with Samsung's flagships – that the "glass is a massive fingerprint magnet." Seriously, anyone with OCD should look away now cause you're going to be polishing that exterior every minute with a microfiber cloth.
Oh no, not more Bixby
Samsung's ubiquitous voice assistant is inside the Galaxy Fold, with what looks like no visible "Bixby button" to annoy the hell out of you when you pick up the handset.
Samsung has sneakily camouflaged the Bixby-invoking button by making the fingerprint sensor serve double duty. Yes, you'll accidentally make Bixby wake up all the time while you're using the fingerprint reader to unlock your phone or okay stuff in your banking apps. I hope that can be disabled, although I couldn't find any review mentioning a disable setting.
Software lagging behind
Samsung is really pushing for the Fold to be a multitasking monster. You can put two or even three apps up on the unfolded screen at once, which is either a mess or a productivity boon, depending on how you want to look at it.
Also, if you open something on the outer screen, "App Continuity" should open the same app at the same place when you unfold the bigger screen. While that works for all the pre-installed apps, it doesn't work on many other common apps and it will be up to app developers to support it. With such a niche product, I can't see that happening for big Android developers, let alone any smaller dev houses.
Tom's Guide liked the three-app multitasking but found a weird UI difference to normal Android phones, with the usual "swipe down from the top right of the display to reveal the quick settings menu" requiring a swipe down from the top-middle of the display. That's kinda weird and something that Samsung should fix unless there's a technical reason it can't be done that way.
Digital Trends thinks that using multiple apps "almost feels like you're holding two phones next to each other." If that's the best use case, why not just buy two Galaxy S10's and flex tape them together?
Open and shut case with the Galaxy Fold
So should you buy one?
Well, that depends… Do you have $2k to blow on an often-glitchy smartphone? Have you always wanted to put your tablet in your pocket but couldn't? Do you just like to fold things, like Marie Kondo? If the answer to any combination of these is "Yes," then it's probably the device for you. If not, I'd recommend folding on this hand and waiting for a future round of foldable phones.
On a side note – Samsung should hire MKBHD to make all their promo videos cause he managed to make even the horrible bezels look amazing.
UPDATE: Samsung officially has a shitshow on their hands right now. After a few instances of reviewers Galaxy Fold's breaking and a couple of cases where the phone's display simply stopped working – Samsung is pulling the plug on its official release date. As of now, it isn't clear when the company plans to release its folding phone. We'll update this update once we hear something from Samsung.
Interested in the Samsung Galaxy Fold or do you refuse to fold to the pressure of being an early tech adopter? Let us know down below in the comments or carry the discussion over to our Twitter or Facebook.
Editors' Recommendations:
Follow us on Flipboard, Google News, or Apple News