Review: TicWatch Pro smartwatch – A solid Wear OS option
Innovative dual-screen has the competition beat on battery life.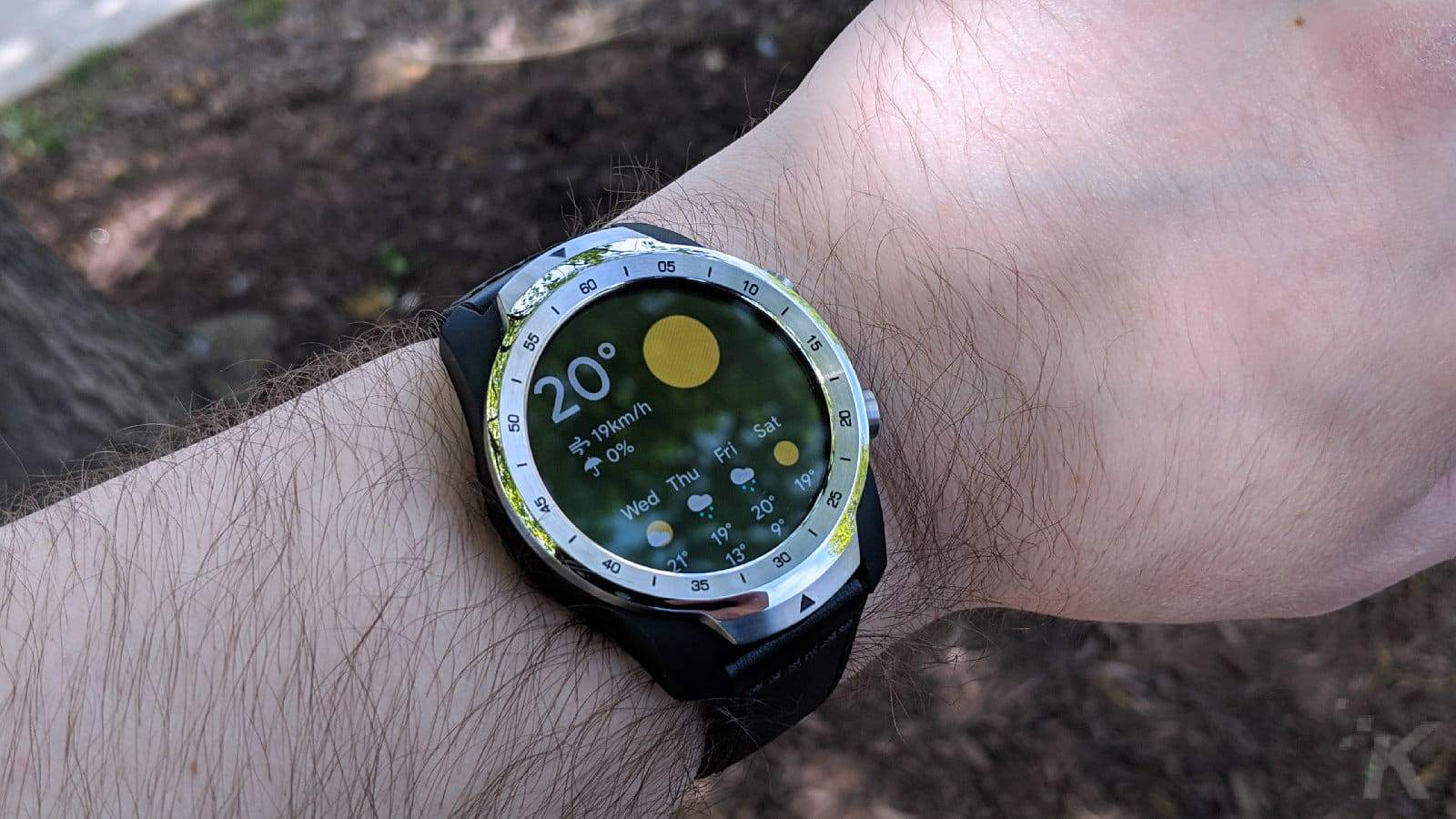 The Good
Innovative dual-screen is a winner
45mm watchface is great for larger wrists like mine
Feels and looks premium
Touchscreen is responsive
Battery life for dayssssssssssss
The Bad
Wear OS still has some bugs
The smartwatch market is a fairly small niche, dominated by Apple and Samsung. Being at the top doesn't mean you are free of issues though, with both of those companies trying all kinds of tricks to eke out extra battery life from their devices.
You might not have heard of TicWatch (from Mobvoi), but the company leaped into the smartwatch scene back in 2016 with the global version of its first TicWatch. Originally on Kickstarter, the watch raised over $2 million and paved the way for more devices to come
The smartwatch we're looking at today is the $250 TicWatch Pro, a premium Wear OS device with a nifty trick to squeeze out extra battery life while in use. It's got two different screens, a full-color OLED screen for all the smartwatch functions, and a transparent LCD that's over the top of the OLED, which shows the date, time, heart rate, and step count.
That hybrid approach gives up to five days of use with the Essential Mode on auto-switch, or two days when in Smart Mode using only the OLED
You can also manually make Essential Mode be the only mode, which can give you up to thirty days of battery life between charges.
A premium device gets premium features
Android's Wear OS has been crying out for a premium looking device, and the TicWatch Pro certainly doesn't disappoint. The chunky metal bezel, the hybrid watch strap which has leather on the visible side, textured silicone on the other to prevent wrist sweat, and let's not forget that beautiful OLED screen. It all adds up to a watch that you wouldn't feel awkward wearing to the boardroom, setting the TicWatch Pro apart from the majority of Wear OS devices.
Powering the TicWatch Pro is the last-gen Snapdragon Wear 2100 chip. It's still snappy enough to not frustrate in use, although some transitions between apps are slightly laggier than I'd like to see. There's 4GB of storage for music files etc, onboard GPS, Bluetooth 4.2 to connect to your phone, and 2.4GHz WiFi, and all the sensors you'd expect – accelerometer, gyroscope, heart rate sensor, magnetic sensor, ambient light sensor, and an off-body sensor.
It's also IP68 rated for dust and water-proofing, but unfortunately, it's not waterproof enough to use as a fitness tracker while swimming. If your daily workout includes a dip in the pool, you'll need a different device if you want to track your laps. The 415 mAh battery might not sound big, but it'll get you two days of use in Wear OS mode, up to five days in mixed-mode, and that whopping up to thirty days in Essential Mode only.
Oh, and it's got NFC, making it the first watch from Mobvoi to support Android Pay.
So, let's talk about that innovative dual-screen featured on the TicWatch
The 400 x 400 px bottom OLED screen is everything you'd expect from OLED, vibrant colors, impressive brightness, and crisp text. As good as the OLED is, it's really the upper, FSTN display that's the star of the show. Designed to be completely transparent when off, you can't tell it's there when using the OLED screen.
When the OLED is off and the Essential Mode is activated, you can't tell there's another screen below the FSTN one, making it really easy to use both without annoyance. The FSTN screen is highly visible, even under bright sunlight, something that other display tech really struggles with.
What's it like to use?
As its a Wear OS device, you get the full gamut of Google's apps, from notifications to fitness to music streaming. You'll need both the Wear OS and Mobvoi apps installed on your phone and linked to the TicWatch Pro, something that might irritate those of you who prefer to have as few apps as possible installed.
I've got a bigger wrist, so I appreciate the larger, 45mm size of the TicWatch Pro. Most watches tend to disappear once I put them on, assuming that I can actually close the strap. Not here, with the TicWatch Pro looking about the right size on my wrist. Interestingly, for all its size, it doesn't feel heavy to wear. I can only put that down to the mix of metal and nylon-reinforced plastic that the housing is made from.
I've noticed some minor lag when using the UI to swipe between screens, although I'm noticing this less as I get used to the touchscreen, and there's some noticeable lag opening apps or settings menu options. Once an app has loaded, it's snappy enough to use. That's probably down to the older Snapdragon chip, and newer devices shouldn't have this issue. The inbuilt speaker is pretty decent, certainly good enough to handle calls with, but you'll want to pair a set of Bluetooth earbuds for listening to music.
It's also worth noting that the included charging puck is proprietary, and there's no wireless charging or charging port on the watch. Mobvoi says not to use above a 5V 1A USB charger, otherwise, it might damage the device or charger. That's okay I guess, as it only takes a couple of hours to fully charge the watch from low battery.
So should I buy one?
Do you want a capable smartwatch that doesn't need recharging every night? How about one that doesn't look like it came from a kid's party bag? If the answer to either or both of these is "yes," definitely check out the $250 TicWatch Pro.
The dual-screen makes me wish that every smartwatch had the same setup, with the LCD screen to let me see the time without having to wake up the power-hungry OLED screen. The only real drawback isn't even anything Mobvoi can do about, in that Google needs to stop breaking older devices when they update Wear OS. Google Maps, for example, is broken on the current version, while the prior APK works fine to show the map and directions. I'm sure that'll get fixed soon though so it shouldn't put you off what's the best Android smartwatch we've tested to date.
A sample unit was provided for the purpose of this review.
Editors' Recommendations:
The Good
Innovative dual-screen is a winner
45mm watchface is great for larger wrists like mine
Feels and looks premium
Touchscreen is responsive
Battery life for dayssssssssssss
The Bad
Wear OS still has some bugs
Follow us on Flipboard, Google News, or Apple News