This wooden cover from Toast turned my generic MacBook Pro into a MyBook Pro
A toast to the good times.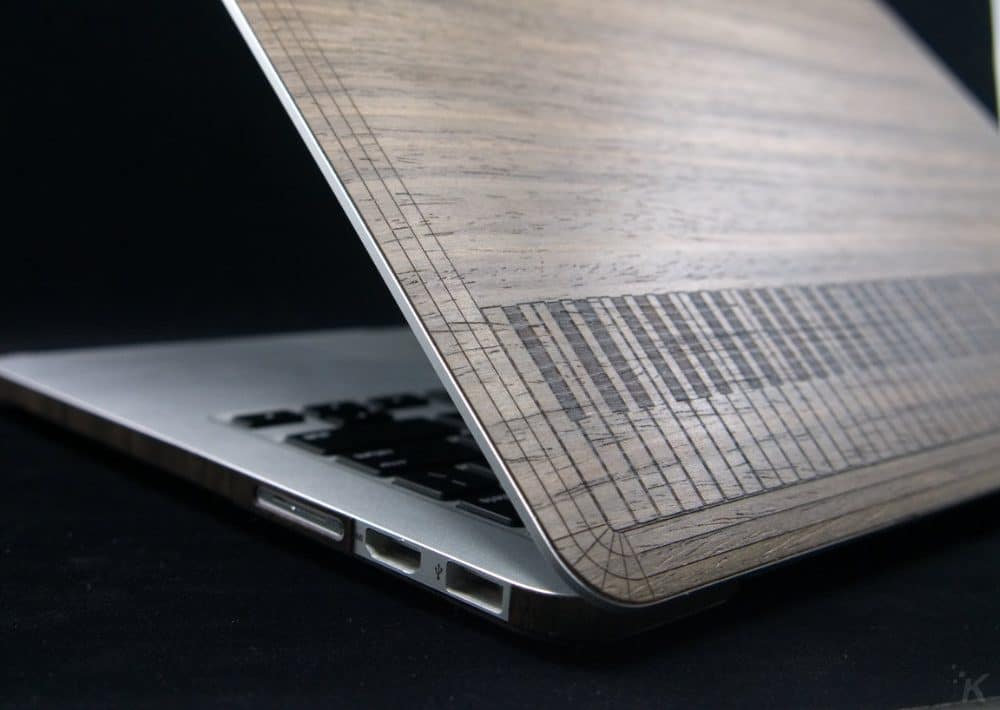 The Good
Easy to apply
Butterfingers guarantee is amazing
Wood is sexy
The Bad
Honestly, can't think of one
Okay, it won't survive peeling off your device - but you probably realized that already
We're already fans of Toast here at KnowTechie, Josh Knowles is still getting compliments at Publix on his Samsung Galaxy 9+ skin. When they reached out again to see if we wanted to look at a skin for a different device, I jumped at the chance.
You'd be forgiven for thinking it's the 80's all over again, because wood is back in a big way. There's wooden watches, inserts in headphones, and the usual items like desks. And now apparently, laptops.
Design stages
My wife's MacBook Pro is your standard aluminum slab, so being able to personalize it is a big thing. Putting a wood skin on such an industrial design spoke to us. Then there's the piano motif, as the piano has been a huge part of her life since before she can remember.
Toast worked with us all the way through the design process. We decided on a minimalist etched design, but we could have gotten inlays for the piano keys or even metal inlays. The only limit is your imagination and the size of the device you're skinning.
First, they sent a mockup to us, to show us how it would look and waited for our okay before they laser-etched the design. We wanted to make a couple of minor changes in placement, and remove the logo, and our designer was more than happy to oblige.
Butterfingers…
Once that was all finalized, the cover joined the queue of other skins to be produced. Overall it took about a week from initial design to getting the cover in hand, which is pretty good going for custom work. The skin survived the shipping process fine, and I put it on. Now, in some of the light background images, you can see some minor fit issues – these were caused by my butterfingers installing the bottom cover.
I emailed Toast, and they kindly sent out a replacement bottom skin, under their 'butterfingers guarantee.' If you have issues installing your skin, they'll replace it free of charge – with no questions asked. Where else could you get custom work done with that kind of backing?
[envira-gallery slug="toast-macbook-pro-skin"]
As you can see in the replaced images (black background), the fit was perfect once I knew what I was doing. Honestly, I've had screen protectors that took more time to apply than the Toast skin. It's now firmly on my wife's MacBook Pro, turning heads and protecting it from dings and bumps. It might not protect quite as well as the shock cover that was on, but it looks 1000x better. One of the directors at the center is thinking of skinning the whole workforce's laptops with Toast skins, that's just the impression that it makes on people.
The wood is great for stopping the usually slippery MacBook from squirming out of your hands when getting it out to use. I haven't noticed any heat issues, and all the vents that should be free are uncovered.
A toast to the good times
I totally recommend checking out Toast if you want to make a completely personalized version of any of the devices that they support. We've been using ours for a month now with it still looking as crisp as the day it was felled.
You can check out what Toast offers on their website. Prices range from $30 for phone wraps to $60 for laptops and other tech accessories. The skin combo reviewed today was $129, for the top/bottom and sides of the MacBook Pro.
A sample unit was provided for the purpose of this review.
Editors' Recommendations:
The Good
Easy to apply
Butterfingers guarantee is amazing
Wood is sexy
The Bad
Honestly, can't think of one
Okay, it won't survive peeling off your device - but you probably realized that already