VapeTechie showdown: The Cloudious9 Hydrology 9 vs. The Planet of the Vapes One
Two vapes enter. One vape leaves.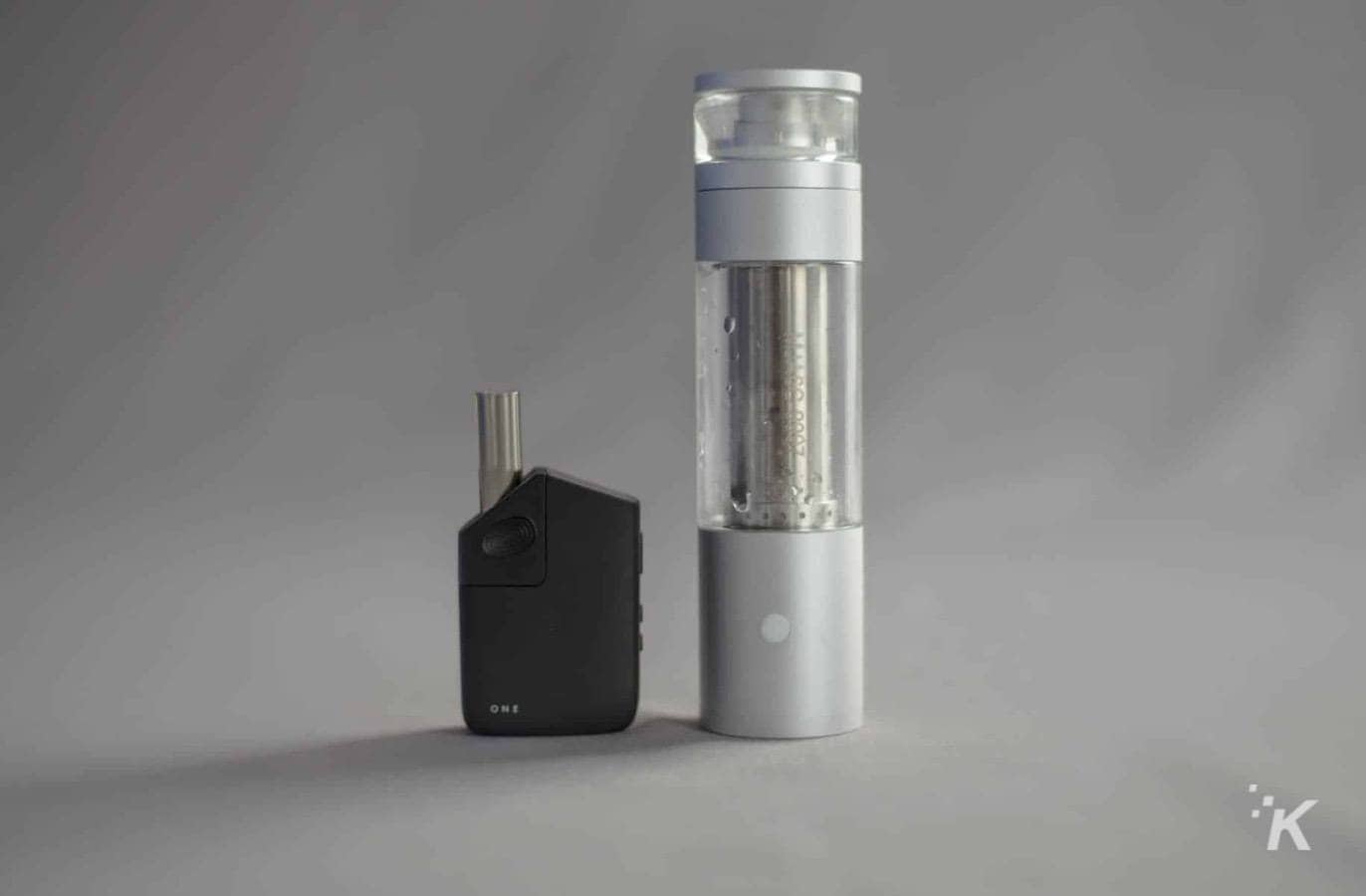 When Kevin first approached me about penning some vape reviews for the site last year, I figured I'd do a couple, maybe three at the most as a favor and then quietly pass them off to someone more suited for them — his little cousin (nephew?), maybe.
What I didn't expect was that I'd soon be drowning in more vaporizers than I could count or even properly review. I've received two dry herb vapes that are almost destined to draw a comparison to one another in the past week alone, which in my mind can only mean one thing.
Vape battle.
The Competitors
In one corner, we have the Hydrology 9 by Cloudious9, a liquid filtration vaporizer designed to "revolutionize the art of smoking medical cannabis" if what you read online is to be believed. In the other, we have the simply-named One by Planet of the Vapes, which has made no such dubious claim but is likely envisioned by its creators (or its marketers) as some sort of radical disruptor of the vaping complex.
But as they say, neither can live while the other survives.
Design
Though the Hydrology9's unique design has earned it the nickname 'lightsaber bong,' I think it bears a far more striking resemblance to a prop from a far more culturally significant film: the ooze canister in Teenage Mutant Ninja Turtles 2: Secret of the Ooze.
In any case, the Hydrology9's aircraft grade aluminum casing and borosilicate glass mouthpiece certainly set it apart as one of the more futuristic looking vapes I've ever reviewed. Its leakproof valve should also put any worries you have about spillage during travel to rest – that is, if you consider a device of its size (the Hydrology9 is a good 8 inches tall) a travel vape is another question entirely.
The PotV One, on the other hand, is about as discrete a vaporizer as you can get, standing only a few inches high and looking more like an old Motorola walkie-talkie phone than anything else. Of course, its convenience comes at a cost, as the One only holds about .10 -.15 grams of flower in comparison to the Hydrology9's half a gram. The One also has a convenient display that lets the user know when it's reaching temp, which if you read my review of the Stoner Joe, you know is a huge bonus in my eyes.
Performance
In my eyes, the "performance" aspect of a vaporizer comes down to 4 main things; battery life, ease of use, heat up time, and taste. Let's see how these two vapes stack up against one another.
Battery Life
A full charge of the Hydrology's 2000 mAh Lithium Polymer Battery will get you between 10-15 sessions at a 2-hour charge time. The One's 1600mAh internal LiPo battery only runs for about 30-40 minutes per full charge at a 90-minute charge time.
Winner: Hydrology9.
Ease of Use
Although the Hydrology's single button operation makes it far easier to operate than a lot of vapes out there, it's the One's clear-as-day display screen and easy-toggle temperature options that earn it the W here.
Winner: PotV One.
Heat Up Time
The PotV One takes roughly 30 seconds to heat up to your desired temperature. The Hydrology takes close to a minute, which is made all the more frustrating by the fact that it can only go for about two minutes before needing to cool down. Pathetic.
Winner: PotV One.
Taste
To be brutally honest, neither The Hydrology 9 nor the PotV One really provide anything above what I'd call "standard vape flavor." The former's unique filtration system ensures that you get a cool hit each time but not much else, and the latter comes with several bubbler and mouthpiece attachments that seem like a lot more hassle than they're truly worth.
That said, I'll give the nod to the Hydrology9 for providing a more unique experience without sacrificing those sweet plumes, brah.
Winner: Hydrology9
And the winner is…….
In the battle of the Hydrology9 vs. the One, the winner really comes down to what you value more in a vape: convenience or uniqueness. The Hydrology certainly takes the latter, but at $250, it doesn't offer much more in terms of flavor than the moderately-priced One (which currently sells for $130).
But as I've stated before, portable dry herb vaporizers are kind of a curse unto themselves, offering neither the convenience of their oil pen counterparts nor the buzz of more traditional methods. Based solely on that, I'd have to give the edge to the Hydrology9, which feels more like a traditional tabletop vape than its more portable counterpart.
Samples units were provided for the purpose of this review.
Editors' Recommendations:
Follow us on Flipboard, Google News, or Apple News