Verizon has a new mystery box service that sends you tech you probably don't care about
Seriously, what is this?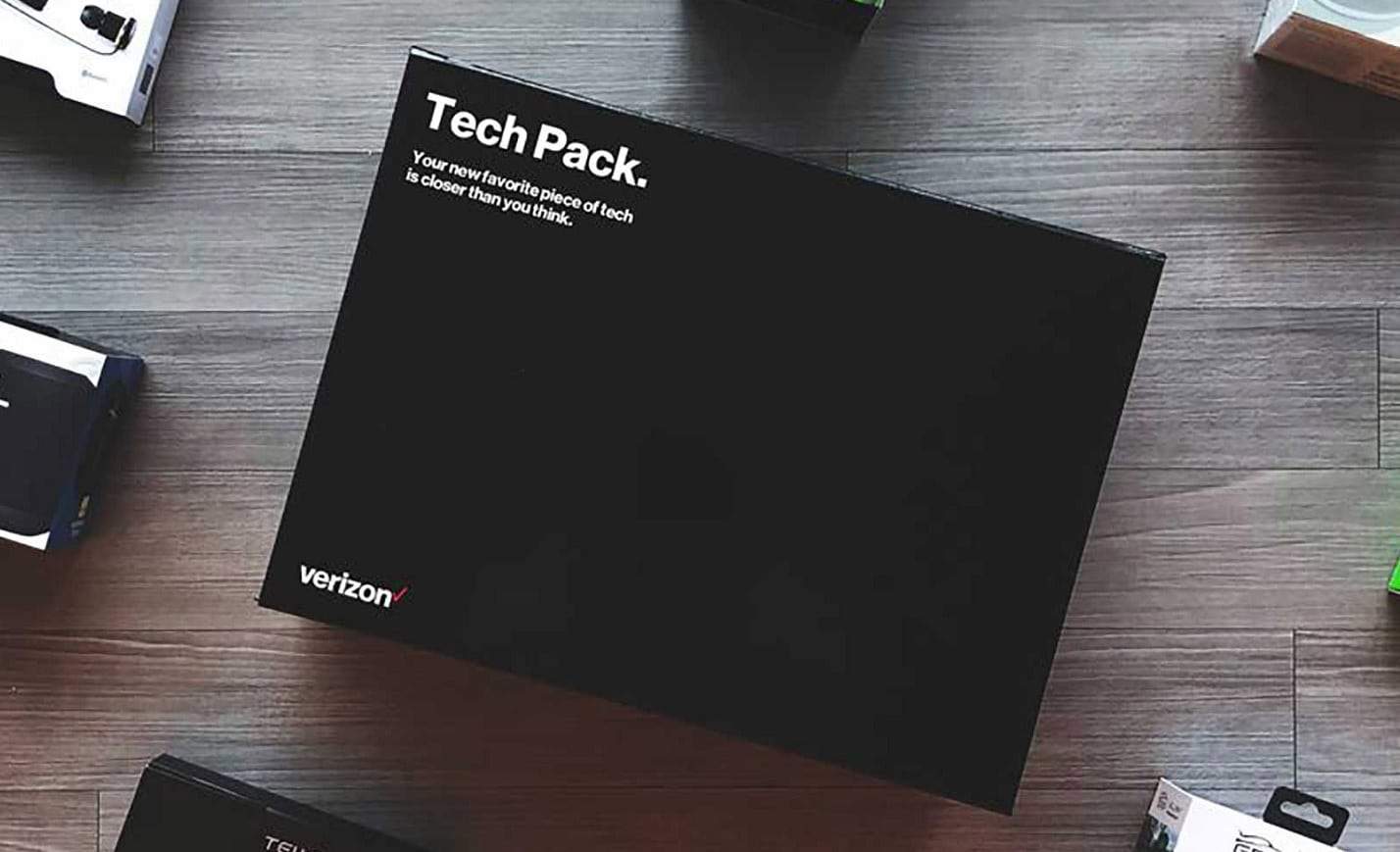 Seemingly not content with recharging you for that modem you already returned, Verizon is getting into the mystery box subscription service. As with all telco-related subscriptions, the devil is in the details, and the Tech Pack loot box service has many.
The service, which is already showing "No longer available due to high demand" on the landing page, sends willing tributes customers a curated assortment of techie goodness, which they can try out for two weeks before deciding if they want to keep them or not.
On the face of it, it looks like any other mystery box service. Answer a few questions about the types of things you're interested in, receive a box of three items each shipment. Decide if you want them or not within two weeks, return what you don't.
Thing is, there are a few parts of the equation here that trouble me. Verizon has repeatedly said that theft is the main reason why it reversed its policies on unlocked handsets, now selling them locked for a period of time before unlocking them. If they're so worried about theft, how does this mystery box service fit into that? How will the "two weeks to return before charged" clause work in practice? At least the boxes will come with pre-paid return labels, so subscribers won't have to jump through hoops to return unwanted items.
The mystery boxes could have anything from Ryze's Tello Drone, LG's Tone Pro neck buds
, Canary's Flex camera
or other small electronic devices. With a Verizon representative reportedly saying that the prices wouldn't be much different than if the customer had bought them directly, this could look like a cynical inventory clear-out, without the usual discounts that fire sales come with.
Signing up is free (at least, it was before the limited number of spaces were filled). I guess the lure of random gadgets from the dusty shelves of Verizon's warehouses proved too much of a draw for some consumers.
With Verizon often selling small electronics over the prices found elsewhere, this mystery box feels like it could get spendy real quick. Google's Home Mini is one of the items potentially included, which Verizon sells for $50 when it can frequently be found for $30 elsewhere. Still, nothing like paying for a quick thrill.
What do you think? Does this Tech Pack seem interesting to you? Let us know down below in the comments or carry the discussion over to our Twitter or Facebook.
Editors' Recommendations:
Follow us on Flipboard, Google News, or Apple News