VogoV launches OGO Coin to decentralize porn payments with deep blockchain penetration
Decentralize deez crypto coins.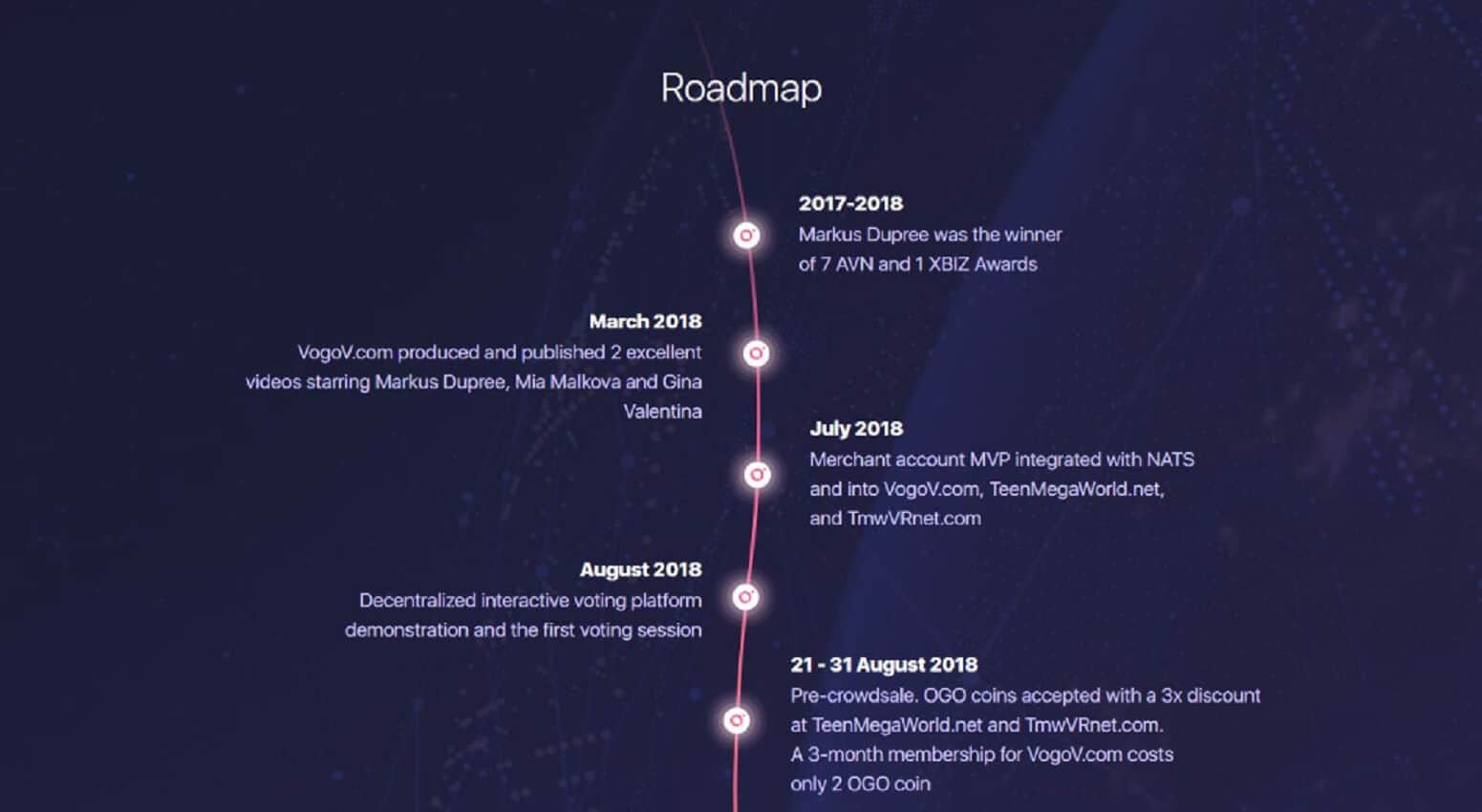 Please note that some of these links go to NSFW websites and Twitter accounts.
If the history of the intersection of porn and technology has taught us anything, it's that the porn industry can influence the adaptation and future use of any technology it sets its sights on. Today, that technology is blockchain. VogoV.com is launching VogoV.io, a hub for its own version of a decentralized cryptocurrency called OGO Coin.
Founded by Aleksei Maetnyi and Ivan Kirillov, VogoV.io seeks to not only create a decentralized solution for porn related payments, but also to involve the viewing public in the decision making of films in production. Token holders will be able to vote on the content being produced. From scenarios, participating actors and actresses to other details of the production, token holders can have a say in the process.
Maetnyi, a porn veteran (stage name Markus Dupree) who holds many AVN awards such as Best Double Penetration Sex Scene, Best Orgy/Gangbang Movie, Most Outrageous Sex Scene, Male Performer of the Year, Best Anal Sex Scene, Best Group Sex Scene and Best Double Penetration Sex Scene wanted to bring the consuming public as close to the production process as possible, without having their dusty asses on set of course.
VogoV was specifically designed to get fans directly involved in the porn production process simply by having OGO coin, because one OGO coin is equal to one vote. With the crowdsale of OGO coin, we are launching the unified adult-industry cryptocurrency that provides much more utility than just being a payment method.
The whole blockchain thing can be confusing sometimes, even when you write about it often. Basically, think of tokens (in this case, OGO Coin) as the tokens you get at Dave & Buster's. While the price of the token may vary over time, during the presale, the price remains mostly constant. You purchase the tokens, then those can be used for goods and services within the context of the marketplace they are meant for. Just instead of Skee-Ball, it's access to webcams, porn sites, dating apps, and sex shops.
VogoV.io is also advised by porn veterans Bridgette B. and Rocco Siffredi so you know that the quality of performers will be second to none. This isn't that shitty iPhone porn you yank off to every night, this is well-produced high-quality porn that is worth every token you might pay for it. VogoV and its sister sites TeenMegaWorld.net and TmwVRnet.com produce 4K 60fps content, the stuff you play on the big monitor, not on your phone in the stall at work.
So how does OGO Coin work? Well, here's the white paper if you want to read it. Basically, members will subscribe to porn content (or otherwise) using OGO Coin, which goes into pre-crowdsale on August 21st and can be purchased with a 30% bonus. The coin is Ethereum backed and any price fluctuations that devalue the coin will result in OGO Coins being burned off. With it being a decentralized currency, it will provide fans with discounted memberships with the security and anonymity provided by it being a cryptocurrency. As VogoV puts it, it's a grand experiment.
VogoV plans to embark on a grand experiment to investigate how willing the adult entertainment industry is to accept and work within the blockchain environment. We aim to apply the blockchain philosophy of decentralization to our business model in the form of a decentralized interactive adult flm studio located in Los Angeles, California. In addition, we will contribute to the cryptocurrency space and to adult communities by developing a new payment infrastructure called OgoShift, which is specifcally tailored to the adult entertainment businesses and to its customers' needs.
The final goal, or money shot if you will, for VogoV.io is not the sale of the coin itself, but rather to get fans more engaged in the process, in the production and in the final cut, and to provide a safe alternative to fiat currencies by creating OGO Coin and hopefully partnerships with other adult entertainment businesses so that consumers get more value out of moving their transactions to the blockchain. Either way, it's a hell of a lot more exciting than tossing wooden balls into a round slot, even if you can make a euphemism out of that.
What do you think about the blend of crypto and adult entertainment? Let us know below.
For more tech news, check out:
Follow us on Flipboard, Google News, or Apple News