Fortnite's rocket launch was an incredible moment in video game history
I had front row seats to the whole thing.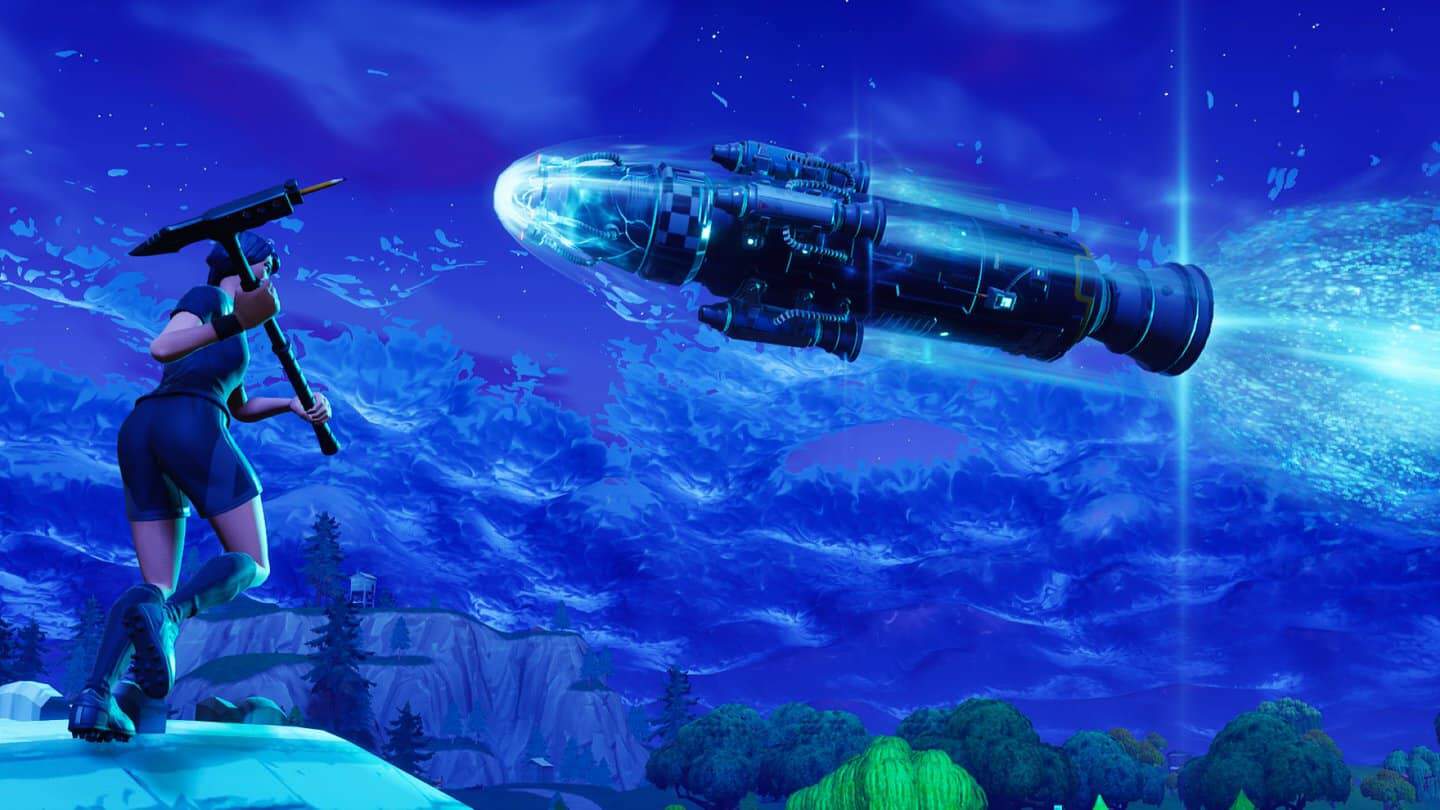 Friday evening, I logged into Fortnite to play a few games with my son and was greeted with a message. For one time only, players online in Fortnite would be treated to a global event at 10:30 AM PT. This coincided with a countdown timer that was being shown on TVs within the game and based on the eighth blockbuster image, would be a massive rocket launch.
Speculation immediately began, was the rocket going to destroy part of the map? If so, everyone assumed Moisty Mire or Lonely Lodge would be blown sky-high, much like Dusty Depot becoming Dusty Divot at the end of season 3. I didn't think the rocket was exactly a missile, as it looked more like a classic rocket ship. In fact, players could actually get an up-close look at it by visiting the super-villain base right by Snobby Shores.
My son was visiting my parents, and we ended up leaving our house 90 minutes before the rocket launch, so I packed my PlayStation 4 in my GAEMS so I could take part in the action. Unfortunately, it poured on the way there, and it was increasingly clear that we wouldn't get there in time. At 1:10 PM EST, I rolled out my trump card and installed Fortnite on my wife's iPhone 7+.
My mom, son, and a friend of his were online ready to go, and I jumped on to their team at 1:25 PM. We decided to wait to queue up for the match until 1:28 PM so that we'd either be in the Battle Bus or parachuting down when the clock hit 1:30 PM. Turns out the plan was perfect.
We were kicked off the Battle Bus at 1:29 PM and immediately pulled our chutes to coast down gradually over the next few minutes. You could hear the rocket launch alarm from the rocket silo and at 1:30, a blast rang out throughout the map, followed by a massive rocket liftoff from the silo. I did my best to float close to the rocket trail and was surprised by the thrusters breaking off from the rocket and smashing into a small hut in Anarchy Acres.
The rocket then blasted off into space and seemingly disappeared, followed by some noise I couldn't decipher from the iPhone. At this point, I noticed that while we had entered the match with 100 players, 98 were still left alive. This was fantastic, considering boots had been on the ground for some players for minutes and there were only two deaths.
Of course, the show wasn't over yet and the rocket appeared again, flying towards the map. It was hard to see where it was going until lasers came from of the rocket and pointed directly at Tilted Towers. A season ago, as a huge meteor slowly fell towards the map, many thought Tilted was the planned point of impact, from the looks of it, the meme became a reality with a massive rocket heading towards the city. However, right before impact, the rocket seemed to vanish into what appeared to be a bright crack in the air.
Before we had time to process this, the rocket reappeared through another crack, flew across the map and disappeared again. I could hear my son though voice chat yelling "Whoooooooaaaaaa!" This happened a few more times before the rocket appeared at Loot Lake, right next to me, and shot up into the air, vanishing a final time in a massive crack in the sky that stuck around.
At this point I landed and went running for cover, noticing that 98 players were still alive in the game. By the time I got out of the lake, it was apparent that the rocket event had ended and at this point, the number began to drop. Playing on mobile is not super great, so I ran into a house someone was looting, ran up to them and threw three grenades at my feet, killing us both and ending the event match for me and the poor No-Skin that got blown up.
The rocket launch event overall was pretty cool, and watching the whole thing happen live created an engaging event that all players shared at one point and time in the game. After watching the rocket do its thing, I'm pretty sure there will be some sort of time travel theme added in for season 5. My biggest takeaways from the entire event were that during a majority of the rocket flying around, barely any players had taken the opportunity to kill each other. (except for that one dude that got 48 kills – Josiah) In fact, looking at the Fortnite Subreddit, it appears that this was one of the biggest cease-fires in Fortnite history. My son is referring to it as the coolest thing he has seen in a video game.
What is more interesting is, much like the comet falling last season, there's something ominous happening in the sky now. The crack from the final rocket jump is spreading, much like a broken phone display and odd portals have been appearing, like one in front of the main lodge at Lonely Lodge. Landmarks and signs across the map have been disappearing in these portals as well, with the main lodge sign and the motel sign vanishing. All of this will likely culminate in a week and a half when season 4 ends and kicks off season 5.
Overall, I thought the whole thing was pretty cool and ended up being a fun and unique experience. I can't wait to see what Epic has planned next for Fortnite Battle Royale fans.
Were you there for the rocket launch? Let us know in the comments.
For more gaming news, see:
Follow us on Flipboard, Google News, or Apple News