Goat Simulator finally licks its way into the Microsoft Store for Windows 10
Call me Alexander Goatstafsson.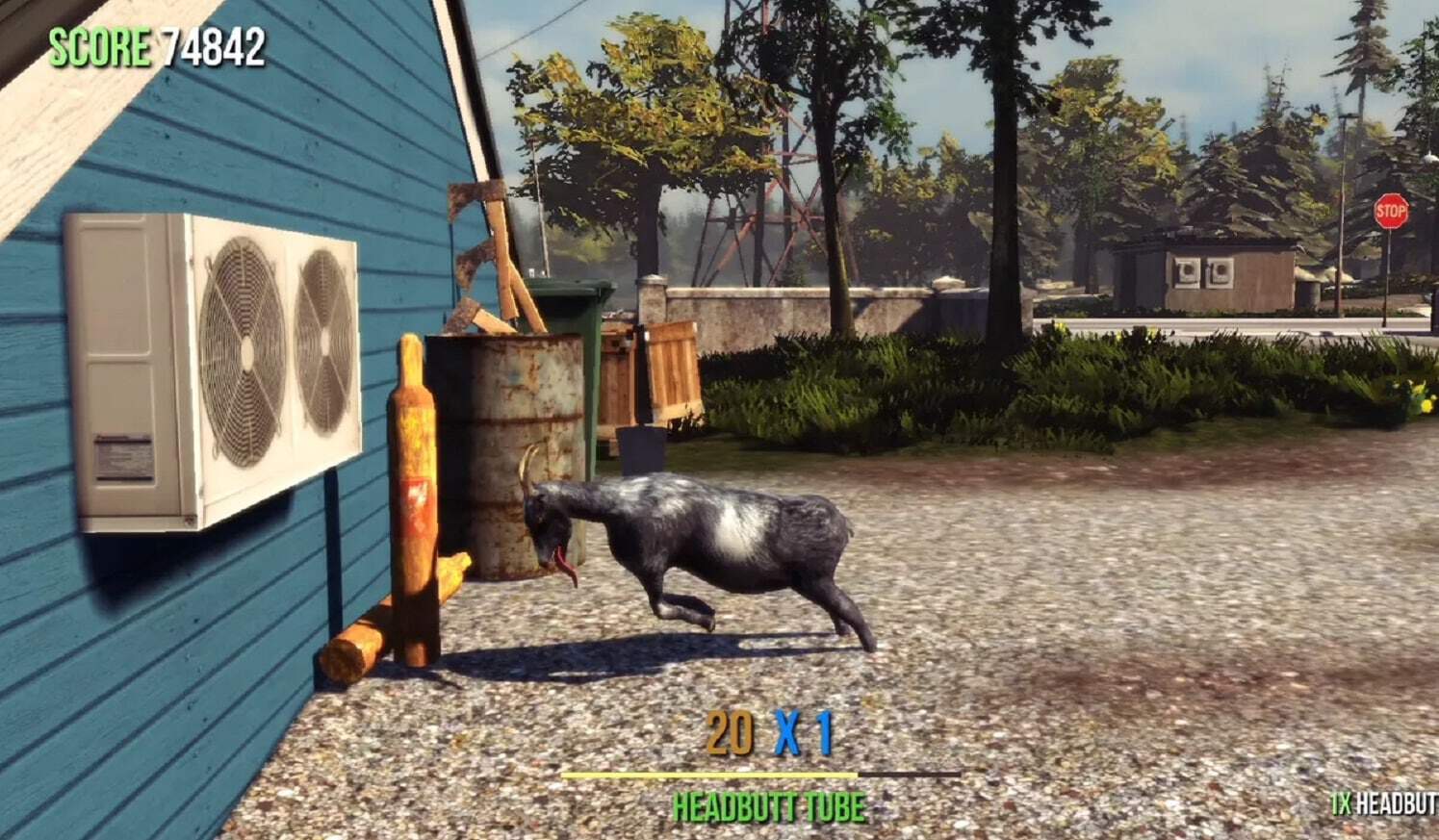 Filed under news that will tickle your tingles, Goat Simulator has found its way into the Microsoft Store for Windows 10. The game has been available for some time now on PC and Xbox One and recently was released on the Nintendo Switch as Goat Simulator: The Goaty containing all the DLC content: Goat Simulator, Goat MMO Simulator, Goat Simulator: GoatZ, Goat Simulator: Payday and Goat Simulator: Waste of Space.
If you aren't familiar with Goat Simulator then you aren't truly living your best life. A cross between snorting cocaine off the back of a miniature horse while riding in the bed of a pick-up truck at 90mph while having a seizure and standing on the roof staring directly into the sun while trying to urinate directly into a soda bottle twelve feet below you, Goat Simulator is a level of time wasting madness that you need in your life.
In the game, you play as a goat, and you run around different but similar environments, destroying everything in your path by butting, licking and jumping. You can unlock special achievements, drive the populace nutty and play giant hockey. You can lick a roller coaster, get money, bleat and roar, ride rockets and generally do the opposite of every other sim out there — have fun. Even the creators of the game acknowledge that Goat Simulator is all about the ridiculous fun.
Goat Simulator is a completely stupid game and, to be honest, you should probably spend your money on something else, such as a hula hoop, a pile of bricks, or maybe pool your money together with your friends and buy a real goat.
For the $9.60 the game costs in the Microsoft Store for Windows 10, you could easily buy a flat white latte and one ride on the subway. You could almost buy a dime bag of shitty weed. You could spend that money on two slices of pizza then throw them at a store window. You could get a package of fresh underwear, then stand in the courtyard of an outdoor mall and offer them to strangers. Or you could ignore work and pretend you are a goat. Your call.
Goat Simulator is the game you play when you are surrounded by friends, all wondering when this game of Uno will end. It's the drunk video game that doesn't require the room to be drunk because the gameplay feels like the programmers were drunk while coding. There is no running in a straight line and things can get weird real quick, especially with the DLC content. Goat Simulator is the game you play when your mom tells you to get a job and you yell you have a job as a goat manager, head into your room and try on different hats as a goat.
There are farming simulators, and people simulators and flying simulators, but those are all tedious and will put your genitals to sleep. Goat Simulator excites the genitals, turns your nipples into flamethrowers and makes your tongue hang out of your mouth hole like a super-powered goat with penguin power.
There is so much going on in the world today, we sometimes need something so stupid, so absurd to distract us from the world. While self-sustained head injuries are one option, your best bet is to spend the ten bucks on whatever platform to get yourself into the head of a goat. A goat with one simple mission, a mission that resonates with the populace: destroy, destroy, destroy. A goat must be heard, must be felt, must be experienced. With Goat Simulator, you get to be the goat, and that is worth every single penny.
Have you played Goat Simulator? Plan on trying it now that it is available in the Microsoft Store? Let us know down below in the comments or carry the discussion over to our Twitter or Facebook.
Editors' Recommendations:
Follow us on Flipboard, Google News, or Apple News